Informed sources tell me that Downtown LA could soon get some help for its gap-toothed skyline, with talks about a bargain-basement deal for the unfinished Oceanwide Plaza ongoing.
I hear calculations have gone beyond penciling stage, with potential bidders comparing rough numbers to whatever insights they've been able to glean on walk-throughs of the three-tower, 1.6 million square-foot project at 11th Street and Figueroa. Preliminary reactions indicate China-based Oceanwide Holdings is unlikely to fetch anywhere near the $1 billion-plus it put into construction before the project ground to a halt across the street from the Staples Center due to a pre-pandemic financial crunch.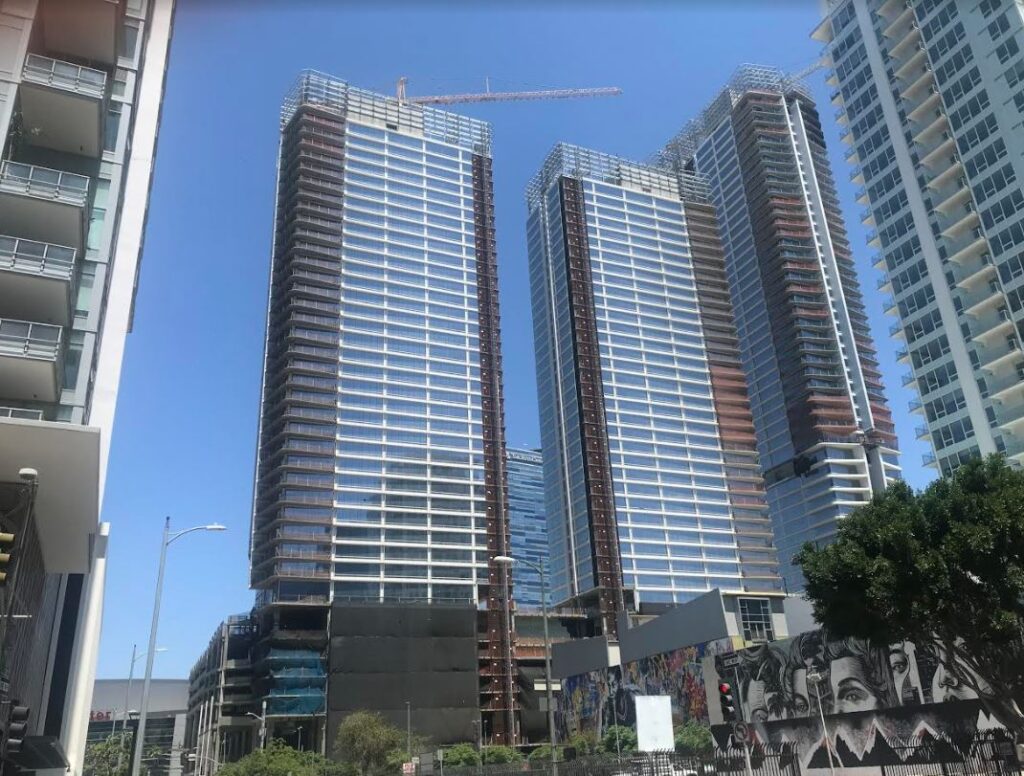 One source adds this caveat: Communications with the owners in China aren't consistent or predictable, which means this deal is certainly possible, but it won't be over 'til it's over.
Gehry's Long Roman Journey
Let's move on to another view of the possibilities of life, this one courtesy of Playa Vista-based architect Frank Gehry via a June 28 piece in Artnet News about the newly opened Luma Arles tower and art center he designed in the south of France: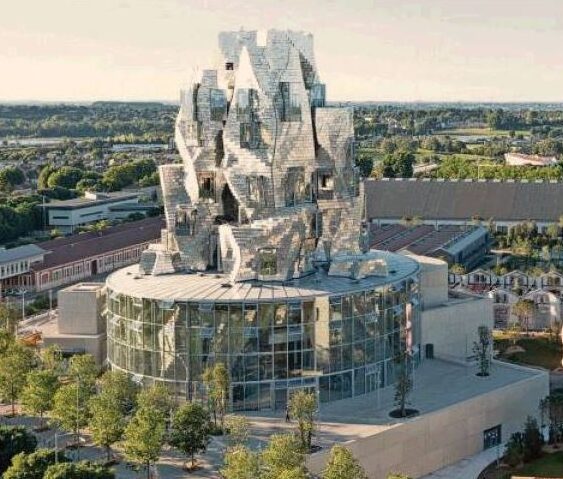 "This is my first Roman building—it's been a long journey and an exciting one but finally I'm very proud of what [Swiss philanthropist and Luma Foundation founder] Maja [Hoffman] and I have created together," said the 92-year-old Gehry, who first was taken with the ancient Roman heritage of the town of Arles on a visit there in 1959.
Julius Caesar had famously divided all of France into three parts a couple of millennia earlier, when that part of the world was a Roman province called Gaul.
Gehry and his career defy any such simple division and cover more ground than the Roman Empire at its peak, spreading most recently from Arles to Related California's Grand LA tower, a mixed-used eye-catcher that's rising toward completion at 1st and Main streets in the Bunker Hill district of DTLA.
Doing Good & Well
Here's another view of how good architecture can do well for the places it graces—as noted in this headline from the London-based Financial Times, which credits the Luma Arles tower for breathing new economic life into an old industrial site.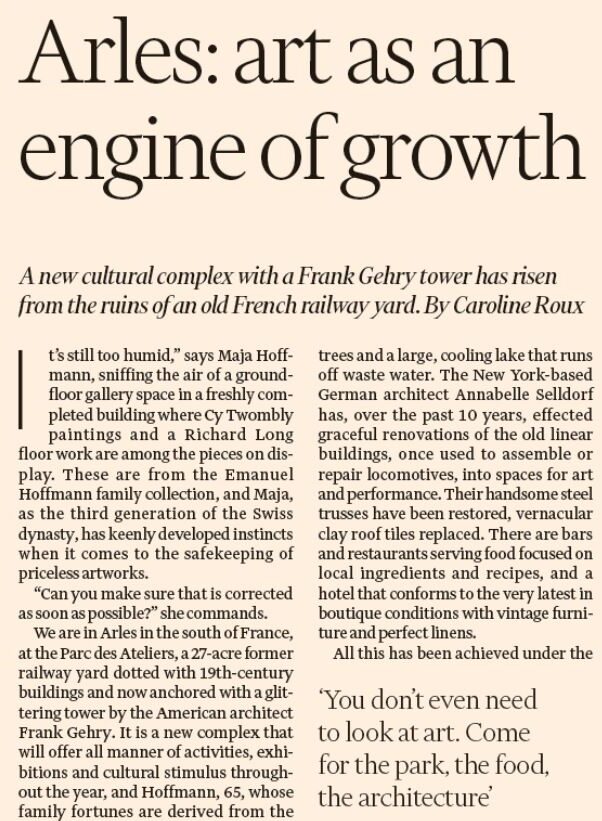 Think it's time to get Gehry started on the public park he envisions over the LA River in South LA?
Live@5's Lively Crew: Sanford, Metchek, De la Peña
Paul Sanford of the Westin Anaheim Resort, Anaheim Hotel and Avenue of the Arts Hotel in Costa Mesa offers insights on why the hit that hotel workers took during the shutdowns could reach well beyond Covid-19.
Ilse Metchek of the California Fashion Association says follow the hair color if you want to find a disconnect between fashion design and the reality of the marketplace as consumer demand kicks into gear amid the reopening.
Abelardo de la Peña Jr. talks about how LA Plaza de Cultura y Artes in Downtown LA got by with a little help from its friends—and government programs that eased the fiscal effects of the pandemic.
All of that and much more in the most recent YouTube edition of SullivanSays Live@5, available with a click on the image below.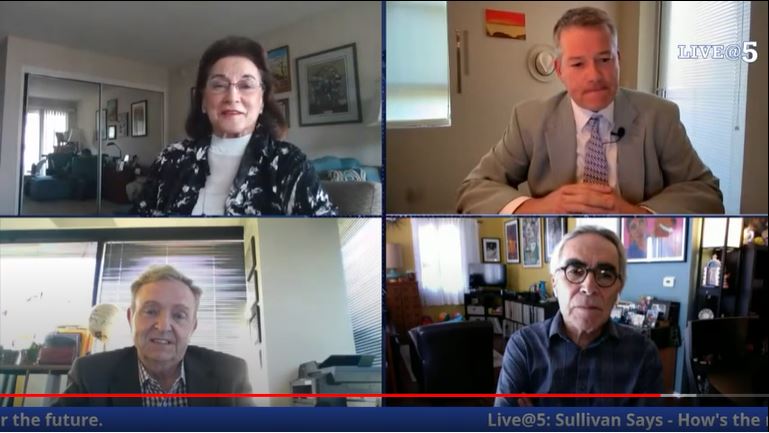 OC Republican Gets A for Effort
A Republican from Orange County stands as living proof that Democrats aren't the only political types who need to balance a time-honored system of seniority against new blood in Washington, D.C., and changing demographics across the country.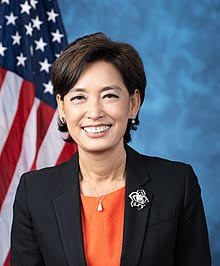 Recently elected U.S. Representative Young Kim—who counts an OC base for a district that also covers parts of LA and San Bernardino counties—recently was one of six GOP members of the House of Representatives vying for a single open seat on the body's Financial Services Committee, which oversees banks and stock markets.
The GOP has 24 seats on the committee, and the party's members are nearly all white and male, with Ann Wagner of Missouri and Anthony Gonzalez of Ohio the exceptions.
Kim highlighted some differences she would bring to the committee, recently telling Politico.com that "I've always said the Republican Party is the Grand Opportunity Party" and "having somebody like me giving the woman's perspective, the small business perspective, the immigrant perspective—the appreciation will go far in terms of legislating and creating policies that will create jobs."
Need more?
Kim didn't hesitate to emphasize the geographic and ethnic diversity she would represent:
"I've made it very, very clear it's important to have representation from the Western states," she said. "It's important because my district includes three counties—Orange, LA and San Bernardino counties—and we have tens of thousands of Asian American- and minority-owned small businesses, credit unions and financial institutions. But we don't have voices or advocates to speak for them."
The open seat eluded Kim, going to 11-termer Pete Sessions of Texas.
It looks to me as though Kim still did well to showcase her marketing skills and show some drive as a rookie in the chamber.
Do LA Progressives Have No Shame?
Here's the key political question of the day in LA: Do the so-called progressives have any principles?
The question is begged by the hate speech that Ana Guerrero—now on suspension from her job as Mayor Eric Garcetti's chief of staff—turned on Delores Huerta, a living legend of the labor and civil rights movements in California.
You don't have to read between the lines of Guerrero's comments, which turned up as part of some Facebook group that has added layers of immaturity and anti-intellectualism to the culture of corruption at City Hall.  They speak plainly for themselves, as this excerpt demonstrates:
"I hate her. You hate her," Guerrero said of the 91-year-old Huerta, using a Spanish-language term to call her a "jealous old lady!"
How is Guerrero anything but fired? This is more than terrible manners—it shines a light on an utter lack of personal and public integrity in the office of the top elected official of the City of Los Angeles.
AECOM Connection
It's also worth noting that Guerrero's ring of hatefulness and immaturity appears to have included Kelli Bernard, a one-time Garcetti loyalist who went through the revolving door between City Hall and the private sector, landing with one of the biggest companies based in LA.
A June 17 report in the LA Times suggested Bernard was part of Guerrero's circle in the Facebook caper—and there's been no correction or clarification since.
The LA Times failed to report that Bernard left a job as deputy mayor for economic development in Garcetti's administration in 2016 to become executive vice president and "National Cities Leader" for Century City-based engineering firm AECOM, which has a market value of more than $9 billion and a history of work for the City of LA on big infrastructure projects.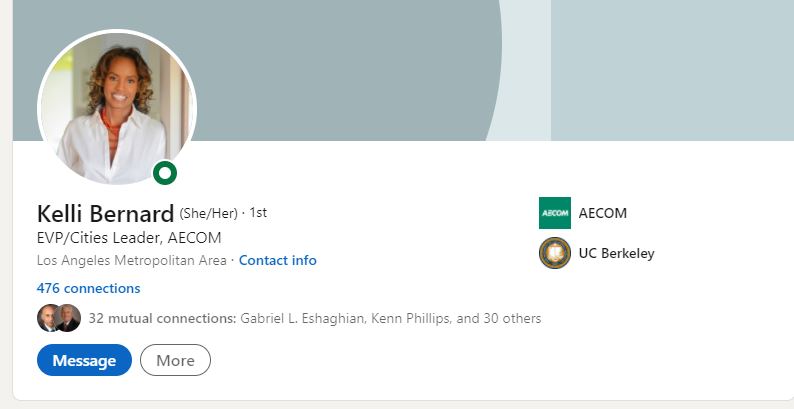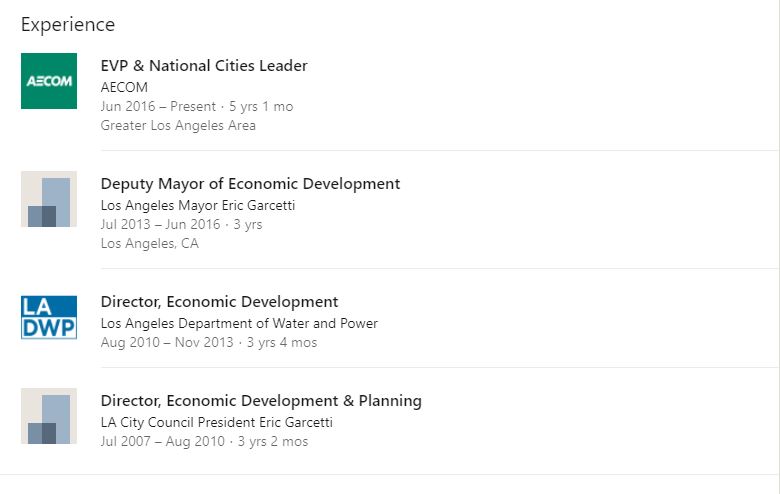 No comment from Bernard or AECOM on the matter.
Memo to Legacy Media: Solidarity Too Late
Here's a takeaway that's been missed so far in coverage of the vote by newsroom workers of the Southern California News Group to join a union: Too late.
The vote was 64-19, with 55 abstentions. That means there is a total of 138 reporters, desk editors and other non-management staffers spread over 11 daily newspapers in the Southern California News Group. It's a lineup that comprises the Orange County Register, LA Daily News, Long Beach Press-Telegram, Torrance Daily Breeze, Pasadena Star News, Whittier Daily News, San Gabriel Tribune, Inland Valley Daily Bulletin, San Bernardino Sun, Riverside Press-Enterprise and Redlands Daily Facts.
The vote totals indicate an average of about 12 staffers for each of the 11 dailies, which are spread over an area that includes a population of more than 17 million and covers about 15,000 square miles.
Orange County alone has a population on par with the Greater Denver metro area. The LA Daily News' coverage territory of the San Fernando Valley is more populous than the city of Philadelphia. The San Bernardino Sun is based in the seat of a county that's bigger than Vermont, New Hampshire, Rhode Island and Connecticut put together.
The various SCNG properties have been stripped of most of their assets, with headquarters buildings sold off and printing operations consolidated. The remaining headcounts are generally worse than the average indicates, too, because the Orange County Register is now the flagship of the group and keeps an outsized staff compared with its peers.
The group's owner, New York-based hedge fund Alden Global Capital, appears to be managing financial reality—as hedge funds tend to do. There's reason to believe that a digital ad agency that's grown from the backbone of the SCNG newspapers offers an exit ramp from the journalistic base of the enterprise if Alden Global decides to sell its news operations or the current business model tips into an irreversible losing proposition.
The hard truth is Alden Global also seems to be managing decline, with little reason to believe that any new business model it hits upon would include room to hire more journalists or pay existing staff more—with or without a union.
Sullivan Says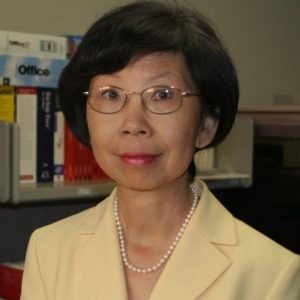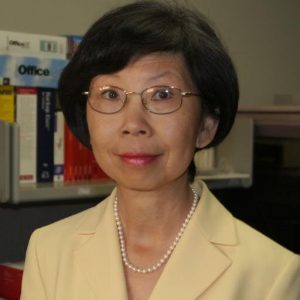 Kudos to Ann Lau and the Chinatown-based Visual Artists Guild for a solid year of unwavering support of freedom of expression in Hong Kong and condemnation of the "National Security Law" imposed by the People's Republic of China as a way to kill off a big part of what has made the Special Administrative Region truly special.