It didn't take long for the latest designs of Irvine-based MVE + Partners to provide a test of the current market for upscale residential rentals in Downtown LA, with two recently completed high rises going on the sales block.
The architecture firm oversaw the creation of The Grace and The Griffin for Vancouver, Washington-based Holland Partner Group. The developer just a few months ago started leasing the two 24-story towers, which stand across from each other on the 700 block of S. Spring Street.
And it was just a few weeks ago we gave an update on MVE + Partners' growth, with projects and offices now ranging from the heart of OC to San Francisco.
Fresh word on the street says the developer is including both of the buildings in a package of six luxury apartment complexes for sale, with a total of 2,126 units spread over three in LA and three more in Seattle.
The other LA property besides The Grace and The Griffin is said to be the Sofia Los Angeles at 1120 W. 6th Street in Westlake.
Estimates put the asking price at $1 billion for the whole package, which equates to a per-unit price of about $470,000. Figuring based on the average pegs the value of The Grace and its 300 units at $141 million, and the Griffin's 275 units at around $129 million.
The guess here – based on location among other factors – is that the two buildings designed by MVE + Partners on Spring Street will likely fetch a premium within the package. Look for something on those two buildings that puts the values somewhat closer to the reported $770,000 per unit fetched recently for the 33-story Atelier Los Angeles, which stands a bit higher on the local scale thanks in no small part to its location at 8th and Hope Streets, with Grand-Hope Park and Whole Foods for neighbors.
The bigger picture, meanwhile, suggests that any deal that comes near what Holland Partner Group is asking will mean the overall market for apartments has kept pace with record levels of a year ago. The average per-unit price for LA apartments countywide – including a broad range of locales and product types – "crested" at $275,000, according to real estate-tracker CoStar Group Inc.
Credit Where Due?
Federal prosecutors expect to give Edward Martin Rostohar his due in court after charging the 30-year manager of CBS Employees Federal Credit Union with embezzling $40 million.
The feds say Rostohar spent the money he allegedly stole on gambling, pricey cars and watches, and trips on private jets.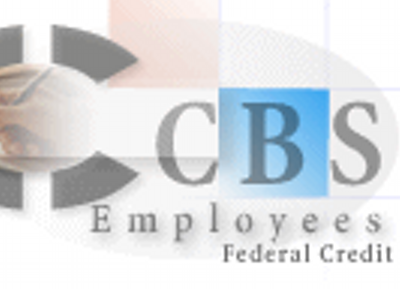 Rostohar pulled the caper off with forged checks, investigators say, helped along by skills he picked up earlier in his career as an auditor for the National Credit Union Administration, the federal agency that oversees such financial institutions.
CBS Employees Federal served members affiliated with CBS Studio. It was based in the Studio City district of the San Fernando Valley until March 29, when its assets and liabilities were acquired by University Credit Union.
University Credit Union has approximately $700 million in assets and offers membership to employees, students and graduates of UCLA, Mount St. Mary's University, Pepperdine University, Loyola Marymount University and other schools in the West Coast Conference.
A joint announcement of the deal by the two entities made no mention of the pending case against Rostohar or the insolvency of CBS Employees Federal.
An announcement from the NCUA called CBS Employees Federal insolvent but skipped any mention of the case again Rostohar, who is due for arraignment in federal court on April 18.
In the Wake of the Hussle
It was less than an hour after last week's column was delivered to subscribers' inboxes that I got a message requesting a call to talk about an item regarding Nipsey Hussle, the rapper who was shot down in South Los Angeles a few weeks ago.
The message came from Kevin Harbour Sr., a smart fellow who grew up in Leimert Park and took the bus to Loyola High School as a youth. The experience gave him the sort of hard-earned, contextual understanding of a city that only public transportation can provide – not to mention a Jesuit education, which traditionally has leaned on logic and critical thinking.
Suffice to say that Harbour did me the favor of providing a thoughtful critique from a unique perspective.
That's a valuable contribution to the life of the public square, which is what this column aims to be – a place where ideas flow, gain acceptance or face rejection on their merits, and sometimes help each other along through cross-pollination.
That's why I listened carefully – and here's a summary of the many well-reasoned and clearly stated points made by Harbour, who counts previous service as president of the UCLA Black Alumni Association among his accomplishments in the community.
The item in question mentioned that Hussle's murder has sparked concerns and conversations about gang violence in tones that perhaps haven't been heard since the crack cocaine-fueled gang wars of the 1980s and 1990s. It also referred to signs of an increase in gang violence in South LA recently.
Hussle might have been involved in gangs at one point in his life, but he had gone well beyond such affiliations to become a positive presence in his community in many ways.
It also appears that Hussle did not die at the hands of a rival gangster.
So why, Harbour asked rhetorically, did the item bring gangs and gang warfare into the picture? And why the reference to the peak years of gang violence of two decades ago?
South LA has made great strides over the past 20 years, this fellow noted, and it's unfair to load up a section of town with an association to those "bad old days" – a term used in the column item – despite all the progress.  And, he said, it seems that an African-American neighborhood or section of the city remains more likely be tagged with such references compared with other areas.
That's a summary and falls short of Harbour's overall point as well as his fulsome eloquence – but you've got the basics of the critique.
I responded with some points of my own:
The item didn't refer to Hussle as a gang member or his murder as a gang-related crime.
The reference to gangs came because the incident nevertheless sparked conversations about – and gatherings of – gang members.
And there is reason to believe there has been an increase in gang activity on the streets of South LA lately.
That's an explanation and not a defense of the item.
There is room for both perspectives – and I appreciate getting the chance to consider the critique Harbour offered.
I also appreciate that his perspective carries more weight than mine for one simple reason: He's remained part of the community from his childhood in Leimert Park to his adulthood as a homeowner in Windsor Hills, Ladera Heights and now Baldwin Hills – a path that makes him part and parcel of a general area that some have recently given the broad-brush label of "South LA."
There's nothing to retract – everything in the item was factually true. Some of the context is arguable, though, and I pass along Harbour's points as a way to present a different perspective and give them an edge with this bit of emphasis.
There is almost always room for more than just one story, and so I'll close providing this link to a truly great Ted Talk by Nigerian author Chimamanda Ngozi Adichie, whose wisdom provides a cautionary tale for all.
Here it is:
Music, Literature, Travel – When Arts & Culture Serve to Warn
Buckle up for this one, which will go from Terezin to Irvine to Costa Mesa to Westwood to Little Tokyo to El Paso and back to Downtown LA.
Along the way you'll find reason to appreciate a diverse lineup of nonprofit organizations from across SoCal's landscape, some folks who support them, and the challenges they're taking on in creative ways.
Start with the Terezin Concentration Camp run by the Nazis during World War II in what is now the Czech Republic. It's where a prisoner who was a classically trained conductor managed to produce performances of Verdi's Requiem Mass amid the horrors of Adolph Hitler.
There's a man named Murry Sidlin who had 10 extra minutes to dawdle at a book shop in the Uptown neighborhood of Minneapolis years ago. A title caught his eye by chance, he grabbed it and was launched on a life's mission of making sure the world would know about Defiant Requiem – as the version of Verdi's piece played by the prisoners at Terezin came to be known.
Sidlin will lead a multi-media presentation of the story, which includes the instruments and singers for the Requiem accompanied by documentary testimony from survivors via video.
The Pacific Symphony will present two performances of Defiant Requiem this week. An April 16 performance will take place at the Segerstrom Center for the Arts in Costa Mesa, where the Pacific Symphony resides.
The musicians will then troupe to Royce Hall at UCLA to play under Sidlin's direction again on April 17, and you can visit pacificsymphony.org for more information.
The symphony's role has been made possible by sponsorship of the Orange County Jewish Federation and Family Services, thanks to a gift from the Albert Weissman and Rhoda Yvette Weissman Estate.
Kudos to the Orange County Forum, a public affairs organization that last week hosted a luncheon talk titled "The Art of Courage – Grace Over Hate," with Sidlin and Rabbi Marsha Tilchin at Andrei's Conscious Cuisine & Cocktails in Irvine. The idea was to let folks know about the upcoming performances – and especially the historic social meaning they carry.
It's notable that Defiant Requiem brings an example of the horror that can grow from hatred just a couple of weeks before Little Tokyo-based Zocalo Public Square honors an author who examined how "more often than not, the forces that unleash ethnic cleansing arise slowly and during peacetime, and stem from seemingly everyday interactions in places that are home to diverse peoples."
The book is called "Anatomy of a Genocide: The Life and Death of a Town Called Buczacz" and has won the 9th Annual Zocalo Book Prize.
The author, Omer Bartov, is a professor of European history who tracked the horror that overtook his mother's hometown during World War II, a place in Ukraine, about 600 miles east of Terezin.
Bartov offers the story as a cautionary tale that asks "How do people who long lived together as neighbors come to turn on – and kill – each other? And can we teach ourselves to spot the early steps towards genocide so that we might prevent it in other countries or even our own?"
Bartov will take the subject up during a talk set for May 2 at the National Center for the Preservation of Democracy at 111 N. Central Avenue in Little Tokyo. Visit zocalopublicsquare.org for more information.
Now consider the work of the Downtown-based Pacific Council on International Policy, which recently organized a contingent of its members for a trip to El Paso, Texas, and its cross-border neighbor of Ciudad Juarez, Mexico.
The trip comes as brutal conditions in corrupt nations of Central America continue to put millions of people in such peril that they set out in desparation to cross Mexico to the U.S. border, where they quickly become fodder for demagoguery here.
The situation has brought no end of vitriol to U.S. politics, and sowed divisions among individuals and communities throughout the country.
Kudos to the Pacific Council and its members for hitting the road and walking the actual geographic territory in a bid to cut through the media haze of politics and modern media to have a look.
You can see the organization's report on the trip at pacificcouncil.org/newsroom – and you can trust that it's first-hand knowledge rather than an aggregation based on a retweet of a tweet of a headline.
Overheard: Comic Relief
Kudos to the print incarnation of what is billed as the Los Angeles Edition of the Overheard Post, a broadsheet that showed up on news racks at Westfield Century City last week.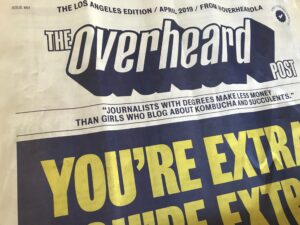 I'm not sure where else it's being distributed.
I can tell you that the broadsheet succeeds with satire, perhaps the most sophisticated form of humor.
And it makes it look easy.
And it's not the stuff of snark or smirks. It's belly-laugh funny without much blue – only one instance of foul language in the inaugural print edition.
Just as notable is the path the publication has taken to its print edition from a popular Instagram site that has been lampooning LA for several years.
The Overheard Post – its print edition, anyway – pulls it off by using stereotypes for humor without the sort of mean-spirited or mindless approach that could do real damage in the world.
City Hall Scandal(s) Update
The ongoing college admissions scandal might look like small fry by the time investigators from the FBI and IRS get through with City Hall in LA, where Los Angeles Mayor Eric Garcetti won't answer basic questions about how his office oversees the city's Department of Building and Safety.
City Hall also is where 1st District City Councilmember Gil Cedillo finds shelter while refusing to answer simple questions on what he plans to do with a $2 million "contribution" from a developer – money that's supposedly intended to create and maintain "affordable" housing in Chinatown.
14th District City Councilmember Jose Huizar, meanwhile, has yet to answer questions about the money taken in and paid out for the production of Night on Broadway, which drew a reported 250,000 visitors as well as a roster of sponsors and vendors to the streets of Downtown last year.
And neither Garcetti nor Huizar nor several other members of the City Council will answer basic questions about some questionable aspects of a plan to develop a homeless shelter on Paloma Street on Downtown's industrial edge.
Answers to the many outstanding queries will be gotten, but it might take some time. I'll keep after the various lines of questioning, in any case.
Meanwhile, you might consider that the willingness of elected officials in the City of LA to go silent when faced with obvious questions about public policy and taxpayer money smacks of a gangster culture.
Even worse, because actual gangsters don't hide their true colors.
LA's pols wrap their thuggishness in the trappings of democracy and "progressivism."
Progress toward what?
From Purple Reign to Jump Ball
The lack of progress for the Los Angeles Lakers says it's time for everyone from Jeanie Buss to the yakkers on ESPN LA 710 AM to acknowledge the end of the era of Purple-and-Gold privilege.
It's time, indeed, to realize that the Lakers are a family-owned business that's probably in the lower-middle class of NBA team ownership when it comes to finances.
The Lakers' denuded sense of privilege, meanwhile, stands in stark contrast to the LA Clippers.
That other NBA team in town is owned by Steve Ballmer, one of the wealthiest men in the world, and has a top-flight coach in Glenn "Doc" Rivers, another fellow with a Jesuit education.
The best thing about the Clippers, though, is that they nevertheless look as though they bring a lunch pail to work every day.
Showtime is over.
Go Time has arrived.
It's a jump ball in LA – and the Clippers look to have the edge on vertical leap.
Intervention Time
The Lakers have taken on the look of a high school melodrama, with none of the characters aware that a place at the top of the heap isn't their birthright.
Whatever went on with Magic Johnson last week got stranger when ESPN LA picked Whitney Houston's "I Will Always Love You" as theme music for the story.
Someone has to say it: That's just a weird way to handle a sports story – even in LA.
Sullivan Says
No one is working harder than Eli Horowitz, director of communications and public relations for the LA Sparks, when it comes to getting the team, the rest of the WNBA and women's basketball in general the coverage they deserve from the sporting press.