Los Angeles Times Executive Editor Norman Pearlstine aimed for the funny bone in his keynote address to the LA chapter of the Society of Professional Journalists at the group's annual Distinguished Journalists Award.
He might have hit the heart of a larger matter.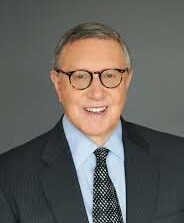 Pearlstine earned chuckles with a jab about how long it took a contingent from the newspaper's offices in El Segundo to reach the Omni Hotel on Bunker Hill in Downtown LA for the event last month.
And he got more laughs by telling the group that Patrick Soon-Shiong – the biotech multi-billionaire who bought the LA Times and various sister publications last year – has expressed a distaste for advertising.
Pearlstine said he has even taken pains to remind Soon-Shiong that such an outlook could turn "a billionaire into a millionaire."
Another remark that was taken as good humor might have served as some serious foreshadowing, though. The crowd certainly chuckled again when Pearlstine told them that Soon-Shiong recently set a goal of 5 million digital subscriptions for the LA Times – and then added that the pronouncement caught him by surprise. Pearlstine had been working with a goal of 1 million paid subscribers in mind.
Pearlstine's working presumption was plenty ambitious. The LA Times currently has about 150,000 digital subscribers, and the publication's promotions indicate they pay somewhere around $100 a year on average.
A goal of 5 million is another story altogether – and it offers a reminder that Soon-Shiong has established a track record of making high-profile investments and boldly optimistic pronouncements only to walk them back or abandon them altogether.
Remember the World Urban Games?
Soon-Shiong announced last November that he would underwrite the event after winning the rights from the Global Association of International Sports Federations.
He laid out a plan to stage the games – a mix of emerging sports such as skateboarding and three-on-three basketball, among others – at the LA Times campus in El Segundo.
Soon-Shiong talked up the World Urban Games as nothing short of a new pillar for LA's global standing. Something didn't mesh, though – the sanctioning body for the event switched gears last month, announcing the 2019 edition would shift to Budapest.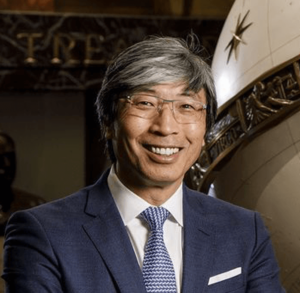 Now consider Soon-Shiong's pronouncement last October that the LA Times would start its own cable TV network.
It looks as though Soon-Shiong walked back from that idea – the publication now works with Stamford, Conn.-based Charter Communications Inc.'s Spectrum News 1 cable channel on a daily one-hour news show that doesn't appear to be a source of any significant revenue for the publication. And even the one-hour segment is plenty challenging, Pearlstine noted in his recent remarks.
Then there was Soon-Shiong's stated ambition of forming a sort of "Good-Housekeeping Seal of Approval" of sorts that would distinguish providers of genuine journalistic coverage in the misty atmosphere of today's media – social and otherwise. Soon-Shiong unilaterally put himself and the LA Times in the same breath as the New York Times and Washington Post, citing the potential for an alliance of sorts in public remarks.
Instead, in turns out, the LA Times recently joined Apple News, a decidedly different strategy that it announced with full-page ads in its own editions.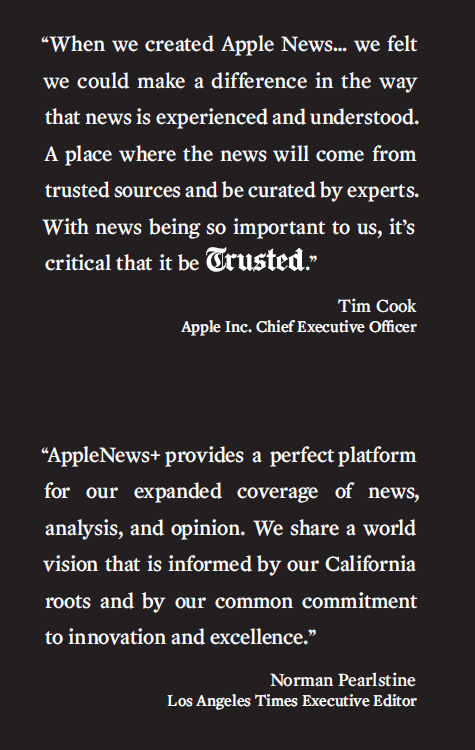 Neither Soon-Shiong nor Pearlstine was available for comment on this piece or the specifics of the strategy behind the Apple News affiliation.
Here's some rough math on what is known so far:
The New York Times now gets about 70% of its revenue from subscriptions or other content – as opposed to advertising. It has about 3.4 million digital subscribers.
The Washington Post is believed to be have crossed the 50% mark on revenue from content. It reportedly has more than 1.5 million digital subscribers.
Those totals suggest that even a recent push that has reportedly doubled the number of digital subscribers to the LA Times to around the 150,000 mark could turn out to be cold comfort for Soon-Shiong, who paid an estimated $500 million for the daily and several other publications from Glendale to San Diego. And recent reports peg another $150 million worth of investments into operations, including a bunch of newsroom hires that have some recalling the publication's heyday.
Everyone should recall that the heyday came before the Digital Age and regularly saw the newspaper chalk up annual revenue of more than $1 billion, with the lion's share coming on advertising and a relatively small portion from subscriptions.
Now print advertising is evaporating for metro dailies, digital advertising is too cheap to pay the bills, and Soon-Shiong apparently doesn't like ads anyway.
That brings us back to digital subscriptions, and Soon-Shiong's bold pronouncement of the ambitious goal of selling 5 million of them.
Let's say the LA Times hits that number – and let's also set aside, for now, the deal with Apple News, which ostensibly would cut into the newspaper's revenue with every subscription. Put Soon-Shiong's flagship down for the whole pie on 5 million subscriptions at the current going rate of $100 a year or so. That would amount to about $500 million in annual revenue – less than half of the heyday. That would come without the advertising dollars of the old days to fill the gap, and don't expect much help from the dwindling base of print subscribers, either.
All of this is in the air as Soon-Shiong deals with negotiations with the LA Times' recently formed newsroom union.
And here's something members of the union – known as the LA Times Guild – ought to bear in mind: Soon-Shiong does seek to put the operations that draw his investment dollars on a paying basis. He's been known to cite an adage about financial sustainability he learned from Roman Catholic nuns in his native South Africa as a child: No money, no mission.
The $650 million or so he's put into the LA Times is no guarantee that he wouldn't ever walk away if it becomes a money pit.
Last week brought the latest example of Soon-Shiong walking back—and away—from a bold pronouncement about a big ambition. It came when a bankruptcy judge approved the $610 million sale of a group of hospitals by Verity Health System, which has been under the direction of Soon-Shiong since 2017, when his Culver City-based NantWorks took a controlling interest in Integrity Healthcare, their parent company at the time, on undisclosed terms.
Soon-Shiong made one of his trademark bold pronouncements about his big ambitions at the time of the acquisition.
Our commitment is to enhance the scope and resources of Verity Health so that, together, we can deliver the breakthrough treatments and cures that save lives, provide better patient outcomes and improve well-being," Soon-Shiong said in July of 2017. "We will achieve this by applying the limitless powers of collaborative science and technology to transform healthcare practices and create a more efficient, more effective health system. Medical care is local and we strongly believe that community health systems should be supported with investment, technology and science to build next generation clinically integrated networks to drive better outcomes at a lower cost.
Soon-Shiong's NantWorks loaned nearly $150 million to Verity, according to reports, and that came on top of whatever was paid for a controlling interest in its parent.
The sale of the last of the Verity hospitals – St. Francis Medical Center in Lynwood, St. Vincent Medical Center and St. Vincent Dialysis Center in the Westlake district of LA, Seton Medical Center in Daly City and Seton Coastside in Moss Beach – wrapped up Soon-Shiong's nearly two-year run at trying to put them in working, profitable order.
Why did the multi-billionaire pull out?
The trade press has noted that Soon-Shiong, for all his experience as both a doctor and a biotech entrepreneur, had never run a hospital and got in over his head.
Bankruptcy filings, meanwhile, cited "mounting labor costs" as a key reason for the inability to turn the operations around.
Pearlstine showed fine comedic timing in telling the crowd of journalists at the SPJ event how Soon-Shiong's pronouncement of 5 million digital subscribers caught him off guard.
There's reason to get beyond the grins in viewing the billionaire's track record against the backdrop of the challenges facing the LA Times.
What Sotheby's Price Might Say About Contentious K-Town Mural
Here's one that comes down on the side of everyone who favors the Beau Stanton mural at the Robert F. Kennedy Community Schools in Koreatown.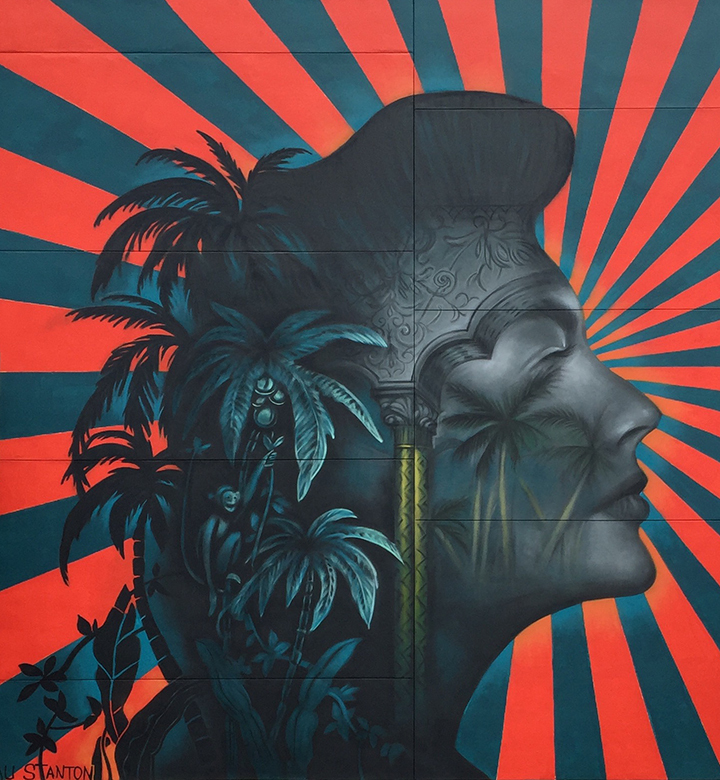 The artwork at the school is seen by some as too close to the sunburst pattern of a Japanese war flag to be acceptable in a neighborhood named for an ethnic group whose heritage includes suffering at the hands of Japanese occupiers of the Korean peninsula during the early 20th century.
Then there's this piece by Mark Grotjahn from the April 18 reception and viewing of works that made up the "Artists for the Hammer" exhibit, the basis for a benefit auction in support of the museum.
The Hammer Museum and Sotheby's Los Angeles teamed up on the event, and the setting of the reception matched lovely evening weather with the fetching UTA Artist Space in Beverly Hills.
Back to the Stanton mural, which some have said is a middling piece of art even if it has prompted a community controversy.
Perhaps – but also consider that this sunburst piece from Grotjahn carried a pre-auction price tag of $600,000 to $800,000, which seems to be reason enough to slow any roll toward painting over Stanton's work in K-Town.
Maybe Pearlstine – who was in the crowd – came away with some thoughts of his own to pass along to LA Times art critic Christopher Knight and education reporter Howard Blume, who have been covering the controversy in K-Town.
Will Live Nation, AEG Rivalry Play in OC?
Looks as though the competition between Beverly Hills-based live-entertainment titan Live Nation Inc. and Downtown-based counterpart AEG Worldwide might be carrying over to OC – even if it's a one-sided fight at the moment.
Live Nation last week struck a deal to buy the 1,000-seat Santa Ana Observatory, a venue that might fly below the radar by "mainstream" standards but is on the cutting edge of OC's vibrant music scene.
Reports indicate AEG's GoldenVoice promotions unit had counted the Santa Ana Observatory as part of the lineup of venues it handled prior to this year. The relationship between the venue and GoldenVoice ended last December, according to the trade press, also taking longtime talent booker Jeffrey Shuman out of the equation at the Observatory.
GoldenVoice is best known for producing the Coachella Valley Music & Arts Festival, and runs venues ranging from the El Rey Theatre in the Miracle Mile district of LA to the Warfield in San Francisco, but currently has no OC venues listed on its roster.
Live Nation handles booking for a national lineup of venues that includes the Hollywood Palladium and Wiltern Theatre in Koreatown, among local spots.
Live Nation seems to be doubling down by taking a stake in real estate and venues themselves to build on its core business of ticketing. The purchase of the Santa Ana Observatory is one example, and it adds to an OC presence that includes the FivePoint Amphitheatre that Live Nation operates in conjunction with FivePoint Holdings LLC in Irvine, as well as its position as promoter for the House of Blues Anaheim at the Garden Walk.
UCI's Cup Runneth Over
How'd you like to join the likes of Isaac Newton and Charles Darwin as a fellow of the Royal Society of London for Improving Natural Knowledge and have that become old news in a matter of minutes?
News of the honor for University of California-Irvine Distinguished Professor H. Kumar Wickramasinghe – a nanotech pioneer who holds more than 100 patents in the game-changing segment – came on the morning of April 17.
It only took about 15 minutes for word to arrive that Clare C. Yu, a professor of physics and astronomy at UCI, has been elected a fellow by the American Academy of Arts & Sciences.
The academy is "one of the country's oldest learned societies and independent policy research centers, convening elected members from the academic, business and government sectors to respond to challenges facing the nation and the world."
The two appointments offer solid indicators that UCI continues to advance its academic reputation now that it's joined the ranks of mature schools. UCI was ranked with "young schools" by the Times Higher Education – the London-based outfit provides a key measure in the academic world – until the school's 50th anniversary in 2015. UCI is one of 62 members of the Association of American Universities, whose ranks are often referred to as "research universities" and known as economic engines as well as centers of teaching.
Kudos all around—and one suggestion: Perhaps space the announcements of the appointments out a bit to give each of the honorees a bit of solo time in the spotlight.
Call it UStressC
A different story up the road, where you have to wonder whether USC's media relations folks realized the irony when they hurried into the morass of national politics last week to let reporters know that the school has plenty of experts available to sound off on how the "Mueller report is a stress test for democracy."
Fair to figure that USC staffers ought to know plenty about the sort of stress than can threaten a longstanding institution.
Also fair to suggest that the school might want to focus on the stress test it's experiencing right now – at least until it can manage to go a few months without a scandal.
Questions on College Admissions: Did Hodge Dig In? Will Riddell Sing?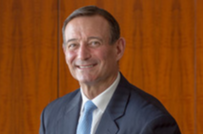 Were there sighs of relief from Newport Coast to Calabasas when word came that former Pimco CEO Doug Hodge has hired a couple of white-shoe law firms in Boston – Ropes & Gray along with Pepper Hamilton – to fight charges in the college-admissions scandal? Seems all of the folks copping pleas are also singing, but Hodge appears to have decided to dig in for defense – and that might spare some others from cropping up in the case.
Were there cries of concern in all the same places when Mark Riddell pleaded guilty to charges of taking placement tests on the sly for children of some of the wealthy parents accused in the case? Here's guessing Riddell had to sing a few notes for the feds before reaching a deal on his plea – so stand by to see if any more names crop up on his account.
City Hall Scandal(s) Update
I'll catch you up on developments among the various Spring Street schemers next week.
Noteworthy in the meantime: Good to know that SullivanSaysSoCal isn't the only entity that has Jose Huizar anxious to make like a clam these days.
The 14th District City Councilmember has asked a judge to grant him refuge from public exposure by sealing a motion to delay a civil case charging him with retaliation against a former staffer who says she was unduly punished after she called him out on unseemly behavior. The motion itself, Huizar contends, would run afoul of the ongoing federal investigation into him and various colleagues at City Hall.
Huizar even wants to put the request to seal the motion under a seal of its own. Same story – he claims the sort of stuff he wants to whisper in the judge's ear might disrupt the feds' probe.
Sounds about right for LA, where politicians have gotten so sloppy that they think nobody realizes how bad it's gotten.
There are reasons court cases take place in public, and it seems it should require more than a politician looking to save his own skin before a judge puts a veil of privacy over legal matters that directly concern the public's interest.
Jonnies On the Spot
Thanks to the Jonathan Club's World Affairs Group for inviting me to give a talk and engage in a lively exchange that highlighted the enthusiasm that members exhibit for intellectual engagement beyond the comfortable confines of their well-appointed place on Figueroa Street in the Financial District of Downtown.
The discussion took an interesting turn toward the Fashion District, with a rundown of some of the ways that waves of immigration from around the world helped shape LA into a global center of garment design and production. Here's a brief clip:
Frankie Goes to Canada
USC might be better off focusing on its own challenges and leaving the Mueller Report to others, as noted above, but one member of the Jonathan Club's World Affairs Group had good reason to weigh in on the matter.
Frankie Leung is a Hong Kong-born, Oxford-educated resident of Bunker Hill and practicing Downtown lawyer who also manages to contribute opinions to the Asian media over there and on this side of the Pacific Ocean.
Leung had to skip a cordial dinner after the recent World Affairs Group to prepare for interviews with Cantonese-language radio stations in Toronto and Vancouver – both major centers of Chinese immigration to Canada.
It seems Leung diplomatically reminded listeners to the north that the Mueller Report is likely to confirm their view that President Donald Trump is able to throw his weight around in a way that departs from standards of diplomacy and casts an even larger shadow than usual over our neighbor to the north on the world stage.
Leung apparently suggested that the presidential posture likely complicates life for Canadian Prime Minister Justin Trudeau as he seeks re-election while facing a scandal of his own on charges of exercising undue influence to aid a company on government contracts.
Sullivan Says
Venice-based Snap Inc.'s shares have about doubled so far this year to nearly $12 – still off the high-water mark set when it went public in 2017, but still a big and ongoing upward move that's been under-reported by the same local legacy business press that didn't hesitate to give the company a pasting during its free fall and remains behind the curve on coverage.