You'd think 10 months of tracking data on Covid-19 would have sharpened the Los Angeles County Department of Public Health's abilities to communicate clearly about the top threat to the public's health.
Then we get this from the agency's website:
That's a failure to communicate.
When did our institutions become so inept and uncaring about giving clear accounts to the public they are supposed to serve?
*        *        *
You'd think the legacy media-which is supposed to serve as a check on inept and uncaring government agencies in its role as the Fourth Estate-might provide more.
Then we get this from the January 3 edition of the LA Times:
"More L.A. County residents are dying daily of COVID-19 than at any other point in the pandemic – an average of 178 deaths a day over the last week, the equivalent of one death every eight minutes, according to a Times analysis."
The truth is that the LA County Department of Health reported an average of 178 deaths a day over the prior week-and that is very different from an average of 178 people actually dying. The data from the county included "a significant number of deaths from the backlog associated with the Spectrum outage and holiday reporting delays."
That means that fewer than 178 people a day, on average, actually died of Covid-19.
And that renders the dramatic claim of a death every eight minutes inaccurate and misleading.
*        *        *
It's worth noting that figuring the average for reported deaths on a per-minute basis is not analysis but basic math: Multiply the 60 minutes in every hour by the 24 hours in a day, which comes to 1,440 minutes. Divide the 1,440 minutes by the daily average of 178 reported deaths to get one every eight minutes.
The LA Times might have provided something that could be called analysis if its journalists had considered and explained the county public health department's backlog.
And an effort to follow up on the "Spectrum outage" and why that affected the reporting of Covid-19 deaths would have qualified as reporting beyond a press release.
*        *        *
County officials have not responded to inquiries from SullivanSays on the role of the "Spectrum outage," or whether the phrase refers to the cable carrier that serves parts of LA County.
*        *        *
It's also notable that the LA Department of Public Health reported 138 deaths from Covid-19 on January 2-down from 290 just two days earlier.
Why didn't the LA Times story of January 3 mention that the death toll had suddenly dropped by more than 50%?
*        *        *
Let me be clear-Covid-19 is no hoax. It's a public health crisis, and the public is paying an enormous price amid a lot of hypocrisy and vapidity from public officials from City Hall and the County Hall of Administration to the Governor's Mansion and the White House.
We're in a quagmire even with a vaccine-and the way out requires honest, clear communications, especially when it comes to matters such as the pace of death that's stalking us as a society.
Gibberish on the public health agency's website and gimmicky claims of a "death every eight minutes" invite panic at a moment when we need calmer heads to prevail. They also give cynical manipulators all the room they need to raise doubts about masks and social distance.
---
OC Healthcare Agency Clear but Clumsy
The Orange County Healthcare Agency was plenty clear in its message but quite clumsy with the use of an image of a Black man to illustrate a recent public service ad that sought to remove any stigma from mental illness or drug addiction under the headlined theme of "I am not my condition."
The ad, which ran in the December 27 edition of the OC Register, might do more harm than good, considering Blacks account for about 2% of the population in OC.
---
---
Calle's Free Pass Expires Here
Give Brian Calle and his Street Media, publisher of the LA Weekly and Irvine Weekly, credit for handling the national legacy media and the local business press.
No less than the Wall Street Journal reported on December 22 that Calle's acquisition of the dormant-but-digitally breathing Village Voice in New York included the famous title, its website and other assets-except a stake in the Obie Awards. The awards are well known for recognizing off-Broadway stage excellence and will be taken over by their co-producer, the American Theater Wing.
The WSJ left it to a quote from Calle to report that the archives of the Village Voice, which include works of some of the most famous journalists of the 20th century, would be donated to "a public institution."
Calle hasn't responded to an inquiry from SullivanSays, which leaves the question of how much value is left in the publication if the Obies and archives are subtracted.
Yes, the Village Voice title still rings a bell with plenty of people. But those people are mostly Baby Boomers who would expect the title to be revitalized with a brand of journalism that is very different from what Calle has delivered with his two SoCal publications.
Calle recently told the Orange County Business Journal in its January 4 edition that he's been approached by increasing numbers of would-be sellers of legacy titles since word got around about his acquisition of Village Voice and another deal for the Marina Times in San Francisco.
Here's guessing would-be sellers will run-not walk-to do business with Calle.
The LA Times, meanwhile, dedicated 2,200 words to Calle's plans on the single page of business coverage in its January 4 edition. The report failed to include any mention of "earnings" or "profits" but featured the word "super" five times.
---
---
Young Weighs in for Moorlach
Dan Young tends to speak softly despite a power resume that includes a stint as mayor of Santa Ana; a prior role as top exec at Irvine Company not named Donald Bren; and shepherd of Henry Samueli's $3 billion, 95-acre OC Vibe development proposed for Anaheim.
Young carries the proverbial big stick, though-and he used it last week with an appeal on behalf of John Moorlach's bid for the Orange County Supervisor's seat that is up for grabs in a special election in March.
---
Local Garment Trade's Fast Trackers
I came to Los Angeles in 1998 to take the job as editor of California Apparel News, the leading publication for the local garment trade, happy to find a path into a uniquely dynamic time for the city, the industry and the people who made it tick and kept an eye on it.
Sabrina Kay took on the challenge of education for the local garment trade as an entrepreneur-founder of California Design College, based in LA's Koreatown. She grew the school with a practical curriculum, aggressive marketing and an indefatigable drive.
Kay sold California Design College, then founded Fremont College in Cerritos and sold that, too. Somewhere along the line she was a founder of Premier Business Bank in LA, which was acquired by Irvine-based First Foundation Bank in 2018.
The latest line on Kay's resume came with her recent appointment to the board of publicly traded Mannkind Corp., the Westlake Village-based brainchild of the late, legendary biopharma executive Alfred Mann, a pioneer of the industry in SoCal.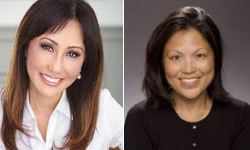 Julie Su was a young lawyer back in 1998 with the nonprofit now known as Asian Americans Advancing Justice. She approached the challenges of LA's garment trade as a hybrid watchdog and legal eagle. Su earned a MacArthur Fellowship, also known as a "Genius Grant," for advocacy on behalf of a group of women found in slave-like conditions at an underground garment factory in El Monte.
Su has remained an advocate for workers since then, eventually joining the public sector in 2011 to serve under Governor Jerry Brown as the State of California's Labor Commissioner. Governor Gavin Newsom elevated Su to secretary of the state's Labor and Workforce Development Agency in 2018.
Now Su's name is bandied about as a possible choice for Secretary of Labor in President-elect Joe Biden's Administration.
Congratulations to both Kay and Su for how far they've come, and best wishes as their respective paths continue.
---
Zócalo on Georgia
It's worth checking James C. Cobb's take on Gwinnett County in Georgia at Zócalo Public Square.
That's a place that played a crucial role in putting Joe Biden over the top in the race for the state's electoral votes-and the University of Georgia professor and Zócalo contributing editor says it happened because local Democrats focused on engaging the Black, Latino and Asian voters in suburban Atlanta rather than trying to change the minds of White voters who have traditionally leaned Republican.
"Democrats didn't raid the traditional Republican base" in Gwinnett County "but simply overwhelmed it."
Let's see how the trend-and voter turnout-holds in Georgia's special election for both of its U.S. Senate seats this week.
Let's also see whether the trend gets turned on its head in California, where Democrats appear to be losing ground with Black, Latino and Asian voters who are increasingly open to something besides self-proclaimed progressives who dominate the state's politics.
---
---
Soon-Shiong's Cross-Over
Back to local media, where you can put the $130 million or so that LA Times owner Patrick Soon-Shiong stands to make from Alden Global Capital on the list of stories that staffers in his own newsroom soft pedal-along with public corruption and St. Vincent Medical Center.
Soon-Shiong would get the chunk for his 25% stake in Chicago-based Tribune Publishing if the hedge fund's bid goes through.
Let's see whether there will be much coverage by the Orange County Register, LA Daily News, or the nine other dailies that make up the Southern California News Group, which is part of MediaNews Group-which happens to be owned by NY-based Alden Global.
I'll get back to Soon-Shiong and the LA Times in coming issues-keep Tribune Publishing in mind as a factor on SoCal's media landscape in the meantime.
---
Sullivan Says
Daily newspapers in SoCal should note that the form of print media with the biggest reach to offer advertisers in SoCal in 2021 might be Amazon, which is now making space for third-party marketing messages on the grocery bags it delivers to households throughout the region every day.
---