The multi-agency probe of 14th District City Councilmember Jose Huizar is significantly broader than reported so far, SullivanSaysSoCal has learned, and word around City Hall indicates it could go deeper fast. The ongoing investigation includes at least two federal agencies – the FBI and IRS – and first gained public notice with Nov. 7 raids on Huizar's office in City Hall, a field office, and his Boyle Heights home. Coverage and political calculations since then were apparently enough to prompt Huizar's wife, Richelle, to drop from her role as presumed favorite to replace him in the 14th District seat in 2020, when he faced term limits. Now comes word that four other warrants related to the case were served at undisclosed locations on Nov. 7. FBI spokesperson Laura Eimiller confirmed the additional warrants, which remain under a court seal, but declined to offer any other details such as addresses or whether the targets were government offices or private businesses or homes ..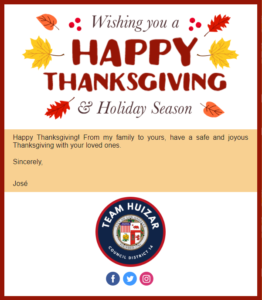 Eimiller conceded that word on the street has included speculation that a separate search warrant carried out somewhere Downtown on Nov. 14 was also part of the case, although she pointedly declined to confirm or deny whether there is any connection to the investigation of Huizar, who also deflected inquiries last week before sending out a Nov. 22 email wishing recipients a "Happy Thanksgiving & Holiday Season" from "my family to yours."
Post-Holiday Departure?
Talk of Huizar quitting his office "after the holiday" is in the air – although it's unclear whether such chatter referred to Thanksgiving or the year-end holidays. Word around City Hall had Huizar staffers getting the jump on matters in either case in recent days, asking the office of Chief Legislative Analyst Sharon Tso for assurances they'll be safe in their jobs if Huizar resigns … Tso's office oversees much of the mechanics of personnel during vacancies in City Council offices, and Tso confirmed to SullivanSaysSoCal that Huizar staffers have sought her out and asked her about their job security in the days since the Nov. 7 raids. Tso couldn't offer them any guarantees – City Council staffers are generally at-will employees, without civil service protections. The typical drill when an elected member of the body resigns calls for the rest of the City Council to vote on the appointment of an administrator to run the office – without a vote in the chamber – until a special election or regular election can be held to fill the seat. Tso said staffers typically remain in place under an administrative steward – although the Huizar affair is shaping up as anything but typical.
Mottek at the Movies
Keep an eye out for KNX 1070 business news pro Frank Mottek in Bird Box, a Netflix production that stars Sandra Bullock, Sarah Paulson, Trevante Rhodes and John Malkovich and is due for theatrical release next month.
Highly Recommended
Look at this video of Metropolis II just for the fun of it – and then go look at in person at the Los Angeles County Museum of Art.
[su_youtube url="https://youtu.be/Ovg3-H9JXOo"]
Metropolis II is by Chris Burden – the same fellow who brought you Urban Light, the installation of city street lights that has become LACMA's calling-card-cum-self-shrine on Wilshire Boulevard.
Highly Recommended II
Another exhibit at LACMA worth your time is called Outliers and American Vanguard Art, and it aims to "explore key moments in American art history when avant-garde artists and outliers intersected, and how their interchanges ushered in new paradigms based on inclusion, integration and assimilation. Or think of it as a look at periods when unpolished and unapologetic outsiders managed to influence the art world's establishment and move its commercial market … Either way might give you some context for the next item to consider the attention received recently by Ron English, a self-described street artist who reportedly paid $730,000 for an aerosol-on-cement painting titled Slave Labour during an online auction concluded by Culver-City-based Julien's Auction on Nov. 14 … English calls himself a "good pal" of Banksy, who created the piece, and now says he's going to whitewash it as a protest against the commercial market that's grown for "street art." English told CNN he hopes to get "a million dollars" for the whitewashed piece because "I'm crazy, but I'm not stupid" … Gotta wonder about that logic – Slave Labour was initially spray-painted on the outside wall of a retail shop in London in 2012, and the rectangle of cement that holds the image fetched $1.1 million on the block in London the following year. That puts the price English paid for the piece down by more than 25% – and Julien's auction came well after Banksy got global attention when a painting of his that went for $1.4 million at a Oct. 23 auction in London was immediately gobbled up by a shredder built into a frame on the sly and set off remotely as the gavel fell.
Thorp's Extended Book Tour
Kudos to "King of the Quants," pioneer Vegas card counter, one-time UC Irvine professor and best-selling author Ed Thorp, who recently added newlywed to his titles. Thorp and his bride, Catherine, tied the knot in April – a highlight in a year that's seen them maintain an exotic itinerary, with trips to the New Zealand, Fiji and the Seychelles … Less exotic but just as interesting in terms of the point of origin was a trip the couple made to the U.K., where Thorp was invited to discuss his latest book – A Man for All Markets – as a guest of billionaire hedge funder David Harding and his London-based Winton Group. Harding first became familiar with Thorp and his quantitative ways via TV in the 1970s. That's when Thorp was getting a lot of coverage for his innovations in card-counting, which led to his first best seller, titled Beat the Dealer. Another top-seller called Beat the Market came a year later, and A Man for All Markets has been out for more than a year but still has Thorp on the circuit.
Musco's Musical Menu
I caught up with Thorp at the new Il Barone on Bristol just off Jamboree in Newport Beach, and I'm glad to report that the place is bigger and better-looking than ever, with the same fine Italian menu. Also glad to report that L.A. Opera Vice Chairman Paul Musco – who owns Gemini Industries in Santa Ana – remains a valued regular at Il Barone. It's a tie that binds opera and Italian cuisine, two of Musco's great loves – after his wife, Marybelle, of course … The son of Italian immigrants has been known to play a lead role on underwriting Placido Domingo and the L.A. Opera to travel south for performances in OC – and such generosity comes on top of the giving that made the 1,044-seat Musco Center on the campus of Chapman University a reality, not to mention a world-class stage for Domingo's crew … Opera singers work up their appetites, but Musco is tight enough with the folks at Il Barone to stay open as long as it takes to make sure they get their fill after their performances whenever they hit the road to OC.
Sullivan Says
Recreational marijuana might be legal around here, but someone should tell the folks at Pershing Square that the public park is off limits for smoking of any kind.