There's one item about midway through this column that addresses the ongoing erosion of the public trust in Los Angeles.
Federal agents emphasized the point as this piece was being prepared for publication, extending an ongoing probe to the LA City Attorney's office and Los Angeles Department of Water and Power.
Most of this week's column will be devoted to folks who make honest livings.
It is noted, however, that the map of corruption now spreads from City Hall to Boyle Heights to the east and DWP headquarters to the west.
More next week.
Key Context on Spring Street Sales
Does last week's $406 million sale of the Grace and Griffin apartment towers mark a peak for Downtown LA's residential real estate market?
Credit Holland Partner Group on timing, in any case, and give an assist on design and project management to MVE + Partners.
Also realize that there's much more to consider than the recent reports of a deal and scattered data on prices when it comes to understanding the eye-popping price that Denver-based Daydream Apartments paid for the two newly built apartment towers on the 700 block of S. Spring Street.
Reports and records indicate Holland got $406 million for the 300-unit Grace along with the 275-unit Griffin – both 24 stories and designed by Irvine-based MVE.
This column recently cited the two buildings – which face each other from opposite sides of Spring Street – as a test of the market for upscale rentals downtown. That was shortly after they opened just four months ago, and the test-case scenario came with breaking news that Holland had put them up for sale as part of a portfolio that included the Sofia Los Angeles in the Westlake district just west of Downtown, and three other properties in Seattle.
The latest word on the street says Holland broke up the package to sell the Grace and Griffin separately as premium properties. The two buildings, which combine for 575 apartments, lived up to the billing, with the $406 million price tag equating to $706,000 per unit.
Some key context on the deal can be drawn from my writeup back in April, when the Grace and Griffin were reportedly still part of the six-property portfolio:
Estimates put the asking price at $1 billion for the whole package, which equates to a per-unit price of about $470,000. Figuring based on the average pegs the value of the Grace and its 300 units at $141 million, and the Griffin's 275 units at around $129 million. 

The guess here – based on location among other factors – is that the two buildings designed by MVE + Partners on Spring Street will likely fetch a premium within the package. Look for something on those two buildings that puts the values somewhat closer to the reported $770,000 per unit fetched recently for the 33-story Atelier Los Angeles, which stands a bit higher on the local scale thanks in no small part to its location at 8th and Hope Streets, with Grand-Hope Park and Whole Foods for neighbors.
Close enough, with the Grace and Griffin getting within 10 percent of Atelier Los Angeles on a per-unit basis.
So what?
I'll offer two scenarios – and I think the first is the more likely:
DTLA's apartment market has peaked and this deal amounts to a high water mark that should be noted in all sectors of the residential market as well as commercial segments ranging from office to industrial.
Or
The real estate market has some more room to run, in general, and the Grace and Griffin have put DTLA's Historic Core district on par with South Park – a good sign for the Perla high-rise that's nearing completion at 4th & Broadway, where it will offer a test for the condo market.
Other scenarios are welcome – email me at [email protected] or follow me on Twitter @SullivanSaysSC.
Big Names of OC Healthcare Sector Gather Around Cancer Care
There's a big healthcare confab set in Orange County this week, and it has the potential to be a showcase of what OC does best – change and grow.
You won't find many oranges growing amid the gleaming office buildings and modern industrial centers and buzzing tourist attractions in OC, after all.
See what I mean?
OC has historically known how to change and grow – and the $1 billion cancer treatment and research center City of Hope has in the works in Irvine will offer a check of whether the tradition holds in its healthcare sector.
The campus will grow on a piece of land that's been changed from a U.S. Marine base to a thoroughly modern commercial center. The center, in turn, is taking shape in conjunction with a decidedly up-to-date group of residential communities that have grown as the Great Park Neighborhoods, which are spread over adjacent sections of the one-time home of Marine Corps Air Station El Toro.
City of Hope has set its eyes on OC for a number of reasons, not the least of which is the many residents of the area who currently must travel to its longtime main campus in the San Gabriel Valley city of Duarte.
The hospital – globally acknowledged as a leader in cancer treatment and research – has been bold in its OC ambitions. First it recruited a leading local healthcare executive, Annette Walker, to take the lead on establishing its new operations. Then it forged a relationship with FivePoint Holdings LLC, which provided a gift of land that got the vision for the OC operations started. And then it upped its ante from a $200 million plan to a $1 billion vision for the new center. (Full disclosure: City of Hope and FivePoint are both sponsors of this column).
City of Hope isn't operating in a vacuum. There's no doubt that healthcare is a business even for organizations that also see it as a mission and an obligation.  And there are plenty of other healthcare providers in OC that have invested significant resources in cancer treatment and research.
How will they react to the bold ambitions of City of Hope, an outsider with a sizable reputation?
The first public indication will likely come at this week's confab, titled the 2019 Health Care Forum and presented by the Orange County Business Council. The business advocacy outfit bills the three-hour session, set for July 24 at the Lincoln Experience Center in Newport Beach, as a discussion of "The Art and Science of Innovative Cancer Care in Orange County."
The title amounts to a big umbrella, offering plenty of room for various healthcare providers to adapt to the pending arrival of a major new entry – and for the newcomer to find a fit on the local landscape.
The lineup, in any case, is an impressive reminder of the breadth and depth of the healthcare sector in OC. Michael Caligiuri, president and physician-in-chief for City of Hope, will deliver a keynote address. Fawn Lopez, publisher and vice president of Modern Healthcare, will lead a panel discussion among representatives of large healthcare providers and systems with significant operations in OC, including:
Walker, president of City of Hope OC
Michael Ricks, executive vice president, chief operating officer, Hoag Memorial Hospital Presbyterian
Jeremy Zoch, chief executive, St. Joseph Hospital
Richard J. Gannotta, chief executive, UCI Health
Tammie Brailsford, executive vice president, chief operating officer, MemorialCare Health System
Mark Costa, senior vice president, area manager, Kaiser Permanente Orange County
It might take months for any new ideas or relationships or approaches that might be sparked by the discussion to become clear. It could be years before any take effect.
But for now it seems that the established healthcare sector in OC is willing to take a first, crucial step toward recognizing that some conversation is in order when a newcomer with a billion-dollar budget and a big-time reputation shows up.
Here's guessing it's a first step toward adaptation that will lead to change.
That usually leads to growth in OC – stay tuned to see if the pattern applies to the latest change in the healthcare sector there.
Garcetti Goes Ghost
It's notable amid the ongoing federal investigation and this column's own probes into LA City Hall that I received an email a couple of weeks ago from Mayor Eric Garcetti, who wanted to talk about a recent report by SullivanSaysSoCal that pointed to a bright spot in OC's efforts to address homelessness.
The item focused on a program that has representatives of both the public and private sectors in OC confident about ensuring housing over the coming year for all of the 188 veterans identified as being in need of shelter during the most recent count of homeless folks there.
The item also noted that OC's program appears to cost significantly less than whatever LA is doing to address homelessness.
The email from Garcetti marked the first time he responded directly to any of the many inquiries SullivanSaysSoCal has sent his way about everything from the inexplicably favorable lease terms for the landlord of a proposed homeless shelter to the questionable indicators about a service provider in line for a $4 million-a-year contract to operate the place.
Sure, the mayor's message was basically a list of one-way talking points, but he did offer to have high-ranking staff set up a briefing for me – and he even cc'd a senior communications staffer.
I expressed my appreciation and waited to hear. The upper-level staffer emailed to tell me he was working on setting up a briefing. Then a lower-level staffer called to follow up.
I told the lower-level staffer I'd be happy to come to City Hall at the convenience of whoever would be giving the briefing.
Then I told him that he and anyone else involved should expect questions that follow up and drill down on the matter of homelessness and programs and resources and spending. I told him that this would not be an exercise in talking points and stenography.
I haven't heard from the mayor's office since.
Guzman Gives Up LB Port Post for Costa Mesa City Manager's Job
Advantage OC on this case of crossover with LA, thanks to Lori Ann Guzman's decision to give up her duties as a harbor commissioner in Long Beach now that she's taken on the job of city manager in Costa Mesa.
Guzman has been an OC-LA star for several years, winning plaudits for her service with the Port of Long Beach as a member of the five-seat Board of Harbor Commissioners for more than five years.
She's also gotten strong reviews on her full-time job as director of finance for the City of Huntington Beach for the past eight years or so.
"It's been an honor and a privilege to serve the Port of Long Beach for the past nearly six years, and I'll look back with pride on the amazing progress we've made," Guzman said in a statement. "We've been through one of the port's most challenging periods, and I feel strongly that this organization is well-positioned to thrive in an industry that is dramatically changing. Although I'd love to continue my service to the port, my new position requires my undivided time and attention."
GOP Women Aim to Reclaim Congressional Ground
Give LA the edge on this crossover, which came with recent word that former U.S. Rep. Mimi Walters – who lost her Irvine-based seat in the U.S. House of Representatives when Democrats swept the Congressional races in OC in the mid-term elections of 2018 – has been named to the board of directors of Woodland Hills-based investment bank B. Riley Financial Inc.
Walters has made it clear that she's not interested in a rematch against Katie Porter, the UC Irvine law professor who took her seat.
That doesn't mean the GOP isn't out to win back its traditional strongholds in OC – or that it's short of women of ambition when it comes to the challenge.
Lisa Sparks, dean of Chapman University's School of Communication, will run for the nomination to challenge Porter, and current OC Supervisor Michelle Steel will seek the Republican nod to challenge Dem rookie Harley Rouda.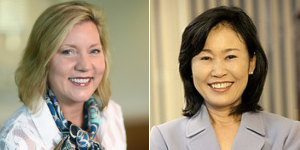 A pair of women running for the Republican nomination to challenge incumbent Democrats for congressional seats in OC.
Yes, for anyone who's stuck on old stereotypes, OC has changed.
$25M to Children's Hospital
Kudos to the anonymous donor who recently gave $25 million to Children's Hospital Los Angeles to help with the expansion of the Neurological Institute there.
"This truly transformative gift comes at a time when demand is growing quickly – particularly among underserved children in Southern California – both for pediatric neurological care as well as interventional radiology's broad range of minimally invasive procedures," according to a statement from CHLA president and chief executive Paul S. Viviano.
Ponti's Opera Ready for New Season
Kudos also to Carlo Ponti Jr. for his constant efforts on a philanthropic mission that doesn't get enough attention.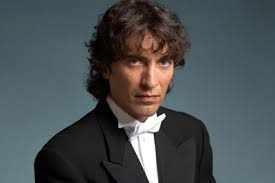 Ponti recently sent along word that the Los Angeles Virtuosi Orchestra's upcoming concert lineup is set, with performances ranging from Mozart and Vivaldi to a mix of poetry and music to a focus on piano artistry.
Venues will be similarly diverse, with performance spread over the Broad Stage in Santa Monica, West High School in Torrance and Théâtre Raymond Kabbaz at Le Lycée Français de Los Angeles in the Palms district on the Westside.
There's an LA-OC crossover in the lineup, too, with the orchestra's season finale slated to feature the winners of the Judges Award at piano maker Steinway's Orange County Music & Dance School's Rising Stars Piano Competition. Also expect an appearance by a "very special guest soloist."
The full lineup is available here: http://lavirtuosi.org/performances/2019-2020-season/
There's good reason if Ponti's name rings a bell – he's the son of famous film producer Carlo Ponti Sr. and actress Sophia Loren.
The younger Ponti has built a career of his own as a classical conductor – he's led orchestras around the world – and established the Los Angeles Virtuosi Orchestra as a non-profit that pursues a mission of support and advocacy for music education. The emphasis is on public schools in the area, with an aim of lending a hand to young students who might otherwise miss out on the chance for any musical training.
Sullivan Says
I don't know why the grand old Gaylord Apartments on Wilshire Boulevard in Koreatown keeps this image of the Rat Pack in its downstairs laundry room, but it's somehow good to know it's there.