The May 25 death of George Floyd in Minneapolis is now a local story everywhere because of the universal chords it strikes.
There is no shortage of qualified and unqualified commentators speaking from perspectives broad and narrow.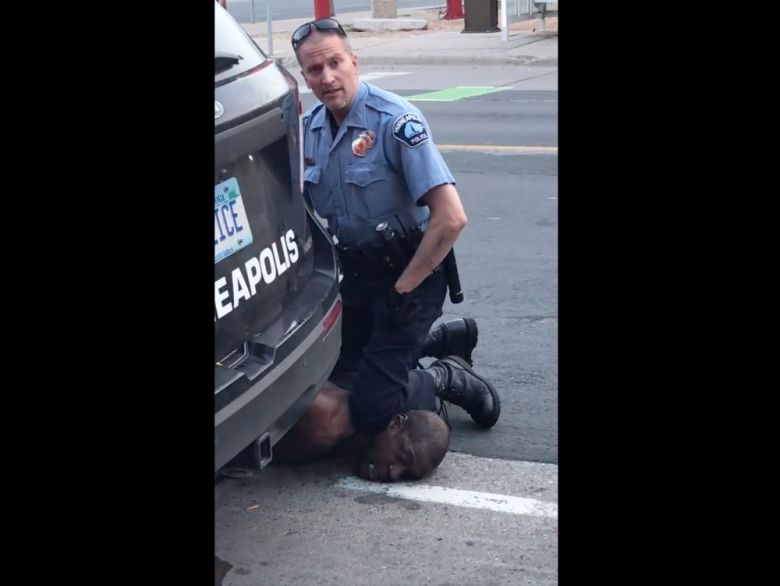 This photo prompts one more comment, centered on what I find to be a particularly disturbing aspect of the incident: The free-hand approach of Minneapolis Police Department Officer Derek Chauvin as he knelt on Floyd's neck.
Wouldn't the officer need that gloved hand you see on his thigh to be braced against the vehicle or out for balance if Floyd was offering resistance?
Everything that seems to be plainly wrong about Floyd's death—everything that screams murder—becomes absolutely chilling from that perspective.
It's time to get beyond talk and do the actual work of understanding and addressing the many conditions behind this image.
Anything less will amount to doing nothing while we wait for the next needless death among We the People.
---
---
Skip the Lectures
The Floyd case also has become local in actuality with the public protests it sparked and the looting and arson that have followed some demonstrations in various parts of SoCal in recent days.
Let's hope that protest gains the upper hand over violence by the time you read this.
Here's a request for politicians and members of the legacy media in SoCal in the meantime:
Please stop prefacing your remarks and reports on looting or arson by telling us that the vast majority of protesters have been peaceful. Stop adding breathlessly that the relatively few who have done violence do not represent the whole bunch.
Isn't that the case in life in general? Aren't most people basically law-abiding? Don't those with bad intentions typically represent a small portion of any group?
The notion that such an obvious distinction in human behavior needs to be constantly pointed out to the general public is condescending, at best. Politicians and the legacy media should stop peddling the obvious as some sort of special insight and start providing useful context for the challenges we all face.
---
---
Something to Build On
There will come a day when the unrest is over and Covid-19 is tamed.
Then we'll need industry to be sharper than ever and make use of all the local talent it can handle.
SoCal's garment industry, in particular, holds great potential for taking advantage of a new-found, pandemic-borne appreciation for local manufacturing in ways that could lead to local growth and jobs.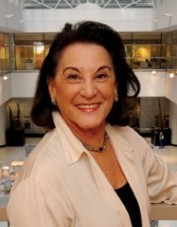 All the more reason to laud Ilse Metchek and the nonprofit foundation of the DTLA-based California Fashion Association she leads for taking her show on the virtual road.
Metchek has developed a virtual classroom PowerPoint presentation and panel seminar called "The Passion for Change." It's well-timed and on-target for local college students and others seeking insights on the changes in store for the apparel industry.
Students at the DTLA-based Fashion Institute of Design and Merchandising and LA Trade-Technical College already have gotten the benefit of the sessions, along with their peers at Long Beach City College. The Art Center College of Design in Pasadena is on deck for June 4, and other schools are welcome to participate.
Contact [email protected] for details on logging into a session or participating as a school.
---
Too Early?
Time for a humorous perspective on Covid-19?
Don't blame Metchek if you don't think so.
This one is all on me for telling the tale on Metchek, who did manage to mention twice in as many conversations last week that she hasn't bought a new pair of shoes since California went into Covid-19 shutdown.
Some more perspective on the power of the pandemic: Neither man nor beast has ever kept Metchek from buying a new pair of shoes for that long.
---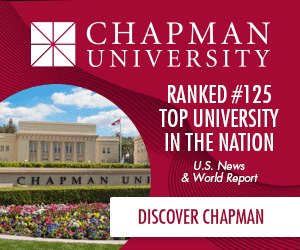 ---
Hopeful Podcast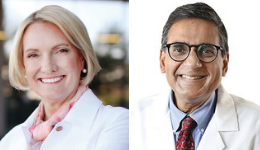 This week brings the launch of Hope of the City, a podcast about cancer-specialist City of Hope. The debut edition features a discussion on why it's vitally important to ensure cancer treatments continue amid the challenges of Covid-19.
I spoke with City of Hope Orange County President Annette Walker and Dr. Ravi Salgia, chair of medical oncology, associate director of clinical sciences at the home campus in Duarte, and leader of a newly opened facility in Newport Beach, about how the organization has mitigated the challenges while moving forward on its new campus in Irvine.
Click below to listen.
sssc
·
Sullivan Says_Hope of the City_ep1
---
Hoag's Reality Somewhere Between
Here's a reality check on recent coverage of Newport Beach-based Hoag Memorial Hospital Presbyterian's ongoing effort to extricate itself from the portfolio of Renton, Washington-based Providence Health & Services.
The LA Times did a piece on May 8 that made it all about religion—Providence is a Roman Catholic organization and its restrictions on abortions did not sit well with the board of directors of Hoag, which was founded as a Presbyterian organization.
The Orange County Business Journal hardly touched the religious aspect in a May 11 report that focused mostly on the desire of Hoag to have local control over its operations.
The truth, according to word on some of the better paved streets of OC, is somewhere in between the two reports when it comes to the religious difference.
The same sources also say it's true that local control matters to Hoag's board—which has remained intact through a 2012 acquisition by St. Joseph Health and a takeover by Providence four years later. Hoag's local backers would rather its operations be smaller and free to aim for its own goals at its main hospital in Newport Beach and another in Irvine.
But the proposed split appears to be about money when you get down to it.
Recall, knowledgeable sources say, that Hoag's credit rating was ailing as OC came out of the Great Recession. That meant relatively high costs to borrow—and that led to the deal with St. Joseph, which had a top credit rating.
Hoag apparently can afford to fly on its own once again after nearly a decade under the wing of a bigger outfit.
Expect a fight over the split to range from boardrooms to public relations agencies to white-shoe law firms—and don't expect much more coverage from daily newspapers or the business press.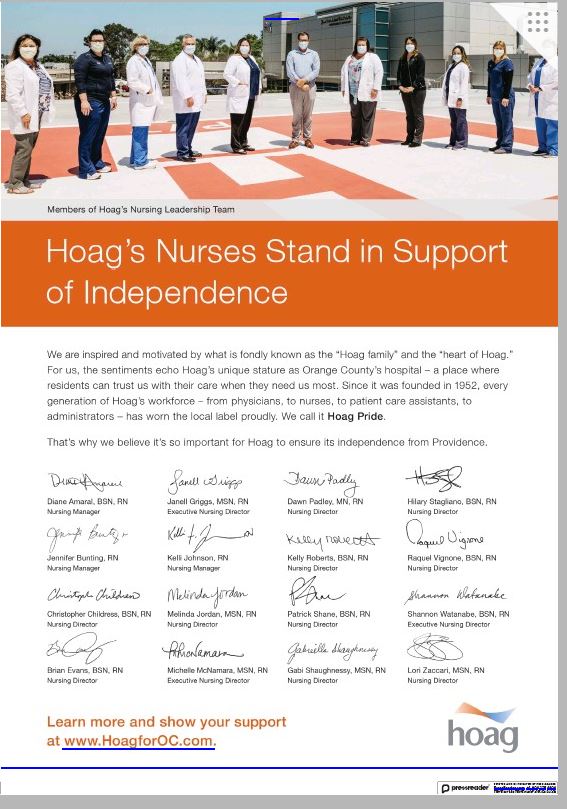 That has left room for Hoag to get a leg up on the PR front so far—it attached a simple concept to its independence bid and targeted a key constituency with a full-page ad that ran in the OCBJ's issue of June 1. The ad highlighted the nursing leadership team and portrayed independence as a way to maintain Hoag's "unique stature as Orange County's hospital."
---
LA Times Takes Another Pass on Soon-Shiong Shuffle
Memo to the LA Times and Executive Editor Norm Pearlstine: Ignoring Patrick Soon-Shiong's other business interests because he owns the newspaper is just as bad as covering them favorably because he's your boss.
That's worth mentioning again because the LA Times didn't cover the biotech billionaire-turned-publisher's appearance on Rudy Giuliani's YouTube show back on April 17, when he explicitly sought to gain influence through the one-time New York mayor's well-documented connection to President Donald Trump. Soon-Shiong wanted the federal government's help for efforts by his Culver City-based NantWorks LLC to develop a vaccine for Covid-19.
Flash forward to May 27, when NantWorks announced that two of its many enterprises—ImmunityBio and NantKwest—were selected for the "Operation Warp Speed" program of the Trump Administration. The program looks to subsidize and fast-track research-and-development of a Covid-19 vaccine, which would debut to the broadest and most intense consumer demand imaginable. Participants would be expected to donate some amount of any vaccines or other products developed under the program, according to the Trump Administration.
Shares of NantKwest, a publicly traded unit of NantWorks, spiked on the news.
Not a word about any of it in the LA Times.
---
---
Calling Carillo
I'll swing back for a deeper report on LA's ongoing public-corruption scandal next week.
This question awaits a response from Sacramento in the meantime:
How does Wendy Carrillo, an elected member of the California State Assembly, account for her judgment in hiring George Esparza as her chief of staff now that he's agreed to plead guilty to corruption charges related to his role in the racket the feds have uncovered in City Hall?
Does Carrillo plan to keep Esparza on the public payroll?
Can she explain how she figured he was in line to step up to chief of staff for a member of the Assembly based on his prior employment with 14th District LA City Councilmember Jose Huizar, who's been identified by federal investigators as a key figure in the scandal?
No word from Carrillo—and some people wonder why folks around here don't pay much attention to elected officials anymore.
---
Sullivan Says
SoCal has never seen looters with hipper clothes or nicer cars than the bands roving the streets this time around.