The same recent bankruptcy deal that made investment titan Pimco in Newport Beach a co-owner of struggling luxury retailer Neiman Marcus also secured LA-based Ares Capital Corp. a majority stake in hot e-commerce brand Mytheresa.com.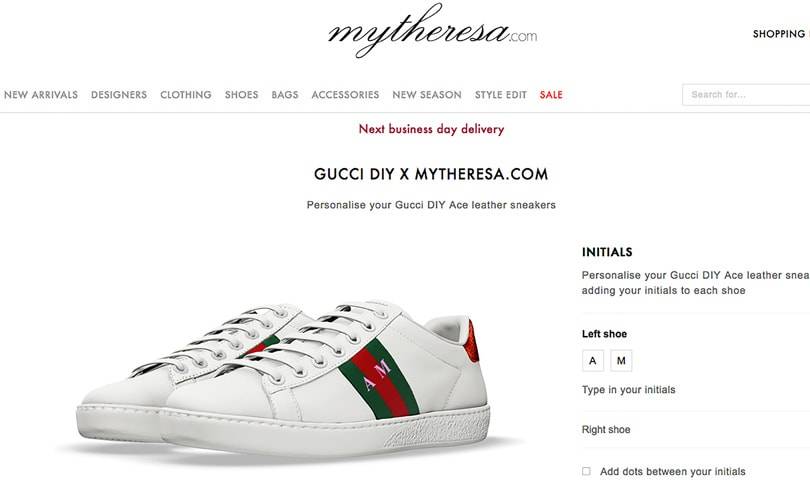 How hot?
Ares and the Canada Pension Plan Investment Board—which joined forces to put an estimated $1.5 billion into a deal to buy Neiman in 2013—acquired Munich, Germany-based Mytheresa a year later. Neiman paid a reported $200 million for the fashion-forward e-commerce operation as a hedge against digital sales eating into revenue at its brick-and-mortar retail stores.
Mytheresa's sales grew rapidly, and so did its value, with an estimated worth of $500 million as of last year.
Ares unloaded Neiman, longtime retailer to the rich, after a complicated bankruptcy that saw Pimco and other investors take over ownership in September by swapping more than $2 billion in debt for equity. The new owners also provided about $700 million to finance Neiman's operations.
Ares had taken steps to move Mytheresa outside the net of bankruptcy proceedings, but the firm gave up a chunk of the e-commerce outfit to settle legal challenges. That seemed to be a tactical retreat that allowed Ares and co-founder Antony Ressler room to battle through the process and hang onto a prime stake in Mytheresa.
Ressler's Atlanta Hawks should be so good at grabbing rebounds.
---
Westfield Century City for Sale?
Here's a follow up to last week's item on plans by Unibail-Rodamco-Westfield SE, the debt-laden owner of a vast portfolio of shopping malls in SoCal, to raise money to get through the pandemic.
The Paris-based property owner reportedly favors raising $4 billion or so by issuing new stock—effectively diluting the value of its existing shares.
A couple of significant shareholders in Unibail are calling instead for a sale of its entire U.S. portfolio—a deal that would mark a 180-degree turn from its $25 billion acquisition of the Westfield malls three years ago.
The local portion of the U.S. lineup of malls ranges from the high-end Westfield Century City to the Westfield Culver City on LA's Westside, three malls in the San Fernando Valley, Westfield Valencia Town Center in the Santa Clarita Valley, and Westfield Santa Anita in the San Gabriel Valley, among others.
A key data point that's driving the push for a sale: The amount of retail space in the U.S. per 1,000 people is seven times the total in Europe, home to the core of Unibail's portfolio.
Don't expect quick deals, though. Analysts expect sales of the Westfield malls could take two or three years as Unibail and potential buyers check whether the retail market has found a new normal in the U.S. and globally.
---
---
City of Hope OC's Community Chorus
It only takes a few well-chosen words to stake out a big mission.
City of Hope Orange County is going big for Breast Cancer Awareness Month this year with this challenge: "Imagine a world without cancer."
City of Hope's expansion in OC is centered on a comprehensive cancer research and treatment center under development at FivePoint Gateway in Irvine.
A harbinger of the 11-acre campus arrived earlier this year with the opening of City of Hope Newport Beach, which offers "personalized therapies, highly specialized physicians and nationally recognized compassionate care to local communities."
City of Hope is resolute in its commitment in OC, but it's not trying to do it alone—that much is clear as the organization rallies community leaders in Newport Beach to raise their voices for Breast Cancer Awareness Month in the form of videos that pick up on the theme to describe a "community filled with hope that comes together for a common cause."
The videos will be posted on City of Hope OC's Facebook and Instagram pages throughout October, and compiled on the organization's YouTube channel at the end of the month. Visit City of Hope OC's website here for more information.
The lineup includes a roster of enterprises that range from the sleek sheet-metal specialists at Fletcher Jones Motorcars to afficionados of fine fare at Il Barone. Other participants so far are Atria Newport Plaza; Balboa Bay Resort; BoxHaus; CosmetiCare; DermFx; Elite OC Productions; Farmhouse; Flemings; i Accident Lawyer; Invest Oversea Inc.; McLaren & Lamborghini; Modern Luxury; Modo Mio; Newport Beach Chamber of Commerce; Newport Beach Mayor Will O'Neill; O2 Health Lab; Spinnaker Investment Group and Tony Lattimore Personal Training.
"Hearing the words, 'You have cancer' is lifechanging, and cancer survivors are the bravest people I know," said Annette Walker, president of City of Hope Orange County. "City of Hope began our Orange County expansion right here in Newport Beach to meet our community's pressing needs for lifesaving medical care. Now, we're joining with city leaders to let this community know we're aiming for the biggest goal of all—a cancer-free OC."
---
Craig's Eye-Catcher at Citadel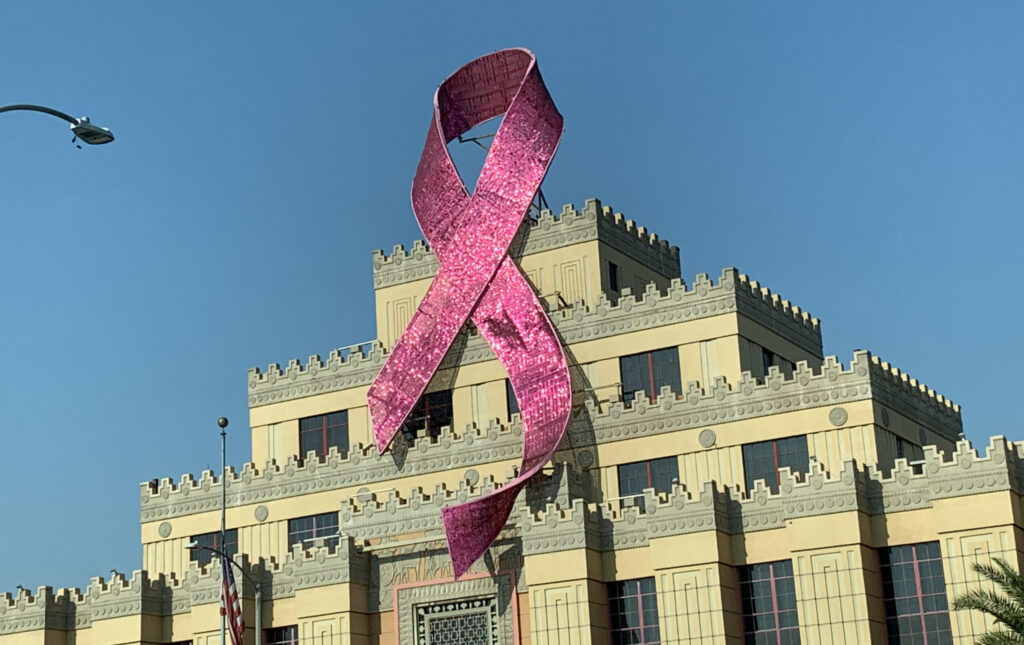 Here's a big example of the OC-LA crossover effect, with kudos to Steven Craig, who's responsible for this show of support for Breast Cancer Awareness month at the Citadel outlet retail center in City of Commerce, just southeast of DTLA.
Craig Realty Group is based in Newport Beach and also owns outlet malls in San Clemente, Cabazon, Barstow and Tulare in California, along with 10 more spread over Hawaii, Arizona, Utah, Colorado, Texas, Missouri and Wisconsin.
---
Crayon Eater Crosses Over
Here's an OC-LA crossover that might be funny if it weren't so pathetic: Irvine resident Nathan Wilson was arrested last week on federal charges stemming from allegations that he set an unmarked Santa Monica Police Department car on fire during riots that broke out in the wake of the murder of George Floyd in Minneapolis earlier this year.
The U.S. Attorney's Office alleges that Wilson posted on social media photos of himself that showed a distinctive tattoo, giving investigators a key clue.
The kicker on this one: The handle on Wilson's Instagram account is: "yup_i_eat_crayons."
---
---
International Medical Corps Shows Range
Where might you find U.S. Vice President Mike Pence and Daily Show host Trevor Noah on the same billing?
Santa Monica-based International Medical Corps turned that trick for its Annual Awards Celebration on October 15—although I feel it's fair to point out the group needed some help from Zoom to span the obvious divide between those two A-listers.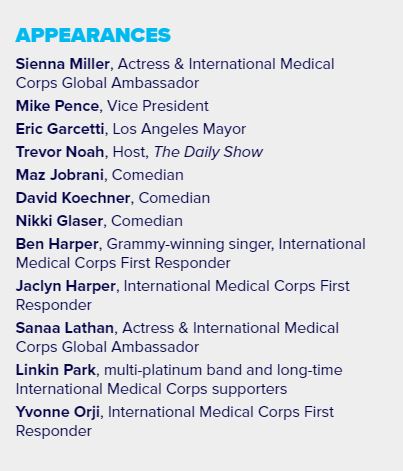 Plenty of other celebrities and worthies from the world of emergency responders also had warm words for the efforts that IMC makes in sending medical personnel into some of the most severe disaster zones and tenuous situations around the world.
That usually means far-flung locales with minimal medical resources.
This year it has meant a number of assignments at home, with IMC responders going to Covid-19 hotspots.
No individual honorees this year—the celebration typically lauds a handful of dedicated healthcare professionals and supporters.
Anyone interested in viewing the event can watch it here.
---
Where Art Thou Art?
That's the question that brought together a virtual panel drawn from civic leaders in the Thousand Oaks area—just over the LA-Ventura County line—for one of the 4@4 Forums produced regularly by People Media Worldwide Inc.
The October 15 edition of 4@4 was moderated by Gerhard Apfelthaler, dean of California Lutheran University's School of Management.
Apfelthaler took up the subject of how the Covid-19 pandemic is affecting arts organizations in discussions with Roya Alt, director of the California Museum of Art; Natalia Staneva, chief executive of the New West Symphony; and Rachel Schmid, curator of collections and exhibitions at Cal Lutheran.
The short take: It's rough out there as arts groups struggle with how to meet expenses at the reduced capacities that will likely be a fact of life—if not a requirement of law—for some time to come.
Some good news: The New West Symphony recently held its first-ever virtual concert, opening its season with a performance streamed to viewers from the Ronald Reagan Presidential Library in nearby Simi Valley.
Some bad news: Staneva reported that a lot of musicians have had to set down their instruments for full-time efforts to make a living in other ways since the pandemic struck, and Alt noted that many artists and arts organizations could be approaching a "point of no return" as the financial challenges continue.
Some artistic uplift: Intermissions in the 40-minute program were provided by a couple of impressive performances from members of the Los Robles Children's Choir.
---
---
Update on Intersection of Homelessness, Corruption
There will be more coverage on the intersection of homelessness and public corruption in Los Angeles in coming weeks.
Meanwhile, I offer you the video below, an in-depth talk on the subject with Siyamak Khorrami of the Epoch Times, who interviewed me earlier this month for his "California Insider" show.
The talk serves as a useful recap of prior coverage, and as a stage-setter for future reports.
---
Sullivan Says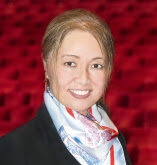 Congratulations to Jane Fujishige Yada, whose family-owned Harbor Field Holdings LLC illustrated Orange County's transition from an agricultural center to a uniquely cosmopolitan urban-suburban hybrid even before her appointment this week as chairperson of the board of directors of the Segerstrom Center for the Arts in Costa Mesa.
Follow me on Twitter @SullivanSaysSC.
---