I don't know if Los Angeles City Engineer Gary Lee Moore is under undue political pressure at City Hall or has simply fallen down on the job.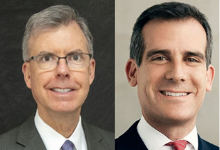 I do know that $300,000-a-year Moore leaves himself open to such questions by declining to answer a simple inquiry that was put to him more than two weeks ago. It's about a report he signed before the City Council and Mayor Eric Garcetti agreed to pay $35,000 a month to lease space in a Downtown LA warehouse they said would be converted to an emergency homeless shelter.
The city's Bureau of Engineering-which Moore leads-reviewed the project before the city agreed to lease space at the property. The bureau-which has more than 900 engineers, architects and surveyors on staff-hired the Santa Monica-based architectural firm of Kaplan Chen Kaplan to assist. Moore signed his name to a 142-page report that included no mention of any structural problems.
That was more than a year ago, and the city has paid more than $600,000 in rent for the space at 1426 S. Paloma since.
There are encampments all around the building but still not a single bed available to the homeless. That's because the promised renovation ran into "structural issues," according to Garcetti.
Rochessa Washington, a spokesperson for the Los Angeles County Department of Health Services, the city's partner in whatever scheme is in the works on Paloma Street, went a bit further. Washington referred to "site conditions/issues," adding that "the original architect became seriously ill for several months which necessitated his replacement with a new architect for the project."
Neither the mayor's office nor county officials have responded to follow-ups left hanging by their vague responses, including:
Did City Engineer Moore miss a major problem when he signed off on a report that made no mention of "structural issues" at the Paloma Street property?
Why would the city and county select an architectural firm with such limited capacity that the illness of one person would set the promised renovation back more than a year?
Bear in mind that the shelter was supposed to open with 120 beds by the fourth quarter of 2019. The Los Angeles County Department of Public Health estimates that an average of three homeless people die each day-more than 1,000 corpses while the conversion on Paloma Street has languished.
Here's a list of who won't account for the failure on Paloma Street or its cost in lives or public funds:
Garcetti and several members of his media staff.
Moore and Mary Nemick, director of communications for the Bureau of Engineering.
Elena Stern, senior public information director for the city's Department of Public Works.
Washington and her colleagues in the public information office of the Los Angeles County Department of Health Services.
The office of Kaplan Chen Kaplan.
Stay tuned.
---
---
Hope of the City  
Lung cancer is the second-most common form of the disease in Orange County, as well as the leading cause of cancer deaths locally-and about 20% of cases afflict patients who aren't tobacco users.
All key reasons why this edition of the Hope of the City podcast visits with Dr. Dan Raz, a lung cancer surgeon who brings his degrees from MIT and the University of Pennsylvania and his experience from fellowships at the Sloan-Kettering Cancer Center, Massachusetts General Hospital and the Mayo Clinic to the operations of City of Hope OC.
Listen in for information and insights from Raz on the new cancer screening program at City of Hope Newport Beach, with more information available by calling (626) 535-3983.
Is the prevalence of lung cancer locally something that leads City of Hope to adapt prevention and treatment programs to local circumstances? (0:59)
City of Hope OC is using low-dose spiral-computed tomography at its Newport Beach clinic as a main tool for early detection. Tell us about that process and what it means to patients. (2:02)
About 20% of cases of lung cancer are patients who do not use tobacco. Can you shed some light on other causes of lung cancer and what preventative steps might be taken in regard to them? (3:14)
Lung cancer in people who have never smoked is much more common in certain ethnic and demographic groups. (4:11)
You mentioned radon. What is that, and what might be sources of exposure to it? (4:54)
Detection is so important in this matter. Lung cancer is detected relatively late, often because the symptoms take time to become apparent. (5:33)
There's been a lot of progress on this front. The age-adjusted death rate for lung cancer nationally dropped by 56% between 1999 and 2018 according to federal data. Can you shed some light on the gains made on lung cancer in general and at City of Hope in particular? (6:46)
SullivanSaysSoCal · SullivanSays_Hope of the City_ep6
---
Schulz Moves On from Orange Coast, Looks Like Shakeup at LA Magazine
Congratulations to OC media veteran Chris Schulz on the launch of Schulz Media Works, which offers a menu of services you'll find here.
Schulz is fresh off a tenure as publisher of Orange Coast Magazine in Irvine, and his recent departure looks to be well-timed, based on recent rumblings at Los Angeles Magazine, a sister publication. The Miracle Mile-based glossy has an "immediate opening for a new president and publisher," which indicates Josef Vann is on to other opportunities after three years on the job.
Vann's most notable move as publisher came with the hire of Maer Roshan as editor in chief, tapping a veteran of New York's media and social scene with a taste for Manhattan-style buzz.
Tough to say how that's worked in LA-Roshan has had two years on the job, one of them under Covid-19 conditions.
It's also unclear what a change of publisher might mean for Roshan-here's guessing he didn't come cheap, and LA Magazine's Troy, Michigan-based parent Hour Media LLC is known for a frugal approach to journalism.
Roshan has been known to have a finger in more than one pie at a time, and his latest side hustle might offer a clue about the prospects for LA Magazine. It's a cheeky apparel line dubbed AGITPOP, launched two months ago in collaboration with an ad agency in New York called Walrus and New Jersey-based artist and illustrator Edel Rodriguez. The label's tagline- "The Revolution is 100% Machine Washable"-gives an idea about the bi-coastal hipster vibe behind the T-shirts, face masks and other merchandise.
No comment from Vann or Roshan on LA Magazine or AGITPOP.
---
---
Goodwill's Vice
Tough to say where once-high-flying Vice Media stands these days, nearly two years into a turnaround bid funded by $250 million put up by a consortium that includes George Soros, the billionaire who's become a patron saint of political progressives and a bugaboo among many of today's so-called conservatives.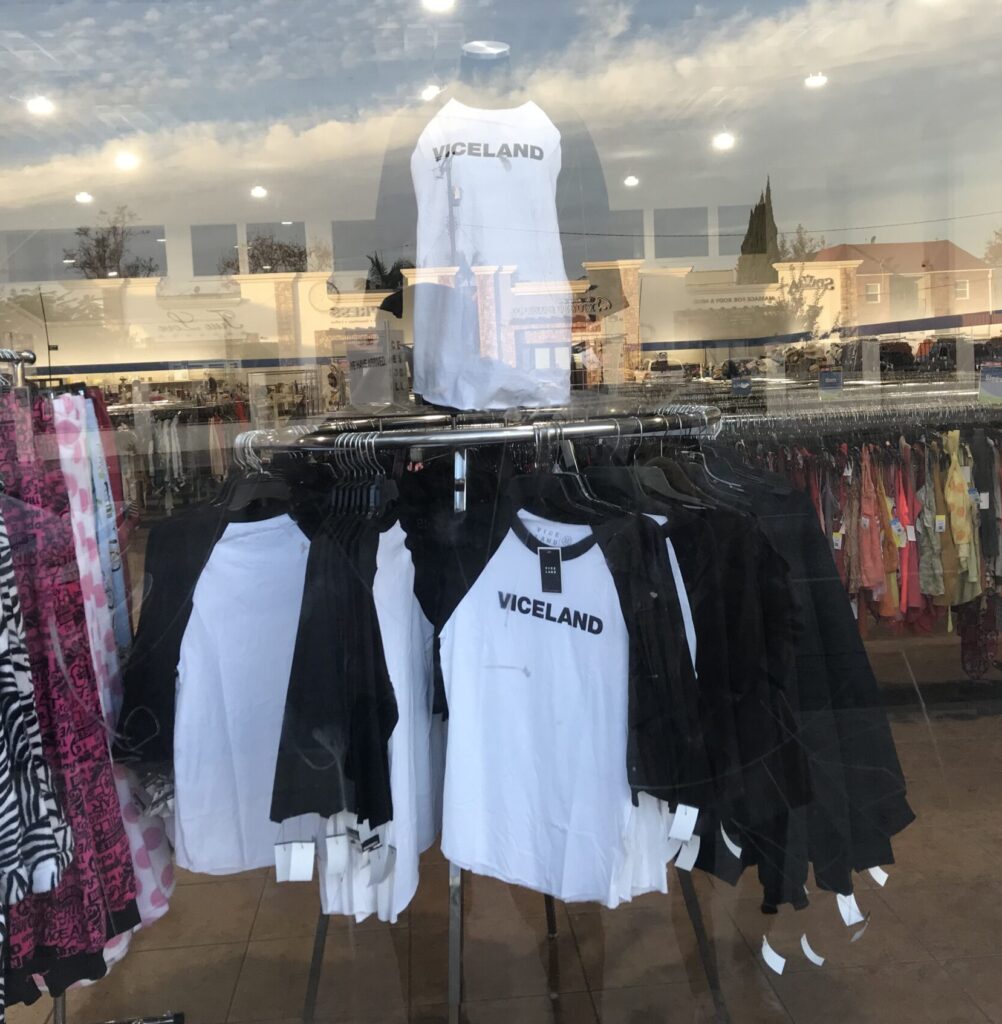 The operation is in the hands of Nancy Dubuc, a former A&E Network boss brought in to reverse a business slide that was overlaid by a "Me Too" scandal-and that was before Covid-19.
Dubuc seems to have made some progress and still has a studio in the Venice district of LA. But things probably aren't going completely to plan when a whole rack full of merch emblazoned with the company's once-prominent Viceland brand shows up in the window of a Goodwill store in Mid-City.
---
 Legacy Media Miss on SFV's "Mini-City"
What did legacy media reports fail to mention on the LA City Council's recent approval of Paris-based Unibail-Rodamco-Westfield's $1 billion-plus plan to develop a "mini-city" of 1,400 apartments with retail and a 28-story office building?
The part about the company looking to sell off its U.S. assets.
Shareholder activists are pushing Unibail to sell off the company's U.S. real estate even as the residential redevelopment plan takes shape for the shuttered Westfield Promenade mall in the Woodland Hills district of the San Fernando Valley.
Westfield Promenade is only a part of Unibail's portfolio in SoCal, where it also owns working malls that range from the high-end Westfield Century City to the Westfield Culver City, three malls in the San Fernando Valley, Westfield Valencia Town Center in the Santa Clarita Valley, and Westfield Santa Anita in the San Gabriel Valley, among others.
It's not clear whether the Unibail dissidents want the company to unload the Promenade project along with the other centers that remain open.
The guess here is that the city's recent approval could speed up a sale of U.S. assets either way, making the Promenade an entitled real-estate asset that leans into a future, flashing the potential that many of Unibail's malls have for residential redevelopment.
---
---
Dunn Deal on OC's Future
Credit Lucy Dunn, chief executive of the Orange County Business Council, for ending the December 8 discussion hosted by non-profit civic affairs group OC Forum by letting panelists fill in the blank on this question:
The future of Orange County is _________.
The answers:
Kimberly Chavalas Cripe, chief executive of Children's Hospital of Orange County: "Our children."
The Hon. Gaddi Vasquez, former U.S. Ambassador to the UN Agencies: "Filled with promise if we shape it and make it our own."
Emile Haddad, chairman and chief executive of Five Point Holdings LLC: "People dreaming together in 108 languages."
---
Drive-Thru for Good Cause at Snoopy's Place
Kudos to the Power of One Foundation and everyone else involved in the drive-through family fun at the Winter Wonderland – A Visual Light Show at Snoopy House. The OC tradition carries on with adjustments to Covid-19 by staging it all in the parking lot of Ikea in Costa Mesa.
The cost to drive through on December 16 and 17 is one toy per car-and the donation will go to families in need of some holiday cheer when they visit on December 18 and 20.
All of the toy donation and giveaway nights are fully booked.
---
Correction
An item in the column of December 8 mistakenly referred to Harvey Englander as a former LA City Councilmember who has pleaded guilty to public corruption charges stemming from the FBI's ongoing investigation of City Hall. The guilty plea was entered by Mitchell Englander, who is Harvey Englander's nephew.
---
Sullivan Says
I'm also a contributing editor at Joel Kotkin's Newgeography.com, which carries my outlook on data from the World Trade Center-Los Angeles and SoCal's standing as a center of global business here.
---