There's an update on the Paloma Street deal that brings an odor of scandal to the City of LA's plans for a homeless shelter Downtown farther down in this week's column, along with some notes on various other sources of stink at City Hall.
Some other news on local politics and homelessness first:
Don't be surprised if a new entry in the race for the 2nd District seat on the LA County Board of Supervisors makes a campaign issue of how the county and the city plan to spend the billions of dollars that taxpayers have agreed to put toward housing and services for the homeless.
Look for the debate to be pushed in that direction by Chan Yong (Jake) Jeong – who appears to be well-informed, unafraid and professionally trained to make a case based on facts.
The 2nd District seat is currently held by Mark Ridley-Thomas, who faces term limits next year and is widely expected to run for mayor of LA in 2022.
Among the other contenders for the seat on the Board of Supervisors so far are community activist Sharis Rhodes, California State Senator Holly Mitchell and City Hall veterans Herb Wesson and Jan Perry.
Wesson currently represents the 10th District on the LA City Council, and serves as president of the 15-seat body. Perry represented the 9th District on the City Council for 12 years and spent another five years or so in City Hall as an appointee of Mayor Eric Garcetti.
Jeong differs from his opponents in several ways – he's a lawyer by trade, partner in the firm of Jeong & Likens L.C.; he's not a professional politician, a distinction he shares with Rhodes; he's Korean-American, and so far the lone candidate who is not African-American running for what has been viewed as the "African-American seat" on the five-member board for decades; and he's decidedly an outsider in terms of advocacy – a member of the Wilshire Community Coalition, which has clashed with Wesson and other politicians in the past.
The clashes have shown that Jeong knows how to get things done.
He has been a leading voice in efforts to have the Los Angeles Unified School District and artist Beau Stanton change a mural at Robert F. Kennedy Community Schools in Koreatown. Objections to the mural are based on imagery that some in the Korean-American community associate with inhuman conditions imposed on them or relatives by the government of Imperial Japan before and during World War II.
It appears that changes are coming to the mural – and you'll find more on that further down, also.
Jeong also led vocal opposition to a location for a homeless shelter in Koreatown, as well as what was viewed by many as the heavy-handed way city officials engaged the community on the matter.
The shelter was relocated.
Jeong made it clear that he's not against helping the homeless even as he questions locations for shelters. The community opposition he led centered on how public officials are communicating and making decisions when it comes to housing and services for the homeless – and how those decisions affect the lives of the public that local government is supposed to serve.
Jeong says he has more recently begun to talk with various experts and to study best practices and the costs of homeless programs, seeking ways to get the most value for public money spent on the challenge.
A recent visit to his office in Koreatown left the clear impression that Jeong has put in plenty of work toward gaining a comprehensive and practical understanding of the challenge.
The goal, he says, is to be ready to serve as an able steward by understanding the dollars as well as the human factors that go into the equation while considering the overall interests of public health and safety.
Jeong says he understands why the 2nd District has long been considered an African-American seat – its territory includes about 2 million people, and and a rough breakdown of voters runs about 35% African-American, 30% Latino-American, 25% white and 10% Asian and other ethnicities.
He also says he realizes that he'll initially be perceived as a longshot, and that it's up to him to get some traction and go beyond that status.
The nascent politician in him, meanwhile, points out that the four African-American candidates could split their base, essentially neutralizing a demographic strength and opening a path forward for an upstart.
Granny's Gal Pals
Whoever wins the 2nd District race will count this fun-loving crew at Granny's Kitchen at 55th & Central as constituents. Go to Granny's for the neck bones with rice and greens, but don't forget to enjoy the vibe – and keep in mind that no customers were overlooked or underserved during the filming of this video:
Food for Thought on RFK Mural
Food matters in human relations, and it seems to have helped when Stanton, the artist whose mural at the RFK campus has drawn some objections, shared a meal with several vocal critics of the work.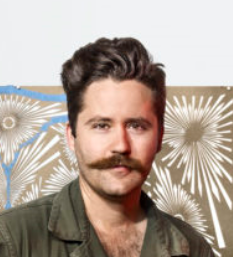 Joining Stanton for chicken soup followed by seafood pancakes and other dishes at a table in the dining room at the Seoul Gardens Hotel on Western Avenue just south of Wilshire were:
Hannah Song, a managing director of digital media agency Lokel Corp. and producer of the K-Town-focused Lokel Show podcast.
Several representatives of Gyopo, a group of Korean-American artists and art professionals who are based in LA and dedicated to "interrogating issues around contemporary art, culture, networks, intersectionality, and social justice through impactful programming and community alliances."
And Kisuk Jun, a Koreatown resident and survivor of Imperial Japan's occupation of the Korean peninsula.
The lunch was a follow-up to a morning meeting with Los Angeles Unified School District officials and staff and students at the RFK campus, part of a bid to re-engage opposing parties in the mural controversy, which remains unresolved.
The meal set the stage for Stanton and Jun to co-sign a pledge to change the mural at RFK campus in a way that acknowledges the "pain of the Asian people [including the] Korean people under the oppression of Japanese imperialism in the past."
Word has it that LAUSD was not represented at the lunch, leaving it unclear where the organization stands on the matter of changing the mural.
But Jun and Stanton sealed their deal with some soju, according to reliable reports.
OC Roots
Stanton comes from Dana Point, by the way, and graduated from the Laguna College of Art + Design.
Pimco Gets Knock, Back-Handed Boost
The ongoing college-admissions scandal came home to roost in OC in curious fashion last week, with a story in the Wall Street Journal's edition of May 21 saying that the mess has become the "biggest diversion" to Newport Beach-based financial behemoth Pacific Investment Management Co. (Pimco) since the earth-shaking departure of legendary cofounder Bill Gross in 2014.
The coverage might have amounted to a good break for Pimco for several reasons:
The story buried the lead, taking five paragraphs to assert the claim that the scandal had employees and clients of Pimco on edge amid the "diversion."
It also failed to flesh out those contentions – no supporting comments from sources inside or outside the firm.
And it seems to have overwhelmed prior reports by the London-based Financial Times that Pimco's flagship Total Return bond fund has been downgraded.
Investment research specialist Morningstar recently dropped its rating on Total Return, which has $65 billion in assets under management, from four stars to three – no small matter in the world of bonds.
The downgrade followed a change in the standards Morningstar applies to rating bond funds. The Chicago-based rater recently set a new benchmark for funds such as Total Return, which mix investment grade bonds with riskier issues that also could bring higher yields.
Morningstar is an influential factor, and its downgrade is likely to be felt by Pimco.
"When you get a change in rating, you move," Faris Chesley, chairman of Chesley, Taft & Associates, a Chicago-based investment adviser with $2 billion of assets under management, told the Financial Times. "You do not stay. It's important to us . . . If you are not in a four or a five [star fund] then you better watch out."
Pimco could not be reached for comment.
Gross enjoyed global regard as the "Bond King" when he ran the Total Return Fund, which peaked at $292.9 billion in assets and was the world's largest bond fund before his acrimonious departure from Pimco five years ago. The Total Return Fund and Pimco overall have seen assets decline since Gross left, but the firm's performance in recent years had been generally cheered even as its portfolio slimmed down.
The Morningstar downgrade ran counter to general recent perceptions about Pimco, and the firm wasn't the only SoCal powerhouse hit by Morningstar – Downtown LA-based TCW Group Inc., which has nearly $200 billion in assets under management, went from four stars to three stars on its MetWest and TCW total return bonds funds.
HR Stands Tall
The college-admissions scandal is centered in Newport Beach, home of ringleader William "Rick" Singer, who has pleaded guilty to charges that he took payments from parents, bribed officials at various schools, and in some cases schemed to cheat on entry exams.
The OC ties are emphasized in charges facing several members of the local community of business who hired Singer's services, including Doug Hodge, a former CEO of Pimco.
The Wall Street Journal story reported that William Powers, a retired Pimco executive, also hired Singer.
Credit Pimco for its institutional depth, however, because the story reports that Singer's attempts to sell the firm on a deal to offer his services as a perk for its employees were rebuffed by James Ward, head of human resources, who found the idea "off-putting."
Chapman's A+
Count Chapman University in Orange as another prominent OC institution that came out looking good on recent coverage of the college-admissions scandal.
A report in the May 24 print edition of the LA Times reported that federal investigators are looking into ties between Singer and Chapman. Among the circumstances are a $400,000 donation to the school from the Key World Foundation that Singer controlled.
The report indicated that Chapman wasted no time hiring a former federal prosecutor to conduct an investigation of its own, and has been cooperative with the current federal investigators on the case.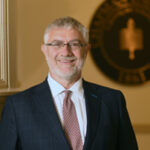 The school looks to be proceeding in transparent fashion, with Chapman President Daniele Struppa handling press inquiries head on.
The takeaway: No accusations of any wrongdoing so far at Chapman, which deserves an A+ on public relations to this point.
Another Political Note
I'm saying this – not anyone from Chapman: The way the school has handled internal communications, the media and public relations regarding the college-admissions coverage speaks well of Struppa and his wife, Dr. Lisa Sparks, who serves as dean of the School of Communication there.
I'm also saying this: Chapman's response to coverage so far also raises expectations of a well-run campaign for Sparks, who is after the Irvine-based 45th District Congressional seat, which she seeks to return to the GOP column after Katie Porter carried it in the Democrats' mid-term sweep of OC.
And, finally, this: A win by Sparks in next year's Republican primary would set up the sort of rivalry Chapman has never had in sports with the University of California-Irvine, where Porter is a law professor.
UCI Plucks Chief from McDonnell's Coaching Tree
Some LA-OC crossover with word that Long Beach Police Department Commander Elizabeth "Liz" Griffin has landed the job of Chief of Police for UC-Irvine.
Congratulations to Griffin – and kudos to Jim McDonnell, former sheriff of Los Angeles County, chief of Long Beach PD, and deputy chief of LAPD – and a decorated street cop before all that.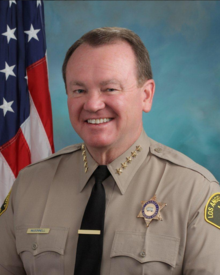 "Liz is a solid leader and will be an asset to the UC-Irvine Police Department and the entire UC-Irvine community," says McDonnell, who was chief in Long Beach when Griffin rose to the rank of commander. "She knows the importance of strong police-community relationships and employs effective strategies in dealing with the issues at hand."
Griffin isn't the only member of McDonnell's coaching-tree to land a top job elsewhere. McDonnell's tenure in charge of LBPD saw eight of his subordinates become chiefs of other departments, ranging from Newport Beach, Laguna Niguel, Seal Beach and Santa Monica to Carlsbad; Modesto; and Victoria, Texas.
The crop of coppers is now overlapping, with Griffin replacing Jorge Cisneros, who went from working under McDonnell in Long Beach to the top jobs at Huntington Park PD and UCI before his recent appointment as top cop in Anaheim.
Update on SCV Acreage
On to the Santa Clarita Valley for a follow-up on last week's item that pointed out the potential of a request for proposals that's been issued for the development of a 206-acre chunk of what's called Honor Ranch on the edge of the Castaic Wash Creek.
There will likely be some extra costs to pursuing the potential, since the parcel sits in an area determined to be at risk for significant flooding from a 100-year perspective.
Seems any developer will have to mitigate the risk to varying degrees, based on proposed uses. The fullest use might require raising the level of the land by six feet, according to some real estate folks who have given the matter a look.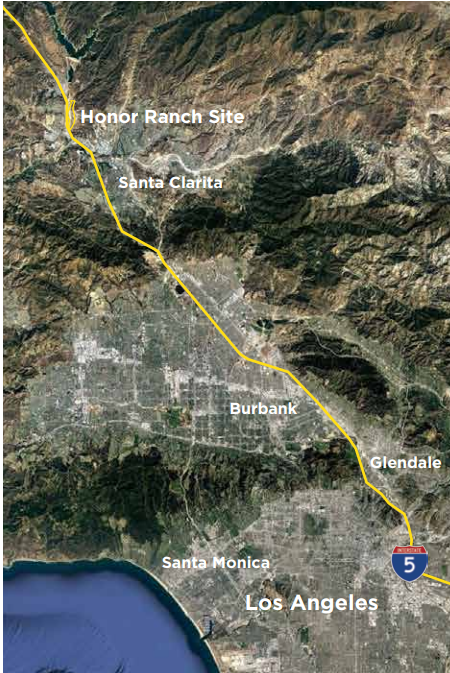 Columnist's View: Scandal(s) Update
There's plenty more to come in coming weeks on the wayward deal the city has struck for a homeless shelter at a warehouse on Paloma Street.
Expect more also on various matters ranging from the financials behind 14th District City Councilmember Jose Huizar's Night on Broadway to 1st District Councilmember Gil Cedillo's plans for the $2 million he stands to get from a developer and Mayor Eric Garcetti's unusual staff structure when it comes to public safety.
Back to Paloma Street briefly with this note on Moiz Kaboud, who is in line for the inexplicably favorable lease terms there, sometimes goes by Michael Kaboud, and has been tied to prior incidents of counterfeiting and money laundering.
He's also the same guy – under either name – who used a man dying of brain cancer as a front for his money laundering scheme, according to federal prosecutors who stung Kaboud for a $500,000 settlement in the case.
The city would do a background check before hiring you to mop floors.
Seems they ought to do the same before handing a sweet lease deal to a landlord.
Or perhaps they did – and Kaboud's experience as a money launderer is the reason why folks in City Hall chose to do business with him.
Before Smith's Mighty Move at Morehouse
No one has done it quite like billionaire Robert Smith, the founder of Austin, Texas-based Vista Equity Partners and giver of an estimated $40 million to pay off the student loans of the graduating class he recently addressed at Morehouse College.
Credit Santa Monica-based International Medical Corps with giving Smith some help in building up to the spectacular moment in Atlanta.
IMC is a nonprofit that sends medical first responders and other humanitarian assistance to communities in need wherever in the world disaster might strike.
The group honored Smith and his wife, Hope, with a Humanitarian Award, at its annual gala fundraiser last October.
IMC often works under the radar due to prevailing governmental, political or religious practices or sensitivities that complicate relief efforts in various parts of the world.
The Smiths, on the other hand, are no doubt a bright blip on the radar for lots of nonprofits these days.
"If we could honor Robert and Hope again, we would," kids Rebecca Milner, vice president of institutional advancement for IMC. "But we suspect they are too generous and too humble to accept that embarrassment of riches."
Sullivan Says
Smith provided some foreshadowing for his gift to the Morehouse graduates during a May 1 talk at the Milken Global Conference at the Beverly Hilton, addressing the challenges of "Keeping the American Dream Alive."