I'll continue to question elected officials about the inexplicably favorable lease rate the City of LA will pay for space for a homeless shelter on Paloma Street … and the status of a $2 million gift from a developer to the office of 1st District City Councilmember Gil Cedillo … and the financials behind 14th District City Councilmember Jose Huizar's Night on Broadway … and Mayor Eric Garcetti's strange staff structure when it comes to public safety.
Causes for additional questions continue to pour in, too, and this week brings a new line of inquiry with regard to the homeless shelter on Paloma Street.
That's where a landlord saw Garcetti and the City Council tear up a recent deal only to replace it with an agreement to pay twice as much per square foot – without any explanation to the public.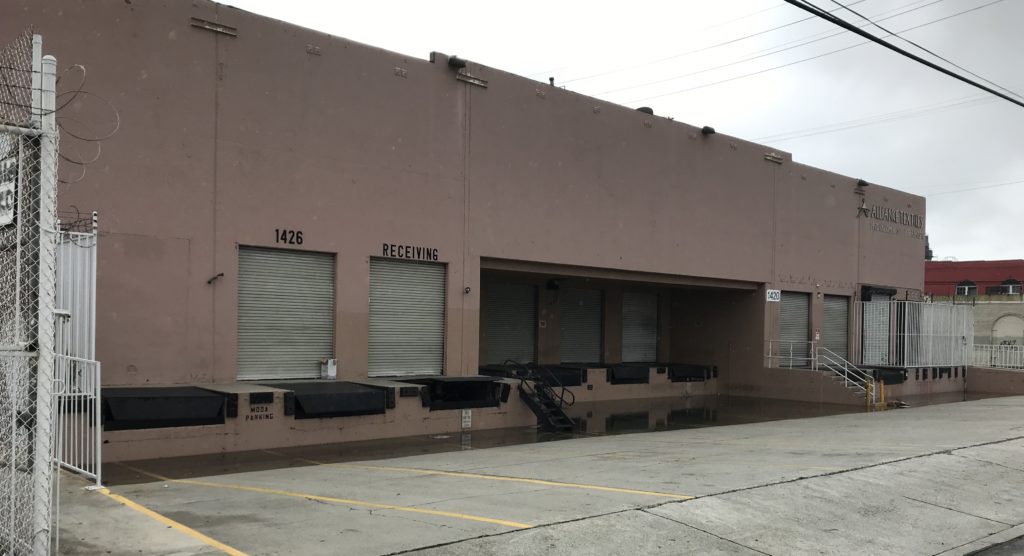 City documents say Home at Last will be the contractor in a $4 million-a-year deal to run the shelter. Documents also indicate plans for 60 full-time staffers.
There are obvious concerns about those numbers – the total for staff exceeds typical best practices by a longshot, for starters.
There might be some logical answers to questions about the staffing levels.
Tough to extend the benefit of the doubt, though, since no one from the city or LA County – which has a hand in funding the shelter – has responded to even basic inquiries.
There are other reasons to question Home at Last and its fitness for the contract, starting with how the organization presents itself to the public that will pay the $4 million for the shelter's operation.
Here is a picture of the seemingly abandoned building that Home at Last's website listed as its headquarters as recently as June 3, as this column was published:
And here's is a screen shot from Home at Last's boilerplate website, offering an update on whatever plans it has for its next "event":
You get the idea-and you can visit homeatlast.co and assess the website for yourself.
I believe in facts on the ground, in any case, and I've sought them out for this report.
A visit to an office Home at Last keeps in Inglewood found it closed on a recent Friday afternoon.
A worker at a shelter operated by Home at Last on Avalon Boulevard in Los Angeles declined to answer any questions during a weekday visit not long ago, referring inquiries to a program manager, who returned an initial email with a phone number but has not responded since.
The same visit to the Avalon Boulevard shelter found this young man, Elijah Vaughan, at odds with staffers there. He said he had arrived in town recently and landed a job, but it would be a while before his first paycheck came through, and he and a companion were seeking shelter in the interim.
It wouldn't be fair for me to try to say whether Vaughan was completely in the right and the shelter staff was in the wrong in this instance.
I can tell you, though, that I noticed two things in a brief talk with the young man after he decided to stay on the streets rather than deal with Home at Last: he was clear-eyed, coherent and reasonably calm for someone in a very tough spot; and a basic element of his story added up – meaning that he told me that he had moved to LA from Chicago, and I was able to glimpse the tag on the suitcase he was carrying and note that it was tagged with an address that matched the stated circumstances.
That's more than matches up when it comes to the lease for the homeless shelter on Paloma Street or the plan to operate the facility.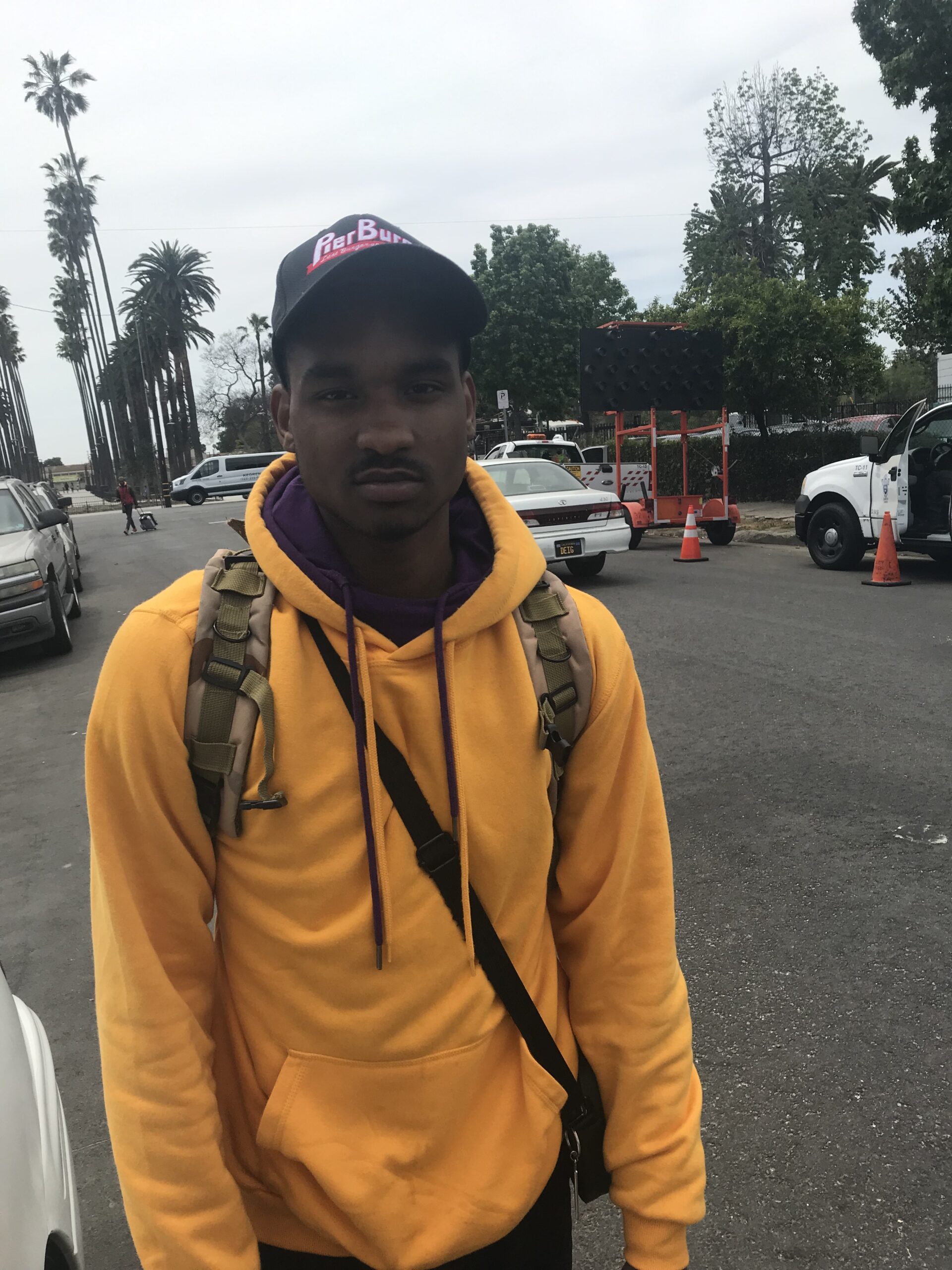 Vaughan
Homelessness is a public health crisis that now threatens the well-being of all of Los Angeles.
That's the "what" and the "where" of this sad story.
It is time to answer the "why," determine the "who" when it comes to responsibility for letting the problem grow for years, and let them know "when" it's time for new leadership.
Now.
Another Big Moment in World of Sports Finds Way to Ueberroth
Peter Ueberroth is plenty busy these days with an array of investments under the umbrella of his Newport Beach-based Contrarian Group, but it looks as though he also has been dealt a hand in yet another major challenge in the sporting world.
A recent call to Ueberroth found him sticking to his longstanding habit of refusing – politely but definitely – to air such matters in the press.  That leaves me to go out on a limb here and say it's likely he's given his private thoughts on the challenge to his Pebble Beach partners as well as the powers that be at the U.S. Golf Association.
The challenge is centered on the Northern California golf course, where Ueberroth is co-chairman. The course is getting ready to welcome the U.S. Open for its annual run amid a chorus of complaints that's been on slow burn for several years in the world of golf.
Ueberroth is well qualified to consider sporting challenges – he went to San Jose State on a water polo scholarship, after all. He's also familiar with the challenges that can come with the staging and business of sports – his leadership of the 1984 Olympic Games in Los Angeles revived the movement from a low-point in its modern history, and he followed with a tenure as commissioner of Major League Baseball that saw the organization confront and sort out a drug crisis, while also restoring geographic stability to the landscape of its franchises.
Now come the travails of the U.S. Open, with everyone from top pros to members of toney clubs around the U.S. hoping Pebble Beach will help stem a trend of disappointment in the tournament – one of four "majors" that make up golf's annual "Grand Slam." The problem in the eyes of some critics is that the USGA, which runs the event and rotates it among select courses throughout the U.S. annually, has made significant changes in advance of the tournament as a way to raise the bar for the pros in the last few years.
That's a cheap shot, say some of the most prominent golfers on tour, with Irish star Rory McIlroy leading the charge with recent comments in the sporting press. Indeed, there seems to be a feeling that changing a course for a greater degree of difficulty is akin to trick questions on a test – and professional golfers who have made the tour and the cut for the U.S. Open shouldn't be subject to such gimmickry.
Members of some clubs that have hosted U.S. Opens in the last few years have their own gripes – some of the changes the USGA orders to make it hard for pros sometimes take a year or so to put back in order for everyday play.
The guess here is that Pebble Beach will be largely the same as it has been for any pros who have played the annual AT&T Pebble Beach Pro-Am or any of the prior U.S. Opens held there.
Fair enough?
Check the chatter as the U.S. Open plays out to get a sense if Pebble Beach has helped put the tourney back on track.
Primer Time in OC – Full Color to Come
There's a dedicated group of community members who are working to restore a marvelous mural by Manuel Hernandez Trujillo, who created the work of art along a flood-control channel in Placentia, a city in North OC.
Last weekend they continued work on the primer stage of the restoration, with color to be added in the future by volunteers of the Atwood Mural Restoration Project, who are working from archival photos of the piece, which was damaged by everything from simple exposure to the elements to a graffiti-abatement work-order gone awry.
Take a look at the video for a sense of the artwork itself and the task at hand for volunteers.
Visit atwoodmural.com for more information.
Good News, Bad News for LA Times: No Shades of Staples Center on Grand
Anyone who might see shades of the infamous LA Times-Staples Center deal in the newspaper's recent special section on the Bunker Hill stretch of Grand Avenue as a "cultural hub that changed Los Angeles" probably has no reason to worry.
The Staples Center debacle came in 1999 when the newspaper and venue split $2 million or so in revenue for advertising in a magazine that featured the then-new arena and was included as a supplement to the newspaper. Critics raised ethical flags, the newsroom protested and executives apologized.
Back to these days, when there simply doesn't seem to be enough money for print media to split with anyone.
That much seemed to hold true with the 76-page Grand Ambition magazine, which was inspired and anchored by a history of the thoroughfare penned by Eli Broad.
The publication, part of the LA Times edition of June 2, was accompanied by just eight pages of advertising. The rate for ads would have had to go about $250,000 per page to rival the Staples Center publication on revenue – not a likely price tag these days.
Give Bill Witte, boss of Irvine-based Related California, credit for getting plenty of bang for whatever bucks the developer paid for a two-page advertising spread for The Grand, a luxe mixed-use project in the works atop Bunker Hill on Grand.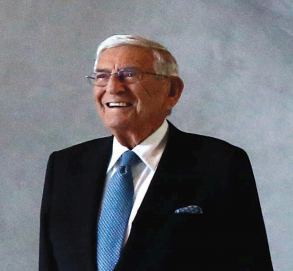 Broad
Related California made maximum use of the opportunity – no other advertiser had a bigger presence, and the magazine was gorgeous and interesting.
One quibble – and this comes from me, not Related California: any critical thinking involved in the various perspectives offered in the magazine seemed confined to First World problems in a city wracked with otherworldly conditions on streets just a short walk from Bunker Hill.
King of Quibble
I learned to quibble from one of the all-time greats: Rick Reiff, a Pulitzer Prize winner who taught me plenty about the conversation of critical thinking when I worked for him as a reporter and managing editor at the Orange County Business Journal.
Critical thinking has always been Reiff's gift to journalists and journalism, and he's still up for a discussion of any given day's events and how the media covers them.
That means anytime, anywhere, with anyone, as this photo of Reiff at the Benesse Art Site in Naoshima, Japan, illustrates.
And here's to Mary Ann Brown, who is with the natural-born ham in Japan this week – and certainly gives him nothing to quibble about.
King of the Fed?
Anyone figure Hugo Romero for the top job at the LA County Federation of Labor AFL-CIO now that Rusty Hicks has been elected boss of the California Democratic Party?
That's just a guess based on Romero's current role as political director for the labor group. The job has been a stepping stone to the top spot for several individuals over time, including Hicks; one-time LA City Councilman Martin Ludlow; former California State Assembly Speaker Fabian Nunez; and Miguel Contreras, who reinvented the group, turning it into a political power in its own right before his death in 2005.
Hicks Overheated?
Here's guessing that Hicks will be made to regret the remarks he made after winning the top job in a vote when Dems from throughout California gathered for their annual convention last week.
"Coming out of the labor movement, I believe in the collective," Hick reportedly told supporters. "I don't believe in the individual."
Hicks came out too hot for someone representing the party that will seek to unseat President Trump next year, lobbing a gift to his opponents before he even got started. You can bet the first six words of Hicks' statement will be lopped off at some point, with the rest used in attempts to pin Democrats in general well to the left of the mainstream.
Early Assessment on EE
A three-sided outlook on Measure EE, which seeks to add a parcel tax on properties in the Los Angeles Unified School District's territory to raise funds to plug looming budget holes, with voting set for June 4.
1. The measure gets more than two-thirds of the vote to pass, offering a clear sign that the crowds during the recent teachers strike reflected reality. Passage with something more than a dismal voter turnout will signal that LA believes in big government and isn't concerned much with good governance.
2. The measure misses the two-thirds threshold by a narrow margin, and self-proclaimed "progressives" blame it on the ignorance of the average voter. Where LA sits in terms of government and governance remains in question.
3. The measure fails with less than 60% of the vote, even with an "all about the children" campaign theme, offering an indicator that politics as usual are on the verge of a shift.
Run on Cardamom in Mid-City
Perhaps Olson's Scandinavian Deli should have added the flag of India to display amid the gloom of a recent Sunday in Mid-City, where customers seeking to ward off the weather with cardamom lattes caused a run on the spice.
Disaster was averted when one of the Olson's crew recalled that Indian kitchens also use a lot of cardamom and made a run to the India Sweets & Spices shop a few blocks away, just north of Pico on Fairfax.
A general difference, as explained by the Olson's crew: Scandinavians tend to use cardamom in baked goods and coffee while Indians prefer the stuff in main dishes.
The Indian spice shop is on the edge of the Little Ethiopia district – no surprise given the historic trade ties that have been part of relations between folks from the two nations.
Side note: Word has it that more than one outfit in Little Ethiopia do a fine job of spicing home-brewed beer with cardamom, which suddenly seems under-appreciated.
Final note: Just coincidence that the recent run came after this column cited the cardamom latte in naming Olson's one of the points in a Golden Triangle of Coffee, along with Don Francisco's in DTLA and 85 Degrees in K-Town?
Sullivan Says
Kudos to Marvin I. Schotland, chief executive of the Jewish Community Foundation of LA, who recently received an honorary degree as doctor of humane letter from American Jewish University, which has campuses in Bel-Air and Simi Valley.