I recently got a prime example of inertia on the public health crisis of homelessness from Los Angeles Mayor Eric Garcetti's office, which sent a letter to explain why staffers are still bumbling about with a request made under the California Public Records Act nearly two years ago—you can see the two-pager for yourself here.
And you can get some idea of why Garcetti might be disinclined to respond to queries on homelessness by checking prior coverage here.
Biden Taps Pacific Council Board
Last week brought word that cable TV entrepreneur-turned-real estate mogul and Pacific Council on International Policy board member Marc Nathanson has been nominated as ambassador to Norway by President Joe Biden.
Turns out he's not the only member of the Downtown-based Pacific Council's board going places—Cynthia Telles has been nominated by Biden as ambassador to Costa Rica, and Gabriel Sanchez, currently an associate justice on the State of California Appellate Court, is up for the federal bench as nominee for a seat on the 9th U.S. Circuit Court of Appeals.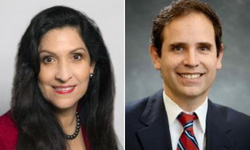 Sanchez appeared to hold up well during a grilling at a confirmation hearing last week by the U.S. Senate's Judiciary Committee, where a vote on his nomination is pending.
Telles' nomination is pending before the Senate's Foreign Relations Committee—which brings us back to Garcetti, who seems more than anxious to punch his ticket out of town with a confirmation as ambassador to India.
Not so fast, though. Word on the street says Garcetti's ongoing tangle of problems in LA—from the growing cloud of corruption over City Hall to a lawsuit charging sexual harassment by one of his top aides and the inertia in regard to the crisis of homelessness—leaves his confirmation to the ambassador's post as less than a slam dunk despite Democratic control of the Senate.
When Voice of Outrage Is Voice of Reason
Anyone who is interested in setting aside partisanship and polarization and sorting out the real challenge on homelessness can get started by listening to a recent conversation I had with Larry Marino, host of Sunday Morning Newsmakers on KRLA AM 870, available here.
Eshman, Reiff to Weigh In
I won't stop at print and radio, either—tune into the livestream version of SullivanSays tomorrow for more insights on why LA can't get a handle on homelessness, along with analysis and opinions on a range of other subjects from two of SoCal's best journalists.
Click here to watch on YouTube.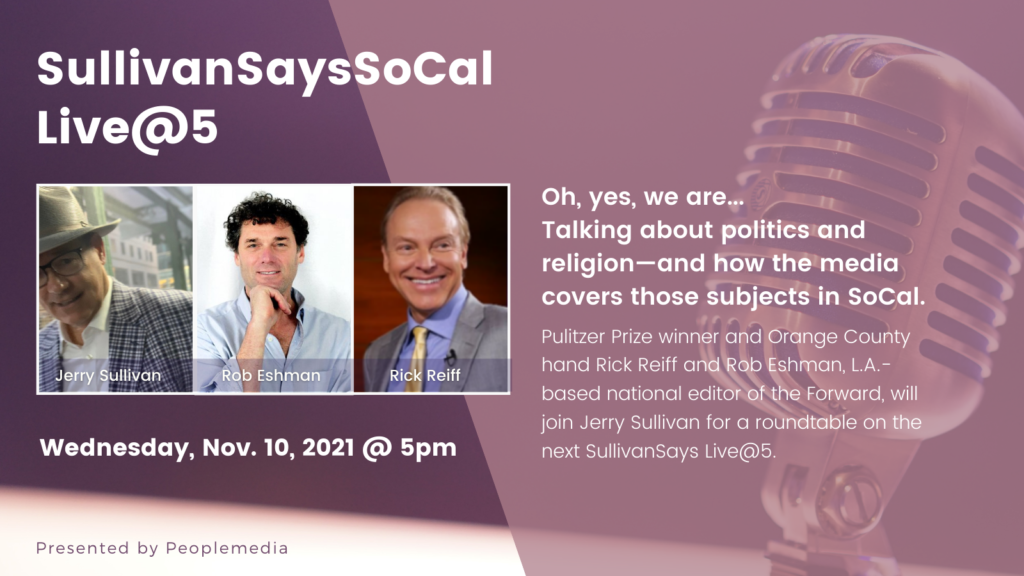 Sophomorrison
A key reason I plan to zero in on the legacy media's coverage of corruption for Live@5 came from longtime LA Times columnist Patt Morrison, who recently tried to explain away the weakness of the city's civic structure with this "everyone is doing it" drivel:
"Well, at least we're not Chicago, city of the big shoulders and bigger political pockets ready to be filled — Chicago, once again the most corrupt city in the nation.

 

Nor are we San Francisco, with its century-plus resume of public officials webbed in bribery, sex and nepotism scandals and even an instance of gun-running.

 

And Los Angeles can't come close to the southeast L.A. County town of Bell, whose residents got the karmic satisfaction of seeing seven of their public officials hauled off to the pokey for rewarding themselves stupendously from the civic piggy bank."
You don't have to be a genius to figure that Morrison and her colleagues at the LA Times are deflecting in order to minimize the culture of corruption that has overwhelmed LA City Hall—20% of the City Council has been indicted, and we've yet to see a case hit open court.
Otherwise the largest media outlet in town—particularly its City Hall bureau and editorial page—might have to face up to being asleep on the job for the past 10 years or so.
Making an Impact with Michelson Philanthropies
Check below to listen to the latest episode in a podcast series produced for Michelson Philanthropies, a multi-faceted organization overseen by Dr. Gary Michelson, a surgeon-turned-medical device inventor, and his wife, Alya, a journalist by training. Michelson Philanthropies provides an organizational umbrella over various initiatives and programs intended to "make life a little less unfair."

This episode features a talk with Phil Kim, managing director of Michelson Impact Ventures. He brings a background in venture capital to the Michelson Philanthropies mission, with a goal of "deploying capital with an intentionality" of generating a positive social outcome.
It's part of what's commonly known as "socially responsible investing," and Kim took some time to talk about Michelson Philanthropies' uncommon efforts to find and support "purpose-driven, for-profit" enterprises.
There's plenty more to consider, too, as you'll hear in this episode of "Making an Impact with Michelson Philanthropies." 
Oh, Snap!
Something feels fresh about Snap Inc.'s gift of $5 million to California State University-Dominguez Hills to endow an institute to address "equity gaps in computing education."
Broadcom cofounder Henry Samueli gave much more to UCLA and the University of California-Irvine, both of which put his family's name on their schools of engineering. And Irvine Company Chairman Donald Bren has given more to UCI and Cal Tech in Pasadena, where a professorship of biology and biological engineering bears his name.
Those gifts matter in many ways, and this is not to diminish them in any way.
Yet the $5 million from Snap seems compelling in a different and up-to-date way. The names of Snap cofounders Evan Spiegel and Bobby Murphy—both Millennial billionaires—didn't come up in the announcement of the gift. It seems the money will go to the school without any naming strings attached.
Plans call for the institute to help local school districts "integrate computer science into their everyday teaching" of elementary and high school students, according to Jessica Pandya, dean of the Cal State-Dominguez Hills College of Education.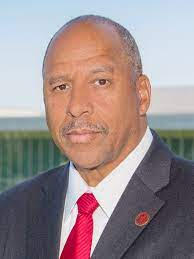 It's also fresh to see a sizable gift go to a campus that's just about halfway between UCLA and UCI. Cal State-Dominguez Hills is firmly tethered to the LA County side—geography gives it a claim as the hometown college for Silicon Beach, which gave birth to Santa Monica-based Snap.
There's also a tie to the OC side in the person of Dr. Thomas Parham, a longtime academic and administrator at UCI before he moved up the 405 Freeway to take the president's post at Cal State-Dominguez Hills.
OC Register's Sincerest Flattery
Glad to see the Orange County Register got right to the point with this headline on a story they ran October 31 about the Covid-19 research Jim Doti is doing at Chapman University:

Glad to have set the example for the daily publication with the headline on this column's edition of October 26: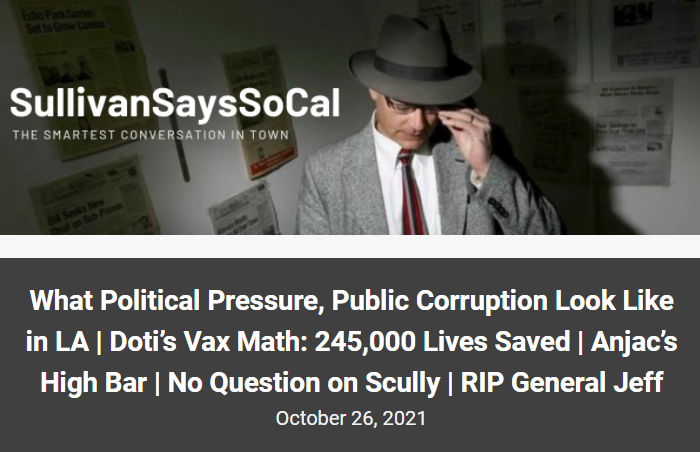 Sullivan Says 
The most dangerous threat to We the People right now is the "Tyranny of the Or."