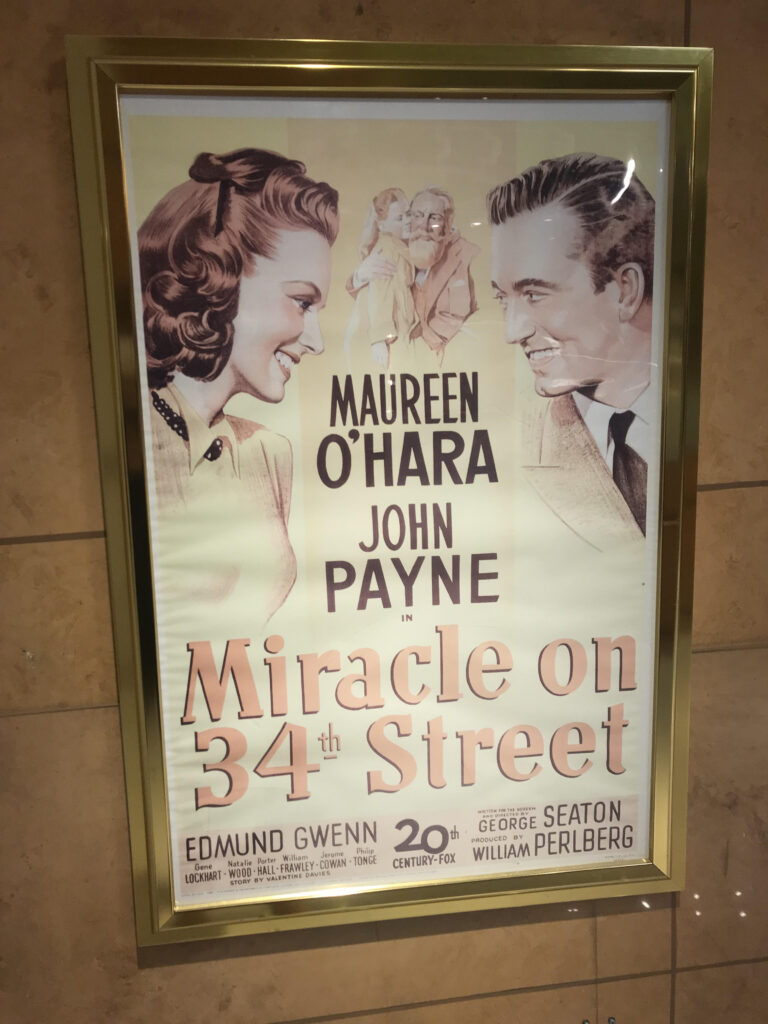 I recently had the pleasure of spending some time in Manhattan, where I seemed to bump into SoCal wherever I turned, starting with a reminder that the holiday season is fast approaching.
Where better to get that message than Macy's flagship store at Herald Square, known far and wide as a backdrop to the annual Thanksgiving Day Parade that carries the retailer's name.
You can't get more New York than that—but Macy's gives LA its due for a long-ago role in making the Herald Square store a fixture in Christmas Culture, with posters reminding shoppers of its perennial star turn in a classic Hollywood movie.
Intersection of Harlem & Huntington Beach
Take the A Train up to Harlem and you'll find the Schomburg Center for Research in Black Culture, one of the New York Public Library's research centers.
You'll also find a note of history about Huntington Beach as part of an exhibit  titled "Traveling While Black: A Century of Pleasure & Pain & Pilgrimage."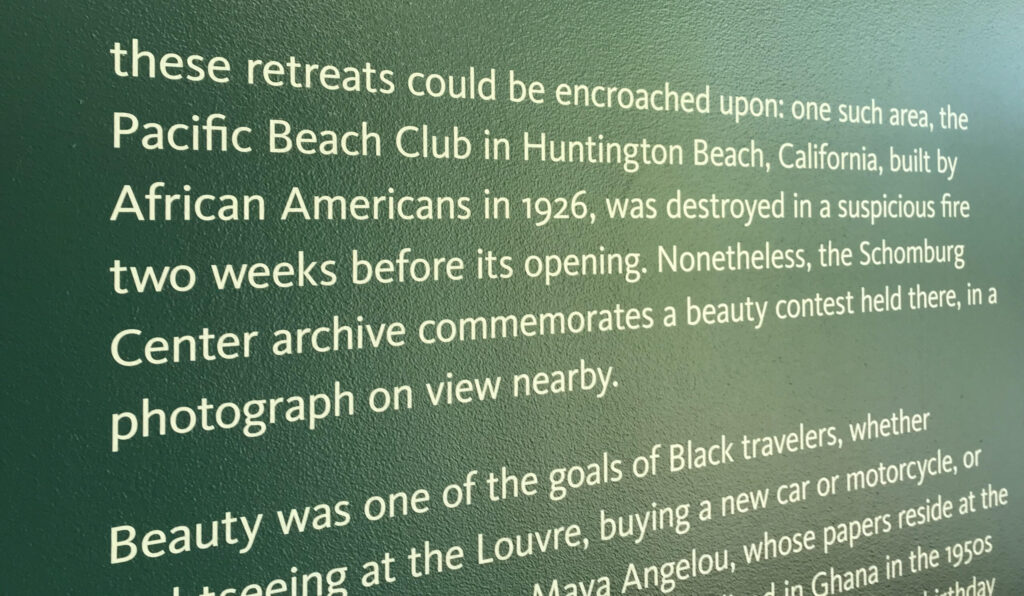 A lot of attention has been paid to the State of California's recent apology and return of land referred to as Bruce's Beach to descendants of a Black couple who built a resort there in the early 1900s. Willa and Charles Bruce were harassed regularly until their land was stripped from them by way of eminent domain, and eventually turned into a public park in Manhattan Beach.
The state's recent apology and start on the legal process of reinstating the land to the Bruce family addressed a clear-cut, documented case of injustice.
It seems there's no official documentation of what happened a few miles south, across the Orange County line in Huntington Beach, where the Pacific Beach Club took shape in 1926. It was built by a group of Blacks as a place for the ethnic community to enjoy the oceanfront amid the restricted landscape of SoCal's coast.
The place burned down a few weeks before its official opening.
The exhibit at the Schomburg included some of the few surviving images from the Pacific Beach Club, including shots from a beauty contest held on its premises shortly before what's been described as a "suspicious" fire.
Christie's Nod to LA Legend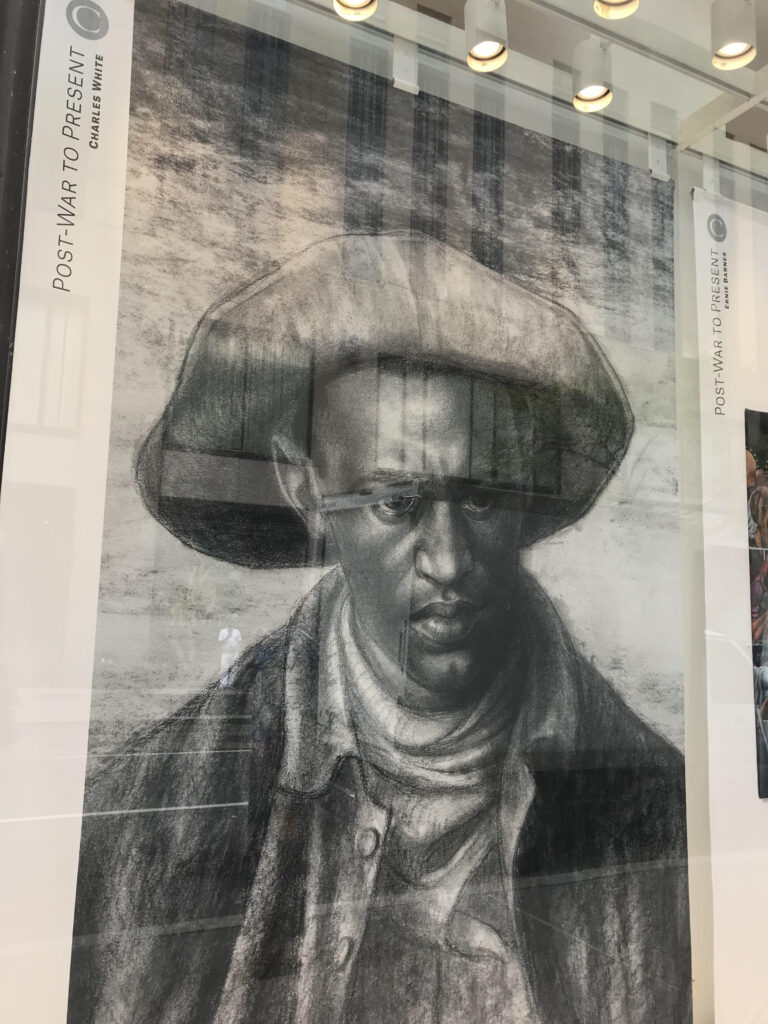 Black history and art recently came together in the window of Christie's New York at Rockefeller Plaza in Midtown Manhattan, with a piece by seminal LA artist Charles White featured prominently.
Haddad Side Hustle?
It's not as though Emile Haddad has nothing to do now that he's stepped back from the CEO's job at FivePoint Holdings LLC. He's still chairman emeritus and on record as remaining dedicated to making sure the Great Park Neighborhoods in Irvine and the company's Valencia community in northern LA County are attuned to a rapidly changing world.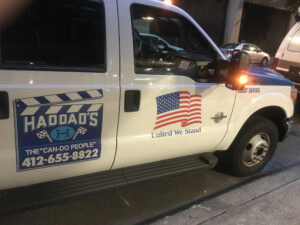 I had that in mind when I kiddingly sent him this photo and asked if he had already moved on to set up a new enterprise in New York.
I'm pretty sure he also was kidding when he didn't deny it, telling me instead that he would do anything to stay busy.
That's the problem with texting, though—you can't see if someone has their tongue in cheek.
Mychal's Milk Bucket
OC resident and former Laker player and current team broadcaster Mychal Thompson makes no secret of his love for In-N-Out cheeseburgers—he regularly waxes poetic on the air about the chain's "Double-Double."
Could his fondness for cheese be the reason behind the Thompson Family Foundation's support of a renovation of The Dairy in Central Park?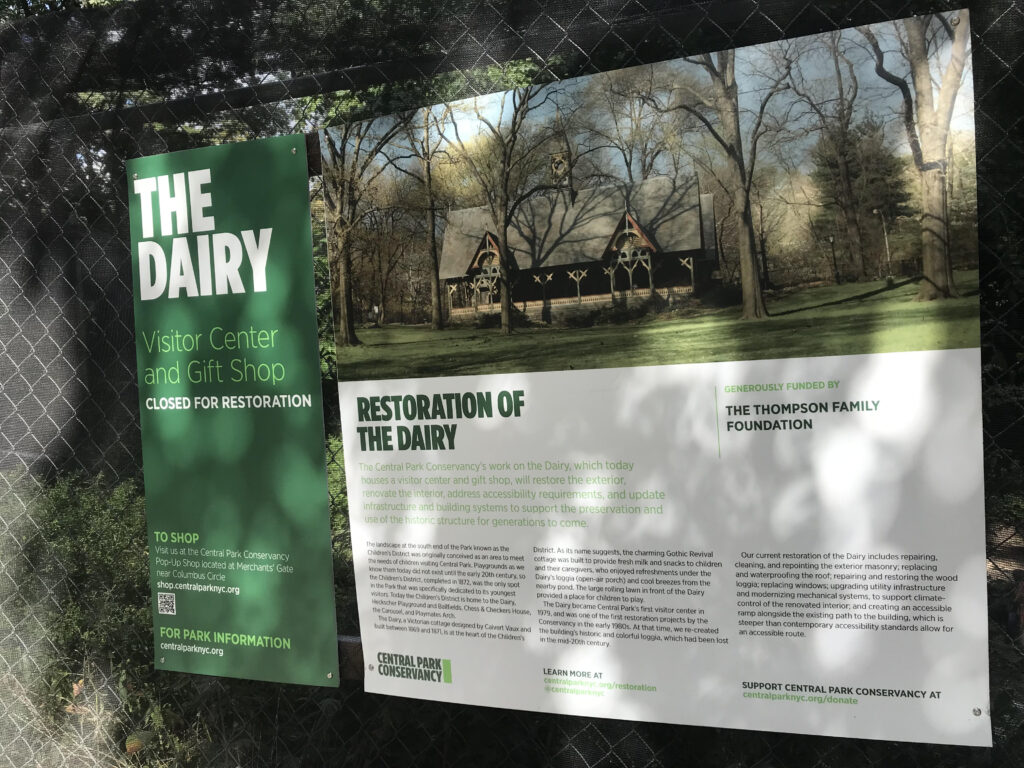 I can't say, and I don't know how much the Thompson family has ponied up to renovate the Victorian-era anchor of the park's Children's District. It goes back to the 1870s, when the concept of a playground for children was new. The Dairy actually operated as just that, with cows providing milk and snacks for kids running about.
Here's guessing that the Thompson family budget has room for the good deed. Papa Mychal, after all, isn't the only member to make some big bucks in pro sports. One son, Trace, made it to Major League Baseball while another, Clay, is one of the highest-paid basketball players in the world as a star for the Golden State Warriors.
The elder Thompson could not be reached for comment.
LeBron Backer in Big Apple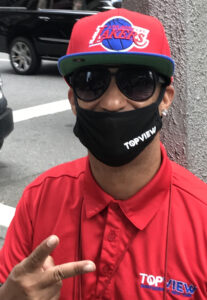 This is Miguel, who sports a "Lakers" hat while selling seats on the Top View tour at Times Square—not too far from Madison Square Garden, where New York's own Knickerbockers play.
Is he really that big of a Lakers fan?
No—he says he's a LeBron James fan, and he'll wear whatever gear the baller is wearing.
I didn't mention to Miguel that his Lakers hat is sporting Clippers colors.
Piazza's Place
I know grown men who still get sad when reminded of the day the Dodgers traded away Mike Piazza.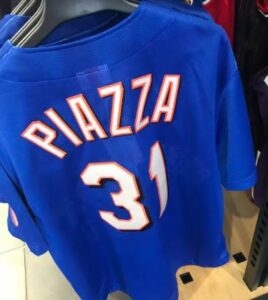 The slugging catcher didn't go directly to the Mets—there was a brief stop in Miami.
And he didn't end with the Mets—he played for a couple more teams before he hung up his mask and shin guards for good.
But he seems to have made a lasting mark in New York—where he helped the team to a World Series appearance and versions of his Mets jersey remain standard fan gear.
Jannard's NYC Mindshare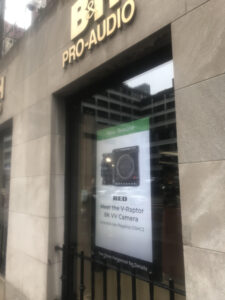 Somewhere between Hell's Kitchen and Penn Station you'll find a B&H Video store, where the Red camera brand invented, manufactured and marketed by Orange County legend Jim Jannard gets the window treatment.
Billie's Billboards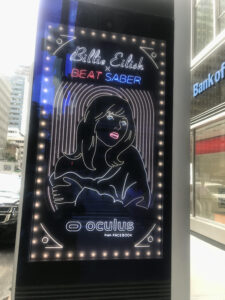 Singer Billie Eilish­­—the pride of LA's gentrifically hip Highland Park district—enjoyed all sorts of exposure on digital placards around Manhattan recently. And notice the link to a new-generation legend courtesy of the billing for Oculus, which was founded by Palmer Luckey, a thirtysomething OCer who sold the brand of virtual reality goggles to Facebook—or Meta—before moving onto other things.
Mazzo's Day Off
Don't tell anyone, but I caught Jim Mazzo, noted healthcare exec and cofounder of the Octane business accelerator, far from his Laguna Beach home and playing hooky in the heart of Manhattan.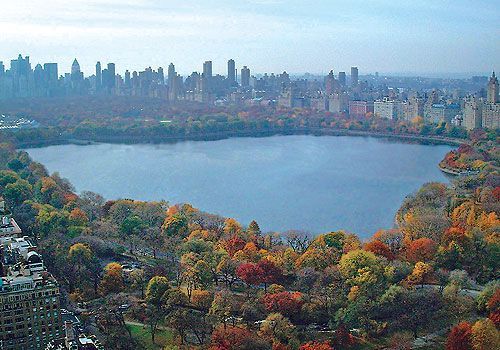 Mazzo was in New York for a conference, but he spent a lovely afternoon strolling around the Jacqueline Kennedy Onassis Reservoir in Central Park with his wife, Kelly, a board member for Angelitos de Oro in Santa Ana and an Angel of the Arts for the Segerstrom Center in Costa Mesa. 
Anyone who's ever been to New York in the fall knows that the couple's afternoon stroll was a good call.
Nopal Noted
No, SoCal doesn't have an exclusive on nopal, also known as prickly pear cactus, and valued by any name for both its fruit and its paddles, which can be delicious when properly sliced and prepared. The nopal is a standard of arid climates, which makes it part of the landscape throughout SoCal and the larger southwestern U.S., for that matter.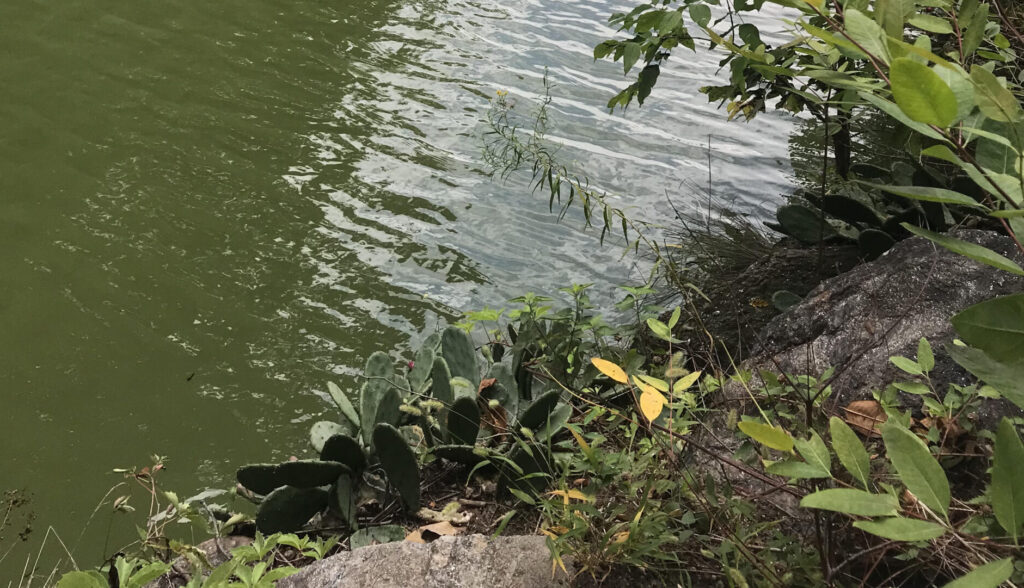 All the more reason to appreciate finding this out-of-context patch of the stuff right off Chambers Landing on Central Park Lake.
Tabloid Keeps LA Posted
This party shot provides a good idea of how tough a time Olivia Jade Giannulli is having getting over her role in the "Varsity Blues" college admissions scandal, which led to light prison sentences for her mother, Lori Loughlin, and father, Mossimo Giannulli, over faking her background in a scam to gain entry to USC.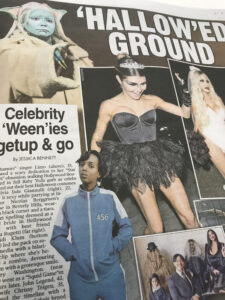 It's notable that the New York Post was the publication to get this photo from a recent party in LA.
Also notable that the party was hosted by billionaire Nicolas Berggruen, whose Downtown LA-based Berggruen Institute tells us via its website that "…Capitalism has conquered the world, creating a dynamic system for enabling capital, ideas and people to work together, thus generating unprecedented global wealth," and goes on to note that the "current formula of capitalism has however been less successful in solving distributional issues."
Was that party a research project?
Esparza's Art: High Road to High Line
Rafa Esparza is an LA artist, but he's getting a nice reception on Manhattan's High Line—an abandoned elevated railroad track that was reclaimed as a 1.5-mile linear park some years ago.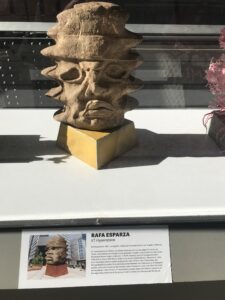 Esparza's KT Hyperspace is one of a collection of works selected from around the world for display on the High Line as part of its Plinth project.
The work is an interpretation of a monument of the Mesoamerican Olmec civilization, and is made of an adobe recipe that's been in the artist's family for years.  The soil that goes into the mixture is said to be from the KT Boundary, a divider that separates the geological records of the Cretaceous and Paleogene periods—pegged by scientists as about the time dinosaurs became extinct.
The Plinth is dedicated to a rotating series of monumental works of art on the Spur section of the High Line.
Esparza should get as good a spot for a showcase in his hometown—perhaps the Berggruen Institute could figure something out if the fog has cleared from that party.
Sullivan Says 
Best wishes for a happy Thanksgiving to all—please note there will not be a column next week in observance of the holiday, with more from SoCal and New York when coverage resumes on November 30.