Here's a fact the legacy media hasn't gotten around to reporting: The joint FBI-IRS investigation of corruption in LA City Hall goes to the top, with clear footprints leading to the administration of Mayor Eric Garcetti.
Court documents made public last week from the latest guilty plea in the probe indicate the footprints belong to former Deputy Mayor Ray Chan, who was general manager of the city's Department of Building and Safety before Garcetti tapped him for his leadership team.
Chan retired from the city a few years ago, but he has nevertheless dragged his old boss into the trouble that seems to radiate out from LA City Councilmember Jose Huizar these days.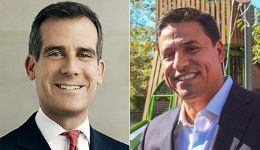 The feds have yet to offer any evidence that Garcetti knew of corruption in his office.
You can look here for some idea of whether the mayor has been corrupt himself or a hapless speedbump.
No comment from Garcetti.
I'll get back to City Hall and broader aspects of public corruption next week.
Let's move on to a new warning sign in another institution of local government …
---
Goldberg's Response Raises Question of Brown Act Violation by Beutner, LAUSD Board
This red flag was raised unwittingly by Jackie Goldberg.
The career politician and current Los Angeles Unified School District board member might have aimed for rude, but she veered toward inept with a dismissive response earlier this month to a query from SullivanSaysSoCal about emergency spending by Superintendent Austin Beutner.
The query centered on some of the reported $200 million that LAUSD has spent on Covid-19-related programs that aren't part of its annual budget. A chunk of the money has gone to a food program that LAUSD expanded beyond students, with an offer to feed "all who show up."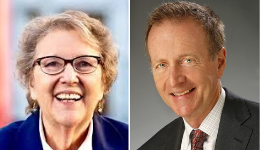 SullivanSays asked Goldberg whether handing out food under the LAUSD banner amid the pandemic might be intended to curry favor with voters for a statewide ballot measure that would change Prop 13 and open commercial real estate to new tax hikes—which would bring increased revenue for school districts. She called such thoughts "utter trash and nonsense," adding that she "resents" being questioned about any political motives.
Goldberg could have left it at rude in her email response, but she went on to say that "the Superintendent said we should feed all who show up without question and the Board agreed.  There was no formal vote as we did not meet on the topic but the Superintendent did check with each Board Member before making this decision."
A recognized expert in open-government laws told SullivanSays that Goldberg's response describes a violation of the Brown Act, a state law intended to prevent back-room dealing among public officials.
"The Brown Act, specifically Government Code section 54952.2 (b)(1), prohibits these kind of serial discussions," according to Kelly Aviles, whose law firm is based in La Verne. "Specifically, it states 'a majority of the members of a legislative body shall not, outside a meeting authorized by this chapter, use a series of communications of any kind, directly or through intermediaries, to discuss, deliberate, or take action on any item of business that is within the subject matter jurisdiction of the legislative body.'"
No comment yet from Goldberg, her six fellow board members or Beutner. 
---
---
Newsom's Folly?
LAUSD isn't the only public body due for a review of emergency spending under cover of Covid-19—just check out the State of California's projected $54 billion budget deficit for starters.
Consider Governor Gavin Newsom's knee-jerk deal to lease the St. Vincent Medical Center in Downtown LA—which was sitting vacant amid bankruptcy proceedings—for $2.6 million a month. Newsom also agreed to pay $1 million a month to have Kaiser Permanente and Dignity Health manage the facility as a Covid-19 "surge hospital" and to cover costs of equipment and the hires of 500 doctors, nurses, respiratory therapists, pharmacists and support personnel.
All while a U.S. Navy hospital ship with 1,000 beds and crew of 750 sat on call in the Port of LA.
The ship left earlier this month after seeing little action.
A Kaiser spokesperson said the so-called surge hospital has treated "several" patients since opening on April 13.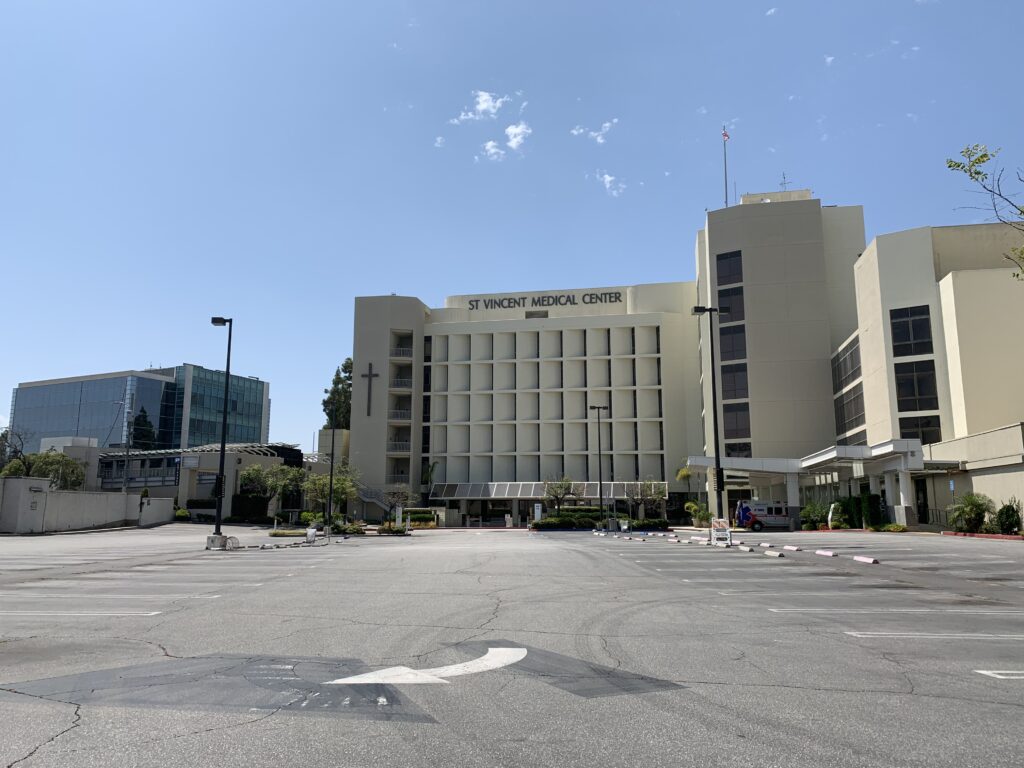 A more recent visit found the hospital looking like a ghost town.
---
Blue Flame Burns OC Political Pro
Orange County and the Republican Party have their own pieces of a national scandal over a firm set up by local political consultant John Thomas, who apparently sought to cash in on the demand for personal protective equipment in the early weeks of the pandemic.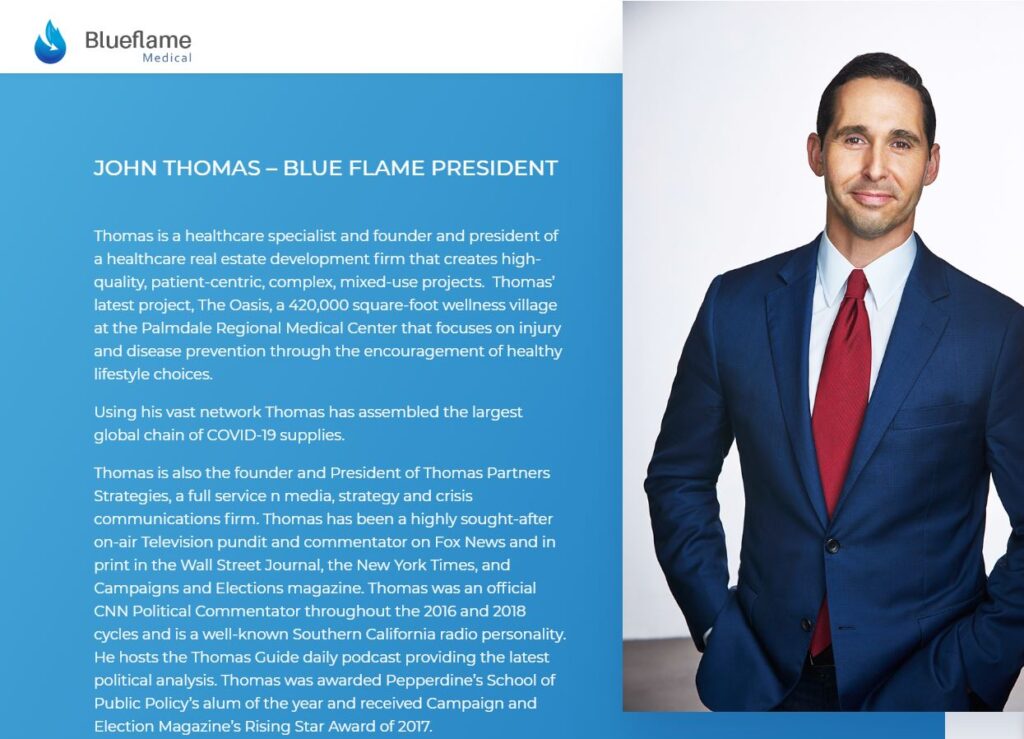 Thomas was a top advisor to OC District Attorney Todd Spitzer's winning campaign in 2018, and County Supervisor Andrew Do is among other elected officials who have sung his praises. Thomas had begun poking his head into political races in other parts of California before shifting gears to form Blue Flame Medical LLC, teaming up with Washington, D.C.-based Mike Gula. Promotional material for the firm listed Thomas as president and touted his "vast network" as the backbone of "the largest global chain of Covid-19 supplies."
Not vast enough, apparently.
Blue Flame Medical is the subject of state and federal probes over the timing and pricing of a $600 million contract with the State of California and other deals. Officials of the State of Maryland contend the firm failed to deliver millions of dollars' worth of masks and ventilators after half the value of the deal had been paid up front.
Thomas could not be reached for comment.
Sources in political circles say government investigators aren't the only ones eager to speak with him—word on the street stays he stiffed some vendors from spring campaigns.
---
---
Moorlach's Moment?
This suggestion is offered with no partisan preference, resting instead on the basic belief that any government in the hands of one party will eventually wreck itself.
That's reason enough to pull for a cleanup and renewal of the Republican Party in California. Even more so when you consider Newsom's spend-first-ask-questions-later approach on Covid-19 and the feckless withdrawal of the legislature dominated by his fellow Democrats as the pandemic took hold.
Any renewal will require the good sense to stick to Republicanism over Trumpism. That means pulling back from the fringes in favor of traditional Republican principles of limited government, low taxation, law and order, etc.—offered from a reasoned, California perspective.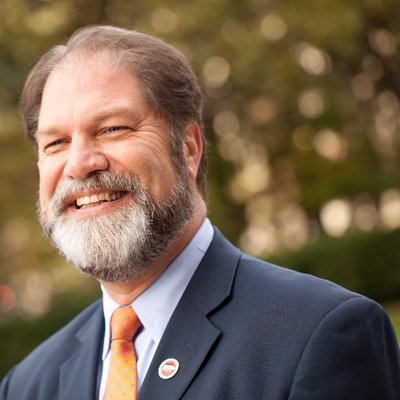 No easy task, but the GOP might have the right messenger in John Moorlach, a state senator who's based in OC and brings a CPA's training and a Main Street point of view to his critiques of Newsom's recent spending and other policy decisions.
Moorlach raised red flags ahead of Orange County's bankruptcy 25 years ago. No one listened until it was too late.
He's currently sounding alarms about California's public pensions and other fiscal concerns.
Any bandwagon for Moorlach will have to wait for the results of his current re-election campaign.
Here's guessing voters in his 37th District renew his contract.
Stay tuned to see if others across the state check Moorlach out for gubernatorial potential once we get around to working through the fiscal fallout of Covid-19.
---
---
Media Notes: Doti Shares; Ford Exec Opines; Cockeyed on Covid-19
Chapman University President Emeritus Jim Doti notched a couple of prominent media credits on a single day recently—and he deserves some extra credit for sharing his knowledge, writing skills and contacts with fellow faculty members at the school in Orange. Doti shared one byline with fellow economics prof Laurence Iannaccone for a succinct critique of bureaucracy-borne market meddling in an op-ed in the May 4 edition of the Wall Street Journal, and another with assistant prof Fadel Lawandy on a piece in the Orange County Business Journal discussing the dangers that the Covid-19 slowdown presents to public pension funds …

Add Debra Hotaling to the Wall Street Journal's list of contributors from OC. Hotaling, who serves as an Irvine-based U.S. regional communications manager for Ford Motor Co., authored an op-ed in the May 15 edition of the business daily about her employer's efforts to make face shields for the fight against Covid-19 …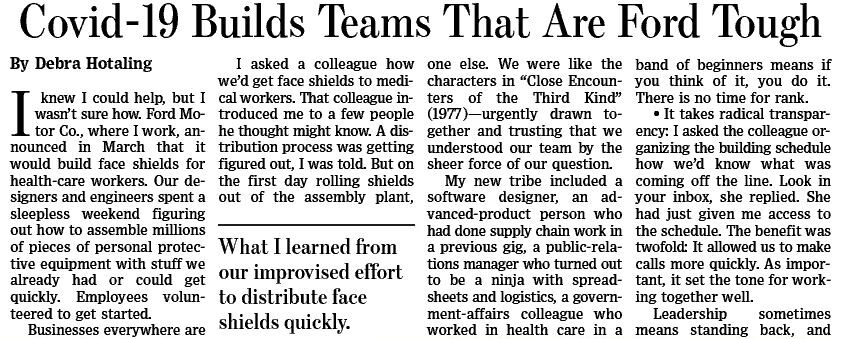 Back to the OCBJ, where my former colleagues had appeared to be just a little bit cockeyed on seemingly random comparisons of totals of Covid-19 cases in various municipalities in North OC versus several coastal cities. They got a bit more cockeyed when they decided to toss nursing home residents and prisoners together thusly: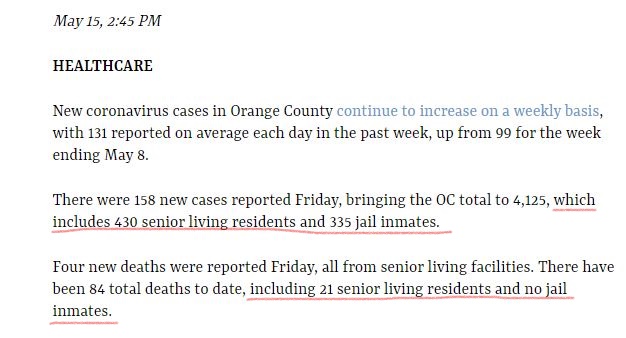 Memo to OCBJ: Disparate snapshots without context can confuse rather than clarify. No one is questioning your motives, but perhaps it's time to take a step back and reconsider your method of analysis of the Covid-19 data.
---
DTSA Works
The 4th Street Market is making use of Covid-19 downtime to spruce up the food hall on its ground floor and push ahead with new apartments above the place in the heart of Downtown Santa Ana.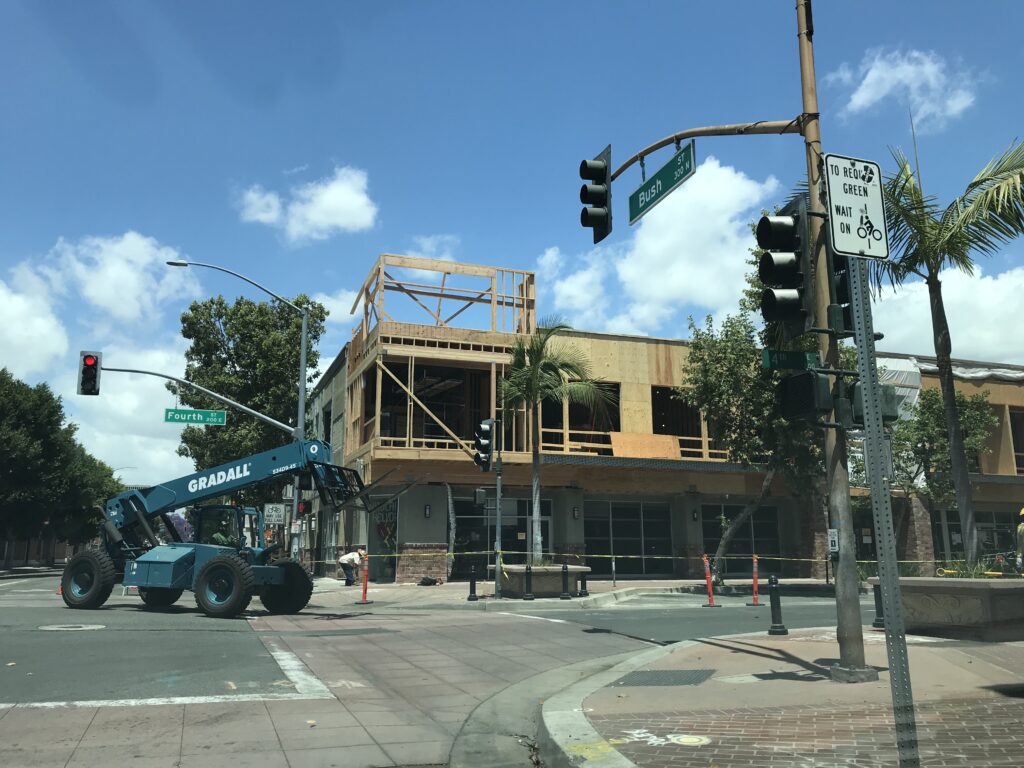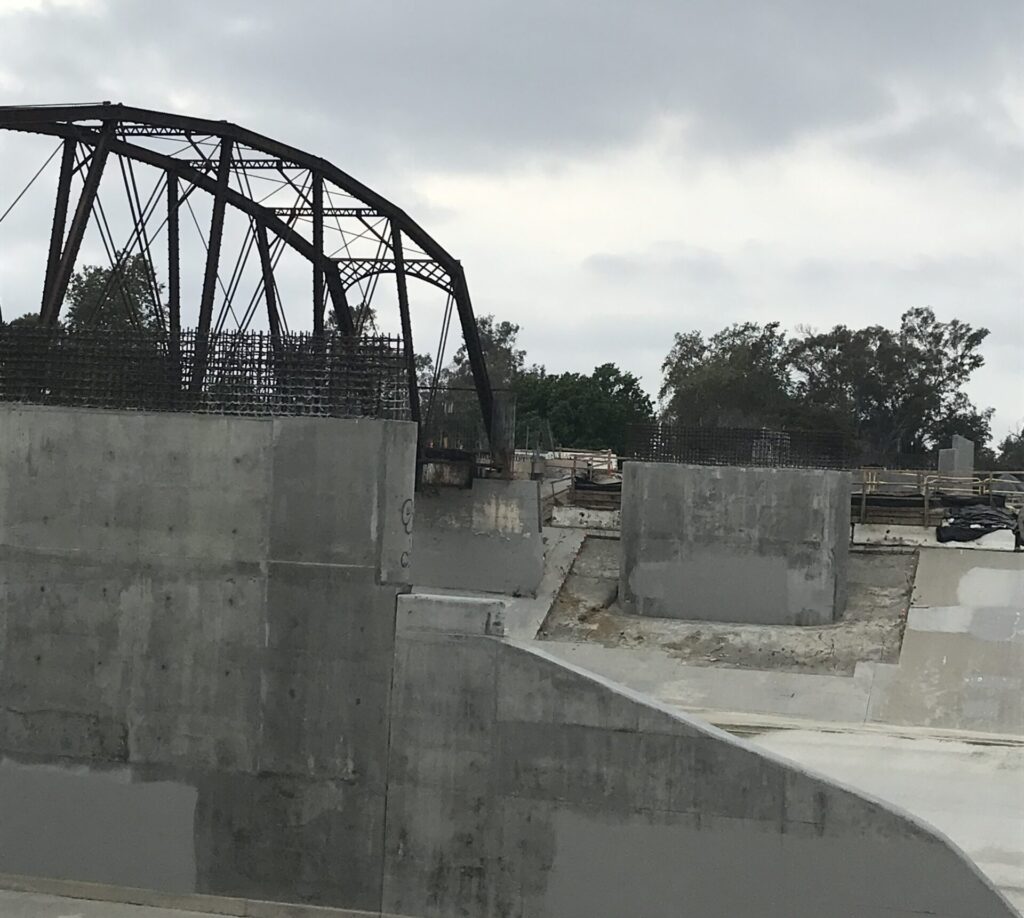 It won't be long before residents of the new apartments will be able to catch a ride on the OC Streetcar. The Orange County Transportation Agency also is taking advantage to push faster a four-mile route through Santa Ana to Garden Grove. The abutments for the bridge over the Santa Ana River look ready to carry the weight of the streetcar line.
---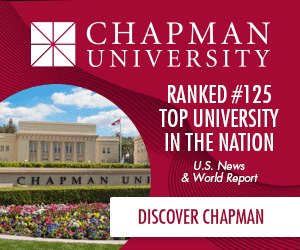 ---
Sullivan Says
The City of Manhattan Beach should consider renaming Polliwog Park for the turtles that are so prevalent in its pond.