The nonprofit organization that serves as the fiscal agent for Night on Broadway says it doesn't know anything about the $300,000 that was reallocated to the event from a tree-trimming budget at the request of LA City Councilmember Jose Huizar.
The gap in accounting and the timing of the shift raise more red flags on the street festival, which drew a reported 250,000 visitors to Downtown LA for its most recent edition in January of 2018. Sponsors signed up, food trucks paid for spaces to hawk their wares and the public flocked to the city's center, with Huizar claiming credit for the overall production under the umbrella of his "Bringing Back Broadway" initiative.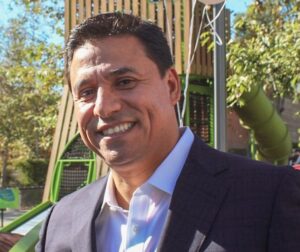 Huizar abruptly canceled the 2019 edition of Night on Broadway late last year, offering no specific reason while leaving out any mention that federal agents had recently raided his office in City Hall, one of his field offices and his home in Boyle Heights.
Another matter of timing that went largely overlooked was the approval of a request by Huizar to reallocate the $300,000 from tree trimming for his 14th District to Night on Broadway. The approval came on a 12-0 vote of the City Council on November 2, just five days before the raid by agents of the FBI and IRS.
Documents recently provided by Huizar's office on the 2018 edition of Night on Broadway didn't account for the shift of the $300,000.
Los Angeles Neighborhood Initiative (LANI)—the nonprofit that serves as the fiscal agent for Night on Broadway, taking responsibility for depositing funds dedicated to the event and paying its bills—said the reallocated $300,000 is "outside the scope of our knowledge."
LANI reports that all bills for the most recent edition of Night on Broadway were paid in full by June 2018, leaving questions about the current disposition and purpose of the $300,000 that was reallocated to the event.
"LANI is not aware of these particular funds and has no knowledge of funds being diverted from another use," LANI Executive Director Veronica Hahni told SullivanSaysSoCal through a spokesperson.
Night on Broadway had paid some bills in advance of the event in the past, according to LANI. That would leave open the possibility that the $300,000 reallocation in late 2018 was intended for upfront payments related to the 2019 edition.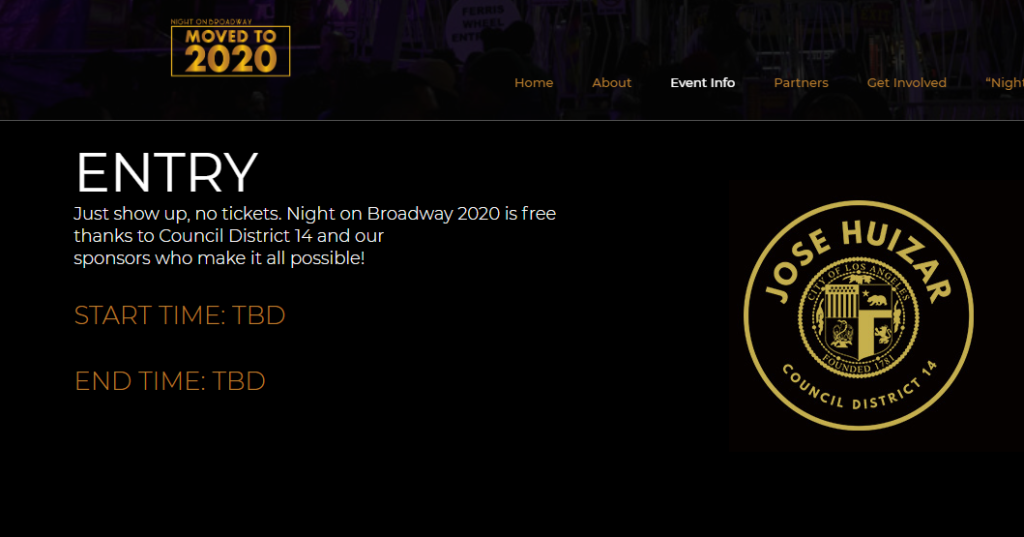 The 2019 edition was cancelled within a month of the reallocation, though, and no date has been set for 2020, despite Huizar's promise of the resumption of the event. Night on Broadway had been held in January in prior years, with dates announced as much as five months in advance.
A recent call to Huizar's office and check of Night on Broadway's website indicated no date has been set for the 2020 event, and fiscal agent LANI has yet to receive word on the schedule, according to Hahni.
---
Columnist's View
The mess of Night on Broadway's finances shouldn't obscure another question:
Why would DTLA property owners, developers, merchants, community activists and members of the local Neighborhood Council let what had been generally hailed as an enormous promotional success simply fizzle out?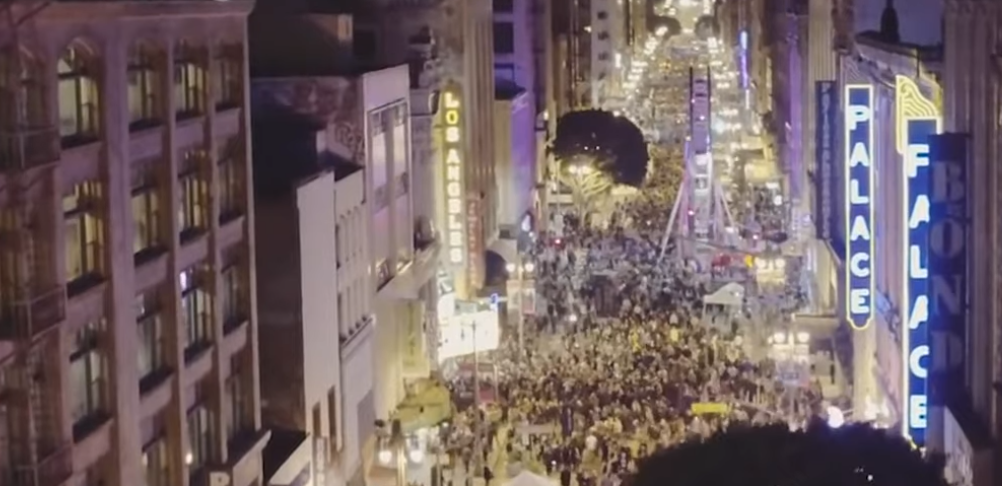 ---
---
Chargers Out of Bounds With SoCal Media?
Anyone else wonder if the LA Chargers might be getting a warmer reception in their new hometown if the team had spread around a $3 million marketing budget a bit more for a push to sell season tickets at its soon-to-open new home field instead of spending nearly 80% with Facebook?
The marketing budget was just one of many keen insights in espn.com's recent deep-dive on the state of pro football in LA.
Central to the story, according to ESPN, are signs of strain in the relationship between Dean Spanos, head of the family that owns the Chargers, and Stan Kroenke, his counterpart with the Rams and landlord of the $5 billion+ SoFi Stadium that is reportedly blowing past construction budgets in Inglewood as it nears completion as a homefield for both teams.
---
LA Times Out of Line on HK Coverage?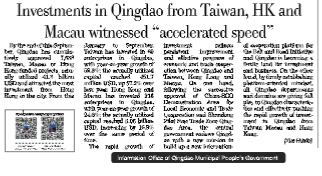 Anyone else wonder if the LA Times might be serving up more sophisticated coverage of the fight for democracy in Hong Kong if it weren't carrying regular advertising supplements about China?
The daily's issue of November 27 spurred the thought with a front-page piece that attempted to deliver insights on the standoff in Hong Kong through the lens of a boy band there.
The same issue carried a 12-page advertising supplement called International Daily, which included a piece that touted investment money drawn from Hong Kong to Qingdao, a city on mainland China with a competing port.
An LA Times spokesperson didn't respond to a request for more information on the advertiser and supplement.
---
---
People & Events
Nice piece here from Rochester Institute of Technology on Joe Burke, an alum of the school who's hitting a nice lick as an entrepreneur with Irvine-based Ollyball—and you can visit here to see what that's all about. Wonder if the school will swing back for a review of Burke's new book, titled The Anatomy of Yes: The Story Behind Every Sale …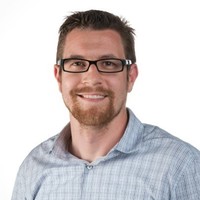 Veteran journalist-turned-public-sector-media relations-pro Paul Eakins is well suited to his new post as public affairs information officer with the City of Santa Ana. Eakins followed a lengthy tenure at the Long Beach Press-Telegram with a stint at the short-lived Long Beach Register and a stop at the Orange County Register when it was still in Santa Ana. He also spent time at the Los Angeles Business Journal before taking a communications post with LA County DA Jackie Lacey two years ago …
Kudos to Christopher Callahan, dean of the Walter Cronkite School of Journalism at Arizona State University, on his recent appointment as president of University of the Pacific in Stockton. No successor yet at the Cronkite School, although ASU officials say the change won't affect plans to expand its journalism program in LA with a move into the old Herald Examiner building at 11th Street and Broadway sometime next year …
This just in: DoubleLine's Jeffrey Gundlach is lined up to deliver the keynote address to the CFA Society Los Angeles' annual conference on May 7 at the J.W. Marriott at LA Live.
---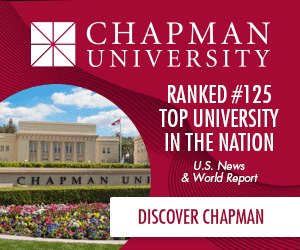 ---
All Buona in Echo Park
A guy with a three-day growth and highwater pant cuffs walks into Cosa Buona at Sunset Boulevard and Alvarado Street and asks where he could drop off a resume for the dishwasher's position.
Anyone familiar with Echo Park before hipsters achieved critical mass in the area can fill in the rest of your own joke here.
A few ran through my mind before the hipster waiting on my table came over to ask if it was my first visit to Cosa Buona.
I said it was my first visit to this enterprise, but I had been a regular at Pizza Buona, which was an Echo Park standard at the same spot for years—and didn't require resumes for dishwashers.
Then the hipster told me that Pizza Buona had moved but remained in business, just a few blocks down Alvarado.
That took me from a chuckle at the expense of the hipsters to a sincere smile over a classy move by a relative newcomer to acknowledge a competitor with some history in the neighborhood.
---
Ingardia Bro Back
Few individuals are more engaged with the restaurant business in SoCal than Sam Ingardia, partner in Ingardia Bros Inc., the Santa Ana-based wholesaler of produce, seafood and groceries.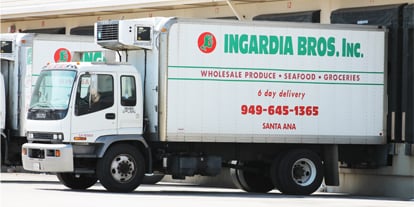 You'll see Ingardia Bros. trucks all over the streets and freeways of SoCal, but Sam was recently missing for a while. Seems a pain in his back had all but kept him off the restaurant circuit for a spell—and even grounded him from the far-flung travels he so enjoys. Indeed, it was a rogue wave in Maui that kicked off the sciatica that had him sidelined.
Happy to report Ingardia is back to dining out and traveling far and wide, and he's crediting Dr. Alexander Taghva, a resident neurologist at Mission Hospital in Mission Viejo for making the difference through an endoscopic spinal surgery.
"Fantastic non-invasive surgery, in at 6:00 a.m., at home by 1 p.m," Ingardia says, adding that within days he "was on a plane non-stop to NYC to get on board a cruise ship for 10 days."
---

---
Questions on Calle's Other Gigs
Anyone else notice that Brian Calle remains listed as publisher and CEO of LA Weekly but is now followed by Jessica Mansour, recently hired as general manager of the free weekly?
Mansour's elevation comes with Erin Domash dropping one spot on the masthead, with a change in titles from associate publisher and COO to vice president of events and partnerships.
Calle still hasn't responded to a query first sent his way a few months ago on whether his appointment to head Chapman's University's newly launched Center for Freedom of Expression and Media Integrity might have led to Mansour's recent hire as part of a transition plan that would see him eliminate any conflicts of interest—or perceptions of such—by giving up his stakes and roles in the LA Weekly and Irvine Weekly.
---
Sullivan Says
Sorry to see OC Weekly shut down, but consider the move an indirect indicator that the cannabis business has been over-hyped from the real estate to media sectors of SoCal's economy.