Plenty to ponder from the panel that took center stage at AIR CRE's So Cal Market Trends & Forecast on January 23 at the L.A. Grand Hotel Downtown … KNX 1070's Frank Mottek moderated the talk for the member-owned commercial real estate network's 26th annual event, with a panel of even executives offering various perspectives … Let's get this out of the way: Not one of them said they expect the market to turn toward recession this year … There were, however, some curious comments about Hulu and its nearly 100,000-square-foot headquarters in Santa Monica. John Adams, a managing director for architecture firm Gensler, speculated directly about the future of the streaming service.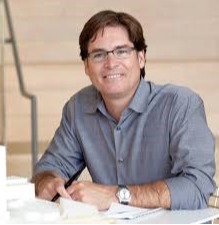 "I don't know that Hulu is going to stay in Santa Monica," Adams told the crowd, adding that the "pain" of traffic congestion is too great on "getting in and out of" the seaside suburb … Adams knows something about leaving Santa Monica – that's what Gensler did in 2011, when it shifted its regional HQ to its current location on Figueroa in the Financial District of Downtown. Gensler's former space in Santa Monica was eventually occupied by, you guessed it, Hulu, which did not return calls seeking comment for this report …
Amber Schiada, senior director of research for JLL Southwest, didn't call out Hulu specifically during the AIR CRE panel, but she might have given the company an idea with her assessment of an area that she sees as poised to follow Downtown and Hollywood as a hot office market … "I think maybe Miracle Mile could be next," Schiada said. "It seems to be in a perfect pocket" of availability, price and transit development, with Metro's Purple Line extension in the works on new stations on Wilshire at La Brea and Fairfax.
HED of the Class
Kudos to a couple of pros at Harley Ellis Devereaux, another Downtown architecture firm. HED Chief Executive Peter Devereaux recently announced that Otis Odell and Michael Bulander have been named principals, while 13 of their colleagues made associate principal and associate in the Los Angeles office, one of six offices across the country.  Devereaux said the promotions were the residue of a strong 2018 across the board for the firm.
Bird Migrates to DTSA
There is no shortage of new developments as Ryan Chase continues to drive the redefinition of Downtown Santa Ana. Among Chase's latest additions to his 4th Street Market is South L.A.-bred Chef Ocho—aka Keith Garrett. The Instagram sensation is crushing it with his All Flavor No Grease stand, which gives an African-American twist to quesadillas, burritos and tacos, not to mention his newly branded AFNG flavored drink, a 'hood-inspired homage to Kool-Aid … Chase, meanwhile, has 24 apartment units in the works above the market. There's a 9-story project with 200 or more planned for the First American Title Co. site across Bush Street on the west. The other side of 4th Street now features a number of exclusive retailers, including sneaker specialist RIF-OC—which also has its RIF-LA store in Little Tokyo—along with one of just five locations of classic surf and street stylist Stussy Archive across 4th Street to the south … Add Bird scooters—which have become familiar in some stretches of L.A.—as another element that is likely to fit right into what's going on in DTSA. A flock of pay-as-you go Birds recently hit the streets with city approval as part of a pilot program, providing another way to link Santa Ana's charming and busy train station and regional transportation center, the Civic Center and, eventually, the $408 million OC Streetcar that will run through the city's center as part of a 4.1-mile route.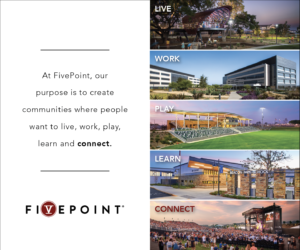 Stewart on City Hall Scandals
The OC Streetcar is actually happening—under construction, with an opening pegged for 2021. It's tough to put a finger on wherever the $590 million, four-mile LA Streetcar plan that's been a pet project of 14th District Los Angeles City Councilmemer Jose Huizar might be. No surprise there, given the stonewall elected officials have put up ever since the FBI and IRS raided Huizar's office in City Hall, a field office and his home …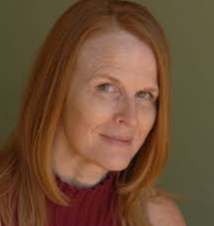 … Little wonder, also, that the scent of scandal has spread all the way to New York City's real estate market, where the Commercial Observer weighed in with a piece on January 22 that found an angle everyone else has missed, becoming the first to give voice to longtime local journalist-turned-politicritic Jill Stewart, who now heads the Coalition to Preserve L.A., which counts itself a corruption buster … The Commercial Observer reportedly remains part of Trump-in-law Jared Kushner's portfolio via a family trust …
Stewart is perhaps best known for her stint as managing editor of LA Weekly back when the publication had sharp teeth and wasn't afraid to use them on local pols … Stewart still has some bite—she told the Commercial Observer that her group plans to file a document asking a Los Angeles County civil grand jury to look at L.A. officials besides Huizar, fellow councilmembers Herb Wesson and Curren Price, and other city officials listed in a recently disclosed federal warrant. Stewart said there are plenty more officials who have turned city planning into a pay-to-play shadow market.
Huizar Update
Here's an angle that merits inspection every bit as much as the rest of whatever threads the feds are pulling in their investigation of Huizar …
Jan. 23, 2019

To: Whom It May Concern, including 14th District Los Angeles City Councilmember Jose Huizar; Rick Coca, Communications Director/Senior Advisor to Los Angeles City Councilmember Jose Huizar; Joella Hopkins, Downtown Area and Strategic Media Director to Los Angeles City Councilmember Jose Huizar.

I'm requesting the following under the California Public Records Act § 6250 et seq.:

Any and all financial records, data and information related to the planning, operation, production and results of Night on Broadway in 2018 and prior years, along with any related analysis and/or correspondence related to financial data on said event. This request includes terms of sponsorships, fees for vendors, and any other sources of revenue. It also includes totals for all expenses, and documentation of the ultimate use or disposition of any profit or surplus from operations of the several annual editions of Night on Broadway, or documentation on the manner in which any deficit or loss was offset

The California Public Records Act requires a response within ten business days. If access to the records I am requesting will take longer, please contact me with information about when I might expect copies of the requested records. If the information can be released immediately, please do so.

If you deny any or all of this request, please cite each specific exemption you feel justifies the refusal to release the information and notify me of the appeal procedures available to me.

Sincerely,

Jerry Sullivan
I'll keep readers posted as this one plays out.
New York State of Mind
The Commercial Observer visited town for a story on the City Hall scandal, but there's a Big Apple flavor in the air around L.A.'s media market these days … Start with Los Angeles magazine and LAmag.com, which made a big hire last week, landing Maer Roshan as editor-in-chief five months after Matt Segal announced plans to step down. Roshan is a veteran of New York magazine, Talk and other titles, including Radar and several more he launched when he was a star of the media world in NYC … He's kept a lower profile since moving to SoCal five years ago, with activities ranging from a stint as guest editor on one of Hollywood Reporter's Oscar issues to overseeing content for FourTwoNine, a digital publication focused on the gay community …  Roshan's career has included a brush with substance abuse, which led to a website called TheFix. He's also rubbed elbows with one-time financial backer Jeffrey Epstein, who did time behind a charge of soliciting underage prostitutes … Roshan also counts Beverly Hills-based billionaire Ron Burkle of Yucaipa Cos. among his prior backers. It was Burkle who eventually sold Radar to American Media, run by David Pecker, a pal of President Donald Trump. The publication now exists online only at Radaronline.com …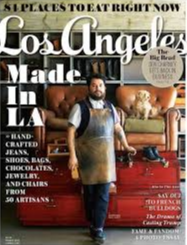 … One-time New York Times "Big Deal" columnist Alexei Barrionuevo took charge of the Los Angeles edition of real estate tracker Real Deal around mid-2018, and Sewell Chan, another NYT vet, arrived more recently as deputy editor for news at the L.A. Times … Sometimes the trend includes a homecoming. That's the case for Jill Cowan, who now serves as correspondent for the New York Times' California Today online newsletter. Cowan grew up in Orange County and spent a couple of years as a reporter at the Daily Pilot—which covers Newport Beach and Costa Mesa—before working her way to her current post, with stops in Dallas and Nashville … Cowan no doubt picked up some new perspectives on those assignments, and here's hoping she joins the New York imports in bringing the benefits of fresh eyes to the task of telling L.A.'s story.
Camarillo's Coffee Klatch

Lots of baristas do coffee art, but Tobias Morales at Literati in Brentwood took it up a notch with this portrait. Take away the glasses, and it looks more than a bit like Pete Camarillo, a media relations specialist with Business Wire, who kindly bought this cup.
Blues, News at Port of Long Beach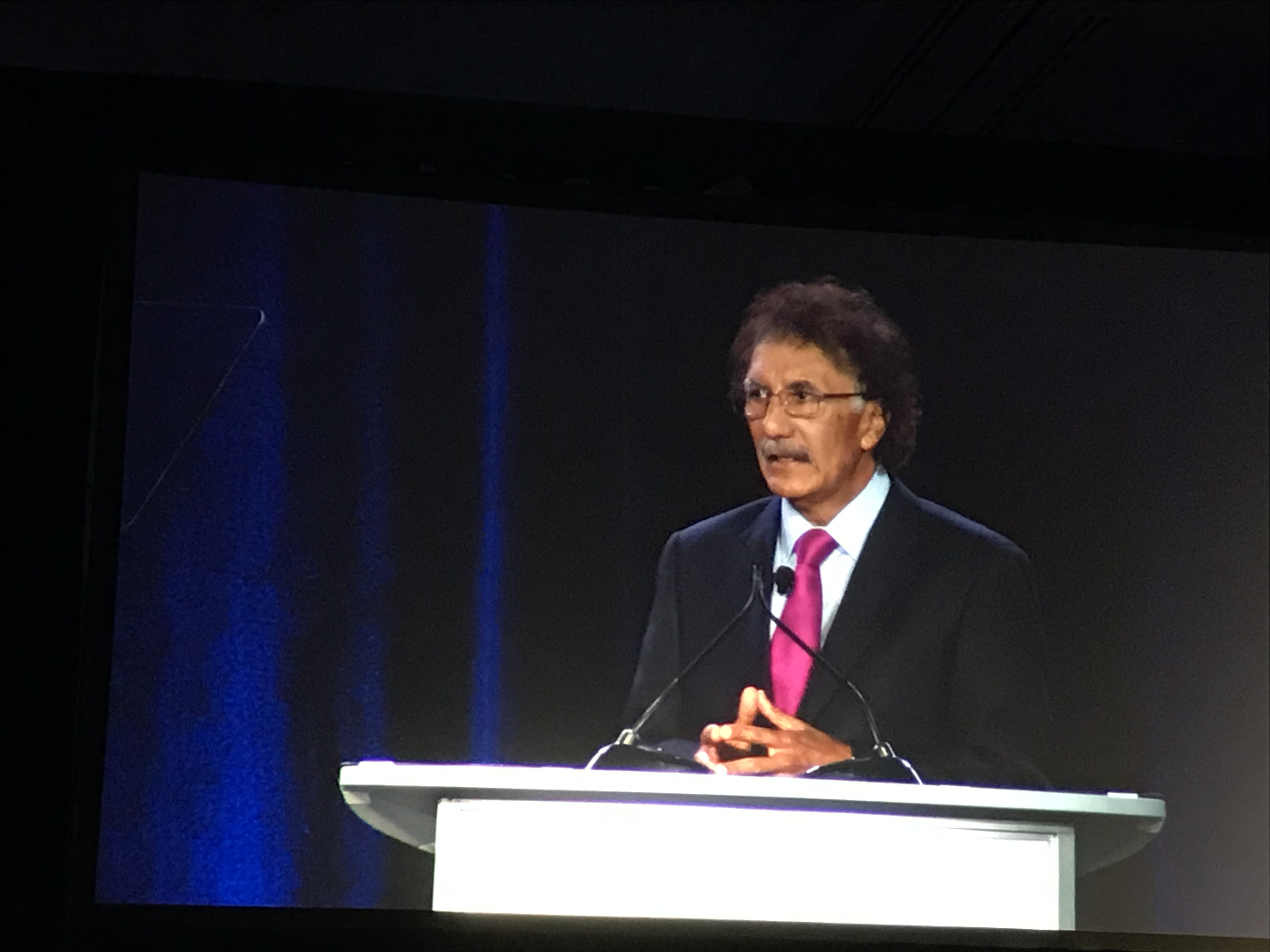 Port of Long Beach Executive Director Mario Cordero paraphrased Blues legend Etta James in his State of Port address on January 23 at the city's Convention Center, telling a full ballroom that "containers are our business, and business is good" … The facility set a record by moving a little more than 8 million containers of cargo last year … Cordero didn't exactly square up on the Trump Administration's controversial policies on tariffs and trade deals in his speech—he seemed to hedge with a prediction of another year of growth that will likely fall short of last year's 7% increase due to the uncertainties in the air …
Cordero's address came a week after the Port of Long Beach Maritime Center of Excellence at Long Beach City College announced it was accepting registrations from community members who are interested in taking classes on global logistics and supply chain industries. LBCC's Workforce Development will be offering these short-term fee-based classes.
"The training series will target occupations in the global logistics and supply chain industries that require more education than a high school diploma, but less than a college degree. These industries are expected to have continued growth and demand for trained workers in Southern California with an average annual wage of $63,130, approximately 14 percent higher than all other industries in Southern California," according to port officials … And here's a video from the State of the Port that shows what some of those jobs look like:
Sullivan Says
Here's the viewpoint I promised about the controversy over one of the murals at RFK Community Schools in Koreatown:
Consider Community, Context in Mural Debate
A Chinese proverb that tells us that "the beginning of wisdom is to call things by their proper name."
The loudest voices in the ongoing debate over a mural at Robert F. Kennedy Community Schools in Koreatown have missed on that Confucian standard.
Google "RFK mural," "Wilshire Community Coalition" and "Beau Stanton" if you are interested and need some background.
And please call things by their proper name as this debate continues.
Please don't throw the term "censorship" around lightly—especially when talking about public art, which should meet community standards.
Please don't use the term "depict" if you mean to highlight similarities in an artistic sense. It misleads by presuming conscious intent.
And please don't call a letter—no matter how strongly worded—a "vicious attack." There are vicious attacks everyday on our streets, and they shouldn't be diminished by applying the term to a public argument delivered in the form of a critical letter.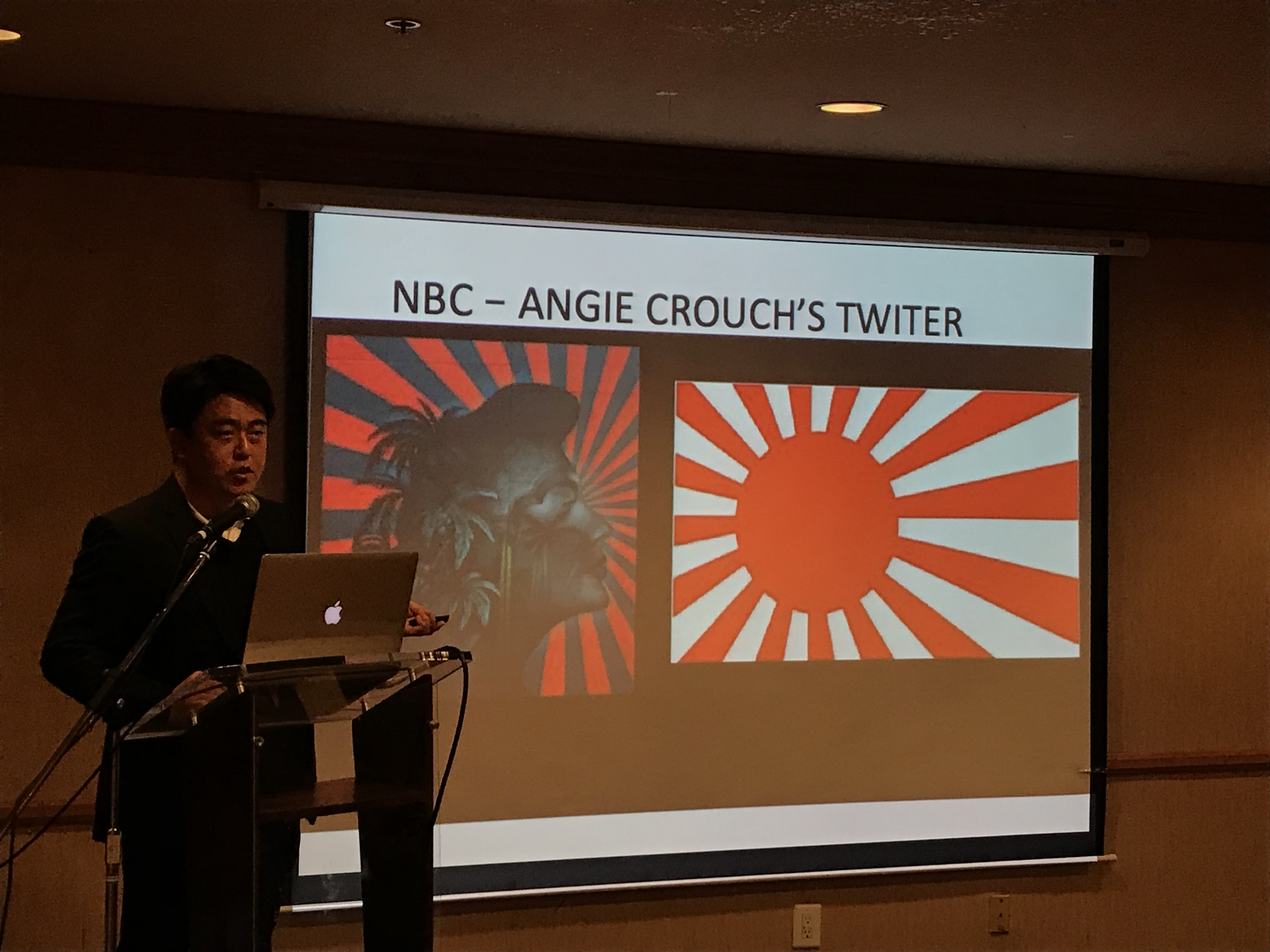 Keep talking—and start listening—to both sides of this standoff. There is no rush here—the mural can be covered with a tarp while debate continues and while lessons about freedom of expression and community standards and context can be gathered and accrue to the community's social storehouse.
Such lessons often start with misunderstandings.
I learned one some years ago as owner and operator of a community newspaper called the Los Angeles Garment & Citizen and based in offices in the Fashion District.
I employed a crew of several young men—all recent immigrants from Mexico—to distribute the publication throughout Downtown and adjacent districts.
One day the young fellows were killing time before the printer delivered the copies of the latest issue, and I noticed they were drawing tattoos of swastikas on one another's forearms with ballpoint pens.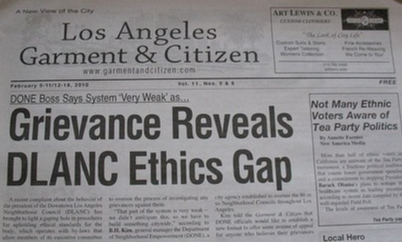 These guys weren't Nazis. They had no idea of the historic context of the symbol in the U.S. They might have seen similar Meso-American symbols in Mexico. In any case, they had no idea what the swastika meant to the Jewish community—including the many Jews they would encounter on their rounds delivering the paper.
I instructed them to wipe the swastika tattoos of their arms before they went out to deliver the paper.
Did I engage in censorship or an act of consideration based on community standards?
I believe I took appropriate steps to put community standards into the social context of the neighborhood.
Who knows what might have happened if those young men had hit the streets of the Fashion District showing off swastikas? I can only imagine bad scenarios, starting with the effect on my business, a newspaper that had worked hard to win the trust of the community. I believe there also was a good chance that there might have been some truly vicious attacks that day—maybe even some jail time.
That didn't happen because community standards were considered.
One of those delivery guys is now in training under one of the best restaurateurs at one of the hottest places in L.A.
He now expresses his artistic inclinations to wonderful effect through food.
And thank goodness for that, because the kid was no artist with ink.