Thom Mayne put a twist on the designers' typical all-black outfit when he made the trip from his office in Culver City to Costa Mesa for the groundbreaking on the $73 million home of the Orange County Museum of Art.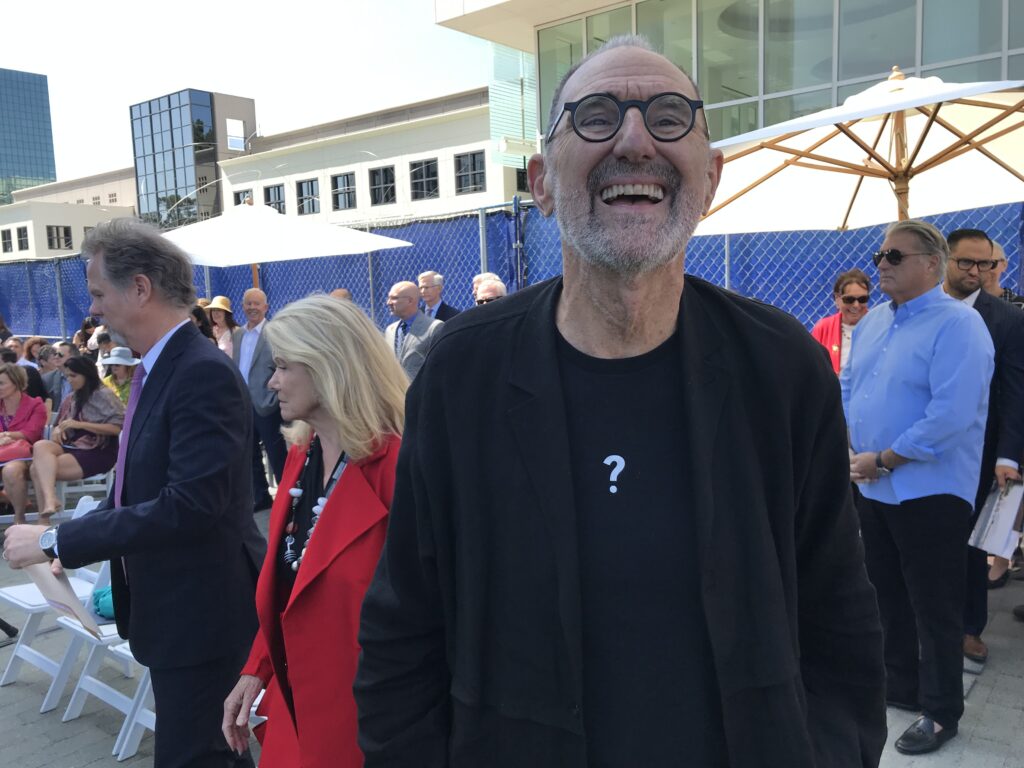 A small, white question mark – with no further comment – stood out on Mayne's chest as he addressed the crowd gathered at the construction site on the campus of the Segerstrom Center for the Arts.
Mayne left some questions in the air after addressing well-wishers who gathered on the 12th floor of the Cesar Pelli-designed Plaza Tower next door for a lunch after the groundbreaking.
Did he really call out one of the most overused words in our current lexicon, eschewing the notion of a building as an "icon"?
Did he really take a shot at fellow architect Frank Gehry, whose name often comes with the mention of some icon or another?
Did he really say there was no inspiration for the 52,000-square-foot terra-cotta clad OCMA building that will yield 80% of its 1.6-acre site to a plaza that invites visitors and connects them to the other centers of various arts on the Segerstrom Center campus?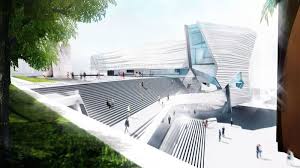 Mayne's got game and style.
His style leaves plenty to chew over in some instances – although he did offer some clarification for his contention that there was no inspiration for the OCMA project.
"It's not about building an icon," Mayne said, adding that the creative process that he and his colleagues at Morphosis engaged came "out of discourse, not out of a singular vision."
That sounds like conversation as collective inspiration – perhaps not the stuff that makes icons out of buildings or architects, but a process that seems poised to work well for OCMA.
LA Goes La-La on Hong Kong Democracy
Perhaps Mayne's sartorial question mark will spark some collective conversations about the apparent lack of concern among LA's elected officials when it comes to the standoff between an increasingly autocratic government in Hong Kong and crowds who seek to maintain some long-established standards of freedom there.
Indeed, the recent silence among most pols and an appearance by one prominent representative of LA City Hall seemed to lend support to the ongoing government-sanctioned and violent crackdowns on protesters in Hong Kong.
Any such approval – tacit or otherwise – would present an odd twist, given the willingness of California's "progressive" political class in general and the LA City Hall crowd in particular to boycott everything from the State of Arizona over questionable public safety policies in regard to immigrants to hotels owned by the Sultan of Brunei over disturbing laws regarding the activities of gay folks in his kingdom.
The local pols didn't have to cross the state line or the Pacific Ocean to weigh in on Hong Kong – a former British colony that now exists as a "Special Administrative Region" with certain freedoms guaranteed until at least 2047 under a treaty that returned the territory to the ultimate control of the People's Republic of China in 1997.
Hong Kong's government came to LA in a big way last week with a self-described "mega-promotion" in the form of a conference called "Think Asia, Think Hong Kong." It was backed by the Hong Kong Trade Development Council, which itself is backed by the government of the Special Administrative Region, which is ultimately backed by China's government and Community Party in Beijing.
A dinner the night before the Hong Kong conference drew a cross-section of LA affluence to Vibiana, just a stone's throw from City Hall.
The main event drew a crowd to the JW Marriott at LA Live for the all-day conference on September 20, with "around 100 Hong Kong government officials and business leaders representing sectors such as financial and professional services, the design and creative industries, and innovation and technology … taking part in the event," according to the Hong Kong Trade Development Council.
A press release quoted Dr. Peter K N Lam, chairman of the organization, glossing over the question of social unrest in Hong Kong.
"We are a pragmatic and resilient city," Lam reportedly said. "We have strong fundamentals such as the rule of law and compliance with international standards, so I want to assure you that we will overcome our current challenges and move forward."
California State Treasurer Fiona Ma delivered "special remarks" to the crowd. They were not included in the press release, and Ma's office didn't respond to a request for a transcript.
Move on to an exhibit highlighting the "Four Core Values of the Hong Kong Architecture Landscape," which opened at the Westfield Century City just as the main event was wrapping up, and will remain on display in a public area of the mall for a couple of weeks. The exhibit was sponsored by the Hong Kong Institute of Architects. Its opening also featured a complement of government personnel from Hong Kong and LA.
The hand of China's central government seemed to be reflected in the four core values – "Glamour, Efficiency, Orderliness & Constant Change," a lineup that seems to represent Beijing's inexorable drive to control Hong Kong while allowing enough capitalistic flair to draw foreign investors.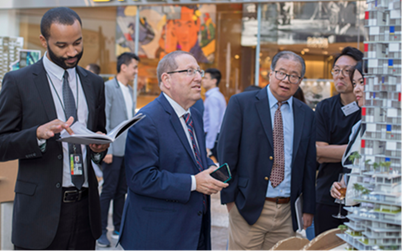 5th District LA City Councilmember Paul Koretz, who initially called for the boycott of the Sultan of Brunei's hotels, stood with the Hong Kong government officials and mouthed platitudes, essentially endorsing his counterparts, weighing in for the status quo and serving up a PR plug for tourism.
A follow-up symposium comparing the architecture of Hong Kong and LA took place on the campus of UCLA the following day, an extension of the exhibit at Westfield Century City.
It drew only a handful of people – all to hear from panelists. There wasn't a hint of any student awareness – let alone protest – and only a couple of passing references to the social unrest in Hong Kong.
The so-called mainstream press showed about as much interest as UCLA's student body, and the government of Hong Kong got through its PR swing with nary a ripple on a trip that could very well have gone very wrong.
A representative of Chinatown-based Visual Artists Guild, one of several groups that have attempted to draw attention to the cause of the Hong Kong protesters, reports that the media gave scant coverage of various recent efforts during the conference in LA.
"We have had protests, marches, forums, concerts, flash mobs, etc. in the past few weeks," according to Ann Lau, chair of Visual Artists Guild. "Although we do send out press releases to many media, including major TV stations, [the] LA Times, etc., we have been mostly ignored."
Lau noted that ethnic media outlets such as the Epoch Times and NTDTV have covered LA rallies and protests in support of the Hong Kong protesters, and so have the U.S. government's Voice of America and Radio Free Asia.
That means the Trump Administration shed more light on Hong Kong democracy protests in SoCal than the local legacy media have managed even when the story presented itself in their backyard.
La-La Land, indeed.
Will The Real Deal Raise Stakes for Business Press?
The Real Deal is sending a key executive from headquarters and hiring veteran journalists in LA as it aims to bring SoCal coverage up to the level of sophistication the real estate specialist has achieved with its online and print presence on the East Coast.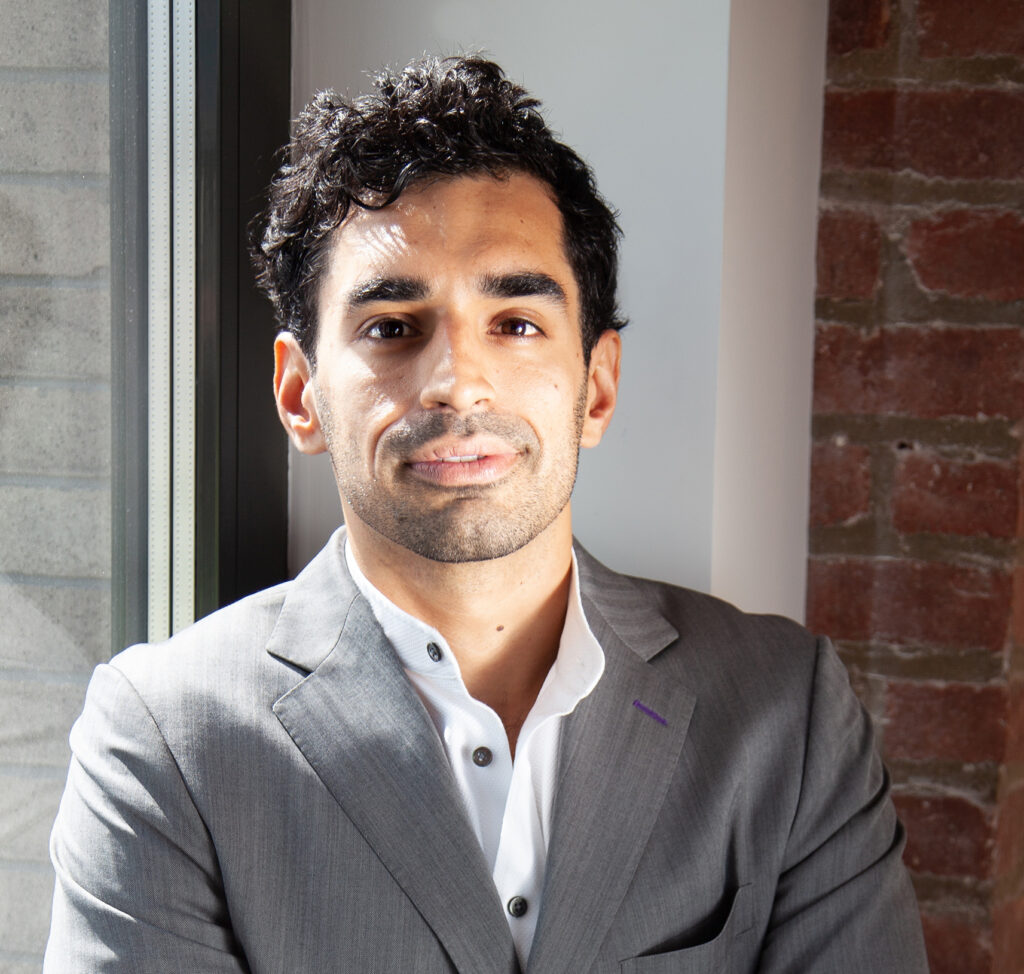 "Our mandate is to bring to the LA market the same sort of hard-hitting, comprehensive and juicy coverage that has become our signature in NYC and Miami," said Hiten Samtani, who is expected to arrive early next month as associate publisher of The Real Deal's LA edition, which currently covers the commercial and residential markets daily online and publishes a glossy print edition quarterly.
Samtani is a veteran of The Real Deal's New York headquarters and newsroom, where he has served as a reporter, managing editor, editorial director and editor-at-large over the past seven years.
Samtani will start with two new hires as he sets out to recalibrate The Real Deal's approach in LA. Matthew Blake will soon join the publication as a reporter who will focus on the residential sector, and Pat Maio is due to arrive as an associate editor with a focus on the commercial side.
Blake will move directly from the Los Angeles Business Journal to join the Real Deal next month. Maio is slated to make the move indirectly – he resigned from the LABJ in August, and adds his new duties alongside a role as adjunct professor at USC's Annenberg School for Communication and Journalism.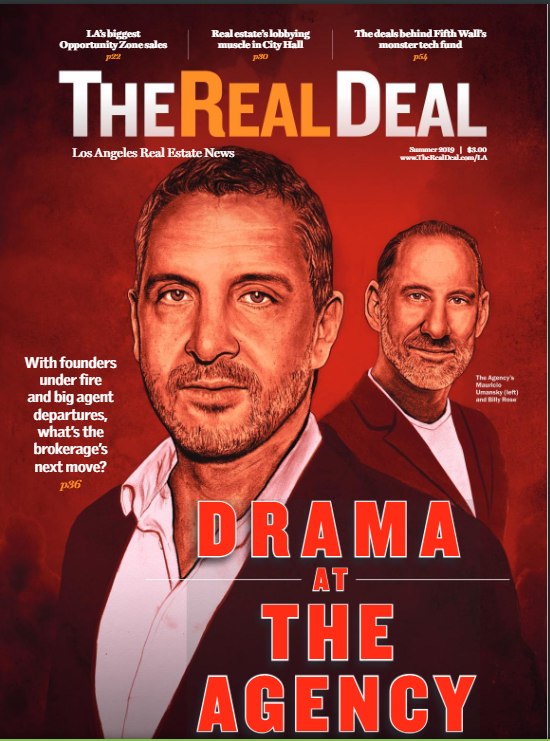 "They are my first two hires, and I plan to build a substantial team around them as we grow in LA and on the West Coast," Samtani said of Blake and Maio. "We've gotten some traction in LA in the past few years, and now we want to bring the rigor and depth of our reporting in New York to bear in Southern California."
Samtani comes into the job with a solid digital base in the form of The Real Deal's website at therealdeal.com, which includes separate pages for New York; LA; Chicago; South Florida; the Tri-State area of New York, New Jersey and Connecticut; and a national overview. Therealdeal.com claims 2.8 million visitors monthly, including 1.9 million unique visitors. It is deemed to have one of the wealthiest audiences among websites in the U.S., according to San Francisco-based tracker Quantcast.
Samtani pointed to online operations such as website Curbed LA and real estate data tracker Costar Inc. as competitors when it comes to quick-turn reports on transactions and other deals. He also called the LA Times a significant competitor when it comes to deeper coverage of the industry and residential deals.
The Commercial Observer – another New York-based publication that specializes in real estate – has also established a presence in LA, with a section of online coverage dedicated to the market.
The New York Times, meanwhile, has made a significant push in LA in recent years, and now offers a free digital daily newsletter with a statewide overview, although the publication hasn't zeroed in on real estate here as a specific area of coverage.
Various degrees of local online coverage also come from websites such as Urbanize LA, Bisnow.com and Globestreet.com, among others. Publications such as the LABJ and its sister publications in Orange County and the San Fernando Valley – as well as the separately owned Long Beach Business Journal and Santa Clarita Valley Business Journal – also cover local commercial and residential real estate markets with an emphasis on print editions.
Samtani said he expects The Real Deal's coverage based on proprietary data – such as lists of the priciest land deals, top brokerages by closed deals, or the "juiciest lawsuits" – to give its LA edition a point of difference amid the field of local coverage.
Samtani and his new hires will start with a clean slate. The LA edition started in early 2016 and has seen several waves of staff. Another veteran New York journalist – Alexei Barrionuevo – served as managing editor for less than a year before joining Billboard Magazine in March. Gregory Cornfield recently left the Real Deal's local edition to serve as an LA correspondent for the Commercial Observer, and current staff reporter Natalie Hoberman will soon leave the publication, according to recent reports. Dennis Lynch, another staffer whose byline has often appeared in the LA edition of The Real Deal, remains in New York, where he's a national reporter.

Stay tuned on this one, which could signal that a competition with potential to trim and refine the fractured coverage of the real estate industry in SoCal is underway.
Guess Again on LABJ Rich List
The Los Angeles Business Journal might want to check itself before it faces the new competition on the real estate beat.
And anyone who sees the publication's annual list of Wealthiest Angelenos might want to stick with Forbes or Bloomberg when it comes to tracking the biggest personal fortunes in these parts.
Seems the LABJ based a significant factor in its estimates – the performances of the Dow Jones Industrial Average, S&P 500 and Nasdaq indices, the three major measures of the U.S. stock market – on a time frame of January 2 to August 30 of this year.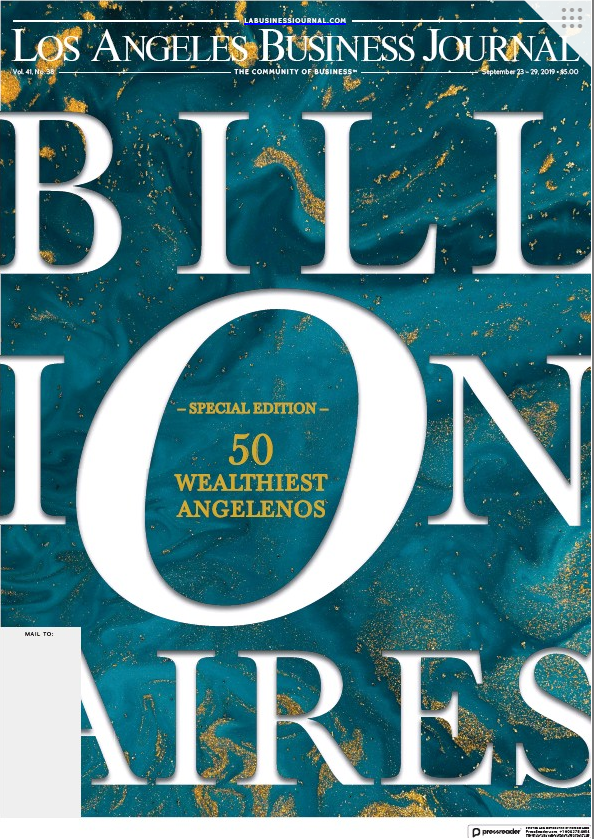 Those dates raise questions about methodology because the estimates of what the publication bills as the 50 largest personal fortunes in LA are made against a base number taken from its prior annual Wealthiest Angelenos issue. That's standard procedure – the estimate for each new list of LA's richest folks typically and logically includes considerations of all that's gone on in the time since the prior list, pegging how much each entry has gained or lost in the interim.
Stocks tend to loom large in the portfolios of billionaires, and not all of their individual holdings are known, so most estimates tend to lean on the performance of the Dow, S&P 500 and Nasdaq, as LABJ indicated in its coverage.
That brings us back to the question about this year's LABJ list. Consider that the publication's prior list – the one that provided the basis for the year-to-year comparison on the various personal fortunes – came out on May 21, 2018.
The publication's decision to skip forward to January 2 of this year for its measure of stocks means the historically steep slide in the stock market in the 4th quarter of 2018 wasn't reflected in this year's estimates.
Some simple figuring shows that the Dow was up 12.9% from January through August of this year, as noted by LABJ. What the publication didn't note was that the same index was up only 9.3% from April 30 of 2018, about the time the baseline for last year's numbers was set.
The S&P 500 was up 16.6% for the January-through-August period but 10.5% since last year's list.
The Nasdaq was up 19.5% on the January-through-August measure but 12.7% otherwise.
The choice of the January-through-August period gave the billionaires a break when it came to assessing how they managed their fortunes, but it also raises doubts about the estimates.
The methodology used by LABJ amounted to a premium of about 41% on the Dow, 58% on the S&P 500, and 53% on the Nasdaq.
All of that was a matter of timing or accounting – not a reflection of the reality of the market over the time between the two lists.
It's fair to note that the estimates by the LA Business Journal aren't based entirely on the performance of stocks, but that factor does figure large in the process.
It's also fair to offer this full disclosure: I served as editor of the Los Angeles Business Journal in 2017 and 2018 and oversaw last year's Wealthiest Angelenos list. I also oversaw the annual OC's Wealthiest editions of its sister publication, the Orange County Business Journal, from 2011 through 2016.
I'll note, finally, that the Los Angeles Business Journal did not respond to a request for comment on its methodology for this year's Wealthiest Angelenos list.
Estrella's Newest Star
Anyone else notice that Burbank-based LBI Media/Estrella TV is making significant moves on its Spanish-language TV business even as it reorganizes under bankruptcy protection and awaits Federal Communications Commission approval for a sale of the company?
LBI Media owns and operates 10 TV stations and 17 radio stations across the U.S. The TV stations make up the Estrella TV network, which counts KRCA in Burbank as its flagship.
Founder Lenard Liberman remains chief executive of LBI, with HPS Investment Group in New York expected to become the new owner in a deal that calls for the asset-based lender to assume $350 million of the media outfit's debt.
The pending sale and current BK status haven't stopped Estrella from making a splash with programming. The network recently signed Mau Nieto, a leading standup comedian in Mexico, to host "100 Latinos Dijeron," the Spanish-language version of the "Family Feud" game show. Nieto is also known for his 2018 Netflix special titled "Living Sober… From the Bar."
"100 Latinos Dijeron" is co-produced by LBI Media and London-based distributor Freemantle International. It premiered last month and is getting a publicity push in LA, as seen on this billboard on La Brea Avenue just south of Wilshire Boulevard.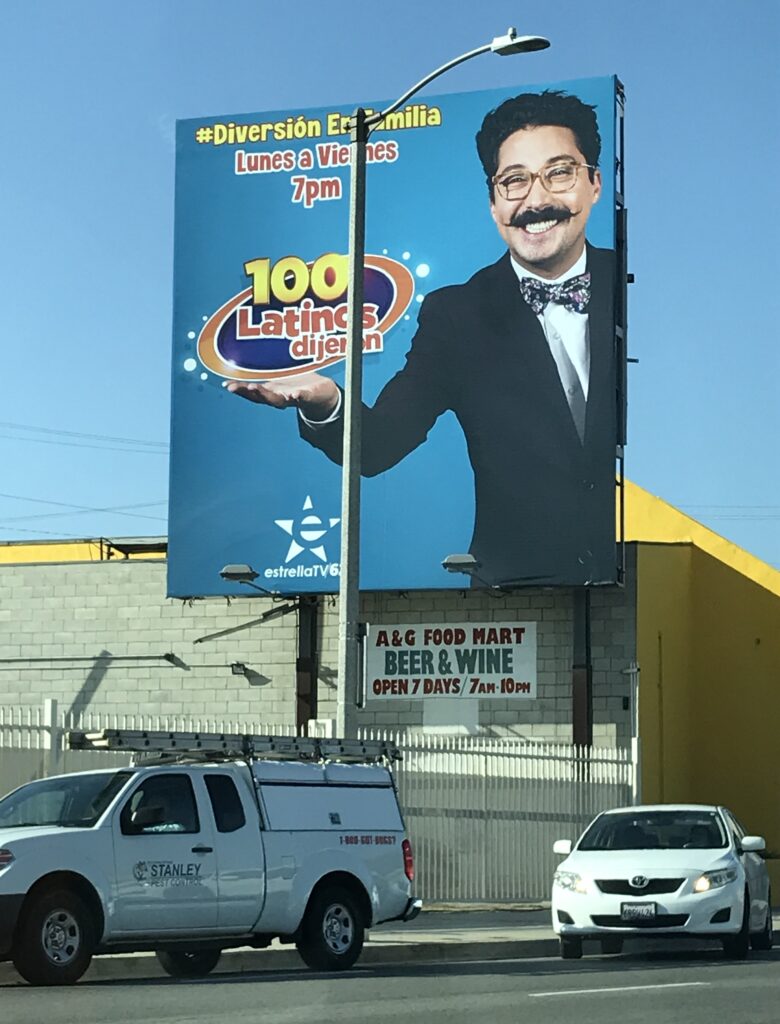 Update on Westwood VA: Readers Respond
Coverage of the fate of the 388-acre Veterans Administration campus in Westwood will continue in coming issues.
The job started with last week's report raising questions about why there has been no significant progress on developing housing for homeless vets on the campus. That's one of a number of areas where the performance of the VA is lacking on the Westwood campus, according to numerous veterans.
Vets aren't the only folks with thoughts about the facility. Here are a few of the responses – edited for length and clarity – from readers ranging from a real estate developer to historic preservationists, with a couple of vets for good measure.
Bill Witte, chief executive of developer Related California, wrote to point out that
… progress may be slow but surprised you aren't aware that the VA last year awarded development rights to its Westwood Campus to LA affordable housing developer Thomas Safran & Associates to develop it in phases for homeless housing.
Witte's point is worth noting, and so is his follow-up, which considered the fact that the Safran & Associates calls for 900 to 1200 units, while there are an estimated 4,000 homeless vets in LA County, and noted that
… the VA only sought developers after being sued.
The folks who bring LA's history to life with Esotouric's bus tours took a different perspective, with a tweet that brings up other aspects that merit attention:
Thanks for highlighting the potential for the VA campus (Soldier's Home). When considering alternate users, note there are restrictions because it is a National Register historic district, and we believe there were use conditions that came with the original Bandini-Jones land gift.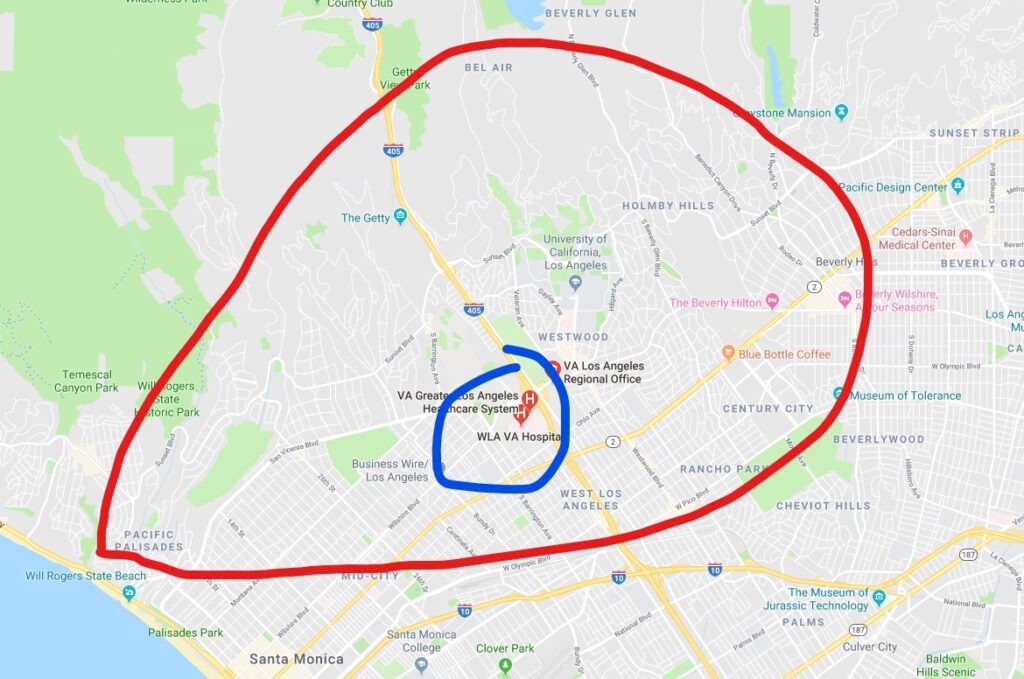 Newport Beach lawyer Donald Segretti offered a Vietnam vet's view, with an anecdotal indicator of socio-political pull in some parts of SoCal:
An interesting article on the vets who the elite gives lip service, but most of the time do little [to help].  I happened to go to the American Legion Newport Beach Post 291 last week.  I had had the impression they were fading. They have 4,000+ members and inducted around 60 new members for the month. Granted mostly older, but also some younger members.  There is still some life in O.C. for the vets.
The following came from an executive who will remain anonymous but nevertheless has some experience in yet another thread of the VA story in Westwood – the possibility of bringing public-private partnerships at the campus:
Excellent expose re VA in Westwood.

The Administration is trying to privatize and get out of the business of providing services. With such valuable real estate they stand to make a killing.

One thought: Some of the health insurance companies, such as Kaiser, are accessing federal dollars to develop healthy communities as an investment in preventive care (to bring down their own bottom lines, ultimately).

Having said that, I DO NOT advocate for any profit-making plan to take over what the government does at a less expensive and more efficient margin.

But it might be worth looking at a few of those models [such as Kaiser's] and adapting them to the needs of veterans … and maybe even the rest of the population.
And this from Francisco Juarez of the Operation Firing for Effect Veterans Advocacy Group:
Sullivan captures the essence of this coalition's message by reporting the appearance of "lip service" where housing should already exist.

He didn't mention the separately deeded beachfront property that our advocacy discovered and the VA has acknowledged – but one piece of saved property at a time will suffice for now.

In closing, Sullivan frames the situation by calling for mean-spirited politics to be put aside as the feds weigh America's moral obligation to genuinely care for Veterans against the value of the land.

Our coalition already knows how those scales should tip. We can only hope that the Department of Veterans Affairs values America's principle pillar.
Sullivan Says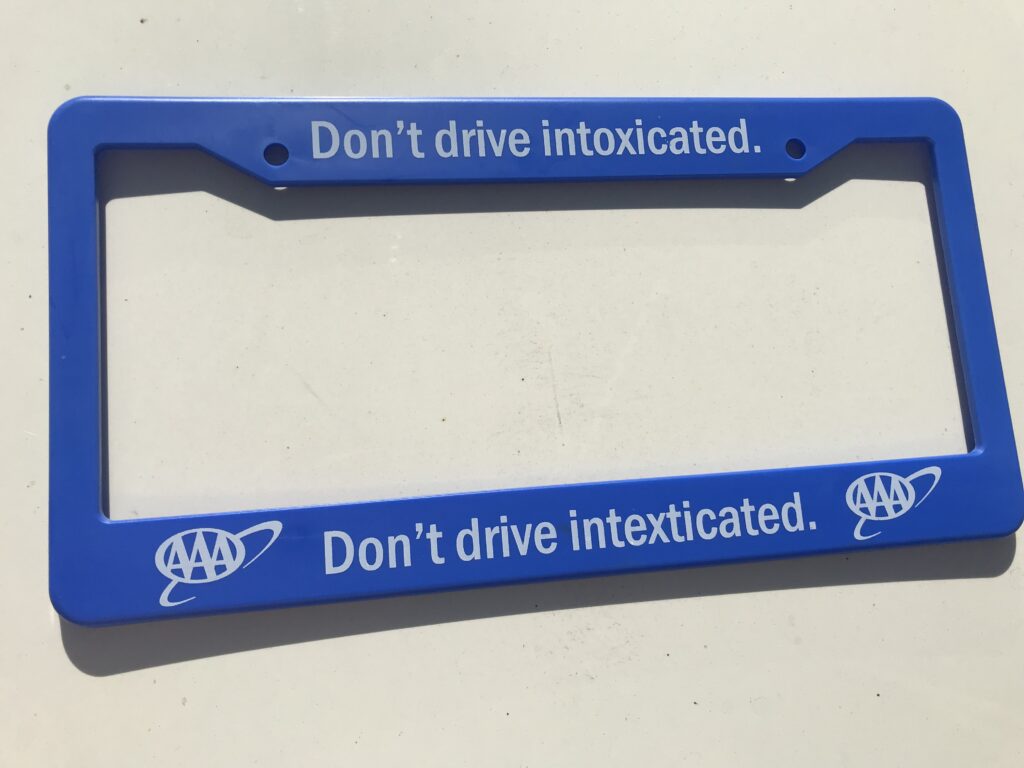 Bravo to AAA and its affiliated Automobile Club of Southern California in Costa Mesa for this clever message that makes a life-or-death point about the dos and don'ts of the road.