You could almost feel the bubble descending over the New York Times interview show called "Sway" during its August 12 edition featuring Patrick Soon-Shiong, the billionaire owner of the LA Times.
He was brought on to talk about … the dangers of billionaires owning newspapers.
There was some interesting stuff in the 40-minute discussion between Soon-Shiong and Kara Swisher, the host of Sway, which regularly posts audio versions and transcripts of discussions with various personalities on the newspaper's website. Did you know that Snap Inc. cofounder Evan Spiegel, now a billionaire himself, was an intern for Soon-Shiong at one of his various biotech enterprises?
There also was a lot of blah-blah-blah—talk of "engagement engines," "platforms," etc.
But Sway's marquee question—"Should We Worry As Billionaires Buy Up Newspapers?"—didn't get hashed out.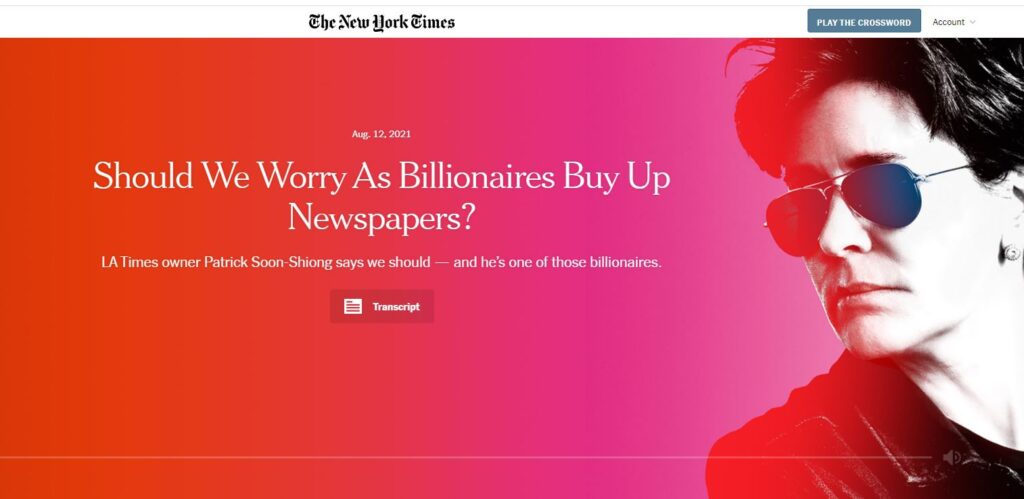 Credit Soon-Shiong with a soothing voice and a mastery of buzzwords. The conversation again demonstrated that he is capable of saying next to nothing in a most attractive manner.
The performance put me in mind of an interview Soon-Shiong did with Bloomberg TV in March, right after the merger of ImmunityBio Inc. and NantKwest Inc.—both companies in the portfolio of his Culver City-based NantWorks.
Soon-Shiong talked up the concept of a "Large Cap"—generally understood to be a publicly traded company with a market capitalization of more than $10 billion. The market cap of the combined company, which retained the name ImmunityBio, surpassed $14 billion in the first few weeks after the merger.
There's some benefit in being a large cap that goes beyond bragging rights. A lot of stock index funds tend to focus on large caps, which helps keep them top of mind.
Soon-Shiong deftly used the Bloomberg interview to put a firm claim on large-cap status for ImmunityBio.
Flash forward to this week, which opened with ImmunityBio shares down about 75% from their recent high, leaving its market cap around $4 billion. The value of Soon-Shiong's personal stake in the company has fallen by about $10 billion over the past six months.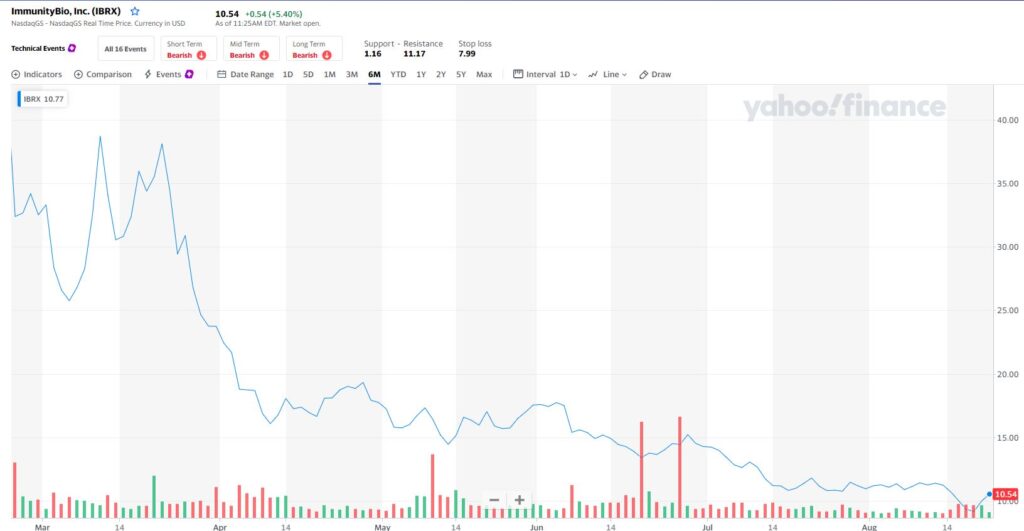 The media might still buy Soon-Shiong's sweet nothings, but it seems investors have stopped.
ImmunityBio's shares were on the decline for weeks before last week's announcement that the billionaire would assume "the newly created role of Global Chief Scientific and Medical Office" to "oversee the company's global research and development programs and pipeline investments in support of its ambitious growth plans, which include bringing advanced technology to a broad global marketplace."
Shares in the company dipped another 10% in the week following the announcement of Soon-Shiong's increased role.
The "I" Has It
The Sway discussion did shed some interesting-if-unintended light on another aspect of Soon-Shiong's character. It's something that more than one power player in SoCal has mentioned to me—an ego that's outsized even for a billionaire when it comes to the search for a cure for cancer.
And you can add the coronavirus to his drill.
Soon-Shiong sounded that way to me when he told Swisher that he understands tech because "that's what I need to do to actually solve the biology of cancer, and [the] biology of Covid."
Time Will Tell on Mind Meld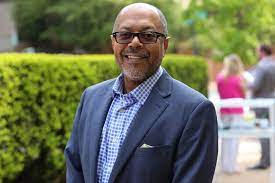 The Sway interview also shed new light on operations at the LA Times, starting with Soon-Shiong's contention that he and newly hired top editor Kevin Merida are joined in "mind meld."
That doesn't exactly sound like the making of an independent-minded newsroom—but time will tell.
Tang's Promotion, Chan's System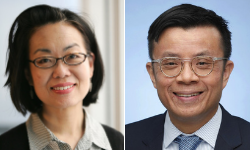 Some housekeeping: Soon-Shiong told Sway that Terry Tang has been tapped for promotion from op-ed and Sunday opinion editor to overall head of the editorial pages. She will replace Sewell Chan, who will soon be leaving the LA Times to become top editor of the Texas Tribune in Austin, Texas.
Chan apparently wanted the top job in LA—Soon-Shiong said the journalist is leaving because such ambition is "something he has to get out of his system."
Several Questions, Some Answers, on 'Big Plan' in Irvine
Books are part of the media landscape—and the item in my August 10 column on a new tome about Orange County called "The Big Plan" brought several questions and comments that merit responses.
Here's a rundown of the five individuals who get concerted attention in the book about the development of the Irvine Ranch, which has been researched and written by Mike Stockstill and Pike Oliver and is now expected to come out under the Taylor & Francis Group label in January. The prior column gave away one—former Irvine Company leader and Walt Disney Company Chairman Ray Watson. The others are:
famous architect and planner William Pereira, the man behind Irvine's various "villages";
James Irvine II, a second-generation visionary of what the family's 93,000 acres might become;
Joan Irvine Smith, granddaughter of James Irvine II, who served as the family's chief steward until the sale of the Irvine Company in 1977;
and Loyall McLaren, a key personality on the ranch over six decades and a fellow who tangled more than once with Irvine Smith.
The authors also weave five story lines into the book, with Watson, Pereira and Irvine Smith each accounting for one; the establishment of UC Irvine another; and the philosophies of planning behind the development of the ranch a thread of its own.
And here is a follow-up note about Stockstill's promise of some rehabilitation for a couple of individuals whose reputations were dented by intimations in prior histories of the Irvine Ranch:
I don't know who they might be, but Kedric Frances of Blue Door Magazine—a fellow who has read some OC tea leaves in his day—is guessing James Irvine II's son Myford Irvine is one of them.
Also notable that Martin Brower—who lived a good chunk of the history as an employee of the Irvine Company, wrote a book titled "The Irvine Ranch: A Time for People," and now is the dean of OC communications pros—tells me he also thinks Myford is likely one of the folks in line for some reputational rehab.
And this from John Moorlach, who has represented portions of the Irvine Ranch as an OC Supervisor, Treasurer and State Senator: "Stockstill's book sounds like a great extension from Robert Glass Cleland's 'The Irvine Ranch,' published by the Huntington Library back in 1952. It's a great read! When is Mike holding his book signing event?"
Memo to Moorlach: Kindly watch this space.
AECOM's Brief DTLA Tenure, Texas-Sized Distance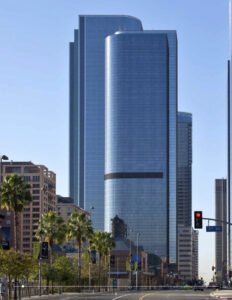 The various legacy media outlets that got around to covering engineering and construction specialist AECOM's decision to move its headquarters and its $9 billion market value out of LA for Dallas nevertheless buried the lead on this one.
I'll dig it up for you, noting here that it was just eight months ago that AECOM moved its HQ from Century City to Downtown LA. The residency seems to be about the shortest tenure for any Fortune 500 company in any downtown anywhere.
AECOM portrayed its HQ move as a matter of efficient use of office space—both times.
More concerning in all of this was AECOM's comment that it's leaving LA for Dallas because the Texas city is a "talent magnet."
Pair of Elephants Loose in OC
I'm not the only one who notices the legacy business press around here—although the folks who forward their own critiques to me generally want to express frustration while keeping their names out of the mess.
That was the case with a call I got about the August 9 print edition of the Orange County Business Journal.
The publication led with a story that lionized both Stephen Gordon on his launch of Newport Beach-based Genesis Bank, and Steven Sugarman of Irvine-based Change Company, a non-bank lender.
Both were portrayed as sharp-as-tack bankers of high minds on race relations, as well as on lending in communities that are generally considered underserved by finance pros and regulators.
There was nothing to suggest either executive had hit any rough patches lately.
It's true that both Gordon and Sugarman can point to lists of significant achievements in their respective careers—and both have undoubtedly done very well by their own bank accounts.
But they each also ended recent tenures on professional down notes.
Gordon left Opus Bank in 2018 after "two years of setbacks," according to a report by S&P Global.
"The bank dealt with the episodic weakness of these portfolios with capital raises, charge-offs and exits beginning in late 2016, but was still encountering issues" as Gordon stepped down, the report noted.
Sugarman was chased out of the corner office at Banc of California, dogged by a dubious stadium sponsorship deal, SEC and internal investigations, and underwhelming performance as an enterprise.
Nary a word about either of those misfires in the glowing story in the OCBJ, where I proudly served as editor from 2011 to 2017, as a matter of full disclosure.
Which leaves me to credit my former colleagues with the dubious distinction of managing to fit two elephants in the room via a single story.
Sullivan Says 
Media outfits looking for future talent in SoCal should keep an eye on Santa Ana High School students Gillian Palacios, Guadalupe Guzman, Destiny Ceja, Anna Cecilia Fierro and Stephanie Meza—a team that recently brought home the "School of Excellence" award from the National Speech & Debate Association.