Some extra attention for Orange County this week—because its standing as a Top 10 market too often gets overshadowed by Los Angeles.
And never fear—I'll be sorting through some serious shadows in the City of Angels next week.
Here are some insights from OC in the meantime:
---
Chapman-UMass Deal Eyes Bi-Coastal Ambitions
Politically-driven disagreements about reopening schools have nearly drowned out word of a plan by the University of Massachusetts to gain a foothold on SoCal's higher education landscape through a deal with Chapman University.
The agreement is being ironed out as the trend of credential- and certificate-based education for adult learners meets the jolt that the Covid-19 pandemic has delivered to higher education.
A common denominator of the two developments is online education.  The concept has for years been proving itself as a good fit for adult education programs, often in tandem with in-person classroom instruction. Covid-19 has more recently forced colleges and universities to give new consideration to virtual classrooms for students at their regular campuses, and new weight to online divisions.
The UMass system—which has more than 75,000 students at five physical campuses in its home state—will look to expand its UMassOnline unit nationally through an affiliation with Brandman University in Irvine.
Brandman is part of the Orange-based Chapman University System.
It's not clear whether the final terms of a deal will call for a sale of Brandman to UMassOnline, or if the two aim to operate as an ongoing partnership under the umbrellas of their respective parent institutions.
It is clear that both Brandman and UMassOnline have grown into significant entities in their own rights.
UMassOnline was started in 2001, and currently has about the same number of students as its physical campuses, with annual revenue in the $100 million range, according to the most recent data available.
Brandman was established by Chapman in 1958 to provide education to service members at the El Toro Marine Base in Irvine. It has since grown into a provider of degree, credential and certificate programs that specialize in adult learners. It currently serves about 22,000 students at 25 physical campuses in California and Washington, as well as online, and also has annual revenue of around $100 million.
Brandman's growth has paralleled an increasing acceptance of credential- and certificate-based education. Programs that recognize the sort of credentials that can come with work experience have earned regard as a valuable pathway for students who are beyond the traditional age for college and already on career paths.

"Chapman is proud to have nurtured and developed such a successful and socially relevant institution, and I am personally grateful to Brandman University Chancellor Gary Brahm, for his visionary leadership that has led us to this point," said Chapman President Daniele Struppa in announcing the deal. "Brandman is destined for national prominence as a leader in education for working adults. Chapman has taken it as far as we can and it's time for Brandman to grow its reach."
Struppa also singled out Chapman Chief Operating Officer Harold Hewitt as "an unsung hero in the development of this relationship" who has "worked tirelessly on a very complex partnership."
Chapman initiated contact after UMass President Marty Meehan used his annual State of the University speech in early 2019 to announce a desire to add an online college for adult learners. The priority was based on demographic trends that point to an expected dropoff in students of the traditional age for college over the next decade—a development that threatened to shrink revenue streams from housing, meal services and other aspects of traditional campus operations even before Covid-19.
"Make no mistake—this is an existential threat to entire sectors of higher education, and New England is, unfortunately, ground zero," Meehan said at the time.
Struppa, meanwhile, had been seeking ways to fully leverage Brandman's potential since he took over the Chapman system in 2016.
"We didn't want to partner with just anybody—we wanted to work with an institution with similarly great credibility that would bring additional academic prestige to the equation," he said.
UMass also has been selective—the school reportedly considered around 100 potential partners over the past year before deciding to move forward with Chapman.
The Covid-19 pandemic, meanwhile, brought a new sense of urgency.
The pandemic also has Chapman's plans for on-campus instruction for the fall semester up in the air.
Struppa said the school is currently monitoring public health trends and will make a call by August 7 on whether to try to bring students back for the fall semester.
---
---
Bren's 40% Solution?
One-time Irvine Company communications pro Mike Stockstill recalls that his former fellow execs used to joke that the Newport Beach-based developer's last acre would be worth more than the price of its whole portfolio in 1977, when most of the land had yet to be developed.
Stockstill blends big names with big numbers in making a case that the kidders of yesteryear had it right.
He starts with the $277 million that current Irvine Company boss Donald Bren, shopping center magnate A. Alfred Taubman and several other investors paid for the 64,000-acre Irvine Ranch nearly 43 years ago.
Then he points to today's housing market on Irvine Company land, starting with the "$50 million Glenn Stearns paid for the Dean Koontz house," and notes another Newport Coast property listed for $65 million. If that gets full price, he says, "you come damn close to 40% of the $277 million" on two deals alone.
It's not just random recall for Stockstill, by the way—he has a book on OC's biggest landowner in the works, with publication expected early next year.
---
---
Mission Unmentionable?
Back to Chapman—and this item also speaks to a current trend.
Lynne Doti, a longtime professor at the Argyros School of Business and Economics there, is the author of a paper that puts an economist's lens on the California Missions under Junipero Serra.
Serra is a Roman Catholic saint viewed by some as a villain who abused native tribes as part of his efforts. Several statues of him have been torn down or removed from prominent placements on public property in SoCal in recent weeks.

Doti emphasizes that she studied the missions with the dispassionate eye of an economist. She prefaces her work by acknowledging "many negative aspects of mission life" but also contends that numerous "coastal Native Californians willingly joined the missions and stayed," gaining some benefits for themselves as their "continually increasing skills and trade with military outposts and passing ships created the economic success of the missions."
You can read the entire paper here.
And, in case you're wondering, Lynne Doti is the wife of Jim Doti, a professor of economics and president emeritus of the university.
---
About 'Affordable' Housing
Last week's item on Irvine-based R.D. Olson Construction's work on a subsidized affordable housing project to replace the current Lamp Lodge in the Skid Row neighborhood of LA noted an estimated price tag of $38 million for the 49,000-square-foot project, which will have 81 residential units to the 600 block of Stanford Avenue.
That brought this query and comment from a reader:
$775/sf?

$469k/unit?

We are not going to solve the homeless crisis this way. 
Fair enough.
Also fair to point out that R.D. Olson Construction is the builder, while the price tag for the project is the responsibility of Meta Housing Corp. in LA.
---
---
Kudos to Register on Covid Coverage
Kudos to the Orange County Register—one of 11 Southern California News Group titles throughout SoCal—for its straightforward presentations of data regarding Covid-19 cases in its coverage area.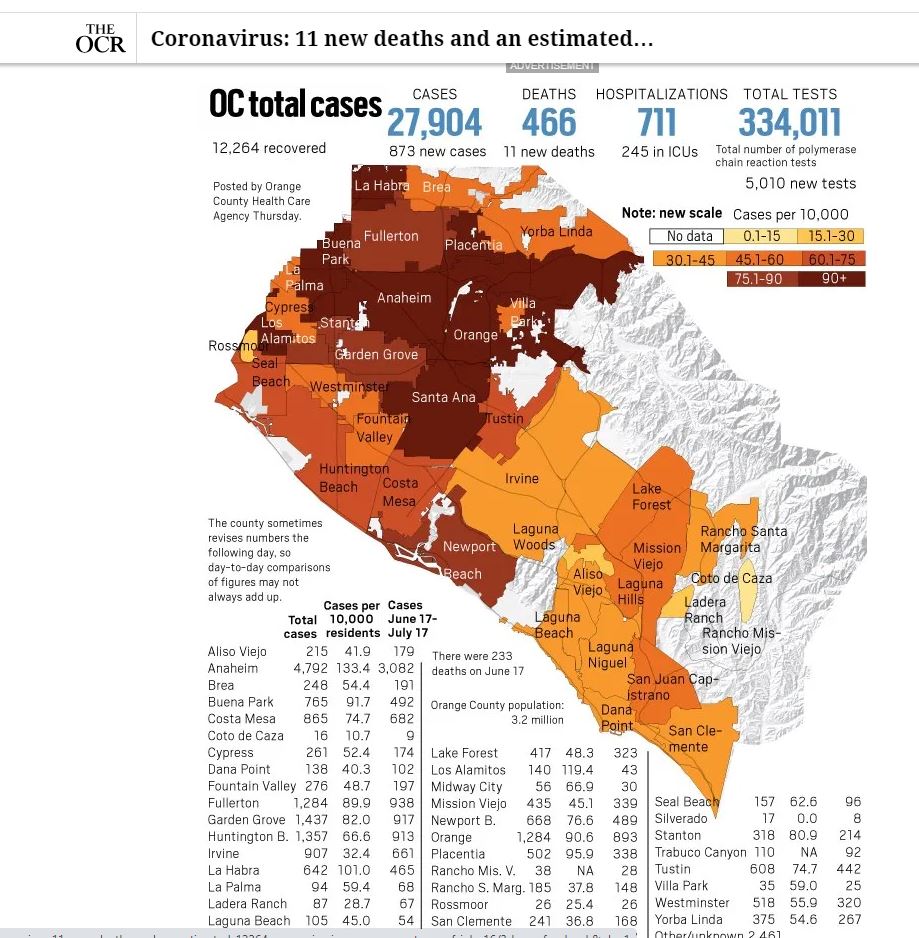 The SCNG titles have seen newsroom staff cuts in recent years—akin to many other media outfits throughout the U.S.—and its hedge-fund owner has been maligned for sacrificing journalism for profit margins.
That's grist for a different mill.
The Register has, in any case, done a significantly better job than its peers in the local legacy media on getting the facts of the pandemic's local effects to readers on a clear and consistent basis, helped by effective graphics.
---
OCMA's Pacific Rim Perspective
Expect the Orange County Museum of Art to stick with a specialty of understanding and presenting works from the various and emerging art markets of the Pacific Rim even after it says goodbye to Chief Executive Officer Todd Smith.
Smith, a convincing champion of the Pacific Rim focus, has taken the post of executive director at the Bechtler Museum of Modern Art in Charlotte, N.C.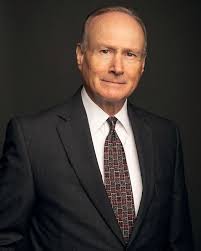 Craig Wells, chair of OCMA's board of trustees, recently told me that it's a "tough time to lose Todd," but the museum is nonetheless poised to pick a new leader and continue to reflect OC's position as a major center of the "melting pot of cultures from both sides of the Pacific Rim."
Good to hear—it's a position that's both sensible and available in the SoCal and national art scene.
Wells acknowledged that a pandemic isn't the best time to be recruiting a replacement for Smith, but said the pending arrival of OCMA's new 53,000-square-foot, $73 million, Thom Mayne-designed home on the Segerstrom Center of the Arts could help.
---
Sullivan Says
More kudos to Smith, who leaves after a six-year stint that saw him give OCMA a new sense of institutional confidence in the context of the larger art world while guiding its staff through the sticky wicket of selling off its land in Newport Center, setting up in temporary space in Santa Ana, and getting work started on the new building a few blocks away in Costa Mesa.