Any Angelenos who feel as though corruption is peculiar to life in SoCal can thank the London-based Financial Times for a lesson in the universal nature of the beast.
The pink-tinged broadsheet's Miles Johnson recently did a remarkable job of reporting on high finance executives in London and other financial centers of Europe who marketed bonds backed by the 'Ndrangheta mafia in the Calabria region of Italy.
Buyers of the bonds stand to reap a return from the 'Ndrangheta's corruption of the Italian government's regional healthcare system in Calabria.
Perhaps it's only cold comfort for Angelenos to know that corruption rages elsewhere, too.
It also could be downright uncomfortable for Angelenos and everyone else to contemplate whether the mafia bonds are one of those red flags the world tends to drive past—only to look back one day and wonder how we missed it.
* * *
Howard Marks doesn't miss much, and the co-founder and co-chairman of Downtown LA-based Oaktree Capital Management isn't talking about mafia-backed bonds.
But he is giving serious thought to other red flags. Marks notes the following in the latest of the memos he pens periodically:
Marks

The world is combating the greatest pandemic in a century and the worst economic contraction of the last 80+ years. And yet the stock market—supposedly a gauge of current conditions and a barometer regarding the future—was able to compile a record advance and nearly recapture an all-time high that had been achieved at a time when the economy was humming, the outlook was rosy, and the risk of a pandemic hadn't registered. How could that be?
The guess here is that the reasons for Wall Street's current exuberance falls in line with some of the factors that let the Calabrian mafia sell bonds in the City of London.
You can click here to get Marks' viewpoint, which Oaktree offers free to the public.
---
---
Hope of the City
The latest edition of the Hope of the City podcast is here—a talk with City of Hope Orange County Vice President of Philanthropy Larry Zeiber about healthcare, community and giving.
What drew you to City of Hope? (0:53)
How do you see City of Hope OC fitting into the overall fight against cancer? (2:05)
What is unique about Orange County in terms of the opportunities and challenges of fundraising? (3:02)
Can we talk about philanthropy beyond the dollars? How important is the connection of philanthropy between an operation and the community it sets out to serve? (4:24)
President of City of Hope OC Annette Walker often says, "Cancer doesn't stop, and neither can we." How does this inform your sense of urgency when it comes to fundraising and philanthropy? (5:26)
SullivanSaysSoCal · SullivanSays_Hope of the City_ep2
---
R.D. Olson Re-imagines Skid Row Single-Room Occupancy
It's a long way from the John Wayne Airport area of Irvine to the Skid Row neighborhood of Downtown LA.
And there are very practical challenges for Irvine-based hotel specialist R.D. Olson Construction to meet as it gets ready to bring a new version of the Lamp Lodge to the 600 block of Stanford Avenue in the heart of Skid Row.
"We love all the communities we work in, and they all have challenges," said Bill Wilhelm, president of the builder, best known for its work on various types of hotels for Marriott International Inc. "Some of the challenges we're going to have on this project is urban infill, so there's zero lot line on all four sides, and there's not room for any staging for materials."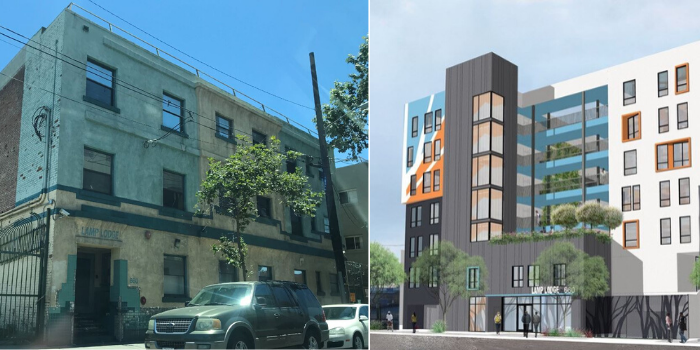 Wilhelm isn't exaggerating. His outfit is renting a parking stall—just enough for a trailer to serve as an onsite office—next door to the existing Lamp Lodge, which was built in 1912 and features 50 single-room occupancy units destined for teardown.
R.D. Olson Construction will start there and figure out other ways to stage the job as it proceeds in the densely developed area, where housing, commercial properties and homeless encampments meet.
"Can we barricade part of a lane?" Wilhelm wondered. "Can we do construction tunnels? Our number one focus will be the safety of the community and safety of our personnel."
The new version of the Lamp Lodge will be 49,000 square feet over seven stories, with 81 units and a price tag of around $38 million. Each of the units will include a refrigerator, range and dishwasher. The units will be subsidized as affordable housing, with rents geared to residents with income of below $20,000 a year or so.
Expect Wilhelm and crew to deliver a new look for Skid Row, drawing on the sort of touches they deliver at projects such as the AC Hotel by Marriott that was recently completed on Wilshire Boulevard in Beverly Hills.
"When you're building hotels you understand amenities, commons areas, management space," Wilhelm said. "Our hospitality experience is a strong point that translates well for affordable development."
R.D. Olson Construction's work in the hospitality segment has felt the effects of the Covid-19 pandemic—a trend it has partially offset with its affordable housing portfolio. Work on low-income housing has gone from 10% of the outfit's workload a few years ago to about 40% and rising, according to Wilhelm.
---
---
Galperin's City Hall Math Doesn't Add Up
Back to the culture of corruption in LA, where you can put Controller Ron Galperin on the list of City Hall pols whose words and actions don't add up.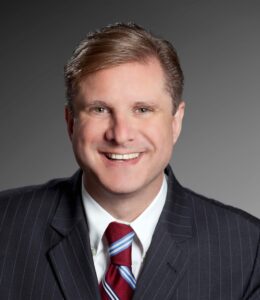 Galperin spokesperson Jeremy Oberstein spent a bit of time recently trying to lend credence to his boss' good-government posturing in the wake of the arrest of 14th District City Councilmember Jose Huizar, who now faces up to 20 years in prison, with U.S. Attorney Nick Hanna promising more to come.
Oberstein sent me an LA Times story from Aug. 10, 2018, when a look at city subsidies for private commercial real estate developments included this gem:
Galperin would not say whether he thinks projects built with city financial help deserved to receive the money. "Part of why I believe there absolutely have to be annual reports is so that we can better answer those questions," he said.
The City Controller's office surely affords Galperin the opportunity to do more than wait passively for annual reports.
That wasn't the only time Galperin missed a clear chance to dig deeply into City Hall corruption, either.
Nor was the story the only instance where the LA Times missed a chance to report on the growing culture of corruption over the past decade.
The shortcomings of both the controller and the newspaper can be found in the ending to the story from August of 2018, which seemed to overestimate the talents of lobbyists as a way to underplay their influence on elected officials.
Galperin recommended that the council rework its review process so city officials can also examine alternatives, such as whether a proposed development project can be redesigned so that it no longer needs public financial help.

The government officials who review those projects often find themselves up against "some of the finest minds" in the real estate industry, he added.

"They're great negotiators. They're great lobbyists," Galperin said. "And they do a great job on behalf of their clients."
There's a good chance corruption has become systemic when red flags are passed off as blue ribbons by the city's chief auditor and largest media outlet.
---
---
Will Jacinto Surface?
Remember Joel Jacinto?
He's the guy who had his lawyer put out word that he was willing to "fully and voluntarily cooperate as a witness against any individuals within city government" after his sudden resignation from a $160,000-a-year post on the city's Board of Public Works more than a year ago.
I'll go out on a limb and say Jacinto earned some chits by getting in line early to talk to the FBI and IRS agents on the corruption case—or he's another shoe set to drop as the probe continues.
---
Politico Misses Garcetti's Hat Trick
Memo to Arlington, Virginia-based Politico.com: You're only two-thirds of the way on correctly crediting LA Mayor Eric Garcetti's hat trick of bumbling.
The online outfit offered this caveat in a July 13 piece about Garcetti's chances of being appointed by Governor Gavin Newsom to the U.S. Senate seat that would open if Kamala Harris were chosen to run with Joe Biden, and the Democrats go on to take the White House:
But Garcetti, 49, is also the chief executive of a city dogged by both the epidemic of homelessness and a mounting Covid-19 toll.
Politico will have to wake up to the feds' probe into the culture of corruption at LA City Hall if it wants to get up to speed on Garcetti.
P.S. You might have room for the corruption probe if you skip listing the jazz-piano line from Garcetti's bio.
---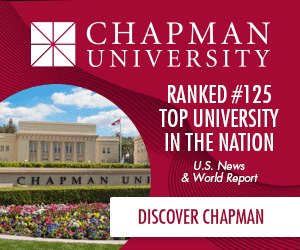 ---
LA Weekly Masthead Comes Up Light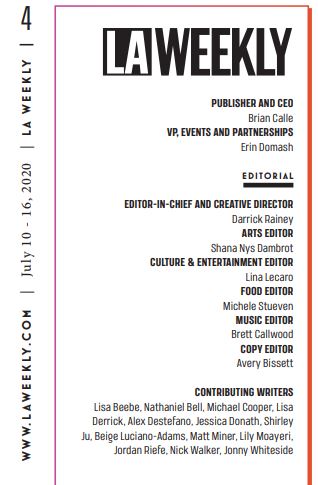 It was back in December when I wondered aloud whether LA Weekly Publisher Brian Calle's hire of Jessica Mansour as general manager was a prelude to his exit from the shrunken operation and a return to his comfort zone in OC.
The latest issue of LA Weekly was the first in weeks to include a masthead, and it indicated that it is Mansour and not Calle who has split the scene.
Mansour still claims the title of general manager of the publication on her LinkedIn page as of this writing, making it uncertain whether she and Calle have the same understanding of the situation.
Neither Calle nor Mansour could be reached for comment.
---
Sullivan Says
Kudos to O'Melveny & Myers Partner Richard Goetz and Capital Group Companies Vice Chair Robert Lovelace on their selection as co-chairs of the DTLA-based Pacific Council on International Policy—and to Mapleton Investments Chair Marc Nathanson and Ambassador Rockwell Schabel of the Sage Group, both of whom will step down in January after enhancing the nonprofit as a point of connection between SoCal and the larger world, with an emphasis on leveraging the strength of the region's diversity.