This item continues the theme that LA's politicians and other public officials tell us all we need to know about the culture of incompetence and corruption that envelops the City of Angels.
The latest example comes with what appear to be offered as before-and-after photos from the office of 14th District Los Angeles City Councilmember Jose Huizar. That's the same Huizar who was the initial target of the ongoing probe by FBI and IRS agents that has spread to the offices of Mayor Eric Garcetti, City Council President Herb Wesson, City Attorney Mike Feuer and the Department of Water and Power, among other corners of municipal government.
Huizar, meanwhile, recently distributed these photos and the accompanying caption in a promotional newsletter, boasting about the clean-up services his office provides in the Boyle Heights district and asking residents to handle their refuse properly.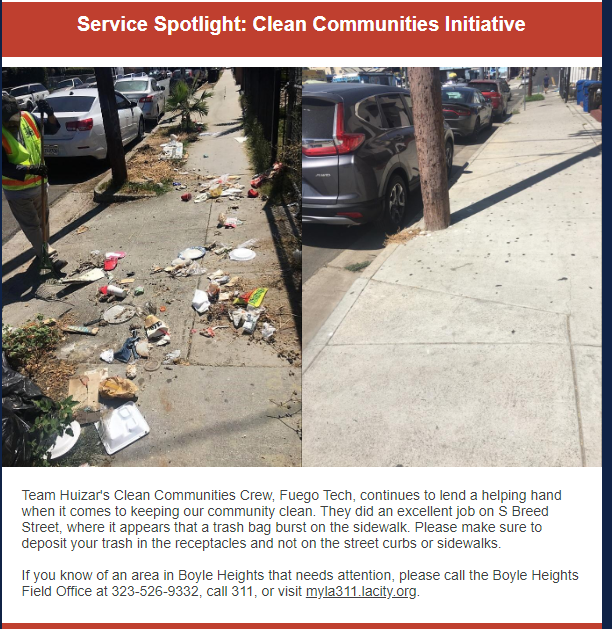 What's wrong with that?
A couple of things:
1) It's indicative of the weakness of city services when a politician highlights a newsletter for constituents with a report that a single broken bag of garbage was cleaned up from a public street.
2) It's indicative of a lack of credibility when the "before" and "after" photos show two different places. Look at the shape of the curb near the telephone pole in each picture, and consider the presence of a parkway in the image on the left.
Columnist's View
Huizar might very well be caught up in his own tangled web of misdeeds, but he shouldn't include workers who do the unglamorous but important job of cleaning up garbage in deceptive photographs about what's happening on the streets of the 14th District.
Columnist's View II
The U.S. Attorney's Office and the FBI and the IRS have ample reason to take their time with the investigation of Huizar and his colleagues at City Hall. There's a good chance that every time the feds serve warrants it prompts a round of new witnesses cooperating with them – and that could indicate new and rich veins of information that are well worth mining in an effort to uncover public corruption.
But it's been nearly a year since the investigation flared into the public with a raid of Huizar's offices and home, and there has been an adverse effect on everyday life in the city. Some folks in the 14th District are feeling as though they're without representation because Huizar has hunkered down amid the storm around him.
There's good reason for the feds to exercise utter independence.
There might also be room to consider, however, the effects on the ground and bring the investigation to a conclusion as soon as reasonably possible, with all due respect to proper legal processes and investigative integrity.
Would Forever 21 BK Benefit South Coast Plaza?
The widely anticipated bankruptcy of LA's biggest fashion brand could be a boon to OC's premier retail center.
Forever 21's financial struggles will likely lead it to shed some of the 800 stores that powered the brand from modest beginnings in the Highland Park district in LA to a fast-fashion pioneer to $3 billion in annual sales.
Conventional wisdom says the shutdowns will be yet another problem for malls throughout the U.S., many of which counted on Forever 21 to snap up space left vacant by now-defunct department store chains in recent years.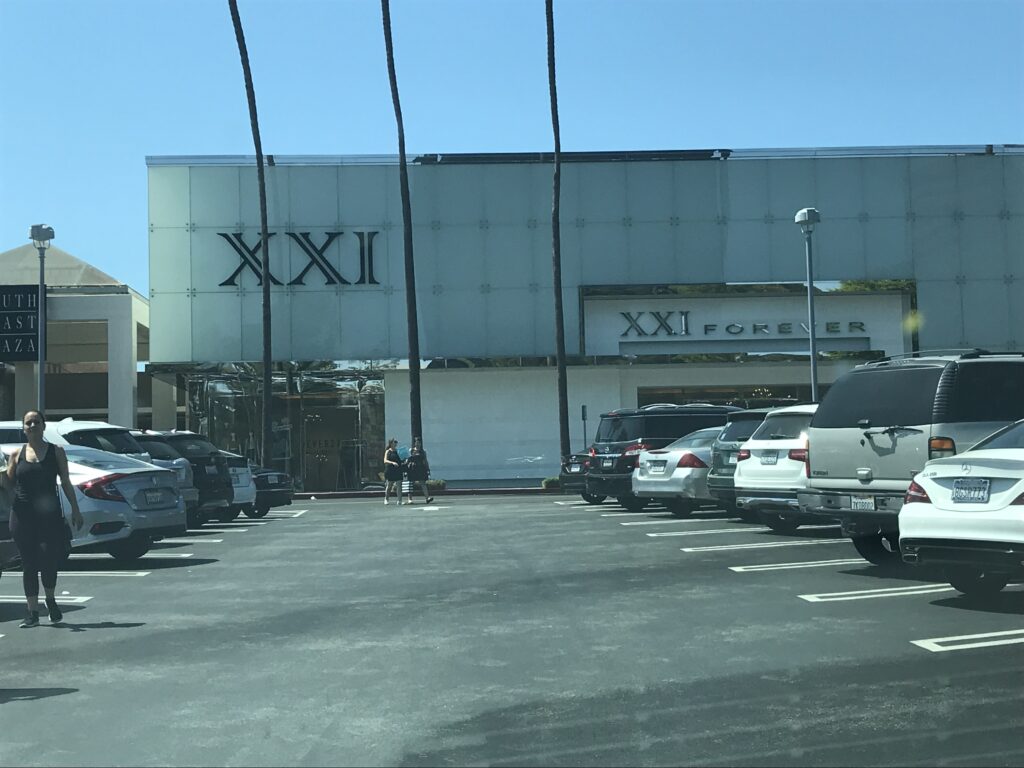 Conventional wisdom could be turned on its head at South Coast Plaza in Costa Mesa, where executives remain tight-lipped but reliable sources hypothesize that management would gladly tear up the lease on one of the retailer's relatively upscale XXI Forever stores. Moving the retailer out of the space would add to the potential for a key corner of the mall, where office space, a hotel and residences all are under consideration by owner C.J. Segerstrom & Sons, according to word on the street in the South Coast Metro district that counts South Coast Plaza as its centerpiece.
Forever 21 got into South Coast Plaza – which has about 2.8 million square feet of retail space and draws about 22 million visitors who spend more than $2 billion annually – through a back door of sorts.
Forever 21 – which manufactures most of the merchandise on its shelves and sells it relatively cheaply – took its chunk of space  at South Coast Plaza under a sublease at a Sears store store went back to the 1960s, when South Coast Plaza founder Henry Segerstrom lured what was the biggest retailer in the U.S. at the time by giving it the chance to own its building at the retail center.
Sears retained its prominent corner of South Coast Plaza as the mall grew into a globally renowned center of luxury retail shops that's as popular in wealthy enclaves of China as in toney coastal towns of OC.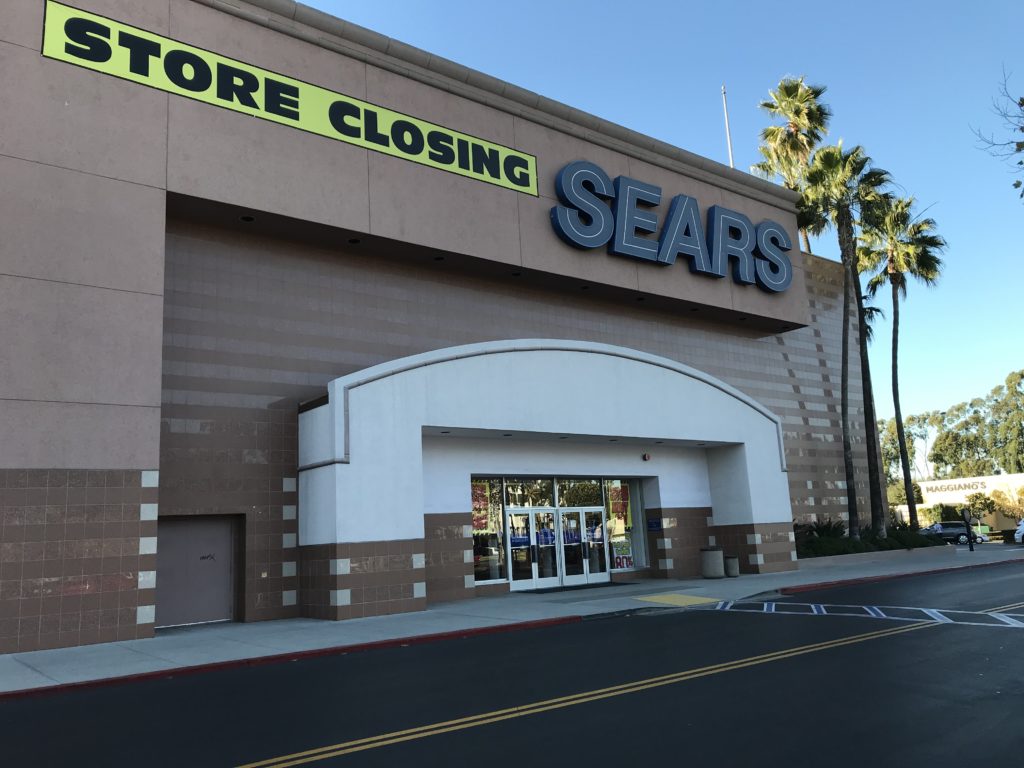 Sears began to suffer amid a general trend away from traditional department stores as e-commerce and other digitally driven developments started to reshape the marketplace two decades ago. The Chicago-based retailer struck a deal to lease about 43,000 square feet of its South Coast Plaza store to Forever 21 in 2010, a move seen as a concession by the one-time giant to a relatively new and nimble competitor that had mastered fast-fashion.
Sears continued to operate the 240,000 square feet of retail space it retained after the sublease until shutting the location down in October 2018. That came a year after C.J. Segerstrom & Sons had bought back the Sears building that's attached to South Coast Plaza and several smaller structures in its parking lot for a reported $187 million.
Laura's House Supporters Stick It to Hayde
Western National Group Inc. Chief Executive Mike Hayde has a tough time buying gifts for Laura Khouri, his wife and colleague.
Seems Khouri – president of the Irvine-based company's property management unit – would just as soon have him write a check to a worthy cause as buy a bauble or bangle for her.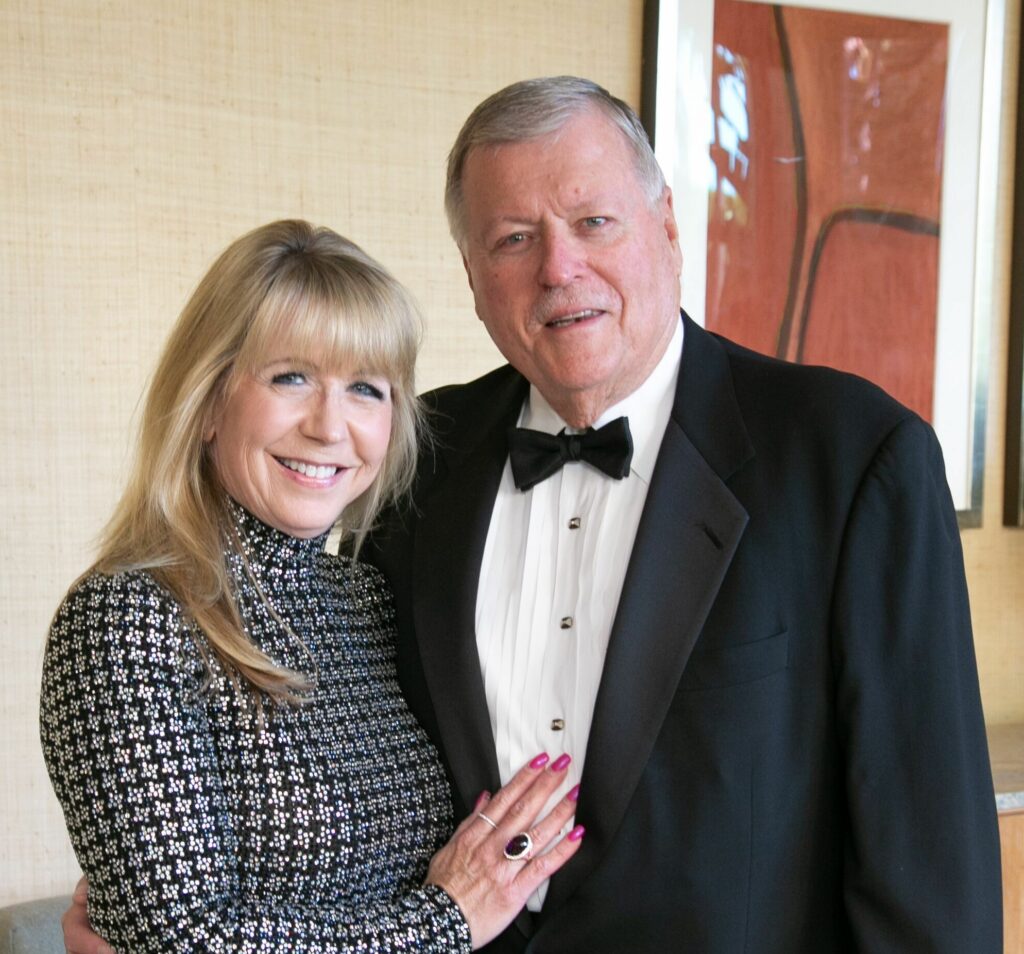 That's why Hayde – who was honored along with Khouri at Laura's House 25th Anniversary Gala on Sept. 7 at the Fashion Island Hotel in Newport Beach – told the crowd that he'd honor her recent birthday by matching every dollar raised from the crowd by auctioneer Mike Shumard.
The exec even goosed the room along, telling everyone that it would be a rare chance to "stick it to Mike" by driving up the cost of the gift.
Message received – The crowd was on its way to sticking Mike with a six-figure bill before the dancing started.
A fun night for a good cause – Laura's House has been providing housing, legal aid and counseling for victims of domestic violence for 25 years.
And Laura's House Chief Executive Margaret Bayston gave the crowd a "tidbit" of news to talk about after the event: The nonprofit plans to move from its longtime headquarters in Ladera Ranch to Aliso Viejo.
That's as much as Bayston would say for now, but expect Laura's House to be as ambitious as ever now that its 25th anniversary has been duly celebrated.
Media Moves:
Cuts at Downtown News
Tempe, Arizona-based Times Media Group didn't leave anyone hanging for too long after buying the LA Downtown News along with the Pasadena Weekly, the Argonaut on the Westside, and several other titles spread from San Diego to Ventura County.
The deal to acquire the titles from Southland Publishing came on undisclosed terms in early August.
This week's Downtown News sports a masthead that indicates four of 15 staff positions have been trimmed, including: Lake Trout, who had been associate publisher; John Regardie, who served as editor; Yumi Kanegawa, who had been assistant art director; and Claudia Hernandez, former office manager.
Downtown News co-founder Sue Laris retains the title of "Founder Emeritus" on the publication's masthead.
Executives of Times Media Group could not be reached for comment, and it's unclear whether any new hires are in the works at any of its newly acquired SoCal publications. General industry practices and the company's own track record indicate the cuts are likely a move to pick up some economies of scale, with some staffers adding responsibilities across several titles in the SoCal region.
It's also notable that Times Media Group wasted little time in trimming the page count of the Downtown News. The publication had been shrinking for several years but appeared set on maintaining a 16-page minimum even when advertising was quite scant in recent months. The weekly publication has slimmed down to 12 pages in lately, with an advertising-to-editorial ratio that seemed more in keeping with a sustainable level.
There has been word that Times Media Group also made some cuts in staff at San Diego CityBeat and the VC Reporter, although it's unclear whether those were a matter of economy or other considerations by the new ownership.
Buying into Beverly Hills
Best wishes to real estate executive John Bendheim and author Lisa Bloch, who teamed up to buy the Beverly Hills Courier from the Paula Kent Meehan Trust on undisclosed terms last week.
The Courier is an established brand in a high-end market, and it should be fascinating to see how the new owners face the future.
An early tea leaf: They listed "unbiased local news" first in laying out their vision for the publication.

Calle's Escape From LA?
Neither Brian Calle nor representatives of Chapman University have responded to questions about whether he will retain his ownership stakes or positions as publisher of the LA Weekly and startup Irvine Weekly once he starts as executive director of the school's Center for Freedom of Expression and Media Integrity.
But a clue might have come since the September 3 edition of this column raised questions about how Calle's other titles might fit with the job at the center, which aims to "advance and promote the ideals of free speech and balanced media while at the same time monitor and challenge media bias and assaults on free speech."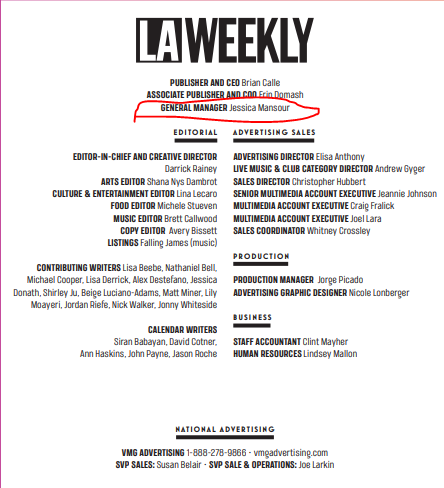 The September 6 edition of LA Weekly listed Jessica Mansour on its masthead as general manager. That's a new position, based on a review of past editions of LA Weekly, which has been inconsistent when it comes to publishing a masthead.
Could it be the first step in a transition that will allow Calle a way out of LA and back to his familiar confines in OC?
Stay tuned.
Chapman's Big Leap
The annual rankings of colleges and universities by U.S. News & World Report is a reminder of the rich and diverse inventory of higher-education programs to be found throughout SoCal.
Some of the local schools turn heads with high rankings in various categories, but Chapman did the trick by stepping up this year from its longstanding place among regional schools to a group considered to be an elevated set of national peers in terms of quality, reputation and draw.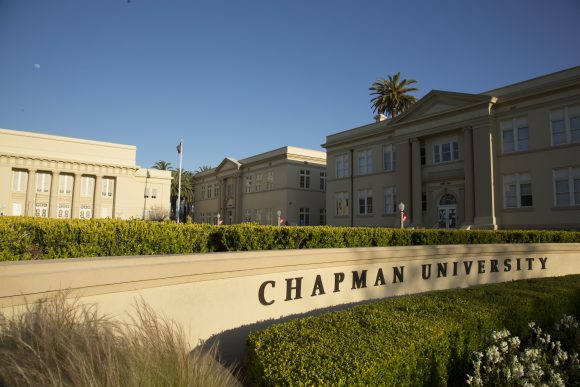 Chapman had risen from the lower ranks to become a regular at the upper reaches of the regional rankings since the 1990s under the leadership of Jim Doti, currently president emeritus and still a professor at the campus in Orange.
The step into the national ranks comes under Chapman President Daniele Struppa, and the move up reflects several criteria, including graduate programs the school has steadily added over the years.
Chapman debuted on the national list this week, ranked 125th out of 381 schools in the National Universities category.
An impressive start to make the top 1/3 out of the gate – and still plenty of room to run.
Callahan's Comeback to Times, Register
The difficult outlook faced by most newspapers might explain why the LA Times and OC Register both published editorials against a proposed law that would classify the folks who deliver newspapers as employees instead of contractors – a designation that would bring all sorts of extra costs for employers.
Yes, times are tough – but the piece that ran on the editorial page of the LA Times on September 5 seemed particularly disingenuous. It started with a citation of a trend away from evening deliveries and toward morning publications – a shift that started in the 1960s and was all but done by the late 1980s.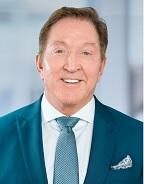 The piece had other logical and contextual gaps, not the least of which was the unobserved fact that the question of the status of newspaper delivery workers got a thorough going over in several lawsuits by Dan Callahan of the law firm Callahan & Blaine in Santa Ana.
Indeed, it seems that recent cases regarding newspaper delivery folks might apply to the various gig workers of the Digital Age – the segment of the economy and population that are the primary aim of the proposed legislation that the newspapers oppose.
Here's Callahan on the matter, with a response to the Register's piece in particular, although he blankets the subject:
The representation that newspaper carriers have always been recognized as independent contractors based upon "long-established state regulations" is false. Prior to the California Supreme Court's decision in Dynamex, courts across the state have found that newspaper carriers are employees and not independent contractors. These decisions, mostly achieved by our firm, Callahan & Blaine, include: Antelope Valley Press v. Poizner (2008) 162 Cal.App.4th 839; Espejo v. The Copley Press, Inc. (2017) 13 Cal.App.5th 329; and Sawin, et al. v. The McClatchy Company, et al., Sacramento County Superior Court Case No. 30-2009-0033950. Further, in 2009, the Orange County Register settled a lawsuit brought by a class of newspaper carriers alleging they had been misclassified as independent contractors for $38 million. And, in 2014, the California Supreme Court recognized in Ayala v. Antelope Valley Newspapers, Inc. (2014) 59 Cal.4th 522 that newspaper carriers are entitled to assert their claims that they were misclassified and denied important protections under the Labor Code on a class-wide basis.

The reality is newspaper carriers are no longer neighborhood kids delivering papers on their bicycles, but instead are adults whose job as a carrier is their only livelihood or a significant portion of their livelihood. They are providing a critical service to the newspaper necessary for its own existence. These are exactly the type of hard working persons the Labor Code was designed to protect.

All businesses in California have to provide the protections of the Labor Code. California has made a choice that a business should not operate if its viability depends upon denying its workers the basic protections afforded by California's labor laws, such as a minimum wage, meal and rest breaks, and overtime. It appears that just like business owners argued in the early 1900's against worker protections, newspaper publishers are also crying wolf that they will somehow be put out of business by this new law. It should be noted that all of the newspaper publishers who have been found to have misclassified their carriers still publish their papers. The fact is, however, if a business cannot operate without exploiting its workers, then it should not be in business.

My law firm has been at the forefront of fighting for newspaper carriers and their right to the same protections and benefits of California's labor laws as other employees in this state. There is absolutely no reason for the Legislature to deny newspaper carriers the rights and protections that all other employees enjoy.
Sparks' PR Spark
You don't know Eli Horowitz if you haven't heard about how much fun the LA Sparks of the WNBA have been this season.
Kudos to Horowitz for his constant promotion of the Sparks – which is part of his job as director of public relations and communications for the team – as well as his dedication to the women's pro league in general.
And thanks to him for sending along this photo from the unveiling of a Los Angeles County Metropolitan Transportation Authority train wrap featuring Sparks players Candace Parker, Nneka Ogwumike, Chelsea Gray, Chiney Ogwumike, Alana Beard, Kalani Brown and Maria Vadeeva.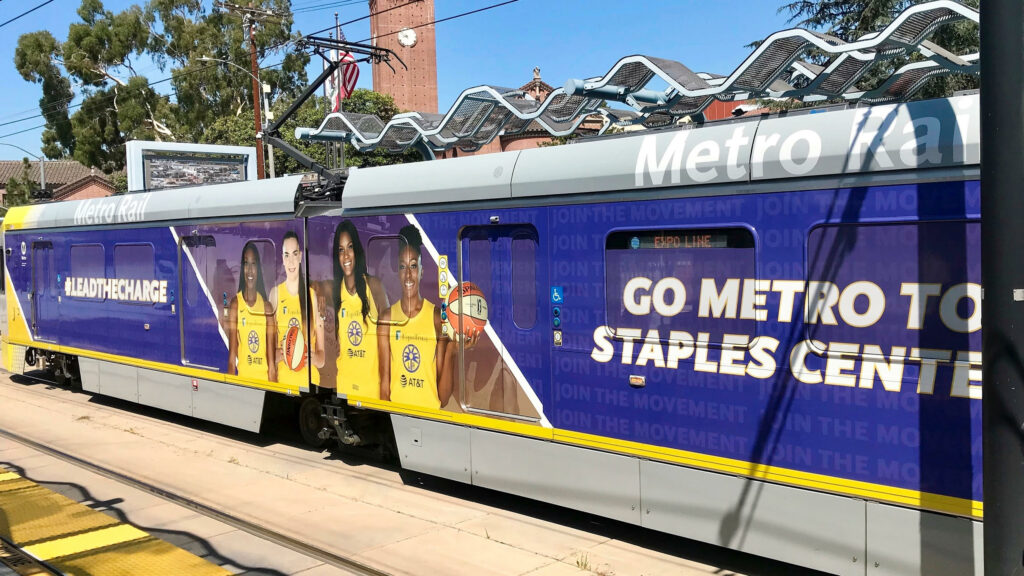 The WNBA and Metro formed a partnership in 2018 to focus on promoting women's sports and encourage fans to beat traffic and high parking costs by "Going Metro" on the Expo Line to Pico Station for Sparks' home games at the Staples Center.
Traffic is getting heavier, too – the Sparks led the league in attendance, with an average of about 11,300 a game at the Staples Center, according to WNBA.com.
Sullivan Says
Might the bottom line of the flap over plans to turn a playground in Echo Park currently used by social services provider El Centro Del Pueblo into a homeless shelter be that hipsters are more comfortable with the homeless than working-class folks as neighbors?