Residential projects are the shiny objects of gentrification, with developers tearing down older, cheaper housing stock to profit on new upscale apartments or condos while soon-to-be former residents join activists to protest in the streets.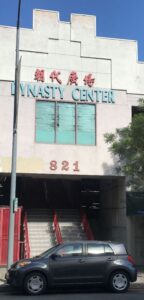 A project with the potential to bring a different and more significant sort of spur to gentrification could be shaping up with minimal fuss thanks to the recent sale of a retail center that looks set to give way to new-fangled commercial offices in the Chinatown district of Los Angeles.
The sale of the Dynasty Center, which spreads from the 800 block of N. Broadway to Spring Street, hardly registered with the local legacy media. It nevertheless represents much more than meets the eyes of desk-bound observers who might never have actually entered Dynasty Center—which appears from the outside to be just another nondescript building in Chinatown.
A walk around the interior of the low-slung complex reveals something else altogether—a buzzing marketplace of merchants selling everything from cheap apparel to bedding to house plants, candy bars and lottery tickets. The action happens at 100 or so spaces that open their roll-down gates each morning, putting out their wares under a series of tarps that keep the sun from beating down on the thousands of shoppers who frequent the place on any given day.
The Dynasty Center doesn't include residences. The retailers occupy a courtyard within the complex while a scattering of tenants—an English-language academy, an office offering income-tax preparation services—can be found on an upper floor.
You'd get little clue about this entrepreneurial springboard from driving by the Broadway side of the building. The Spring Street side offers some clues in the form of merchants set up on the sidewalk.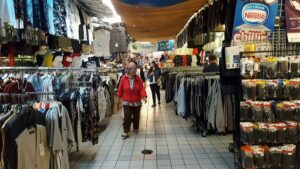 But the interior courtyard is where a lot of the people of Chinatown make their living by selling goods to retail customers, or by wholesaling merchandise they manufacture here or import from China. It's where denizens of Chinatown and nearby working-class neighborhoods go to get a dress for their family association's spring banquet, or to buy a good pair of work pants at a price that helps them stretch their household budget to next month.
The buyer of the Dynasty Center has been identified as an entity called Redcar Properties, with a price of $29.5 million paid to an as-yet unidentified seller.
Redcar Properties has a project in the works on the same block of the Dynasty Center, and it looks as through it will fall in line with the recent trend of hip offices for architecture firms that have found creative cachet in Chinatown lately.
Neighborhoods change—and there's nothing inherently wrong with the process. But understanding change from the street level up will go a long way toward helping all involved adjust to such transformations.
Gentrification is about more than housing
Bhathal's Slam Dunk
Anyone else notice that OC-based Raj Bhathal continues to fly under the radar as his investment in the Sacramento Kings professional basketball team soars?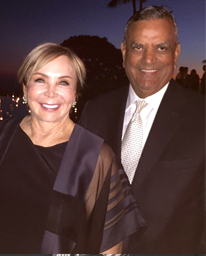 Consider recent reports that an outfit in the portfolio of New York-based investment banker Gordon Dyal bought a 5% stake in the NBA franchise. That works out to a valuation of $1.5 billion for the Kings—and word buzzing about the league pegs the number as high as $1.9 billion.
Now consider that the team's valuation was about $535 million back in 2013, when the sale of a 65% stake left the Kings with more than 30 stakeholders. Chief among the owners are software billionaire Vivek Ranadive, Qualcomm Inc. scion Paul Jacobs, and Bhathal, who made his first fortune designing and manufacturing swim suits with his wife, Marta, under the Anaheim-based Raj Swim label. Informed sources have told me that Bhathal, Ranadive and Jacobs each took a stake of about 20% in the team.
That means Bhathal paid around $107 million for a chunk of shares that's now worth between $300 million and $380 million.
Not bad for a guy who seems perfectly happy to let Ranadive play the role of public face of the franchise.
Soon-Shiong Stands Pat on Lakers Stake
Anyone else notice that the name of biotech billionaire and LA Times owner Patrick Soon-Shiong didn't come up when a rare chance to increase his stake in his beloved LA Lakers cropped up a few weeks ago?
Local money men and Dodgers co-owners Mark Walter and Todd Boehly teamed up to grab the 27% in the team put up for sale by Phil Anschutz, whose AEG owns LA Live and the Staples Center, among other entertainment venues around the globe. The price came to around $1.5 billion, putting the value of the franchise at $5.5 billion or so.
Soon-Shiong bought a 4.5% stake in the Lakers from Magic Johnson on undisclosed terms in 2010. The same stake is worth about $250 million, based on the valuation indicated by the sale of Anschutz' stake.
Soon-Shiong is a self-proclaimed super fan and proud co-owner of the Lakers, but a look at recent events elsewhere in his portfolio might explain why he didn't add to his holdings in the team when Anschutz' shares came up for sale.
The value of Soon-Shiong's 80% stake in Culver City-based ImmunityBio Inc. appears to be down by about $10 billion in the past six months, while his NantHealth Inc. has been hanging around 52-week lows lately. Add to that the fairly frequent incident of his LA Times showing more house promos than paid ads in print editions, and you can see why Soon-Shiong might have taken a pass on bidding for a bigger share in the Lakers.
Unintended Consequences on Cash in Jewelry District
Put this on your list of "unintended consequences"—not to mention potential points against Governor Gavin Newsom as he faces a recall election:
Word on the street around the Jewelry District of Downtown LA points to a counter-intuitive circumstance in regard to good, old-fashioned cash money. Designers, manufacturers and others doing business with gold wholesalers in the bustling hub of bling are being hit with a premium if they pay with the green stuff.
A source in the trade told me that a recent trip to buy gold saw the wholesaler marking up the spot price by $200 or so if someone pays by check and by as much as $700 for anyone paying in cash.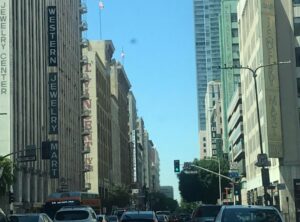 That's a reversal. Paying in cash has typically gotten a shopper in DTLA a discount everywhere from the Fashion District to the Toy District to the Jewelry District. Cash is often prized because it saves a merchant on credit card fees or the wait and risk of a check clearing the bank. It also has traditionally left a lot of grey area on taxes and other particulars—including whether the cash gets reported or "laundered."
The tradition appears to have brought a crackdown by government agents to the Jewelry District centered on Hill Street, where gold is a main component in manufacturing jewelry of all sorts. That means taking cash for sales of gold could get you on the government's radar, especially with the spot price of the commodity around $1,800 an ounce lately.
Do the math and you'll see it wouldn't be hard for a seller of gold to go past the $10,000 threshold on any cash deposit to a bank—a level that triggers a red flag for government agencies.
Hang onto the cash and there's the obvious security risk.
Deposit it in a bank and you trigger that flag, which could lead to all sorts of complications. Even a dealer operating above board could end up needing to pay an accountant or attorney to answer questions from the IRS or some other agency of the federal government.
It seems to be double-dangerous, too, because state investigators are just as interested these days.
Word on the street says that the latest round of scrutiny started with a need to launder sizeable sums of money from a caper that saw the State of California's Employment Development Department scammed out of billions of dollars of unemployment benefits on bogus claims at the height of the Covid-19 pandemic.
Dunn's Mystery Tour
Congratulations to Lucy Dunn, who has spent the past 16 years singing the praises of Orange County as chief executive officer of the Orange County Business Council, on her decision to step down from the post.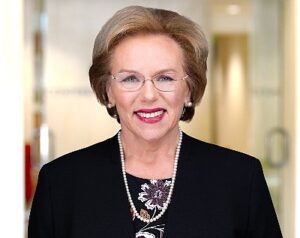 Dunn has been one of the steadiest, most approachable and consensus-oriented civic leaders in SoCal, and her presence at the head of the OCBC will no doubt be missed—although she's expected to remain with the organization as a member and mentor.
What else for Dunn?
"Act IV is a mystery—but that's the fun part of it," she told me via email last week, after the news broke on the front page of the July 22 edition of the OC Register.
The job of finding someone to fill Dunn's shoes falls to current OCBC Chair Jena Jensen, chief government relations officer at Children's Hospital of Orange County, and Steve Churm, who's adding duty as co-chair of the search committee to his role as chair of Orange County United Way and his day job as executive vice president for public affairs for Irvine-based FivePoint Holdings LLC. 
Sullivan Says
The CEO of the OC Black Chamber, a director of the Hispanic 100 PAC and a board member of Asian American Futures walked into a livestream—no joke, and you can click here to hear what they had to say about "sundown cities," vaccine skepticism in the Latino community, and the ongoing effects of anti-Asian hatred on our streets.