"I am a firm believer in the people. If given the truth, they can be depended upon to meet any national crisis. The great point is to bring them the real facts"

—Abraham Lincoln
Here are some real facts about the pandemic among us: Data from the Los Angeles County Department of Public Health indicates that the biggest racial disparity in the local effects of Covid-19 is a relatively low survival rate for Asians infected by the virus.
A total of 7,591 Asians have gotten Covid-19, according to the public health agency's report dated September 14, and 855 have died. That's a death rate, or case-fatality ratio, of 11.3% among the infected—highest for all ethnic and racial categories.
This chart compares the overall cases and death rates for various racial and ethnic populations in LA County. [*]
| | | | |
| --- | --- | --- | --- |
| Group | Cases | Deaths | Case-Fatality Ratio |
| American Indian/Alaska Native |  222 |  11 | 5.0% |
| Asian |  7,591 |  855 | 11.3% |
| Black |  7,262 |  573 | 7.9% |
| Hispanic/Latino |  90,193 |  2,997 | 3.3% |
| Native Hawaiian/Pacific Islander |  716 |  17 | 2.4% |
| White |  19,126 |  1,374 | 7.2% |
These numbers offer yet another view that runs counter to the steady narrative from local legacy media and public officials who seem intent upon—and content with—telling us that Latinos and Blacks are dying of Covid-19 at significantly higher rates than Whites. Such reporting has been the case even as the public health department's own data shows the actual death rate for the virus is about even among various racial and ethnic groups when taking into account the makeup of the overall population—a subject I've previously addressed and substantiated here.
How can the data indicating the dramatic difference in the death rate for infected Asians go overlooked? How can the regular reports from public officials and the legacy press consistently declare outsized death rates for Blacks and Latinos when the data doesn't confirm the premise of those claims?
*    *    *
I don't raise the question to dismiss or diminish concerns of race and ethnicity in America today. There surely is overlap of the racial reckoning sparked by police shootings with other matters of American life, including education, the economy and public health.
I do offer this as a caution about the potential for unintended consequences from combining preconceived racial perspectives with faulty analyses of the effects of Covid-19.
Consider that the ethnic breakdown of LA County's total population puts Latinos at about 49%, Whites at 26%, Asians at 15%, and Blacks at 9%.
Now consider this confounding sentence about Covid-19 deaths from LA Times' edition of September 7:
The racial and ethnic breakdown of those who died also fell into familiar, if dismaying, categories: 51% Latino, 24% white, 15% Asian American and 10% Black.
Was that sentence intended to tell us that the LA Times is dismayed that the death rates for Covid-19 are about in line with racial and ethnic breakdowns of the overall population?
Or is the publication dismayed that the data does not support a preferred racial angle on the story of the pandemic?
---
---
Let me re-emphasize that there are good reasons to consider race and ethnicity as factors of public health. Sickle cell anemia is most likely to affect Blacks, and Tay-Sachs disease is most prevalent among Jews whose heritage traces to Eastern Europe. White women of Northern European heritage are more likely than most to suffer from curvature of the spine.
Indeed, now would seem to be a good time for an epidemiologist to look into the high rate of deaths resulting from Covid-19 cases among Asians in LA County—perhaps there's some crucial clue on the virus to be gained from the many losses.
But no definitive conclusions can be drawn about Covid-19 after less than a year. Researchers can't yet be certain about how the virus affects us based on race or ethnicity … or socioeconomic status or geography … or weather or personal behavior.
That makes it all the more important to bear in mind what we don't know.
*    *    *
It also remains important to report about Covid-19 as information becomes available.
There should, however, be great care and respect put into such reporting, with disclosures of what remains unknown.
This is ultimately important because a lack of rigor presented through a racial lens could forge a two-edged sword of obsession.
A racial lens can bring a valuable concentration of the mind on sickle cell anemia, Tay-Sachs or other afflictions.
It also can cut the other way.
Trace European history from the Spanish Inquisition to the Holocaust.
There's a trail that starts with a decision to conjure race as a primary consideration in human relations.
It ends with a racial obsession that claimed more than 6 million lives.
Don't assume that the dangers of racial obsessions are necessarily consigned to the past or to Europeans.
---
---
History raises that caution flag—now comes the question of how we proceed with appropriate concern and consideration of race.
What should we do when anecdotal indicators of racism that have been in plain sight for decades are supplemented—and in some cases confirmed—by the various data that can be so readily gathered and sorted in this Digital Age of ours?
One approach worthy of consideration can be seen in a report titled "No Going Back" by the recently formed Committee for Greater LA, with USC's Dornsife Equity Research Institute and UCLA's Luskin School of Public Affairs as co-authors.  The document squarely takes up race as a key factor in numerous challenges facing Southern California, including Covid-19.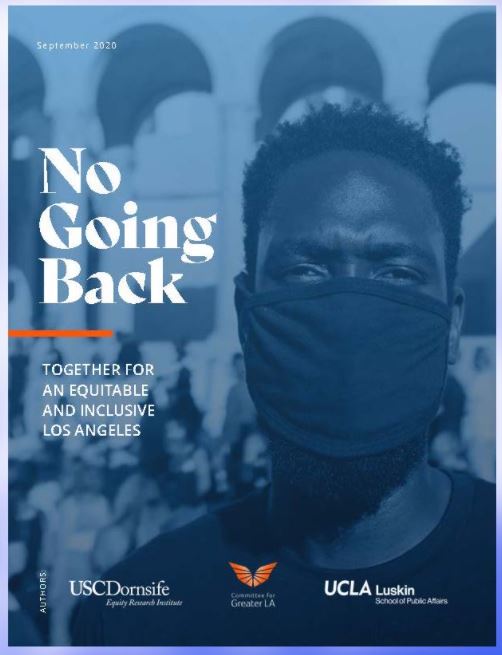 It's an imperfect effort—the report does clearly disclose use of age-adjusted data on Covid-19 deaths, for example, but falls short on explaining the methodology and offering actual totals for comparison. A number of charts lack clarity, and it could use more nuts-and-bolts examples of systemic racism to support various assumptions in the report.
Those are knocks that come on the margins of what still amounts to a clear and comprehensive call for a new understanding of Los Angeles.
One could also challenge a number of the report's premises, opinions or conclusions, which can be found here.
Go right ahead, because the true value of the report lies in the gauntlet it's thrown—a figurative punch that comes at a time when LA must decide to either fight about its very self or retreat from its position as a place of good and widespread possibilities.
A properly spirited fight will require the re-ignition of a dormant civic sense—something I previously discussed here.
Now consider this sentence from the executive summary of the report, which might be a first candle:
We are committed to continuing the work of the Committee and being part of the movement for change as agitators, disruptors, and truth-tellers.
The big truth the report insists on telling is that LA is in the doldrums. It's a condition that was exemplified by political corruption and homelessness even before Covid-19 struck and racial strains disrupted daily life.
Financial backers of the Committee for Greater LA and its report, meanwhile, include a roster of institutions that reflect the sensibilities of more than a few local billionaires, including: The California Endowment, California Community Foundation, Eli and Edythe Broad Foundation, Ballmer Group, Annenberg Foundation, California Wellness Foundation, Conrad N. Hilton Foundation, John Randolph Haynes Foundation, Smidt Foundation and Weingart Foundation.
Stand by to see whether the billionaires stick with the self-described agitators when it comes to next steps.
---
---
Any Angeleno who sees no other good reason to consider the Committee for Greater LA's  report and the circumstances of race and ethnicity might give some thought to the value of being an intellectual center engaged in one of the defining challenges of today's world.
They might also consider a development that flies in the face of long-held perceptions: Irvine—that master-planned place in the heart of Orange County—is growing into an academic and intellectual hub of racial reckoning in Southern California.
The latest example comes under the University of California-Irvine's newly formed Black Thriving Initiative, which counts among its priorities "leveraging the research mission to advance understanding of the Black experience and drivers of well-being."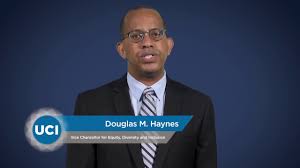 It's a local response to a "national imperative," according to Douglas Haynes, UCI's vice chancellor for equity, diversity and inclusion. "As a great public research university, UCI is uniquely positioned to set an example for institutional transformation."
UCI is growing into a center of racial reckoning based on other efforts, too.
A book titled "The Color of Money: Black Banks and the Racial Wealth Gap," by UCI Law Professor Mehrsa Baradaran, has been credited with prompting Netflix to deposit tens of millions of dollars in Black-owned banks.
Ana Muñiz, a professor at UCI's School of Social Ecology, took up the subject of racial reckoning in everyday life of the La Cienega Heights neighborhood on the Westside of LA in her book titled "Police, Power, and the Production of Racial Boundaries."
The academic tome was put to use in recent reporting by the Jewish Forward that did a proper journalistic job of explaining how gang injunctions—a concept born in the same neighborhood—offer examples of what could be considered systemic racism.
*    *    *
Does the notion of OC leading the way toward new understandings of race and ethnicity while LA stumbles along seem upside down?
How about a bunch of billionaires backing self-proclaimed agitators?
Or a legacy media that seems to confuse rather than clarify the conditions of our community?
The world we knew six months ago has been turned upside down—and it's time for the City of Angels to fight its way back to being right-side up.
---
Sullivan Says
Special thanks to PG and RE on this one.
---
[*] Case and death counts from County of LA Public Health