A skilled garment industry professional who lives in Downtown LA and goes by @mean2greenstrz on Twitter recently wondered why vehicles used by cops in Europe "resemble 1970's-era Volkswagen bugs & our LAPD vehicles resemble gigantic armored war machines."
The DTLA-based Pacific Council on International Policy happened to provide some answers in a program titled "The Militarization of Police," moderated on August 27 by Associate Justice Gabriel P. Sanchez of California's 1st District Court of Appeal.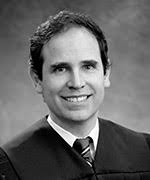 Sanchez took the subject up with Mandy Smithberger of the Project on Government Oversight, a think tank in Washington, D.C., and David Alan Sklansky, faculty director of the Criminal Justice Center at Stanford University.
The short take: Look at the federal government's 1033 program, which made surplus military equipment available free of charge to local law enforcement agencies. Then add the "War on Drugs" and "War on Terror," and an increasing tendency toward training cops as warriors instead of their traditional roles of guardian. You start to see a slippery slope that leads to America's current reckoning on police and public safety.
The longer version provides valuable context that explores what might be possible between today's bumper-sticker counterpoints of "defund the police" and "law and order." It's available here courtesy of the Pacific Council.
---
Can't Forget About This Chinatown Exchange 
The Pacific Council's three-person discussion did not include an advocate dedicated to the cops' point of view—and that's a perspective that's been missing in many discussions about the future of public safety. Here's hoping the law-enforcement profession finds voices from academia or the world of think tanks to represent its views in ways that will enhance the debate.
It seems to me, however, that there won't be much willingness to hear any perspective from local law enforcement unless the Los Angeles Police Department, City Council and Mayor Eric Garcetti deal with the case of a beat cop apparently laughing off a suggestion that electrocution of homeless people would be a desired outcome on the streets of Chinatown.
That's only one of several concerns raised by an email uncovered as part of a public records request by Adrian Riskin, a constant critic of local Business Improvement Districts who goes by @DotKohlhaas on Twitter.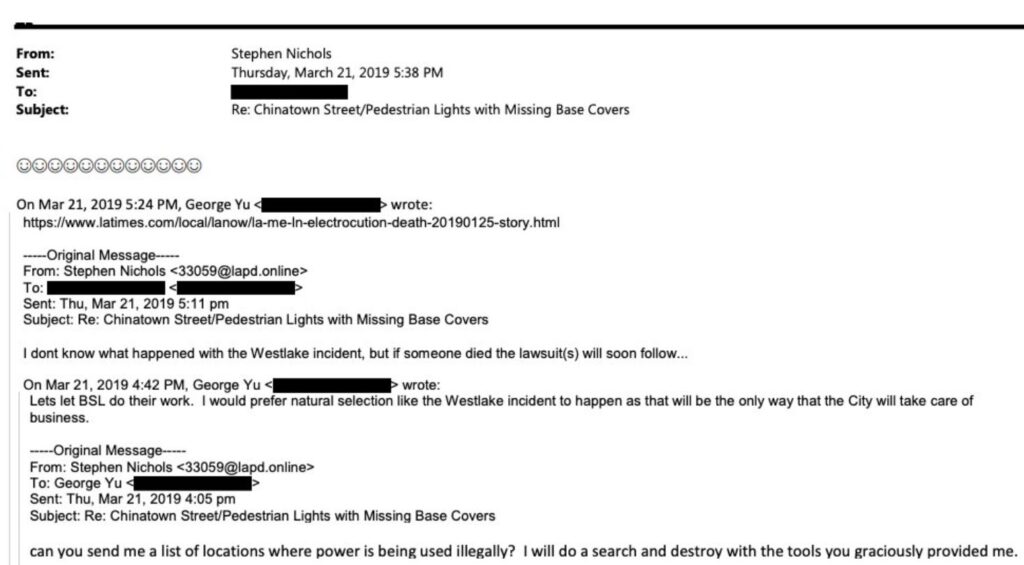 The email features an LAPD officer telling Chinatown BID Executive Director George Yu that he could ask city crews to fix street lights that had been tampered with by homeless people who were tapping into the utilities to charge their cell phones.
The email indicates that the offer from the LAPD officer came after a homeless person died of electrocution while bootlegging electricity from a street light in the Westlake district.
Yu apparently responded that he'd rather leave the street lights damaged in Chinatown because he "would prefer natural selection like the Westlake incident to happen as that will be the only way that the City will take care of business."
The cop responded with emojis that apparently indicated he found Yu's comments humorous.
LAPD Chief Michel Moore's obligation to investigate the email exchange is obvious.
Let me point out that the obligation goes farther because BIDs are subject to the approval of the City Council and mayor—and the Chinatown BID has counted 1st District City Councilmember Gil Cedillo as a specific supporter in its ongoing campaign to renew its terms.
---
---
Tough Love Draws Plain Facts from OC Catholic 
Here's a viewpoint worthy of consideration in response to my comment last week on the sexual abuse scandal in the Roman Catholic Church and efforts to safeguard donations made to organizations in the Diocese of Orange for specific purposes. This note comes from Rob Neal, Newport Beach-based partner of real estate investor Hager Pacific Properties and longtime volunteer and donor to the diocese.
On your "tough love" section, it is not so much the clergy abuse. That problem is, by all demonstrable means, a fraction of what it was and is probably now lower than schools, boy scouts (who have done their own amazing job at reducing abuse) and other large populations.

The problem is that we are a large target for any kind of litigation, justified or not, and it is problematic to find an unbiased jury, so settlements are common. The Church is only seeking to apply donor intent protection and basic risk management that are employed by every well-run organization, private or public, for-profit or not-for-profit.
---
---
Bermudez Points to Danger in Cypress Park 
John Rabe, director of production and promotions at Pasadena-based public radio station KPCC 89.3, is doing double duty these days.
Rabe's photography will be part of an exhibit titled "SPACELAND V | War" set to debut on September 12 at the Bermudez Projects | NELA gallery at 1225 Cypress Avenue in the Cypress Park district of Northeast LA.
Rabe's contribution comes in the form of "Artists are Dangerous"—a series of promotional posters that turn up here and there, suggesting a subversive sensibility as the theme of the exhibit.
And, yes, a limited edition of artistic prints of the posters will be available for order.
It's the first exhibit that gallery director Julian Bermudez has planned with social distance protocols in place.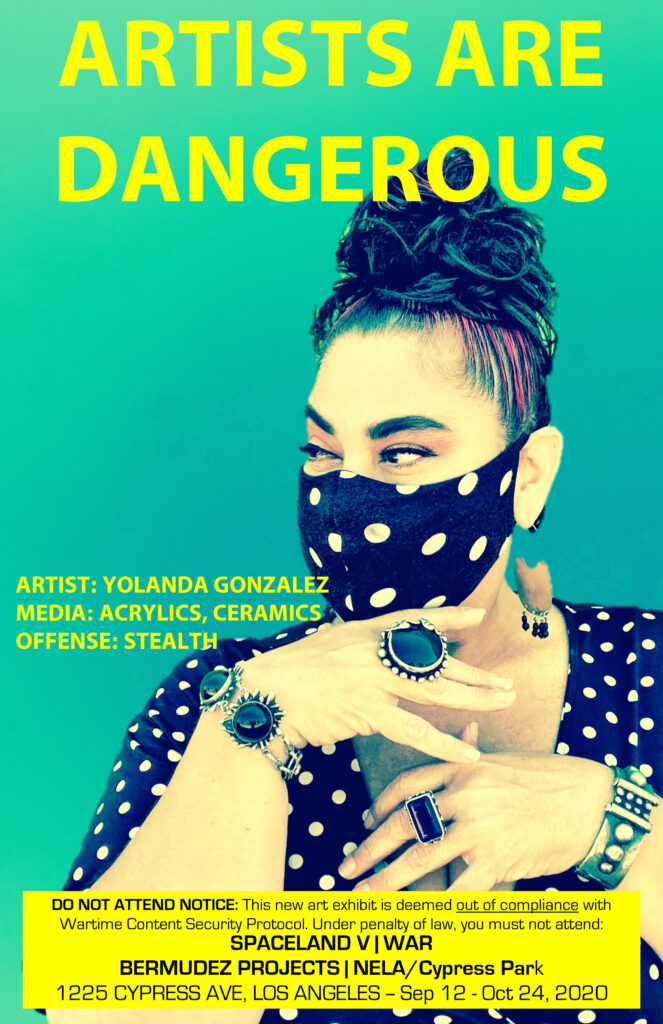 Kudos to Bermudez, Rabe, and the 11 other artists for the attempt to take some reasonable steps toward normal in the art scene in Northeast LA. And thumbs up on anchoring the show with Yolanda Gonzalez, who studied at Art Center College of Design, represented Self Help Graphics in Japan, and has shown her uniquely SoCal sense of style and light in museums from Monterey to Mexico City.
*    *    *
Go for the art—but go hungry and stroll a few steps down Cypress Avenue from Bermudez Projects for the birria plate at Restaurante Tierra Caliente.
*    *    *
It was over lunch at Tierra Caliente that Rabe—best known around SoCal for years as the host of the erstwhile Off-Ramp show on KPCC—illustrated how that experience keeps circling back even now, four years after he made the switch to the business side of operations.
The latest example: Off-Ramp did a segment in 2014 on Piero Selvaggio, who just returned to LA's restaurant scene with a role at Drago Centro in the lobby of City National Plaza in Downtown LA.
Selvaggio is the man behind Valentino, a seminal SoCal entry for Italian fine dining that operated for 46 years in Santa Monica before closing in 2018.
The 74-year-old started over when he opened Louie's by the Bay last year with octogenarian Ron Salisbury, who also owns the El Cholo restaurants in Newport Beach and Santa Monica as well as the Cannery, where the Balboa and Lido peninsulas meet.
Landing the man from Valentino was a big win for Salisbury, but he recently conceded that family demands in LA and the challenge of re-establishing Drago Centro had pulled Selvaggio in a different direction.
Good luck to both of them—and all the other restaurateurs trying to make it through the pandemic.
---
From Rabe to Ponti, via Loren, Redford
Rabe's piece for Off-Ramp about Selvaggio centered on the meal he cooked up for a birthday party for Sophia Loren, with a guest list of 400 that ranged from Robert Redford to her son, Carlo Ponti, Jr.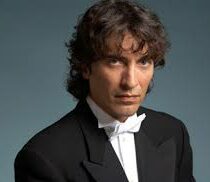 These days find Ponti cooking up an online version of his Virtuosi Orchestra, refusing to allow Covid-19 to stop the mission of helping students and schools throughout SoCal with music education.
The non-profit LAVO is "looking forward to again safely sharing the transformative and healing power of music in our upcoming 20/21 season, circumstances willing," Ponti recently told me via email.
You can find the LAVO schedule here.
---
---
Englebrecht: Best Wishes, Cautionary Tale for De La Hoya
Veteran OC-based fight promoter Roy Englebrecht tells me he wishes his longtime friend and former business partner Oscar De La Hoya the best should the six-time world champion and boss of DTLA-based Golden Boy Promotions return to the ring.
Englebrecht put the odds of that happening at about even as he hemmed and hawed with me about what a comeback by the actual Golden Boy might look like.
I got the feeling his warm regard for De La Hoya had him holding back.
I listened intently, though. And I think Englebrecht deserves credit for finding a way to issue a diplomatic warning by doing what he does best—telling a story.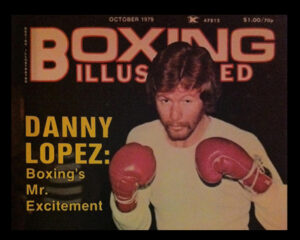 This one went back to 1992 and a ring in the ballroom at the Irvine Marriott, where Englebrecht promoted a return to the ring by one-time featherweight champion Danny "Little Red" Lopez, a wildly popular SoCal fighter who had been retired for 11 years and was nearly 40.
Lopez was supposed to ease his way back into action—the matchmaker lined up Jorge Rodriguez, a journeyman with a losing record, in the other corner.
Rodriguez knocked Lopez out in the first round.
Englebrecht didn't say it—but I think it was a cautionary tale for De La Hoya, who is 47 and hasn't fought in 12 years.
---
Sullivan Says
Kudos to Cox Communications on its efforts to offset the digital divide with the newly launched Connect2Compete program in its service territories in OC and the Palos Verdes Peninsula, where low-income households can get two months of Internet service and remote technical support for free, with more information available here.