Los Angeles Mayor Eric Garcetti refuses to answer questions arising from an email that points to more questionable ties to Councilmember Jose Huizar, who faces federal charges of running a criminal enterprise from City Hall.
A former special assistant to Huizar named George Esparza recently pleaded guilty to participating in the criminal outfit alleged by U.S. Attorney Nick Hanna. Former LA City Councilmember Mitch Englander and one-time political fundraiser Justin Kim also have pleaded guilty in the case.
Agents of the FBI and IRS are continuing their investigation, and have identified retired Deputy Mayor Raymond Chan—who was appointed to the post by Garcetti—as a participant in the alleged criminal enterprise.
The latest link uncovered in the culture of corruption at City Hall comes courtesy of a Garcetti staffer emailing a colleague in Huizar's office to push a proposal for the city to pay a private property owner $50,000 a month in a lease deal. The offer involved a Downtown warehouse on the 1400 block of Paloma Street, according to the email, which was recently obtained by SullivanSays under the California Public Records Act.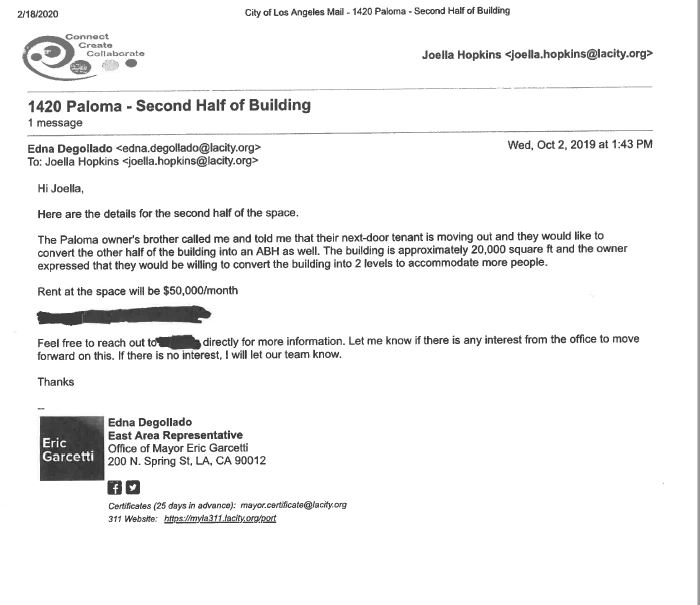 The offer of $2.50 a square foot mentioned by Garcetti staffer Edna Degollado was about three times the average lease rate for warehouse space in the Downtown area at the time, according to brokerage Jones Lang Lasalle Inc.
An ongoing federal investigation of public corruption at City Hall and a raid of Huizar's office and home had been public knowledge for nearly a year at the time Degollado sent the email.
The owner of the property—identified in various documents as Moiz Kaboud, and also known as Mike Kaboud—had previously struck a deal with the city to lease about half of a property at 1426 Paloma Street for an emergency homeless shelter at $1.95 a square foot. The rate of that previous deal—which comes to $35,000 a month—was already inexplicably favorable for Kaboud, based on market comparisons. Kaboud's involvement in prior instances of money laundering and counterfeiting, meanwhile, was reported months before Degollado approached Huizar's office about the city renting more space from him on Paloma Street, as you can see here.
Kaboud has told SullivanSays that he was collecting rent from the city under the initial deal as of last October even though the renovations for a homeless shelter had not been completed. The 100-plus emergency shelter beds promised with the initial lease deal are now more than a year overdue.
It remains unclear whether the city has leased the additional space, although Huizar did propose to expand the homeless program at the Paloma Street facility after his staffer received the email from Garcetti's representative, as you can see here.
Staffers for Huizar—who has pleaded not guilty to federal charges and been suspended from his official duties as he awaits a court case—have refused to provide details on any lease agreements or a progress report on the proposed shelter on Paloma Street.
Garcetti staffer Degollado and several members of the mayor's communications staff also have refused to answer any questions on the lease deal, email or involvement with Huziar's office.
---
Straight Talk on LA Office Market: Tough Stuff
Here's a quick, no-nonsense primer for anyone still in denial about LA's commercial real estate market:
South Korea-based Korean Air Lines Co. Ltd. recently scraped together a $950 million loan to prop up Wilshire Grand Center, the 1.5 million-square-foot office and hotel tower that bears the carrier's logo on DTLA's skyline. It's viewed as a stopgap measure while Korean Air looks for a buyer for the tallest structure in SoCal, which opened to great fanfare three years ago.
Talk of a sale of the Korean Air building comes a couple of months after the 1.4 million-square-foot US Bank Tower—displaced as the tallest building in the region when the Korean Air building opened—was sold by Singapore-based OUE Ltd. to Silverstein Properties in New York for a reported $430 million, a 34% discount from the value claimed a year earlier.
The 1.6 million-square-foot Oceanwide Plaza remains an unfinished gap on the city's skyline as its China-based owner Oceanwide Holdings tries to sell it off—a prospect that knowledgeable industry insiders say is going to require a significant discount from its construction cost of $1 billion-plus.
---
---
Legacy Media Blackout on Angels Owner's Politics
I couldn't disagree more with Arte Moreno's recent decision to endorse President Donald Trump.
But I wouldn't be doing my job if I didn't mention Moreno's starring role in a "Latinos for Trump" event on September 14 in Phoenix, the hometown of the owner of the Los Angeles Angels of Anaheim.
I don't question Moreno's right to express himself.
But I do question how the local legacy media took a pass on covering such a public pronouncement by the owner of a big-league baseball team located in the heart of SoCal.
---
Woke-Angle Lens on Gores
Adding to the wonder about the lack of coverage of Moreno's endorsement of Trump was the story by Laurence Darmiento in the September 17th edition of the LA Times.
The piece seemed to give a thorough account of activists calling for the Los Angeles County Museum of Art to kick billionaire Tom Gores—founder of Platinum Equity LLC in Beverly Hills—off its board because of investments he's made in companies that seek to profit from prison labor.
Darmiento noted that Gores could draw even more objections in Detroit, where he owns the Pistons franchise of the NBA.
Good point.
What do Darmiento's colleagues have to say about that guy who owns a professional sports team in Anaheim and has injected himself into the most contentious political campaign of the century?
---
---
LA Drama, OC Dumplings, Sophomoric Snark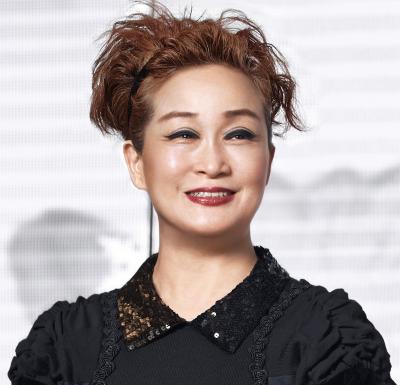 Media outlets from LA to OC lacked depth in coverage of Miky Lee's recent appointment as vice chair of the Academy Museum of Motion Pictures, which is getting close to finished with its new home at Wilshire & Fairfax.
Yes, some publications noted that Lee is a scion of the Seoul-based CJ Group, best known in LA as the producer of this year's surprise Oscar winner "Parasite."
None of them fleshed out what that means, starting with CJ Group America's U.S. headquarters just down the street from the new museum, or the company's role as a "chaebol"—one of a handful of conglomerates that are keystones of South Korea's economy.
The chaebol mean it when they say conglomerate—CJ America's operations in SoCal include media enterprises in the Miracle Mile district of LA and a subsidiary called CJ Foods that crosses over to OC, with offices in La Palma and a factory that turns out several tons of frozen dumplings daily in Fullerton.
A lot to overlook—and all the more reason for surprise when a check of coverage turned up this odd and insulting bit from the LA Times, which gave readers "7 things to know" about Lee in its edition of February 10, the morning after she accepted the Oscar for Parasite:

Hard to say whom that insults the most: Lee? The other 90,000 or so Koreans and Korean-Americans who live in OC? Or the entire population of 3.3 million there?
Yep—go figure.
---
---
Reasonable Request
Brian Glick would like to see his tax preparation and payroll operations get back to how things were at his Personalized Business Services before the pandemic. But he's willing to do whatever it takes to make sure his community is safe for his wife and kids and grandchildren.
That balance of concern makes Glick a reasonable person—which adds weight to his comment on my recent coverage of the data and reporting on Covid-19 by the LA County Department of Public Health and various news outlets.
"I am appreciative of your ongoing emphasis on illuminating the 'legacy media slant,'" writes Glick. "I think your point of view, coming from a seasoned expert, is extremely valuable. Thank you for taking your position to help your readers to see the realities and misdirection of today's mainstream reporting."
---
Optimism as Civic Duty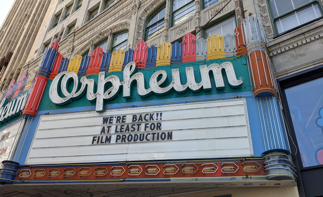 There are still no live shows in LA, but there comes a time when optimism isn't just a frame of mind but a civic duty.
Give Steve Needleman credit for keeping optimism alive and well—and making it all the more effective with the dash of realism he's included in this message delivered via the marquee of his classic Orpheum Theatre on Broadway in Downtown LA.
Give credit to the late Jack Needleman—father of Steve and a legend of the local garment trade—for an assist on the effort to lift spirits. Here's what the elder Needleman had printed on his business cards back in the day: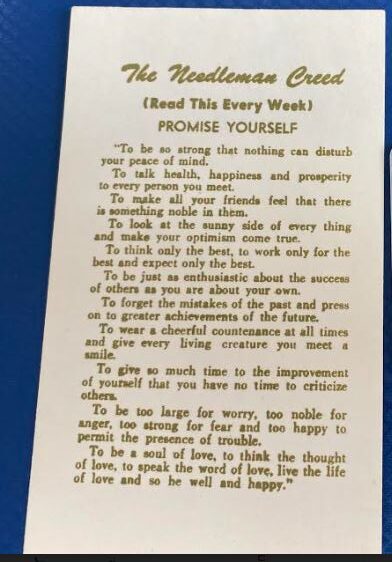 I'm glad to say that the Orpheum is able to host some film and commercial shoots conducted under Covid-19 protocols. And just as happy to report that the younger Needleman carries on his father's tradition with his own business cards.
---
Notable in DTSA
I'll add this note of optimism, gleaned on a day out in OC, where the ever-buoyant Ryan Chase recently put me in mind of a slightly younger version of Steve Needleman. The thought crossed my mind when I saw Chase hosting a socially distant lunch meeting on the patio in front of the 4th Street Market Innovation Food Hall that anchors his family's holdings in Downtown Santa Ana.
Chase was patronizing the Alta Baja Market, where the tuna salad is so tasty that it merits a special name: I'm calling it the SanTana Cobb—and recommending it highly.
---
Sullivan Says
This column is dedicated to Pulitzer Prize winner and one-time boss Rick Reiff, with appreciation for the lessons about runners left on base.
Follow me on Twitter @SullivanSaysSC.
---