LA-based entertainment entrepreneur and executive Byron Allen is saying it loud and clear in the wake of George Floyd's killing by police officers in Minneapolis.
Allen's two-page open letter to America in the June 15 edition of the Wall Street Journal does all of us a service by stripping the conversation about systemic racism to its core and offering suggestions for steps forward.
You can read it here, courtesy of theGrio.com, part of Allen's media portfolio.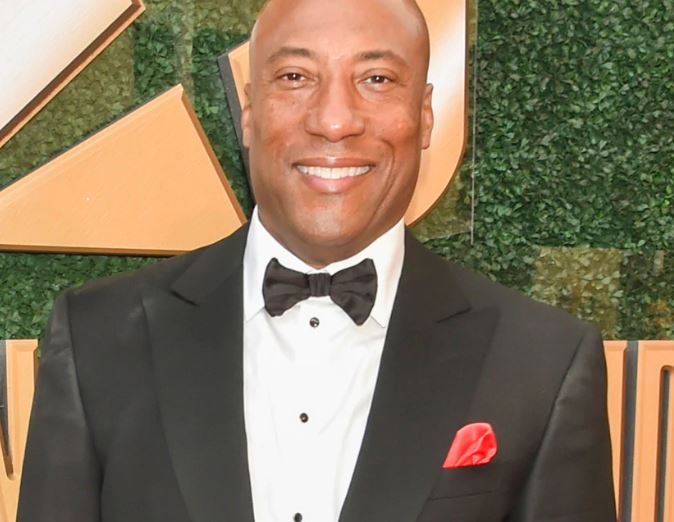 Allen
---
Villaraigosa Running Again
Virgil Roberts, another prominent executive with ties to the entertainment industry, could lose his seat on the board of the only black-owned bank based in SoCal if Antonio Villaraigosa makes good on a run to represent the interests of a would-be corporate raider.
The former mayor of LA is part of a hostile takeover attempt by Irvine-based investor Steven Sugarman on Broadway Financial Corp., the publicly traded parent of Broadway Federal Bank.
Sugarman is behind a campaign that asks shareholders to vote for Villaraigosa and withhold votes from Roberts, currently chairman of Broadway Financial's board. The election is slated for the company's June 24 annual meeting, to be conducted online due to Covid-19.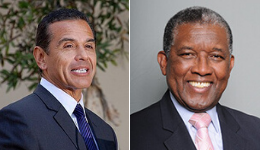 Villaraigosa, Roberts
Roberts is a managing partner of the Culver City-based law firm Bobbitt & Roberts, with a specialty of representing clients in the entertainment industry. He started his law career working on civil rights cases, and later became president of Solar Records. He currently serves on boards of organizations throughout SoCal and beyond, ranging from the Claremont Graduate School and Southern California Public Radio to the James Irvine Foundation, among others.
Villaraigosa is chairman of Irvine-based Capital Corps LLC, an entity controlled by Sugarman. The retired politician also is co-chair of the Downtown LA office of political lobbying powerhouse Mercury Public Affairs. He holds board seats with struggling cannabis purveyor MedMen Enterprises and DTLA-based nonprofit Zocalo Public Square, a unit of Arizona State University, among other affiliations.
Sugarman has been trying to get control of Broadway Federal for months, gaining little traction with an offer to pay a premium price of $1.75 a share-or $48.4 million-for the institution. He had a checkered tenure as chief executive of Banc of California, which was based in Irvine when he resigned under fire in 2017 and has since made its headquarters in Santa Ana, where it currently has assets of about $7.6 billion.
Broadway Federal, with headquarters in the Miracle Mile district of LA, is the 29th-largest bank based in LA County in terms of its $440 million or so in assets. It's small by banking standards but has nevertheless been a keystone of the African-American community since its founding in 1947.
The hostile takeover bid has included disparaging remarks about Chief Executive Wayne-Kent Bradshaw and the rest of the bank's leadership in letters filed with the U.S. Securities and Exchange Commission.
Bradshaw and Roberts declined comment on the ongoing takeover attempt.
Sugarman and Villaraigosa did not respond to requests for comment.
You can see SullivanSaysSoCal's prior coverage here.
---
---
Hypocrisy Is New Corruption in LA
Keep an eye out for hypocrisy as a symptom of the civic rot that's being exposed in the ongoing federal investigation of City Hall.
Start with the seeming outrage of Mayor Eric Garcetti, City Controller Ron Galperin and City Council President Nury Martinez as they called for the immediate resignation of 14th District Councilmember Jose Huizar.
Huizar has been identified as a wrong-doer in federal documents by biographical details rather than name. You won't find a bigger critic of Huizar than me, but he's yet to be charged with a crime and he retains his right to due process under the U.S. Constitution.
It's particularly important, meanwhile, to avoid being distracted by the hypocrisy of city officials voicing outrage, because it's now clear that the probe goes higher than Huizar, who apparently was involved in a number of schemes that centered on the Department of Building and Safety. Recent guilty pleas from smaller fish in the scandal point to one-time agency boss, Ray Chan, who's now retired from the city but has been identified as a target of the probe based on biographical details offered in federal filings.
Consider that Garcetti appointed Chan as interim general manager of the Department of Building and Safety in 2013 and gave him the permanent post in 2014. Two years later Garcetti promoted Chan to deputy mayor for economic development, putting the Department of Building and Safety in his portfolio.
Chan used his perch in Garcetti's administration to join Huizar in a criminal "racketeering enterprise" that started in 2014, according to guilty pleas stemming from an investigation by the FBI and IRS.
Garcetti and Huizar for months have declined to answer numerous questions from SullivanSays about the federal probe, Chan and the Department of Building and Safety.
Here are several more for good measure as federal agents seek answers of their own:
How could a racketeering enterprise operate in City Hall for years without any elected official with clean hands picking up on the corruption?
How can we know that buildings constructed or renovated during the building boom of recent years adhered to safety standards under the watch of the Department of Building and Safety?
Does giving the deputy mayor for economic development oversight of the Department of Building and Safety suggest that safety standards are negotiable?
How can we rely on anyone at City Hall to give an honest account of the Department of Building and Safety at this point?
---
---
Santa Ana's Political Microcosm
Recently recalled Santa Ana City Councilmember Cecilia Iglesias' expected run for mayor could bring indicators on how the general political sentiment that's running against police unions and in favor of policing reform plays out on SoCal's patchwork of electoral politics.
Iglesias is considered a conservative by SoCal standards, and has alienated some among Santa Ana's heavily Latino-American population and Democratic political landscape by embracing President Donald Trump in the past. She also earned the enmity of the Santa Ana Police Officers Association when she voted against a pay increase for its members a while back.
The police union made a push to recall Iglesias from the City Council in a May 19 special election, getting its way with Santa Ana voters just days before George Floyd's killing led to a whole new view of cops and their unions.
Iglesias set her sights on the upcoming mayoral race before her recall. It could be instructive to see whether the knock that comes with the loss of her City Council seat at the hands of a vigorous campaign by local cops ends up giving her a boost as the citywide contest ramps up in advance of the November election.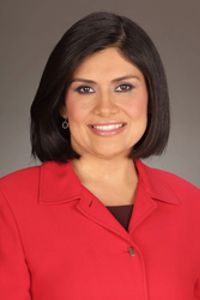 Iglesias
---
---
Media Notes
BEL BRUNO LEAVES DOT.LA
Digital news site Dot.LA has parted ways with its founding editor in chief, Joe Bel Bruno, after five months.
Bel Bruno is a veteran of the Wall Street Journal, Variety, Hollywood Reporter, and LA Times. He offered no comment or detail on his departure in a response to an email inquiry, and appears to have returned to a role at his JBB Media consultancy.
Dot.LA Chief Executive Sam Adams did not respond to an email request for comment.
Dot.LA Managing Editor Eric Zassenhaus is serving as interim editor, according to the company.
LA TACO GROWS BEARD
Congratulations to foodie-driven news site L.A. Taco and Editor Javier Cabral on winning an Emerging Voice award from the James Beard Foundation. The New York-based nonprofit organization has a stated mission "to celebrate, nurture, and honor chefs and other leaders making America's food culture more delicious, diverse, and sustainable for everyone."
SPJ ON CAMPUS
Kudos to Jintak Han of the UCLA Daily Bruin for taking first place in the recent Mark of Excellence Awards, given by the Society of Professional Journalists to honor "the best of collegiate journalism" across the U.S.
The indefatigable Han, who offers regular glimpses into his street-level search for news on Twitter, took top honors for Breaking News Photography in the large-school category, meaning 10,000 students for more. His images of last year's Getty Fire earned the prize.
Kudos also to: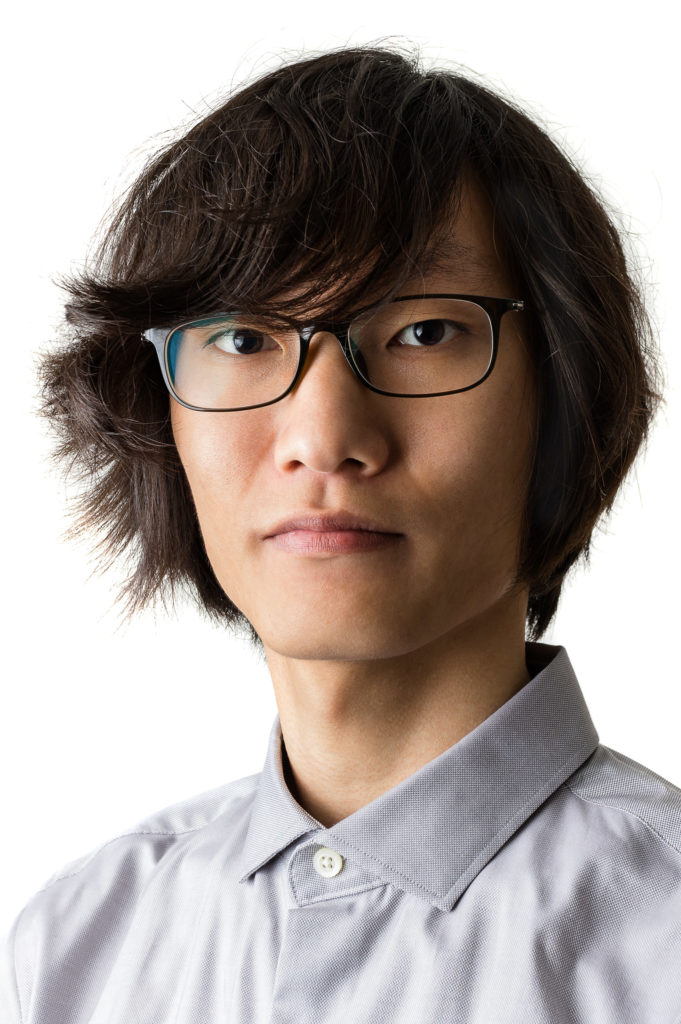 Han
Daily Bruin staffer Andrew Raychawdhuri, who took first place nationally for General Column Writing for several pieces.
Jessica Cardenas and Xochilt Laguna of Cal State Fullerton, who finished first nationally in Television Breaking News for a report on a migrant caravan's arrival in Tijuana.
The staff of JOVRNALISM at USC Annenberg School for Communication and Journalism, which got the national nod for Immersion Journalism for a piece titled "Homeless realities."
---
---
Sullivan Says
Anyone still feeling cautious about easing their way into the reopening of SoCal's arts scene will find a like-minded partner with an engaging and simple digital option at ocmaexpand.org.