Critics from various quarters are bashing U.S. District Judge David O. Carter's order for the City of Los Angeles and County of Los Angeles to provide shelter for every denizen of Skid Row in need and account for the public finances behind homelessness programs.
Some see the emphasis on temporary shelter over permanent housing as a band-aid on a gaping wound.
More like a tourniquet on a compound fracture.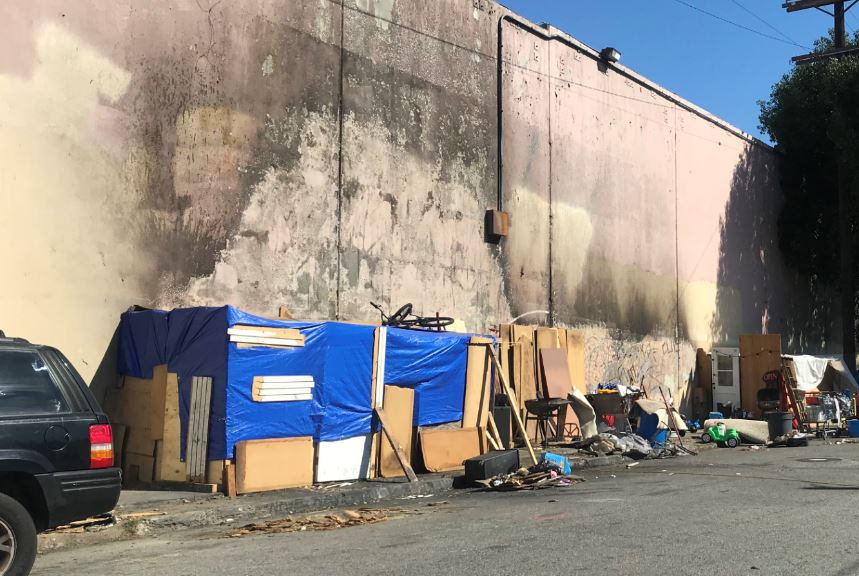 Nothing Carter has ordered prohibits city and county governments from fostering both temporary shelter and permanent housing. And there's no reason to believe they can't pursue both at once—if they shake the culture of corruption that envelops LA's public sector.
Both the political class and legacy media seem unduly defensive as they push back on Carter's order to provide shelter, as well as his insistence on following the money. They say the judge simply doesn't know how local government works.
They omit the possibility that Carter understands how local government doesn't work.
There are some legal arguments against Carter's approach worth hearing—and just such a hearing is in the works in federal court.
What's unworthy are the attempts to discredit Carter by public officials who have rationalized a culture of corruption to the point of kleptocracy when it comes to homelessness.
Nearly as empty is the legacy media, which has normalized a public health crisis by recycling the same coverage of Skid Row for decades, clutching their pearls every so often while giving empty lectures dictated by whatever their ideological mood at the moment.
Vow of Silence Broken Online
The same public officials who rail against Carter's order to show him the money on homelessness programs have been as silent as Mafia button-men when asked about mounting indicators of corruption over the past two years.
Sometimes, however, the code of silence breaks down without anyone saying a word.
Consider the move made by Leslie Jordan, who has yet to answer queries about why she would bill herself as a key executive of LA County's homeless program while also running a private enterprise that does business with customers who get funding from the county to provide services to the homeless.
Jordan remained silent while her bosses at the county tried to explain away the obvious conflict of interest by calling her a contractor rather than an employee. All involved have refused to answer a number of follow-up questions for months.
Yet all involved appear to have tacitly conceded the point of a conflict of interest when you compare Jordan's recently updated profile on LinkedIn to the prior version.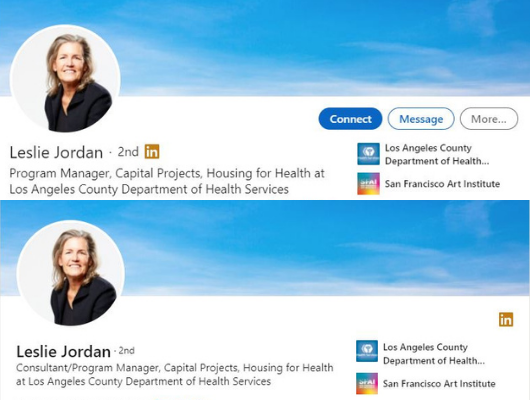 What appears to be a de facto concession comes in the form of a small change—Jordan referring to herself as a "consultant/program manager" now, compared to a prior billing as simply a "program manager" for the county. The addition of the word "consultant" all but confirms that SullivanSaysSoCal has been correct in calling out Jordan for a conflict of interest.
The change renders Jordan's self-characterization technically accurate but leaves her and her colleagues at the County of LA well short of taking responsibility for questionable conduct in regard to homelessness programs and the public money that funds them.
You can check prior coverage of the ethical questions raised by Jordan's role in LA County's homelessness programs here.
One Reader's Opinions
Here's a succinct response to last week's column from a reader who has significant ties to both LA and OC, offered on the condition of remaining unidentified publicly:
"A few comments:

LA homeless policies: incompetence more than corruption
Chapman law school appointment: very impressive
Tim Busch: with all respect, his views are why Catholics aren't staying involved in the church. Where was he during the church's pedophilia scandals?"
Double Time at LA Plaza
LA Plaza de Cultura y Artes has twice as much reason to cheer the reopening of the local economy as it resumes its role as "the place to begin your exploration of Mexican and Mexican American history of Los Angeles." 
And you can add a year of programming to mark the 10th anniversary of the museum and campus on Main Street, just across from Olvera Street at the northern tip of Downtown LA.
The venue is limited to 50% capacity for now, with reservations, temperature screenings and masks required. Anyone who's willing to take those steps can view the long-delayed presentation of Carlos Almaraz: Evolution of Form, which "focuses on the renowned Chicano artist's early life that significantly influenced his artistic style and form, from conceptualism and minimalism … to color and figurative work …"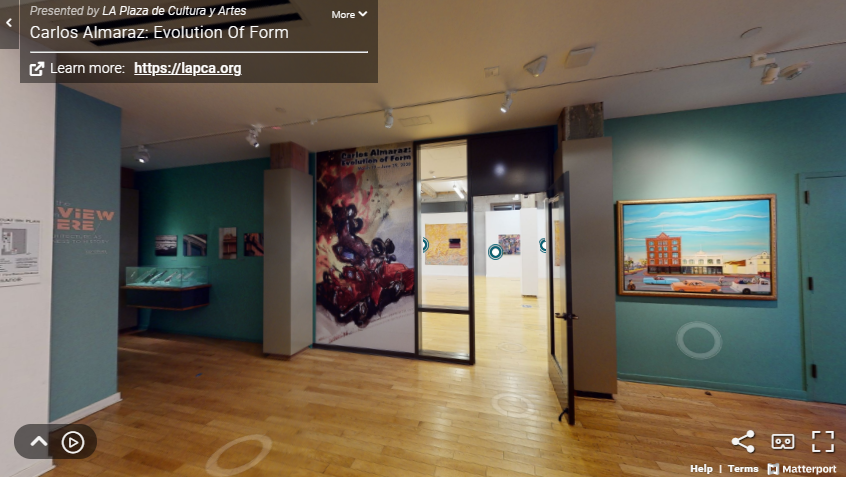 The exhibit had been slated to open on March 19 of 2020—a plan scrambled by the advent of state-wide Covid-19 restrictions.
The works by Almaraz and plenty more promise to enliven the decennial year, with operations currently set for Thursdays through Sundays from 12 noon to 4 p.m.
Attention Persnickety Picnickers
Ever wonder how those photo shoots in glossy magazines manage to set the scene just right?
Ever want the same sort of scene for a picnic?
Julie French hopes so—and she's putting her experience as a stylist for glossy magazines from New York to Florida to SoCal into giving anyone looking for a premium picnic experience in OC exactly what they want.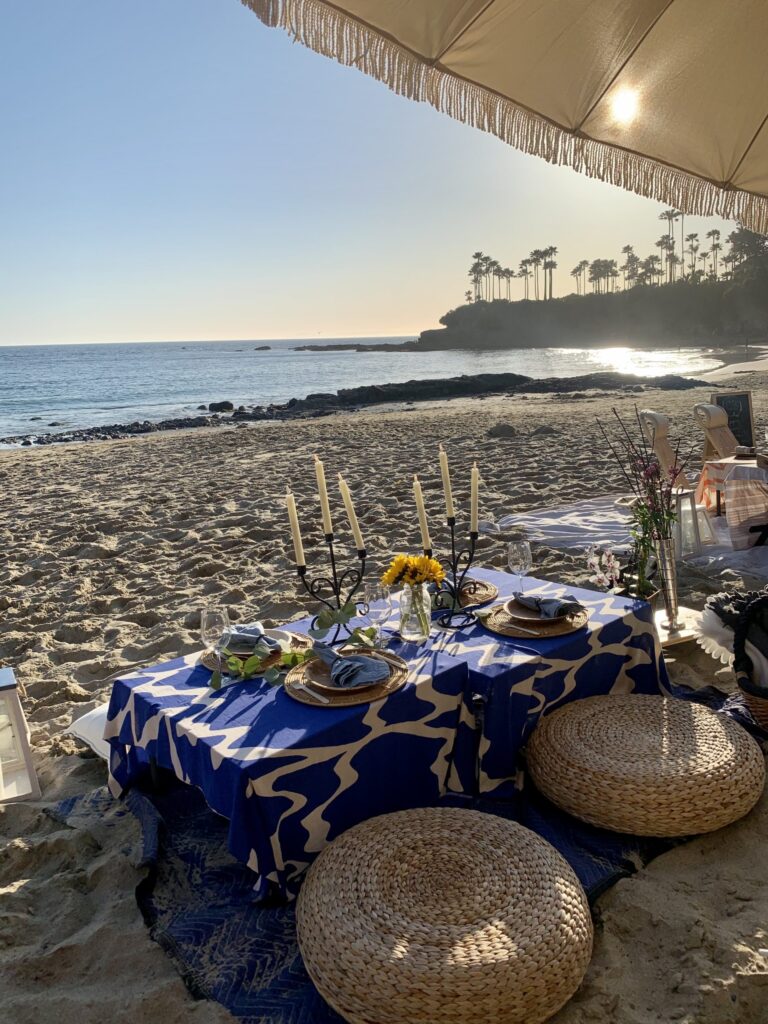 French just launched Picnic Company OC with an extra layer of insight from the world of photo shoots. Her husband, former Orange Coast publisher Chris Schulz, is on board to serve as CSO (Chief Schlepping Officer) when he's not busy with Schulz Media, his own newly launched enterprise.
Attention Big Shot Bocce Ballers
Beanie Baby billionaire Ty Warner appears to be every bit as insistent on a just-so approach at a larger scale, setting his sights on both locals and the regional get-away crowd with the reopening of his luxury Montecito Club just beyond the northern edge of SoCal in Santa Barbara County.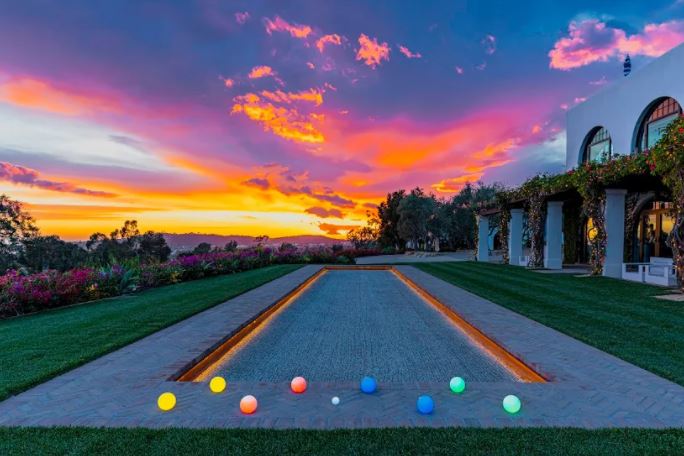 There are special membership deals for locals looking to be part of the club's social presence, while out-of-towners will notice upgrades throughout. Among the enhancements are a new covering of "Platinum TE Paspalum grass" on the Jack Nicklaus signature golf course, a pair of lap pools with underwater Bluetooth speakers for personalized playlists, and a bocce court that features crushed oyster shells and underground LED lights.
Math Quiz
Add up the luxury picnics and bocce-on-the-crushed-shell and tell me SoCal doesn't have the resources to address homelessness in some logical and humane fashion—provided we ever get an honest count on anything from the pols.
About Those Algorithms
Have you heard about algorithms driving much of what gets passed through legacy and social media?
There could be a prime example in the LA Times' coverage of Liliana Carrillo, a woman who has confessed to killing her three children in the Reseda district of the San Fernando Valley.
"Mother unraveled with depression, QAnon-style conspiracies," went an online promotional feed from the LA Times, referring to the murky online movement of conspiracy theories about pedophiles in the ranks of the federal government and beyond.
It is my personal and professional view that QAnon followers are misguided at best and misanthropic at worst.
The actual story that followed the LA Times promotion appeared in the publication's print edition of April 18, reporting that Carrillo had begun to "echo the delusion of QAnon believers."
The story provided no tangible evidence or indicator of an actual link between her and QAnon.
Consider that QAnon's followers and opponents are known to react strongly to just about any mention of the organization. Getting a reference to QAnon into a promo or headline might be fuel for a business model that supplants journalistic news judgment with key words and "audience development" built on algorithms and machine learning. The process for some purveyors of media involves identifying biases, which are then nurtured with a steady diet of information that often includes mistruths, half-truths and other manipulations of fact and context.
The money comes when the same people who get their biases confirmed are identified as viable consumers by the algorithm and targeted for ads.
Now back to the Carrillo case and LA Times' account, which had Carrillo struggling with "post-partum depression" and "frustrations with young motherhood," among other problems. Carrillo had begun making claims of child abuse against the father of her children, identified as Erik Denton—and such charges are not uncommon between parents who are at odds or under strain.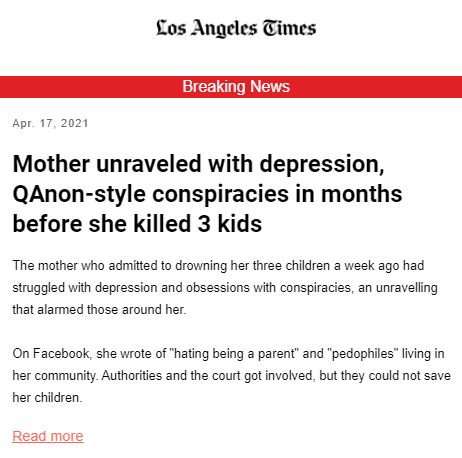 Still no clear tie between Carrillo and QAnon—but the LA Times nonetheless hit upon the use of the term "inspired" and its own self-righteous contention of an "echo" of the organization's followers. The soft language of unsubstantiated claims looks like the stuff that feeds the algorithm by putting "QAnon" in play as a key word for "search engine optimization" regardless of the truth of the matter.
I asked top editors of the LA Times whether the mentions of QAnon as part of the Carrillo coverage were an algorithmic play. They deferred to company spokesperson Hillary Manning, who responded with circular logic that left the query unanswered:
"The online promotion was based on the headline: "Mother unraveled in depression, QAnon-style conspiracies in months before she killed 3 kids," Manning wrote, apparently unaware that the headline she cited was the promotion.
The question of whether the LA Times sacrificed journalistic integrity for "audience development" remains in the air.
Sullivan Says 
It's nearly time for another live-streamed edition of SullivanSaysSoCal—I hope you can join us for PeopleMedia's production of [email protected] on April 28.