The team-building and sense of community that Duarte-based City of Hope is inspiring with its campaign to build a $1 billion center of cancer research and treatment at FivePoint Gateway in Irvine offer a respite from the noisy negligence of today's politics.
The effort puts a focus on the fight against cancer as common ground, cutting across several segments of SoCal's demography and geography. The battle plan stretches from City of Hope's main campus along the 210 Freeway in the San Gabriel Valley of LA County to a growing hub of the high-tech and creative economy in the heart of OC.
An apt example of the big-tent approach will take center stage when City of Hope honors Joe Kiani, chief executive of Irvine-based medical device maker Masimo Corp., at its upcoming Let's Be Frank About Cancer gala.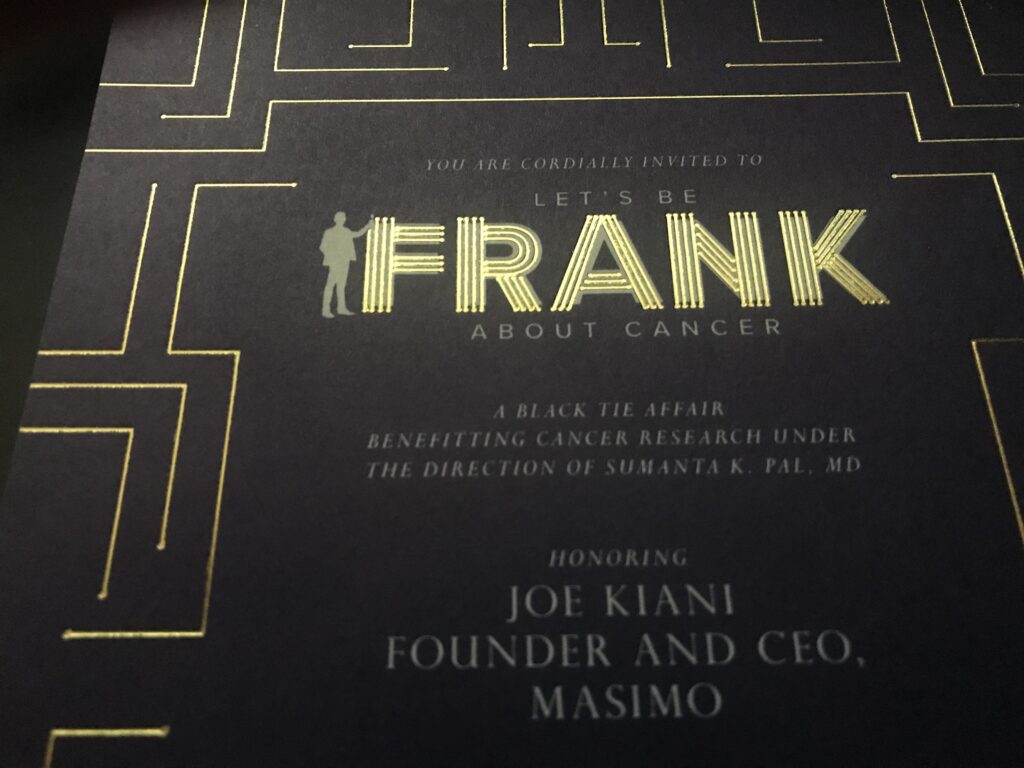 Kiani carries credentials as a member of OC's residential and business communities, a socially engaged member of the healthcare industry, and a guy who knows plenty about teamwork. The Patient Safety Movement fostered by the Masimo Foundation for Ethics, Innovation and Competition in Healthcare has grown to include more than 4,000 hospitals and close to 100 health-tech companies that have signed an open-data pledge. The commitment is at the core of efforts to eliminate preventable deaths at hospitals and other healthcare facilities, which currently see approximately 200,000 such incidents a year in the U.S., with estimates topping 4 million worldwide.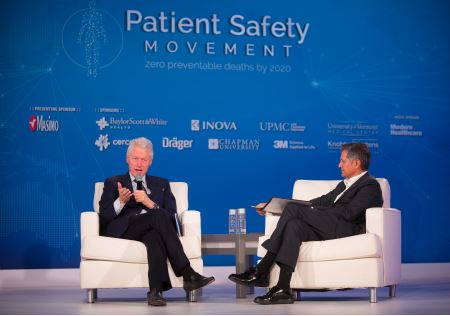 The movement Kiani started eight years ago has been helped in part by a link with President Bill Clinton's foundation and support from President Jimmy Carter. Kiani also is close to a would-be president – current hopeful Joe Biden, who led the call for a "Cancer Moonshot" when he served as vice president.
Kiani obviously leans toward Democrats, but neither he nor City of Hope is hung up on partisan politics, as the Honorary Committee for the upcoming gala shows. Jerry Brown, a legendary Democrat who served four terms as governor of California, tops the roster. Next comes George Argyros Jr., whose family has long been counted among Republican stalwarts locally and nationally.
The whole affair points to harmony instead of noise when it comes to fighting cancer.
The gala is set for March 21 at Hotel Irvine; click here for more information.
---
Columnist's View
Some full disclosure in regard to Kiani:
One of my nieces married an Iranian-American fellow whose immigrant grandparents were fluent only in their native Farsi language.
I wanted to give a toast welcoming the groom into my side of the family, and to deliver it in Farsi as a show of respect to his grandparents and heritage.
I asked Kiani, who also is Iranian-American, for some help. I knew him professionally in my role at the time as editor of the Orange County Business Journal. Kiani took the time to translate my toast into Farsi, spell it out phonetically in English, and go over the pronunciation several times with me over the phone.
The toast was a big hit – and Kiani's helping hand showed a skill for the feel and work of bridge-building that too many of today's political power players, professional partisans and members of the media fail to understand.
---
---
LAHSA, Garcetti Still Lag on Homeless
Back to the political noise and culture of corruption, with a good news/bad news update:
The Los Angeles Homeless Services Authority (LAHSA) recently replaced a sign that misinformed anyone seeking a homeless shelter that was supposed to be open on a 24-hour basis.
Here's what greeted visitors to the supposed shelter at 5500 S. Hoover Street during the period in question: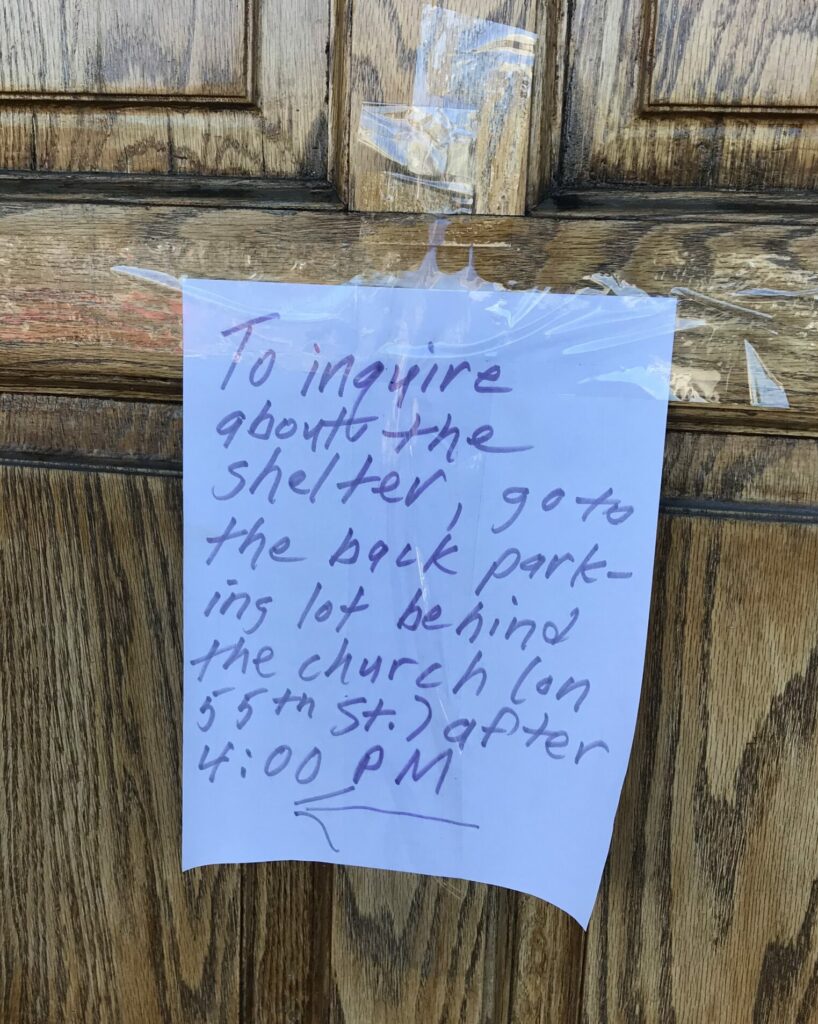 The good news is that LAHSA sent along the following photo last week to show that the nonprofit it says is operating the shelter changed the sign after more than a month: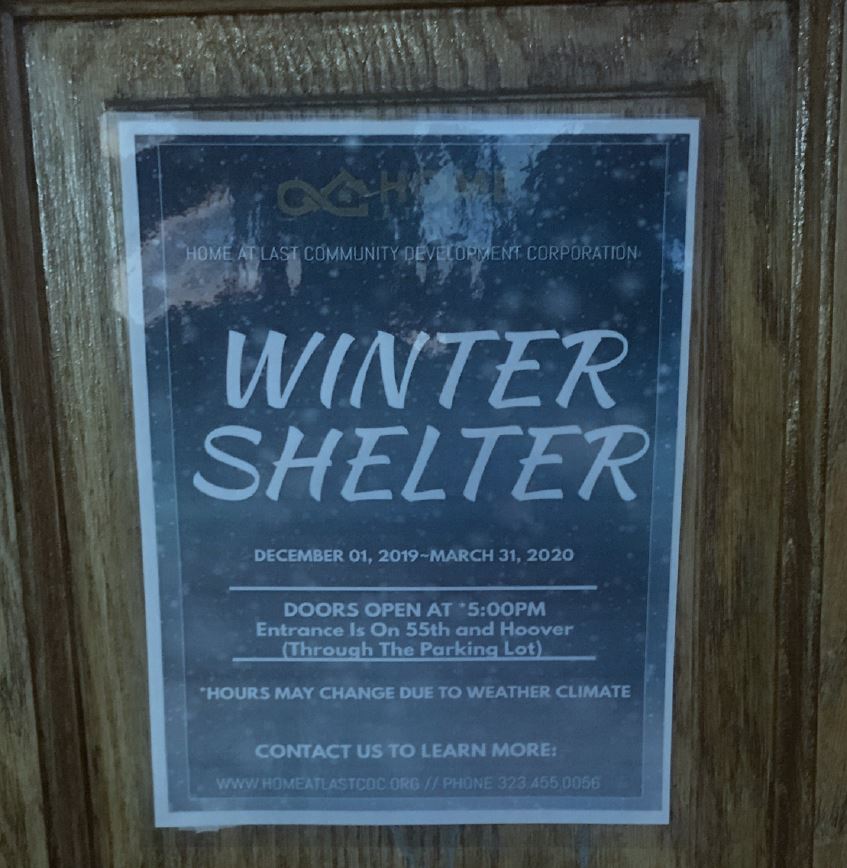 A LAHSA representative included this note:
"The service provider that operates the shelter, Home At Last, contracts with the Second AME Church at 5500 S. Hoover to use its community room to provide shelter for transitional-age youths. The photographs you sent with handwritten signs related to the shelter were posted on the front and side doors to the church. They were placed there by church staff before 24-hour activation began and remained there when you saw them. Those doors, on Hoover and W. 55th St., remain locked unless the church unlocks them for their use. 

The entrance to the community room/shelter, which remained unlocked on the days you visited, is at the rear of the building, accessible via the parking lot you photographed. As a result of the misleading nature of the signs the church had posted, Home At Last created clearer signage, pictures of which have been attached. Home At Last confirmed that the shelter was utilized by eight people on both December 23 and 27 and a total of 10 unique individuals between both days.

Please let me know if you have any other questions."
The bad news is that LAHSA's latest response is almost farcical in its narrowness – and I do have other questions about who checks up on the various entities that are paid to host and operate homeless shelters throughout LA County, specifics on terms of the contracts involved at the Hoover Street shelter, and various other matters.
LAHSA has had the questions for nearly a week but hasn't managed a reply.
---
Columnist's View II
Is it a small thing to have a "misleading" sign on a shelter intended to provide homeless people refuge from the cold?
Think about LAHSA's limited response, which obscures the fact that a homeless shelter that was supposed to be open 24 hours a day served 10 people across two days in an area of the city where homelessness is rampant. It's not hard to find 10 people living under a freeway bridge or on any given block of public thoroughfare in Los Angeles.
Consider that LA Mayor Eric Garcetti's office – which lists 16 staff members assigned to communications – was made aware of the misleading sign on December 23 but didn't respond to repeated queries until long after the 5-day period of 24-hour service for the shelter on Hoover Street cited by LAHSA was over.
And, finally, consider that an average of three people die each day on local streets of causes related to homelessness, according to the Los Angeles County Department of Public Health.
---
---
Cedillo Gets Smaller, Yu Gets Reprieve
Tough to tell which is the bigger example of the anti-intellectualism that increasingly pervades LA's establishment: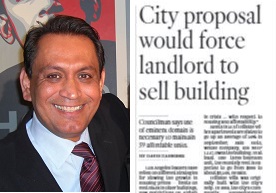 1st District City Councilmember Gil Cedillo's ham-handed call for the use of eminent domain to secure 59 publicly subsidized apartments in Chinatown?
Or the LA Times' vapid coverage of his proposal in its February 4 edition?
Tough to say what's more surprising:
Cedillo's move to provide $25,000 in public funds to help cover the costs of renewing the Chinatown Business Improvement District even after his office was made aware of the organization's flouting of the California Public Records Act?
Or Superior Court Judge Mitchell Beckloff's decision to quash his own bench warrant for Chinatown BID Executive Director George Yu two days after issuing the order based on noncompliance with the state law?
---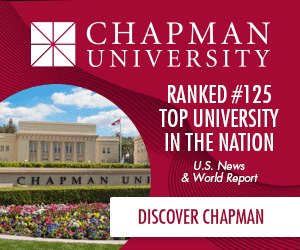 ---
Superior Court Scene of Skid Row Caper
It's a genuine shame that the organizers of the would-be Skid Row Neighborhood Council lost their bid to override some City Hall-sanctioned electoral irregularities and get a go-ahead to bring the body into being. The organizers' efforts to form their own council gave lie to the easy stereotypes of Skid Row, showing an engaged community doing the hard work that goes into claiming some power – and responsibility – over their own lives.
You can go here to get coverage from Courthouse News Service on the legal case presented by the Skid Row Neighborhood Council, which also came before Judge Beckloff.
The ruling against the organizers looked like a robbery from where I sat during the hearing, but I'll give the judge the benefit of the doubt on the legalisms he apparently thought were sufficient to override the admitted irregularities concerning the city's Department of Neighborhood Empowerment.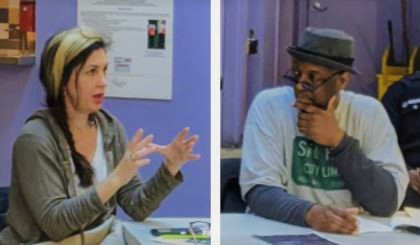 Stay tuned on this one, because it's not hard to see that Skid Row Neighborhood Council spearheads Katherine McNenny and "General" Jeff Page are likely to be back in court to seek an appeal.
---
---
ABS is OG – Original Garmento
Allen Schwartz used to break down dresses and reverse-engineer the looks paraded on the red carpet at the Academy Awards, quickly designing low-cost versions under his ABS label to rush to retailers anxious to cash in on whatever Oscar-night trends Hollywood's stars might have touched off.
These days Schwartz is offering his 3,600-square-foot house on 1.65 acres in the Mandeville Canyon neighborhood of the Brentwood district as a teardown with a price tag of $35 million, according to the Mansion section of the Wall Street Journal.
Schwartz' Oscar-night routine was the sort of marketing moxie you'd only find in the garment business – and the DTLA-based designer was decades ahead of today's social media "influencers" and e-commerce outfits.
The listing and coverage of his Mandeville Canyon home show he hasn't lost his touch.
---
Sullivan Says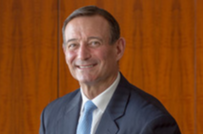 The mea culpa on the college admissions scandal that Doug Hodge penned for the February 10 edition of the Wall Street Journal is worth a read whether or not you're inclined to believe the Laguna Beach resident and former CEO of Newport Beach-based financial powerhouse Pimco.