How does the modern executive pull off a look that's professional, athletic and approachable all at once?
Annette Walker, president of City of Hope Orange County, managed such sartorial multi-tasking while hosting a recent session of tours of the organization's new campus at FivePoint Gateway in Irvine.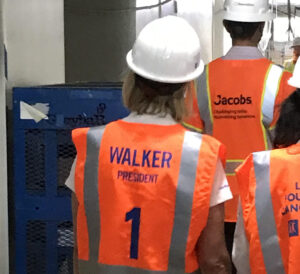 I'll go out on a limb here and predict some executive copycats will pick up on Walker's jersey-style safety vest—with No. 1, last name and honcho title.
But there's a lot more than style points involved in what City of Hope is doing over on Alton Parkway, where its Lennar Foundation Cancer Center is well in the works.
Walker and her colleagues are hard at work bringing the research facility and hospital to fruition. These days that means plenty in addition to the construction, including ongoing campaigns to get operations staffed up while doing the groundwork of keeping the community informed and engaged with all that the new facility entails.
Spreading Thanks
Now is a good time to note in the spirit of full disclosure that City of Hope Orange County has been a sponsor of this column for the past three years. It's just as good a time to thank Walker, Vice President of Marketing Nisha Morris, Director of External Communications Lisa O'Neill Hill, and the entire City of Hope team, including the crews in OC and LA, for their support.
FivePoint Holdings has played as big a role as any entity in helping make City of Hope happen at such scale in OC, starting with a donation of land that expanded the initial vision to help make room for the Lennar Center to become an extraordinary addition to the region's healthcare landscape.
Now also is a good time to note that FivePoint, too, has been a sponsor of this column for the past three years—and to thank Emile Haddad, the company's founder and chairman emeritus, and Steve Churm, chief communications officer.
Another Style Note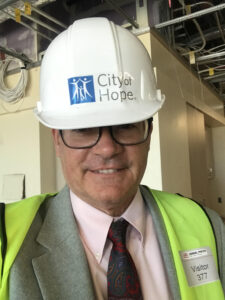 I'll also note that I like my hats as much as Walker seems to like her vest. I typically prefer a fedora or brimmed straw number—but I proudly wore this one on my recent visit to the new City of Hope campus.
Buss Missed the Bus
LA Lakers boss Jeanie Buss came off as disdainful of her own family and disrespectful of fellow NBA owner Steve Ballmer in an email exchange that became public thanks to some lawsuit or other a few years back.
Ballmer's offense? Spending his own money to build a stadium for his Los Angeles Clippers, a franchise that no longer wants to share the Staples Center in Downtown LA with the Lakers as tenants of Anschutz Entertainment Group.
"Didn't Ballz see what we did to my brother??" Buss wrote back then. "He will have nothing but Clippers basketball. Whoopee."
Flash forward to this year, and set aside the braggadocio about firing her brother Jim from the job of running the Lakers' basketball operations—a move that shouldn't be fodder for muscle-flexing in cyberspace even if it does seem to have made business and sporting sense. And go ahead and give Buss a pass on the liberty she took with Ballmer's name—it's not as though she went out of her way to toss it around publicly.
Consider, however, the business angle Buss missed with her sophomoric dismissal of Ballmer's ambition of building the Clippers a house of their own in suburban Inglewood. 
You can check the math on recent naming-rights deals to quantify Buss' lack of vision.
A cryptocurrency outfit recently agreed to pay a reported $700 million over 20 years to plaster its name on the Staples Center.
That sounds like a better deal than the reported $500 million a business software company will pay over 23 years to puts its brand on the Clippers' new home court in Inglewood. Until you consider that Ballmer and the Clippers will get the $500 million that the new arena made possible.
Buss and the Lakers will remain one of several tenants at the Staples Center, where AEG gets the money from the naming rights deal.
Pine in Line for Another Title?
A few weeks ago this column noted that Frank Pine might have the lowest public profile of any big shot in SoCal.
What else to say about a fellow whose name you likely don't know but nonetheless fills the role of executive editor of the Southern California News Group, which publishes the LA Daily News, OC Register, Long Beach Press-Telegram and eight other daily newspapers across the region? And that was the case before Pine stepped into the same title for MediaNews Group, which includes more than 90 newspapers throughout the U.S.—or his recently added duties with Tribune Publishing, which has eight additional newspapers, including dailies in New York and Chicago.
Still not impressed?
Then stand by, because Pine's portfolio could get bigger as Alden Global Capital—the New York-based investor that controls the Southern California News Group, MediaNews Group and Tribune Publishing—hits the acquisition trail again.
This time Alden Global seems intent on adding Davenport, Iowa-based Lee Enterprises Inc. in a deal that values the publicly traded company at around $140 million. Lee owns more than 70 newspapers spread over 24 states, with the Buffalo News and the Arizona Daily Star in Tucson among its biggest.
No word on what Pine might envision for the latest crop of publications should they find their way under the wing of Alden Global, which has a reputation for cutting back on newsrooms wherever it goes.
Indeed, I'm still waiting for some clarification on Pine's PR-speak from a few issues back, which you can see here.
Soon-Shiong's Missing Millions
The LA Times now claims to have 300,000 digital subscribers—double its total from 2019.
Sounds pretty good until you consider that it was in 2019 that LA Times owner Patrick Soon-Shiong publicly declared that he wants 5 million paid subscribers.
We don't know, meanwhile, if the 300,000 represents a net gain because it's uncertain whether new digital subscriptions have been offset by losses in print subscribers.
It's also unknown how many came on bargain offers that churn through subscribers who only stick around until someone charges them full price. Consider this promo and tell me which deal most readers would choose—unless they find the choice so insulting to their intelligence that they take a pass altogether.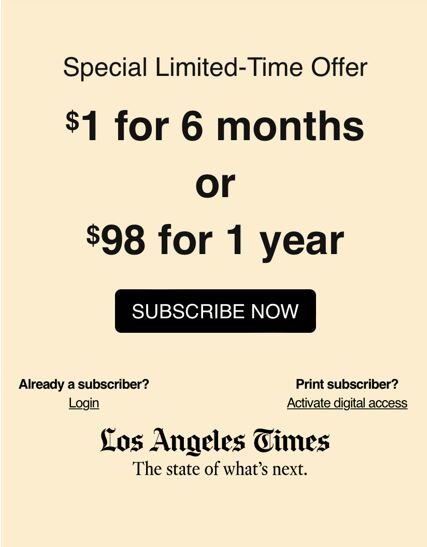 We do know that the chasm has nevertheless grown between the LA Times and the select set of more sophisticated daily publications that have won enough subscribers to pave a profitable path forward as journalistic enterprises.
Consider the LA Times' 300,000, which represents a gain of 150,000 digital subscribers over the past two years. Compare that to the net gain of 320,000 digital subscriptions for the New York Times in the third quarter of this year alone.
That brought total digital subscriptions for the New York Times' daily journalism to 7.6 million, about 25 times the total for the LA Times.
Now consider the ongoing and recently accelerated shift of advertising dollars to the digital realm, and you can see how wide the gap has become.
Rivian's Red Flag
Irvine-based electric vehicle maker Rivian Automotive Inc. is surely good at something, even if no one you know has ever driven one of its vehicles.
The lack of any significant production hasn't stopped the company from becoming a darling of Wall Street—or getting gushing coverage from the local legacy business press.
Take a beat to consider a couple of reasons for some healthy skepticism about the company and some doubts about the media outlets cheering it on.
The first reason is a number: 156—the number of vehicles Rivian had actually produced before a frenzy on Wall Street pushed its market value past $100 billion a couple of weeks ago.
That compares with 1.9 million—the number of vehicles produced and sold in the U.S. last year by overall leading automaker Ford.
And 499,550—last year's production and sales total for EV leader Tesla.
The second reason to wonder about Rivian comes in the form of a name: Laura Schwab, whom Rivian hired at the end of 2020 as vice president of sales and marketing.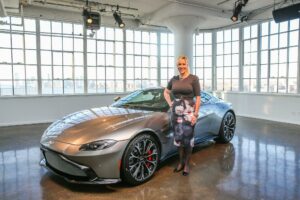 Schwab previously was president of Aston Martin's U.S. operations based in Irvine, a role in which she was broadly lionized by the Orange County business press and national trade publications. Amid the praise came an accounting discrepancy on Schwab's watch at the luxury automaker, a problem specific to U.S. operations that led the company to overstate its overall earnings—and eventually restate them.
Schwab got little attention when the accounting error became public knowledge.
She resurfaced with some fanfare at Rivian.
That lasted a few months before Schwab filed a lawsuit against Rivian alleging gender discrimination stemming from what she calls a "toxic bro culture," saying she was fired in retaliation for raising concerns.
Yes, Rivian has Amazon and Jeff Bezos behind it—and that seems to work magic in the stock market.
A look at its actual production numbers and a review of both its hire of Schwab and the allegations she has raised offer reminders that there is a reason we say that magicians do tricks.
Sullivan Says 
Keep in mind that you need both an "E" and a "V" to spell "speculative."