This one starts with some recent lunchtime talk at the Hideout in Westwood, where al fresco has always been the thing. It goes from there to Long Beach, down to Newport Beach, through Irvine, up to Sacramento—and could end in Washington, D.C., before all is said and done.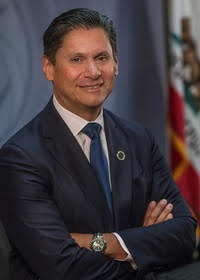 The buzz puts Eloy Ortiz Oakley in the mix for U.S. Secretary of Education should Joe Biden win the White House.
Oakley is chancellor of California Community Colleges in Sacramento, a former head of the Long Beach Community College District, and current resident of Corona del Mar in Newport Beach. He's also the significant other of Terri Carbaugh, who is vice chancellor for public affairs at Brandman University in Irvine and previously served as chief of staff to Kamala Harris when the Dems' VP nominee was attorney general of California.
Oakley's current job, meanwhile, has helped him deepen his friendship with Biden and the nominee's wife, Jill, a veteran of community college classrooms.
---
Baum's New Duties
It's notable that Oakley broke ground in 2016 as the first Latino to serve as chancellor of the state's system of 100-plus community colleges after being recruited to the post by Geoff Baum, who just  finished a 12-year run of the California Community College Board of Governors. Baum was president of the body when it hired Oakley.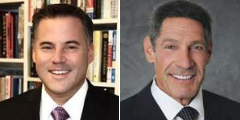 And you can update your scorecard on Baum, who's been known around SoCal as director of media relations for the Milken Institute in Santa Monica since 2017. He recently joined Michelson Philanthropies and now serves as executive director of the umbrella organization for billionaire medical device inventor and surgeon Gary Michelson's giving.
---
---
Hope of the City
The latest edition of the Hope of the City podcast is here—a talk with Wendy Austin, senior vice president of operations for City of Hope in Orange County. Austin provides some updates and insights on what's taking shape and what's ahead for City of Hope as the world-renowned cancer fighter proceeds with a $1 billion-plus treatment and research center in OC.
What drew you to City of Hope? (0:53)
Considering the reputation of City of Hope and the idea that City of Hope Orange County is, in a way, starting from scratch, there is no doubt leadership over operations is a big job. Share an overview of your duties as SVP of operations. (3:11)
As you design and plan the cancer center, how important is the patient experience? (4:36)
Talk about the challenges and opportunities of hiring for so many positions. Where do you even start when you set out to staff an enterprise like this? (7:34)
Aside from education and experience, are there other aspects—emotional intelligence, perhaps—that you look for when you're seeking staff who will be fully engaged in the fight against cancer? (10:22)
SullivanSaysSoCal · SullivanSays_Hope of the City_ep3
---
Do Not Pass Go for Garcetti?
I'll pick back up on the SoCal-to-DC speculation with LA Mayor Eric Garcetti, who gets a mention in most media chatter on what a Biden Administration would look like, with talk of a cabinet post for transportation or housing.
Couldn't help but notice Garcetti's relatively low profile during the Democratic Convention—and can't help but wonder if he's on limited duty for Team Biden because of the federal investigation of public corruption at City Hall.
---
Huizar's Helping Hand
On the other hand … LA City Councilmember Jose Huizar's decision to fight charges of public corruption might be the best break Garcetti has caught in a while.
A federal judge has decided that the case against Huizar is so large that the indicted pol will need until next June to prepare his defense.
That means Garcetti could get confirmed to a post in a Biden Administration before there's any chance for the culture of corruption that's overtaken City Hall on his watch to get exposed in a public trial.
It also means a raft of City Council incumbents won't have to deal with spillover from a trial before they seek reelection or another public office in November.
---
Will Feds Go Farther?
Huizar's far-off trial date doesn't necessarily mean the cast at City Hall is in the clear.
The feds have indicated they're likely to add defendants to the case against Huizar and consolidate the trial.
An expanded prosecution might not reach Garcetti personally, but I'll lay 5-1 it will feature several of his top aides or appointees.
---
Perry's Expired Pass
Speaking of Garcetti's top appointees—expect a cascade of political calculations in anticipation that U.S. Representative Karen Bass might also get a job with Biden.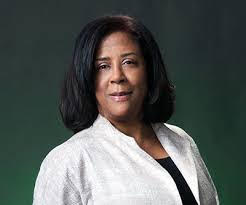 And expect former LA Councilmember and mayoral appointee Jan Perry—she was named general manager of the city's Economic and Workforce Development Department after endorsing Garcetti in 2013—to angle to replace Bass in her seat representing South LA in Congress.
Don't expect, however, that Perry will offer any explanation for why she is smiling as she tells the world about how she knows about corruption in City Hall … or why she didn't call it out during her 19 years there.
That hasn't stopped the LA Times, public radio station KCRW and various corners of social media from portraying Perry as some sort of a brave-hearted victim instead of an insider who had a ringside seat on the culture of corruption for years.
No comment from Perry—and no word on whether U.S. Attorney Nick Hanna will compel Perry to give a full account.
---
---
Does Holte Departure Point to Bearish Bren?
Sometimes it makes sense to consider the simplest explanation—and that might be the case with recent word of Doug Holte parting ways with the Irvine Company.
Holte spent 11 years running the Newport Beach-based outfit's office division, gaining a reputation as a star in Donald Bren's lineup while overseeing the addition of 16 million square feet of space to the unit's portfolio.
Word around the beachside precincts of OC suggests the change comes as Bren is feeling unusually bearish these days.
Holte's departure from the office division follows significant cuts in the company's retail and hospitality wings. I'll add my own speculation that those factors combine to suggest the multi-billionaire master planner anticipates deeper- and longer-lasting changes to everyday business practices stemming from Covid-19 than many others expect.
---
Hoshi's Sartorial Switch
Now something lighter, courtesy of a fellow who is widely respected around OC for his knowledge of public companies and his many years of contributions to the Forum for Corporate Directors.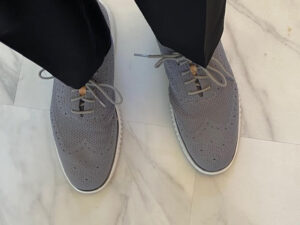 Sounds buttoned-down and spit-and-polish, but that's where Lantronix Inc. Director Hoshi Printer defies expectations, sporting these sneakers-cum-wing tips as the ultimate in business casual, which proved to be a fine sartorial fit with hip tech execs who favor coffee at Philz in Costa Mesa.
---
Another Secretary of State
A couple of weeks ago I passed along plaudits for Marc Nathanson, who currently serves as co-chair of the DTLA-based Pacific Council on International Policy, for a sharp op-ed about the U.S. Agency for Global Media—a piece that appeared in the LA Times and was co-authored with former U.S. Secretary of State Madeleine Albright.
Turns out the co-authors have a tie that goes back to the days when Nathanson and his wife, Jane, were undergraduate students at the University of Denver. Both took a course in international relations taught by Professor Josef Korbel, who is Albright's late father and whose name adorns the university's school of international studies.
The Nathansons took other roads after college—Marc made a fortune in the cable TV business, while Jane became a psychologist, established a successful counseling practice, and founded the Nathanson Family Resilience Center as part of UCLA Health. Each has remained interested in international affairs, though, as their longstanding support of the Pacific Council demonstrates.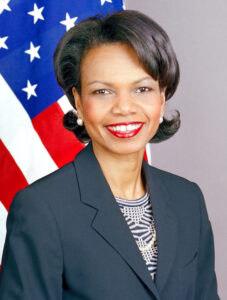 Marc notes that another one of Korbel's students stayed with international affairs as a main interest and did well in the field, as Condoleeza Rice's stints as National Security Adviser and Secretary of State attest.
---
---
Calling County to Account on Covid Data
Consider this sentence from the "What This Means" section attached to the Los Angeles County Department of Public Health's chart on the "Death Rate," which is part of its "Covid-19 Data Dashboard" here.
"The Death Rate is the number of deaths from COVID-19 per 100,000 population in each race/ethnicity group."
The sentence is simply and flatly false, given the fact that it offers no qualifiers or context.
The "Death Rate" chart itself notes that the figures are based on age-adjusted analysis.
Age-adjusted analysis is a complicated concept—you can go here for an explanation from the U.S. Centers for Disease Control and Prevention. It's the sort of concept that really needs a breakdown in layman's terms.
All the more reason to wonder why LA County's "What This Means" section offers bad information and confuses the reader by contradicting the very chart it claims to explain.
This matters greatly, and I've asked the communications staff of the LA County Department of Public Health to explain.
The question remains one of many the agency has refused to answer or attempted to deflect in recent months.
You can refer to prior coverage here.
And stand by for more on the importance of being both accurate and thoughtful in communications about Covid-19.
---
Correction
The column of August 11 misidentified Lisa Margonelli as Lisa Margolin. Margonelli recently left her post as editor-in-chief of Downtown LA-based Zocalo Public Square to work with Issues in Science and Technology, a periodical published by the National Academies of Science, Engineering, and Medicine and Arizona State University. Margonelli will continue to contribute writings to Zocalo Public Square, a nonprofit unit of ASU.
---
Sullivan Says
Kudos to Chapman University President Daniele Struppa for refusing to overreact to social media storms about the recent Newsweek birther op-ed from a member of the law faculty, opting instead to stand strong in trusting the organization and community he leads to properly maintain its academic freedom.