I'll get to the recent and provocative claim by a lawyer for Los Angeles City Council President Herb Wesson that begs the question of just what sort of witness the politician has turned into when it comes to the feds and their ongoing investigation of City Hall … and a number of the many overlooked aspects of the college admissions scandal … and a $2 million "contribution" that looks downright feudal in Chinatown … and one possible answer on why a deputy in charge of economic development for Mayor Eric Garcetti was in on a meeting to discuss the future of the Los Angeles Fire Department's fire marshal.
It's necessary for any honest and earnest journalistic enterprise in these parts to address such matters as vigorously as possible.
But first let's focus on some of the better angels of our world, some matters more intellectually engaging than political schemes, and some evidence of the enormous strengths that manage to shape our world with the sincere expenditure of human spirit.
Different Take on Diversity
Diversity is a key to such human spirit – and not simply the checked boxes and staged photos that so often pass muster with the political crowd.
I'm talking about the sort of diversity that puts individuals and their cultures and heritages in juxtaposition. That's when they bump into one another, and sometimes there is friction and sparks fly. But America's gift is the ability to grind along through the tough parts, eventually getting to a new understanding that creates a cultural synthesis.
Or just call it a melting pot.
I thought of this when I saw Green Book, the movie about a working-class Italian-American nightclub bouncer who was hired to drive an African-American musician through the South in the early 1960s. Racism made such a trip treacherous in those days, and the Green Book was published to guide African-American travelers through the rules of segregation – which restaurants would or wouldn't serve them a meal, which hotels would or wouldn't rent them a room, etc.
A lot of folks had a lot to say about the movie. Some prominent commentators and critics dismissed it as a tale of stereotypes.
I believe the critics from Hollywood to Manhattan missed the point of Green Book, which was based on a true story about two real individuals. It used archetypes to tell a parable of emotional intelligence in extreme conditions – Ernest Hemingway might have called it a story of the sort of grace under pressure that produces courage.
Emotional intelligence allowed the two characters at the center of Green Book to bump into one another, send some sparks flying, and eventually come to a synthesis of new understanding.
There was synthesis-within-the-synthesis in the parable, too.
The musician – Don Shirley – was a classically trained pianist whose music label kept him away from the classics because the genre didn't match up with popular perceptions of African-Americans among the larger white audience. Shirley, meanwhile, didn't care for the popular music of the time.
The tension between the two forms of music led to the style you'll hear in Green Book, as classical skills mix with boogie-woogie or ragtime or whatever Shirley learned as a child prodigy playing regular-folks roadhouses in the Florida Panhandle before fortune put him on the road to classical training.
That's another form of synthesis – the melting pot set to music.
I caught the Green Book in the heart of Orange County, lucky to find it at the Edwards Westpark 8, which specializes in foreign films meeting the demand of local Indian-American and Persian-American communities but also tends to keep select domestic titles running after most of movie houses have moved along to newer releases.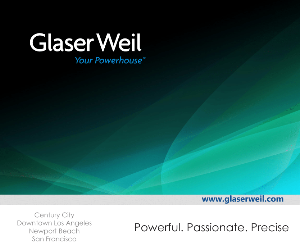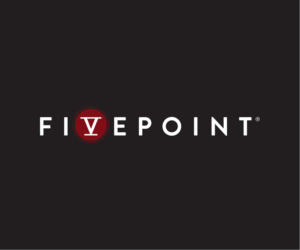 Soaring Synthesis
I went from the movie house to the Let's Be Frank About Cancer fundraiser for Duarte-based cancer specialist City of Hope at Hotel Irvine, just a mile or so away. It was a lovely evening for a lot of reasons – more on that follows. But first, one particularly poignant moment that's partly captured in this video clip, which features cancer patient Joseph Chang and his wife, Diana.
I'm not a musical expert, but there is something in the soaring violin that Diana plays that sounds like a synthesis. You can almost feel the Christian hymn melting together with the Chinese-style melody to make something quite beautiful – a product of diversity that merits as much attention as any other measure that might be tossed about these days.
Stone Passes OC Torch to Walker
A couple of other highlights from the Let's Be Frank fundraiser, where the hospital and Frank DiBella honored Dr. Hazem Chehabi and Emile Haddad, raising more than $1.2 million on the evening.
At one point there was an apparent mix-up on the music from the big band on stage that might have flustered anyone, including City of Hope Chief Executive Robert Stone, who was at the podium.
It didn't.
Stone had more to say, and he adroitly mixed a commanding presence with some humor in directing the band to take five while he said it.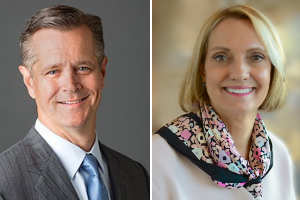 One of Stone's main reasons to buck the band was something of a torch-passing. He formally introduced Annette Walker as the president of City of Hope Orange County – she's had the job for nearly a year, but Stone seemed intent on giving a proper introduction in front the black-tie crowd that packed the ballroom for the annual fundraiser.
Walker is well known in LA and OC as a veteran healthcare executive who came over from what is now Providence St. Joseph Health. She has been charged with overseeing the development of the $200 million City of Hope center for treatment, research and innovation at FivePoint Holdings' Gateway Campus at its Great Park Neighborhoods community in Irvine – a project that counts Chehabi and Haddad as keystones.
Song of Dina
Dina Haddad introduced her husband as the Frank DiBella Humanitarian honoree at the event, using a poem she wrote on his behalf – and another she offered in response.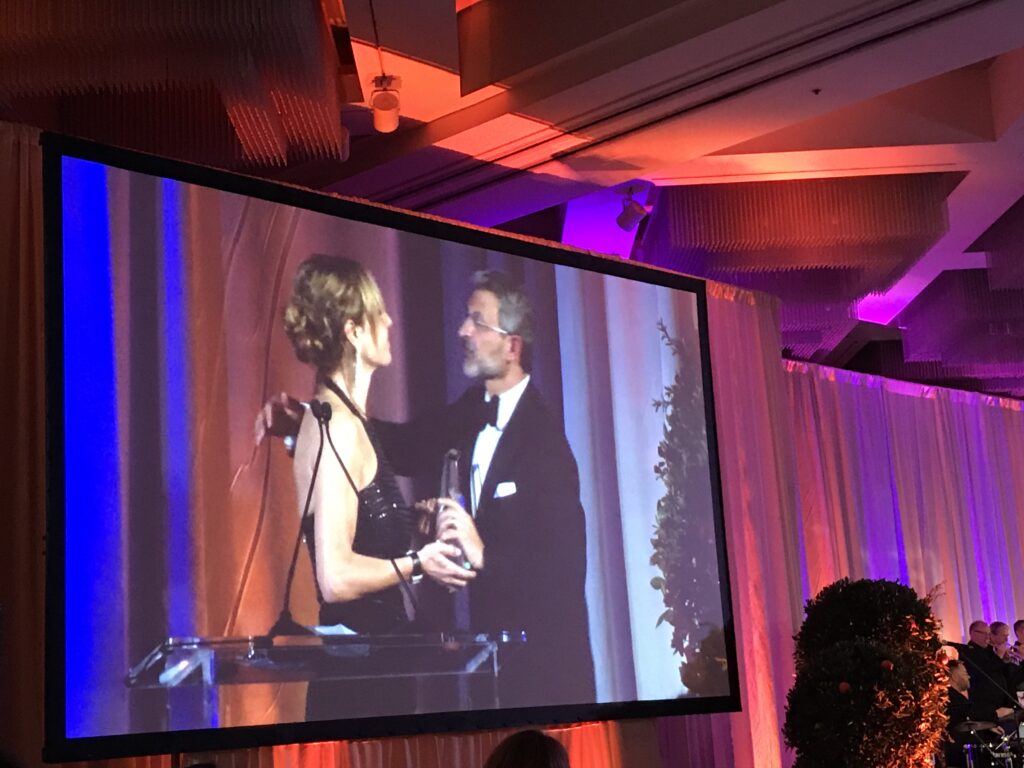 It was a touching spousal tribute – and seemed all the more so since both of the Haddads grew up in Lebanon, where Arabic culture places a value on poetry that's far beyond what the form typically enjoys in Western culture.
Full Disclosure
This is a good place to note that the same FivePoint Holdings that Emile Haddad founded and still runs is a sponsor of this column – you might have noticed its ad.
I note that before giving credit to him for telling the crowd that he felt a bit of discomfort because City of Hope usually picks honorees for reasons of medical achievement – the case with his friend and co-honoree Chehabi – or philanthropy.
Philanthropy would seem to fit the bill in Haddad's case, since FivePoint gave the land for City of Hope's campus in Irvine.
Not so, Haddad said – providing land for the new center is an investment to create value. He said his outfit works with local communities to build schools, sports facilities and other amenities for the same reason.
Haddad knows how to create value – for himself, FivePoint's investors and employees, and the residents of the communities the company builds.
He also knows how to keep it real with real estate, declining the title of philanthropist even if he and FivePoint have given quite a bit to City of Hope.
Fisher on Other Transition Game
Derek Fisher knows something about giving, too. He gave his time and insights to an auditorium filled with female military personnel and veterans, talking about transitions and other challenges many of them face. Here's a highlight from the talk by the former star of the LA Lakers and current coach of the LA Sparks.
Fisher delivered the talk at Bob Hope Patriotic Hall just south of Downtown on March 22 to highlight the kickoff of the WNBA team's partnership with the Los Angeles County Department of Military and Veteran Affairs and Department of Mental Health on the "Spark the True You" campaign.
More on SoCal Sports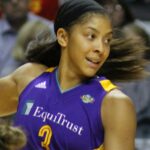 More on the Sparks with kudos to LA Times sports media columnist Tom Hoffarth for his recent piece on Candace Parker's budding career as a basketball analyst who might not be "one of the guys" but does feel like "one of the players" on her TV gig …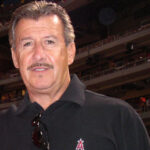 Anyone else think Arte Moreno's $430 million move to lock Mike Trout up as an Angel for life might point to a bigger deal for the FS West and Prime Ticket regional sports networks that Walt Disney Co. must sell in the wake of its acquisition of 21st Century Fox? Keep in mind that Moreno was a media exec before baseball … Anyone else hear that the signing of Trout might also point to the likelihood that the Angels will stay in Anaheim? ….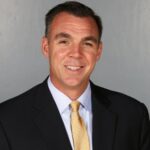 UC Irvine men's basketball coach Russell Turner's ill-advised decision to taunt an opposing player by calling him "Queen" during the second round of the NCAA tournament likely killed a quiet wave of momentum for his program. Buzz in executive circles in OC had indicated the school would have the resources it might need to retain Turner should he draw interest in the wake of the Anteaters' recent 30-win season and first-ever triumph in an NCAA tournament game. Now there's reason to wonder if Turner can hang onto his job, and some wonder also at how a veteran of nine years on a UC campus could stumble into such a mess with such a poor choice of words at such a big moment.
Scandal(s) Update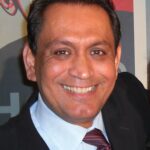 How about that deal for New York-based developer Atlas Capital Group to "contribute" – as the LA Times put it 10 paragraphs into its March 23 story – $2 million for a fund for affordable housing to be set up and run by 1st District LA City Councilmember Gil Cedillo?
Mayor Garcetti's appointees on the city's planning commission had suggested that 5% of the 725 residential units at the proposed College Station development in Chinatown – about 37 – be set aside as affordable.
The "contribution" by Atlas came as Cedillo backed the developer's plan to build without any units in the affordable range. Cedillo's colleagues seem to have deferred, approving the plan by 14-0 vote, apparently giving him control of the $2 million fund.
Has LA's city government ever looked more like a feudal setup? Does Cedillo now claim the title of Viscount of Chinatown by virtue of his holdings in the Grand Duchy of the 1st District? No comment from Cedillo on how the $2 million fund will be overseen. I wonder if Cedillo or any of his colleagues realize what this looks like.
Then there's the matter of Ray Chan. I recently got an official "no comment" from Garcetti's office on an inquiry about why Chan, who was deputy mayor for economic development at the time, was part of a 2016 meeting to discuss the future of John Vidovich as the Los Angeles Fire Department's fire marshal – the official in charge of enforcing safety codes at high-occupancy buildings such as apartment complexes, office towers, school, hospitals and entertainment venues.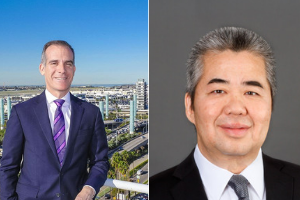 Chan's presence seems curious because there was a separate deputy mayor for public safety at the time – and there still is.
Garcetti offered no comment, so here's one possible answer: Chan was in the meeting because he oversaw the city's Department of Building and Safety as part of his portfolio as deputy mayor of economic development. And that brings up a different set of questions about the priorities and place of public safety under Garcetti's leadership.
Back to the City Council – and please tell me if you can think of any other way that an attorney for a politician could guarantee that the client is "only a witness" in an ongoing federal investigation unless there has been some deal struck with the US Attorney's office.
Aaron Lewis, an attorney for City Council President Wesson, has claimed such status for his client in the federal probe of City Hall, according to the LA Times. Neither Wesson nor the US Attorney's office is addressing the question left hanging in the wake of Lewis' claim – how could one guarantee that Wesson is a witness and nothing more?
Some more hanging questions on the college-admissions scandal, the heart of which resides in SoCal:
Get in touch if you know the identity of "Individual A" of Newport Beach cited in the feds' original securities fraud case against Hancock Park resident Morrie Tobin. Tobin is the guy who gave up a coach at Yale, who in turn gave up alleged ring leader William "Rick" Singer, also of Newport Beach … Credit UC Irvine for staying out of the college-admissions mess – at least based on information made available so far. Turns out the Michelle Janavs who has been named as a defendant in the case is the daughter of billionaire Paul Merage, who made a fortune on Hot Pockets and now has his name on the business school at UCI. The feds charge that Janavs tried to bribe her kids' way into USC … Any clues, meanwhile, on why the case was made by the US Attorney's office in Boston instead of the LA or OC office? The locals have no comment on that one.
Sullivan Says
Kudos to Pacific Council on International Policy Chief Executive Jerry Green, who will receive the World Trade Week 2019 Stanley T. Olafson Bronze Plaque Award in May from the Los Angeles Area Chamber of Commerce in recognition of his role in advancing global trade throughout SoCal.