The Los Angeles County Department of Health Services has failed to comply with its own regulations on conflicts of interest among its workforce, according to documents obtained by SullivanSaysSoCal.
The shortcoming appears to apply to the employment of a key contractor on a sketchy deal to develop a homeless shelter on Paloma Street in Downtown Los Angeles.
Elected and appointed officials continue to refuse to answer questions about the role in the deal played by Leslie Jordan, a contractor who claims the title of "Program Manager, Capital Projects, Housing for Health at Los Angeles County Department of Health Services."
Jordan also bills herself as founder of a private enterprise known as Perch Projects, which is based in LA and Austin, Texas. Perch Projects "provides program development" services for nonprofits that have gotten funding or other support from LA County on services for the homeless.
Jordan took an active role on behalf of the Department of Health Services in the Paloma Street project, which was more than a year late and over budget by the time it opened as the "Lotus" in January. The county's Department of Public Health estimates that more than 1,000 local homeless people died over the course of time the project was delayed by so-far unexplained factors. 
The county's apparent violation of its own rules on conflicts of interest came to light after County Counsel Rodrigo Castro-Silva responded to inquiries from SullivanSays by disclosing a copy of a "Code of Conduct" dated October 2009 and issued by the Department of Health Services. The code was presented as "guidance to all workforce members on general legal and ethical conduct standards to follow."
The document defines the department's "workforce" as "employees, contract employees, volunteers and others engaged in our work environment or acting on behalf of the Department."
It states that "workforce members must report any conflicts of interest to their supervisors, as required by the Department's Conflict of Interest policy. Employees must fill out a disclosure form annually and as conflicts of interest arise."
Castro-Silva said that the county has "no records responsive" to questions of whether officials knew of Jordan's role at her own company … or if that company does business with entities that receive funding from the county … or whether she's been required to disclose her private interests or been reviewed for potential conflicts of interest.
The lack of records appears to violate the county's own rule on annual disclosure forms regarding conflicts of interest-unless public officials, who refer to Jordan as a "sub-contractor," attempt to gut the spirit of the regulation by parsing its words.
The Code of Conduct, in any case, also states that "workforce members must conduct their affairs in a manner that avoids conflicts of interest or the appearance of conflicts of interest."
Here is Jordan's page on LinkedIn, which publicizes her work for the county and role with Perch Projects. Some of the entities listed as clients of Perch Projects have received support from the county for homelessness programs-which gives the appearance of conflicts of interests.
None of the five members of the LA County Board of Supervisors–Kathryn Barger, Janice Hahn, Sheila Keuhl, Holly Mitchell or Hilda Solis-has responded to direct questions regarding Jordan and conflicts of interests on the Paloma Street deal.
You can see prior coverage of the Paloma Street deal here.
---
---
Kudos on Mental Health Help
Fountain Valley-based healthcare system MemorialCare has gotten too little attention for its recent promise to offer online mental health services at no charge to members and non-members throughout SoCal.
The demand for mental health services has grown significantly amid the pandemic, with everything from social isolation to widespread grief as key factors.
The mental health services are provided remotely by Boston-based SilverCloud Health Inc., a digital startup that counts MemorialCare's venture capital unit as an investor-which means you could view all of this as a matter of marketing more than philanthropy.
But Mark Shafer, chief executive of the MemorialCare Medical Foundation, said the organization plans to make the offer permanent.
"We don't have plans to begin charging for access to SilverCloud," Shafer said.
---
Mayor's Fund Madness
Irrepressible retailer Fraser Ross is seldom at a loss for words-and lately he wants to talk about a recent encounter with the murkiness of LA Mayor Eric Garcetti's operations.
Ross is best known around SoCal for his Robertson Boulevard-based chain of Kitson stores, which thrived for a time on celebrity shoppers and paparazzi. These days he's got Kitross at the same fashionable address. He's also got lots of questions about the Mayor's Fund for Los Angeles, a "non-profit" that's set up separate from Garcetti's public duties and raised around $60 million over the past year or so.
Ross has been at odds with Garcetti before, including a set-to some years ago over the city's ethical rabbit hole on retail concessions at the Los Angeles International Airport. More recently he took his questions about the Mayor's Fund to the offices tk/Communications LLC, operated from an office in the Arts District by Yusef Robb, a veteran of local political and public relations, and one-time director of communications for Garcetti.
Robb recently appeared as a spokesperson for the Mayor's Fund in a piece by David Goldstein that aired last month on the local CBS affiliate.
Ross wanted more information. He says he walked into the building that houses tk/Communications on the morning of March 8, took a photo in a hallway, asked someone about making a donation to the Mayor's Fund, and exited.
Robb hustled down to the parking lot, where the gate remained locked. He stood in front of Ross' car for at least nine minutes to stop him from pulling away, according to a video obtained by SullivanSays.
Robb demanded to know the visitor's identity before eventually giving up and allowing Ross to leave.
Ross did not identify himself to Robb at the time.
Robb says he attempted to block the vehicle because he was concerned for his safety.
Let me say here that it seems odd that a guy who was concerned for his safety would stand in front of a motor vehicle being operated by the person who was giving him cause for concern.
But it seems that everything connected to Garcetti is getting more odd these days.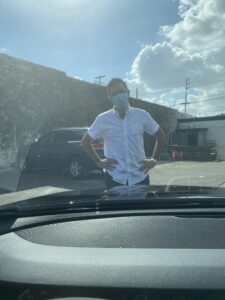 Robb
Robb says Ross stalked him.
Ross says he is considering seeking a charge of false imprisonment against Robb.
Stay tuned on this one, which could end up opening a door to all sorts of otherwise inside information on the Mayor's Fund.
---
---
Santa Ana PD Catches Up With Community
Last week's column offered some thoughts on the U.S. Attorney's seeming desire for cops-and-robber headlines alongside an indifference to the life of the community when it came to public communications on the case of Steven Lopez.
Lopez is the member of the Santa Ana Police Department who recently pleaded guilty to taking bribes in exchange for offering to protect an illegal business.
I also reported last week that sources besides the feds indicated the case was related to gambling rooms and more arrests were likely-and that word on the street pointed to criminal operators in the Little Saigon district, which includes parts of Santa Ana and several other OC cities. 
Credit Santa Ana PD for catching up on informing the public of what's happening on the streets of the city just a few days after last week's column was published. Chief David Valentin held a press conference on March 11 that largely confirmed my report from a week earlier, announcing numerous arrests linked to "Asian gangs"; shutdowns of dozens of gambling rooms; and seizures of methamphetamine, fentanyl, cocaine and other drugs.
All of the police action has come under the banner of what's been named "Operation Community First."
Valentin also said investigators are seeking an extradition order in one case but declined to say where the suspect is located.
The feds are still working on the case of Lopez separate from Operation Community First, according to Corporal Anthony Bertagna, a spokesperson for Santa Ana PD. Lopez is due to be sentenced in May.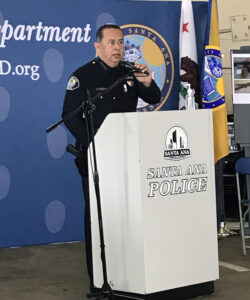 Valentin
---
---
Englebrecht Extremely Interested in Lucha Libre
Anyone who wants to keep up with the cutting edge of live entertainment ought to check in with Roy Englebrecht in Newport Beach.
The veteran SoCal promoter-best known in recent years for Fight Club OC at the fairgrounds in Costa Mesa-is part of a newly formed group that aims to produce "Extreme Lucha Libre" shows for content-hungry live-streaming services.
Lucha Libre is a folkloric style of wrestling that originated in Mexico. It is highly athletic but generally scripted rather than competitive-and that's why it's regulated as entertainment rather than sport in California, without oversight by the State Athletic Commission.
The difference can mean a significant break on costs for promoters. One example: It generally costs several thousand dollars less for insurance on a night's program of Lucha Libre compared with boxing or mixed martial arts.
All of that could cast Englebrecht as a 75-year-old hipster with a finger of the pulse of what's hot for a reopening economy. There's a possibility of a first Extreme Lucha Libre show in Ventura as early as next month.
---
Sullivan Says
Stay tuned for more information on a YouTube version of this column expected to debut on March 31-and feel free to email me at [email protected] if you'd like to join me for a streaming chat session sometime in the future.
---