It's notable, here and now, that the silence of LA's civic leadership in regard to public corruption pales in comparison to some courageous displays on the other side of the Pacific Rim.
Jack Ma gave up billions of dollars in a scuttled public offering by daring to criticize the authoritarian government of China.
Billionaire-turned-publisher Jimmy Lai gave up his personal freedom to the same center of power in order to protest the slow death of liberty in Hong Kong.
It's crickets in LA as a federal investigation of indicted former City Councilmember Jose Huizar continues to only skim the surface of the public corruption that's eroding the civic fabric of LA.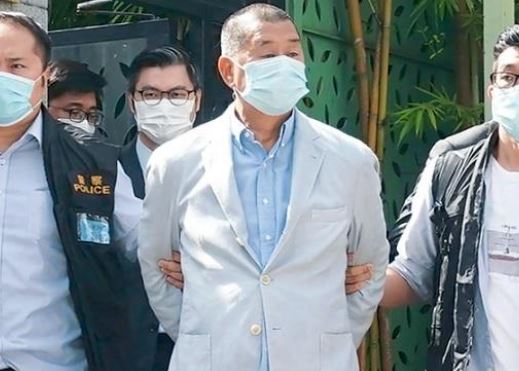 Lai
---
Public Opinion as 'Crisis Scenario'
The silence among the would-be civic pillars of the City of Angels has been a long time in the making. Its ingredients include cynical public officials, some short-sightedness in the private sector, a pliant legacy media, and too many highly polished non-profit organizations willing to be co-opted at the expense of their stated missions.
Consider the non-profit sector's part in this email obtained by SullivanSaysSoCal-it was sent from Edna Degollado, a member of Huizar's staff at the time, to Gabriela Garcia of the United Way of Greater LA's Everyone in LA campaign, with a copy to Angie Aramayo of Mayor Eric Garcetti's office. The trio was communicating in advance of a community meeting on plans to develop a homeless shelter on Paloma Street in Downtown LA (you may need to click or pinch-to-zoom to enlarge the image if on a mobile device).

Let's get this straight-a proposal by officials getting "a lot of opposition" from the public they are supposed to serve would be a "crisis"?
How far is that from telling members of the public to keep their mouths shut and nod along to whatever City Hall decides is best?
It's reason to worry that a couple of City Hall staffers engaged in this sort of communication. It's even more reason for concern because Degollado has moved to Garcetti's staff since then.
It's also fair to wonder what this says about Everyone in LA, whose representative responded with "Of course" within minutes.
And all of this raises questions about United Way's LA chapter, which bills its Everyone in LA unit as a "movement" for "putting pressure on every level of government to do more, and organizing our neighbors to speak up for change."
Just be careful, neighbors-because if you dare voice "a lot of opposition" to public officials, you might be subject to a "crisis scenario."
And you can see prior coverage of the Paloma Street deal here.
---
---
Robb Deletes Garcetti Tie
The changes apparently were made shortly after last week's item here about the bizarre parking-lot standoff between Robb and Robertson Boulevard retailer Fraser Ross.
Robb had until recently identified himself publicly as an advisor to the LA Mayor's Fund that Garcetti operates as a side hustle to his official duties.
Garcetti let Robb go as a member of his City Hall staff in 2013, issuing a memo that nevertheless referred to him as a permanent part of the "Team Garcetti family."
Neither Garcetti nor members of his official media relations staff have responded to inquiries about the changes in language on Robb's Twitter account and web page.
Robb told SullivanSays that "everything is the same for me in my professional life," adding that he is "taking steps to address privacy concerns given recent events."
---
---
LA-OC Cross Current: Waters Sends Porter Packing in Low-Profile Power Play
A story in the OC Register nearly missed it altogether.
The LA Times soft-pedaled it as a member of "The Squad" ruffling feathers because that's what the "progressive" wing of the Democratic Party does.
"It" in this case was recent coverage of U.S. Representative Katie Porter, who holds a traditionally Republican seat based in Irvine but whose most memorable confrontation might have been with fellow Democrat Maxine Waters of LA.
I'll cut through a lot of the inside baseball and tell you that Porter no longer sits on the influential Financial Services Committee, which is chaired by Waters in the U.S. House of Representatives.
The spinning coverage in the local legacy media glossed over prior reports pointing to Waters as the reason Porter was cut from the panel. Outlets ranging from red meat-oriented Politico.com to the left-leaning American Prospect connected the dots.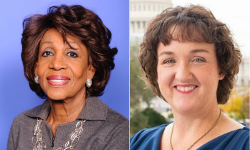 Waters, Porter
The two legislators got cross-ways over the use of a whiteboard during hearings of the Financial Services Committee. Porter's handiness with the visual aid had gotten her lots of attention on legacy and social media outlets.
But the grandstanding didn't please Waters, who shut down the whiteboard act-only to see Porter take it to late-night TV.
Waters seems to have gotten the last word, and Porter will now have to seek the spotlight through seats on what are considered lesser committees in the power equation of Washington, D.C.
Turn all of the coverage of this one on its head, though, and the story is about the remarkable versatility of Waters as a power player.
The 15-termer is no stranger to handling controversies-she's been criticized for appearing publicly with Nation of Islam leader Louis Farrakhan-or engaging in hyperbole when a headline might serve her purposes.
It seems Waters switched up to show an ability to go low-profile to get her way with a minimum of negative fuss back in SoCal when it came to dispatching Porter from her committee.
Word on the street in Irvine says it's high time Porter felt the sort of sharp elbows she was known for dishing out as a faculty member at UC-Irvine.
Porter's run-in with Waters, in any case, should serve as warning to the generally younger and lefter progressives-there are still some liberal lionesses and lions whom they'd do well to approach with some deference.
---
RIP Cuevas
The OC Register might have missed a trick with its coverage of Porter, as noted above, but the publication and staff writer Roxana Kopetman merit kudos for the March 14 obituary on Mario Cuevas Zamora, who served as Consul for Mexico in Santa Ana for the past six years.
Cuevas was an enthusiastic man of the people in his host city, where he greeted everyone from day laborers to executives and editors with elegance and a sense of courtesy that's too often missing among public officials these days.
Condolences to the family, colleagues and many friends of Cuevas in SoCal and south of the border.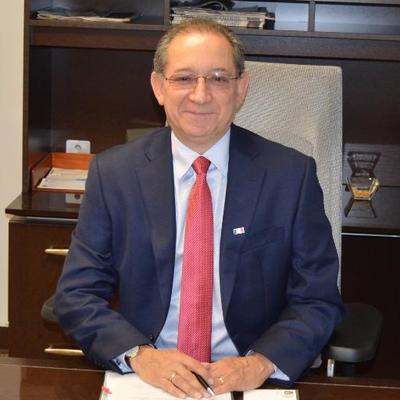 Cuevas
---
Well-Made Match
Kudos also to the Henry Mayo Newhall Hospital on naming Holly Schroeder, chief executive of the Santa Clarita Valley Economic Development Corp., to its board.
Schroeder is well-versed with the communities the hospital serves, as well as the local economy of which it's a key part.
She also brings an exacting eye for data when it comes to getting to the heart of challenges and opportunities.
---
---
Above and Beyond for Underground Museum
Bettina Korek is gone but not forgetting.
The one-time impresario of LA's art scene-she founded the influential ForYourArt newsletter and headed the first Frieze Art Fair in LA, among other roles-remains a local supporter even a year into her post as leader of Serpentine Galleries in London.
The latest example: Korek spent a good chunk of her time in a recent interview with the UK edition of Harper's Bazaar extolling LA-based sculptor Karon Davis and The Underground Museum in the Mid-City district of LA.
Davis founded the museum-along with her late husband, the painter Noah Davis-in 2012 on Washington Boulevard just west of Arlington Avenue.
"The organization is fulfilling an important need as a world-class institution presenting primarily Black artists in a historically Black neighbourhood, and as any museum knows, there is so much more work to do than simply opening one's doors," Korek said. "Karon's spirit of leadership is warm, sensitive, friendly and welcoming-these are qualities that I aspire to, and which run through to the entire team at the Underground …"
---
Haddad's Culture Club
Plenty for shareholders of FivePoint Holdings LLC to like in Chief Executive Emile Haddad's recent quarterly earnings call with Wall Street analysts, based on a reading of a transcript of the March 17 conversation.
Start with word of a better-than-expected performance through the pandemic for its Great Park Neighborhoods and FivePoint Gateway commercial campus in OC. Add ongoing progress in the master-planned Valencia community it's creating in the Santa Clarita Valley about 35 miles northwest of Downtown LA. Then there were some reasons for optimism on Candlestick Point and Hunters Point-both long-held and sizeable chunks of land in San Francisco, perhaps the most constrained housing market in the U.S.
Little wonder FivePoint's shares touched a 52-week high after its chief executive spoke.
But something else Haddad said touched a different chord-a longer view that's as fundamental to the company as its balance sheet, with hopes of getting beyond the pandemic gaining traction.
"The bonds among our associates have grown stronger, and the commitments made by everyone to ensure that the company comes out stronger have been more effective than any team building program that I have ever seen," Haddad told the Wall Streeters, who seemed to appreciate the information despite their reputation for a short-term focus on the bottom line.
---
Sullivan Says
Take in a live-stream discussion of the subjects I've touched upon in recent weeks when a couple of guests join me at 5 p.m. on Wednesday, March 31, with free admission here and a signup for reminders on upcoming shows here.
---