Chapman University President Emeritus Jim Doti has broken new ground on Covid-19 research, considering differences in the spread of the virus on a state-by-state basis in a paper to be published by the Netherlands-based Journal of Bioeconomics.
Doti found that poverty has been a key factor, according to the study of all 50 states.
Population density was a key factor in the first half of 2020, but its effect diminished over the second half.
"This calls into question the decisions on the part of those households who relocated to areas less densely populated during the early stages of the pandemic," wrote Doti, who continues to teach economics at the Chapman campus in Orange. "The findings …  suggest that the coronavirus also 'relocated' to less densely populated areas."
Both poverty and density are often cited as reasons that some racial or ethnic communities appear to have been hit harder than others by Covid-19-think of folks who don't have a second home and live in relatively cramped conditions and neighborhoods.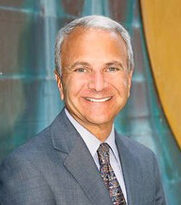 Doti
It's notable, however, that the study found that race and ethnicity on their own have "no significant impact on Covid-19 deaths."
That finding does not equate to a dismissal of either factor from consideration. The report allows room to consider the overlap of race and ethnicity with socioeconomic factors.
Racism and ethnic discrimination are generally considered driving factors in poverty-and poverty is often accompanied by population density. Consider it all as a whole, and one could cite findings from the study in drawing connections among race, ethnicity and the overall effects of Covid-19.
One possible exception to the study's contention that race is not in itself a factor in Covid-19 fatalities is the finding of a lower death rate in the early stages of the virus in states with populations that included larger percentages of Asian-Americans.
Doti suggests that a "possible explanation for this difference is anecdotal evidence that Asian-Americans responded more quickly in adopting safe-distancing and mask-wearing before such preventive measures were mandated by governments to the general population."
Doti also indicates that mandates to wear masks, maintain social distance and limit gatherings have proved more effective as the pandemic has continued.
The findings by Doti came with a suggestion that research of individual counties or metropolitan areas would be a worthy local focus and could help discern best practices.
The study can be viewed here.
---
Latinos Least Likely to Be Fatal Covid Cases
Here's something that turns the legacy media's coverage of assumed racial disparities in healthcare on its head: Whites, Blacks and Asian-Americans who contract Covid-19 in LA County are more than twice as likely to die of the virus compared with local Latino-Americans.
This is separate from Doti's study, which measured death rates as a percentage of the overall populations of ethnic groups.
I am referring here to the case-fatality ratio, which measures how many people who actually contracted the virus died from its effects.
The stark differences between Latinos and other ethnic groups is based on data from the Los Angeles County Public Health Department as of March 26.
 
Cases
Deaths
Case-Fatality Ratio
Deaths / 1,000 cases
Hispanic/Latino
580,197
11,550
2.0%
20
White
120,848
5,117
4.2%
42
Asian
53,166
2,806
5.3%
53
Black
42,666
1,709
4.0%
40
Native Hawaiian/Pacific Islander
4,169
105
2.5%
25
American Indian/Alaska Native
1,946
42
2.2%
22
* Case and death data from County of LA Public Health
What to make of all this?
That's not so easy to say definitively-take a look at Doti's research paper, and you'll get a sense of the underlying analysis required to even begin to get a deep understanding of such data.
An educated guess on the case and fatality numbers is that they reflect the fact that Latinos are both the largest and, on average, youngest ethnic group in LA County. Their relative youth likely means they also represent a significant percentage of the population working at jobs that can't be done from the relatively safe harbor of their homes.
Lots of exposure among lots of young folks in the largest ethnic group by population would seem to be a recipe for relatively outsized case counts and undersized case-fatality rates.
That's not a scientifically based conclusion-more of a consideration of the most obvious indicators generally available.
It's also reason to recall an old doctors' adage: When you hear hoofbeats, look for horses, not zebras.
---
---
Fashionable Update on Fashion Industry
Anyone who wants an extraordinarily informed and engaging snapshot of fashion and the economy as we work our way through the pandemic can check out the latest report from Ilse Metchek, president of the California Fashion Association.
Here's just one example of Metchek's keen ability to let a picture give you 1,000 words' worth of insight:
The report is chock full with more pictures and crisply phrased insights, and you can request a copy with an email to [email protected].
---
---
About Echo Park, Algorithms
Here's a tip for any of the liberals or progressives wondering why an encampment of hundreds of homeless people had to be dispersed from the public park at Echo Park Lake:
The same tip applies to any unapologetic NIMBYs or conservatives wondering why an encampment of hundreds of homeless people was ever allowed to start in the public park at Echo Park Lake.
And here's another for all concerned:
I'm talking about the sort of reporting that's light on crucial facts and factual analysis and heavy on buzzwords and presumptions.
Consider for yourself this from the LA Times print edition of March 25 about the encampment at Echo Park Lake, which reported that some of the publication's sources "argue that the park … has been elevated by the homeless residents and their allies as a place of beauty …"
Echo Park Lake has seen ups and downs over more than a century, but there's always been some sense of beauty about the place. It's long been elevated in the minds of many in the community as a recreation space intended to serve the general public.
The odd claim that Echo Park has been "elevated" by recent arrivals was tone deaf, and the use of the term "allies" mimicked a buzzword of the left without explanation.
Yes, the demise of the encampment at Echo Park Lake was some show.
Now the show is over, and it's time to do the work of finding out why the billions of dollars taxpayers have ponied up isn't enough for the City of LA to shelter the homeless and maintain public parks for their intended purposes.
You can start a few miles southeast of Echo Park by clicking here.
---
$137 Solution in Newport Beach
Why is the City of Newport Beach willing to pay $137 per night per bed at the homeless shelter that opened last week at 3175 Airway Avenue?
That rate is anywhere from 50% to 100% above costs cited by comparable facilities in LA.
Probably because it's in the City of Costa Mesa, clear on the other side of John Wayne Airport.
Newport Beach gets the use of 20 of the 72 beds at the new shelter year-round for an annual payment of $1 million. The toney coastal enclave also paid its middle-class neighbor about $1.6 million to defray the $11.6 million price tag on redeveloping a commercial building into the shelter.
Argue the price or the method all you want, but give Newport Beach credit for acknowledging a problem, defining its scope and getting the project done to avoid a scaled-down version of the Echo Park Lake affair in its Newport Center district.
The 20 beds add significant capacity as Newport Beach officials try to get a grip on a population of 50 or so homeless people in the entire city, a total cited in recent reports. Having enough beds to offer shelter to the entire homeless population would make it legal for the city to enforce laws against camping in public, under recent court rulings.
See prior coverage of homelessness in Newport Beach here.
---
---
Taking Stock of SoCal's Latest Global Connections 
Rupert Murdoch's plan to pay $275 million to add Playa del Rey-based Investor's Business Daily to his Dow Jones portfolio isn't the only recent deal to bring new connections from the world of high finance to the Westside.
A Santa Monica-London-Tokyo connection also was forged recently, as a well-known stock index series relaunched under the auspices of the London-based Financial Times. The move marked a collaboration between the business daily and Wilshire Associates in Santa Monica, where the firm created the Wilshire 5000 Total Market Index and now oversees more than $70 billion in assets under management.
The index is commonly called the Wilshire 5000, and it tracks and reflects all actively traded stocks in the U.S., providing a broader measure of the markets than the S&P 500 or Dow Jones Industrial Average.
The Financial Times has experience in the field of stock indices-it sold the FTSE Russell to the London Stock Exchange for around $700 million in 2011. The Financial Times was sold in 2016 by Pearson PLC to Tokyo-based Nihon Keizai Shimbun, a media organization that owns the Nikkei Index of stocks in Japan.
---
Sullivan Says
I'm going to try YouTube on for size, hosting a discussion set for 5 p.m. on March 31, featuring Pulitzer Prize and Golden Mike winner Rick Reiff and long-time public servant, elected official and recent Sacramento veteran John Moorlach for starters.
Expect some reflection on recent items in the weekly column, plus a separate focus on the likely statewide ballot on a recall of Governor Gavin Newsom.
You can watch the show at 5 p.m. on March 31 here and sign up for a reminder via Eventbrite here.