Here's how LA Mayor Eric Garcetti billed the opening of the long-overdue homeless shelter on the 1400 block of Paloma Street in Downtown LA-a facility that's now being called "Lotus."
Garcetti hasn't responded to repeated questions about cost overruns, an inexplicably favorable lease deal for the landlord of the building, or the city's failure to properly check the facility for circumstances that purportedly contributed to delaying its opening by more than a year.
I'm going to continue to refer to this matter as the Paloma Street deal.
Lotus is a pretty name-but I feel obligated in this particular instance to remind readers that the flowers and fruit of the lotus plant were the primary food of a mythical tribe in Homer's "Odyssey" whose members drifted off to sleep in apathy after eating them.
---
More Disturbing Emails Among 'Friends' on Paloma Street Deal
Onto the latest from the cache of emails about the Paloma Street deal that SullivanSays has obtained-lest anyone drift off into apathy after ingesting the flowers and fruits of Garcetti's spin.
This one was sent from Elizabeth Boyce of the Department of Health Services of Los Angeles County, on March 9, 2018, in regard to the Paloma Street deal:
Hey Justin, my friend and colleague Donald has a friend who has a large warehouse near Skid Row that has a CUP and he is looking to consider doing shelter there. I told Donald to go ahead and get some dates/times that we can go and have a look.

Thanks, L.

Elizabeth (Libby) Boyce, LCSW
Director of Access, Referral, and Engagement
Housing for Health
Boyce was writing to Justin Dae of Brilliant Corners, a San Francisco-based nonprofit that oversees aspects of homelessness programs for the county on a contract basis. She was referring to Don Holt, an employee of the Los Angeles Homeless Services Authority (LAHSA), a city-county unit.
The Paloma Street project also involved the City of Los Angeles and its Department of Public Works, Bureau of Engineering and Department of General Services.
None of the people or entities involved has responded to this obvious follow-up:
Is a personal approach to the expenditure of public funds to address the public health crisis of homelessness-based on a public employee's private relationship to a "friend"-acceptable under the ethical and legal standards of the various organizations involved in the Paloma Street deal?
You can see prior coverage of other problems on Paloma Street here.
---
---
Question for UC's Drake: Come Again on First Amendment?
Former UC-Irvine Chancellor Michael Drake is now head of the entire University of California System, and I had high hopes for a January 27 online discussion with him under the auspices of its National Center for Free Speech and Civic Engagement, which is located on his old campus in OC.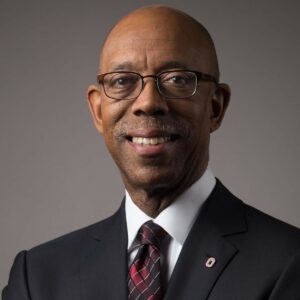 The center "focuses on addressing if and how college students' relationship to the First Amendment has fundamentally shifted from the 1960s and what can be done to restore trust in the value and importance of free speech among college students, other members of university communities and broader society," according to its website.
Three questions were billed as the agenda for the event with Drake:
How do we capitalize on the momentum of student participation in the November election?
What is the relationship between speech and science?
How does UC balance First Amendment freedoms with its commitment to diversity and inclusion?
That last question amounted to a big and presumptuous premise with a question mark at the end. I looked forward to some elaboration and explanation from Drake. I submitted a follow-up question both before and during the event, asking:
"Does UC consider freedom of expression a bedrock value? And, if so, why and how does it need to be balanced with diversity and inclusion?"
The follow-up question wasn't put to Drake. That might have been a matter of time-the event was limited to one hour. It's notable, however, that the queries that were put to him didn't match the billing for the event, lacking the gravity to elicit responses of significant depth.
The lack of focus on freedom of speech and the limited engagement exhibited during an hour-long session produced by the UC system left me concerned-as a journalist and as a taxpayer who expects public schools to provide rigorous debate and critical thinking for the public square.
---
Warning on Latest Covid-19 Numbers
The legacy media has been reporting that 26,880 Latinos in LA County died of Covid-19 in the first two weeks of January.
The LA County Department of Public Health first reported data that indicates such a massive loss.
The LA Times passed it along in its print edition of January 31, setting aside the sort of critical thinking journalists are supposed to apply to pronouncements from public officials.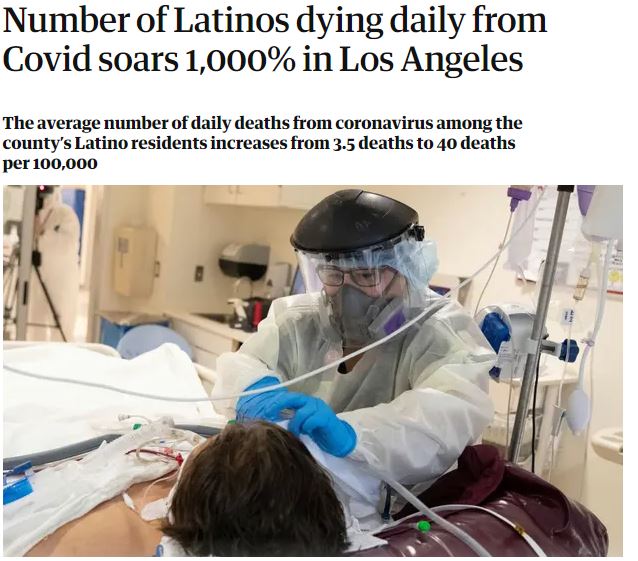 Then the London-based Guardian picked up the claim wholesale in an online story.
Both of those outlets proved to be good stenographers, dutifully relaying word from LA County Department of Public Health Director Barbara Ferrer when she claimed that a daily average of 40 out of every 100,000 local Latinos died of Covid-19 from January 1 to January 14.
This is highly questionable and should be viewed carefully and with skepticism.
LA County has a population of about 10 million. Latinos make up about 48% of the population. That's 4.8 million, or 48 units of 100,000. An average of 40 deaths per 100,000 equates to 40 x 48, which equals 1,920 deaths a day. Multiply the average over 14 days and it comes to 26,880 deaths in LA County's Latino community over the two weeks.
It seems that neither the LA Times nor the Guardian bothered to do that math,
The fact is that reporting a daily death rate of 40 per 100,000 Latinos in LA County over a two-week period is the same as reporting 26,800 deaths in the same community over two weeks-it simply leaves it for the reader to do the extra math to reach the conclusion.  If the journalists of the LA Times and the Guardian had done their work properly on behalf of readers they might have hit upon this key question: How could the county's Department of Public Health have been correct in claiming Covid-19 claimed the lives of 26,880 local Latinos in the first two weeks of January alone when the total death toll for the entire population of LA County was less than 17,000?
This appears to be actually and literally deranged and dangerous reporting at a time when everyone needs accurate and timely information on a pandemic that has turned our world upside down.
Everyone should take a breath and demand better communications from our public health officials and better reporting from legacy media.
---
---
Related California's SoCal Range
Are there any developers showing a broader range than Related California lately?
The Irvine-based outfit's Grand is rising with Frank Gehry's imprint on Bunker Hill-and about 20% of its 400 residential units are set aside as affordable.
Related California also is behind Prado Family Homes, a five-building, 50-unit apartment project tucked away between a couple of public storage operations off Harbor Boulevard in Fountain Valley. The complex will be entirely affordable once R.D. Olson Construction, also in Irvine, finishes up the mix of one-, two- and three-bedroom units there.
---
Mossimo's Comeuppance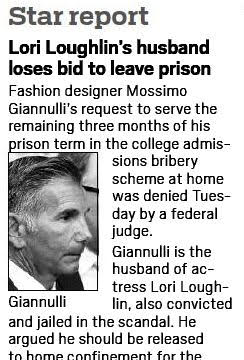 First Mossimo Giannulli lost a handle on the hot brand he created and crashed from his hometown of Newport Beach back in the 1990s.
Then he got caught in the college admissions scandal.
Now he might be feeling a blow to his pride based on last week's coverage in his hometown Orange County Register. The daily newspaper leaned on the familiarity of Giannulli's wife as a former TV sitcom star to freight the headline with some celebrity baggage.
Perhaps that's full karmic circle for Giannulli, who never seemed to appreciate the marketing genius of LA-based Bobby Margolis. The boss of San Fernando Valley-based Cherokee Inc. salvaged the earning power of the Mossimo apparel brand through a licensing deal with Target Stores that just about invented cheap chic.
---
---
Hoshi: Luckey More Than Lucky
Last week I wondered whether OC-based Palmer Luckey wishes he had been as stubborn as the cofounders of recently hot Snap Inc. in the Venice district of LA.
Evan Spiegel and Bobby Murphy turned down a $3 billion offer from Facebook in 2014, worked through a rough patch after going public, and now have a company valued at about 28 times that much.
Luckey took a $2 billion offer in 2014 from Facebook for the Oculus VR outfit he founded in Long Beach and grew in Irvine.
Luckey is back in Irvine with a new venture called Anduril Industries Inc., and longtime executive and veteran independent board director Hoshi Printer wrote to suggest that the twentysomething tech wiz isn't likely dwelling on the past.
"Seven years later, with 20/20 hindsight and how the current VR market has developed, Palmer Luckey was very lucky," Printer wrote. "He is doing a great job with Anduril."
---
Lucy Re-Emphasizes Point of Panel
Orange County Business Council Chief Executive Lucy Dunn followed up on last week's item about the panel that Chapman University's Argyros School of Business hosted on January 22-lest anyone think that homelessness wasn't addressed as a matter of subtext.
"…Our Chapman panel actually did talk homelessness by discussing at length the underlying reason we have homelessness (and why it will NOT get better), as well as affordability, rent control, inclusionary zoning. They are all byproducts, and unfortunate results, of the real problem-California's decades long failure to build enough supply for its people."
---
Sullivan Says
Mile Square Regional Park in Fountain Valley was a 640-acre gem of SoCal's landscape before the pandemic and is more so now.
---