It's clear that presidential politics have changed dramatically in SoCal when the head of one of the biggest publicly traded companies in Orange County tops the best-known Hollywood moguls for donations to the Democratic nominee for the White House.
Go ahead and tick that box based on the $1.5 million that Joe Kiani, founder and chief executive of Irvine-based medical device maker Masimo Corp., has given in support of Joe Biden.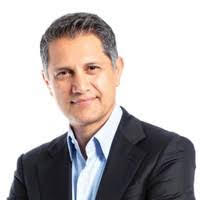 Kiani led all donors in the 92618 zip code in Irvine. His wife, Sarah, added $360,000 to lead the 92677 zip code in Laguna Niguel.
The couple's total was nearly double the amount Hollywood power player Steven Spielberg has put toward Biden's candidacy, and more than double the total for Jeffrey Katzenberg, according to a recent review of data on political contributions published online by the LA Times.
Credit the daily newspaper with some heavy lifting on recent breakdowns by zip codes throughout California, available here. The entries include donations to the campaigns of Biden and President Donald Trump, as well as various political action committees that back each candidate.
Also note, however, that coverage in the days since an interactive map hit the publication's website has left all sorts of juicy tidbits on the table, starting with Kiani. A story by LA Times staffers that accompanied the interactive map of zip codes included photos of "Trump Megadonors" but didn't do the same for backers of Biden. The piece did make mention in its accompanying narrative of Spielberg and Katzenberg—familiar names when it comes to Democratic fundraising—but took a pass on the Kianis.
The only mention of either Kiani came for readers who clicked on the zip codes they each led—one for his office, another for their home—out of the hundreds mapped out. The seeming oversight came despite the growth of Masimo, which now has a market capitalization of about $12.5 billion, and the couple's involvement in political, civic and philanthropic causes nationally and locally—see prior coverage here.
Biden also has gotten the benefit of some old money in OC, where Getty Oil heiress Anne G. Earhart led the 92625 zip code in Corona del Mar by backing the Dem to the tune of $352,800.
There are familiar names behind numerous big-bucks donations to Trump, suggesting that Orange County retains a significant Republican base.
There's also a listing that suggests that the legacy of OC as a bastion of the right-wing fringe survives, with folks like Caryn Borland, who led the 92660 zip code in Newport Center, sending $222,867 to back Trump. Some context that's yet to be fully reported locally: Caryn Borland and her husband, Michael Borland, are the couple whose support of the shadowy, conspiracy-oriented and cyber-based QAnon movement led Vice President Mike Pence to skip a Trump fundraiser hosted by them a few weeks ago.
---
---
Anschutz Beats Samueli in Battle of SoCal Billionaires
The final score is in on the Battle of SoCal Billionaires that was first laid out in coverage here about a year ago—and you can give LA the nod over Orange County on this one.
The contest featured OC-based Henry Samueli looking to take a chunk of business from Philip Anschutz' AEG Worldwide operations, which call LA Live in Downtown LA home.
Samueli and Anschutz have long competed by proxy as owners of franchises in the National Hockey League—the Anaheim Ducks and LA Kings, specifically and respectively.
A proposed redevelopment of the San Diego Sports Arena had Samueli and Anschutz competing as stadium operators. AEG was defending a modest chunk of an empire that includes ownership and interests in venues that stretch from LA Live to London, Berlin, Seoul and beyond.  Samueli's H&S Ventures was looking to add to a management deal for the Honda Center in Anaheim, home of the Ducks.
Chalk up a win for Anschutz, whose outfit has ended up in the driver's seat on plans to redevelop the 13,000-seat arena. It's a $2 billion proposal for a 48-acre chunk of land that is being eyed as a key to the makeover of San Diego's Midway District, situated a bit north of the city's better-known Gaslamp Quarter.
The San Diego City Council had given a preliminary nod about a year ago to Samueli. A rush of PR announcements of the move had publications from San Diego to OC declaring him the victor over Anschutz.
The city council's decision was not a final victory, though—more like a set-up for a months-long period where local politicians could enjoy the entreaties of lobbyists.
No word on whether Samueli will keep the Gulls—a minor league hockey franchise he also owns—in town as the main tenant of the San Diego Sports Arena.
It's notable, meanwhile, that there's no guarantee of Anschutz' victory bearing fruit. The current proposal for a makeover of the stadium would require a change in a 30-foot height limit for developments in the area, a move that's dependent on a measure set for the November ballot in San Diego.
No comment from AEG or its ASG unit, which is handling the San Diego project.
---
Brookfield as Backup
Samueli might have lost out on the San Diego Sports Arena deal, but it looks as though he didn't go easily.
Anschutz linked up with a unit of Brookfield Property Partners, the legacy of the Toronto-based Bronfman family fortune, for his winning proposal.
The deal is only the latest big move by Brookfield in SoCal. The company bought a controlling interest in the 1.8-million-square-foot California Market Center in the heart of Downtown LA's Fashion District in 2017, and last year acquired Bunker Hill-based investment firm Oaktree Capital Management. 
---
---
Bobby Mac's LA Throwback; OC Voting-Rights Push
Here's an LA-OC crossover that will give you a kick and warm your heart.
The gentleman featured here is the late Robert Z. Hardon, who was written up in the December 1964 edition of Ebony Magazine as the first Black person to lead a department of the City of Los Angeles.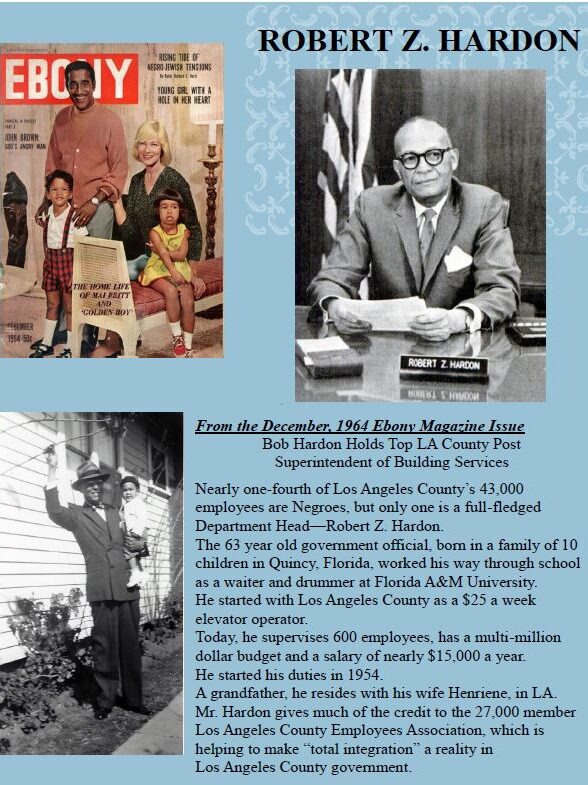 The little fellow pictured in his arms at the side of the house is Bobby McDonald, a grandson of Hardon's, who these days is known far and wide in SoCal as the leader of the Black Chamber of Orange County.
The Black Chamber is working closely these days with a number of other organizations under the banner of the OC Diverse Business Leaders Coalition to ensure proper procedures for voting—and voting rights—this November. Partners in the coalition include the OC Hispanic Chamber of Commerce; Korean American Chamber of Commerce of OC; OC Business Council; Vietnamese American Chamber of Commerce; Asian Business Association Orange County; and the Orange County Chinese American Chamber of Commerce.
The coalition planned to emphasize its concerns and get some ideas on how to proceed in a video conference with Orange County Registrar of Voters Neal Kelley set for September 29, as of this writing.
Kudos to all for doing the work of representative democracy.
---
Change at Top of Orange Coast
Best wishes to SoCal media veteran Chris Schulz, who plans to exit his post as publisher of Orange Coast Magazine at the end of this month.
Schulz passes along word that he's on to a new venture but is holding off on details for now, and expresses appreciation for Orange Coast and confidence in the glossy's future. It's not clear whether that future includes Orange County Relocation, a concept for an annual publication that Schulz was developing with hopes of a January launch.
Orange Coast is a sister publication of Los Angeles Magazine, under the ownership of Troy, Michigan-based Hour Media.
---
Burke Kicks Butt
A tip of the hat to Joe Burke and his crew at Irvine-based Victury Sports, maker of the Ollyball, for some hard-earned good fortune.
The company had an American football version of its indoor-safe Ollyball in the works, with kicker Harrison Butker of the Super Bowl champion Kansas City Chiefs signed on as an endorser before the NFL season began.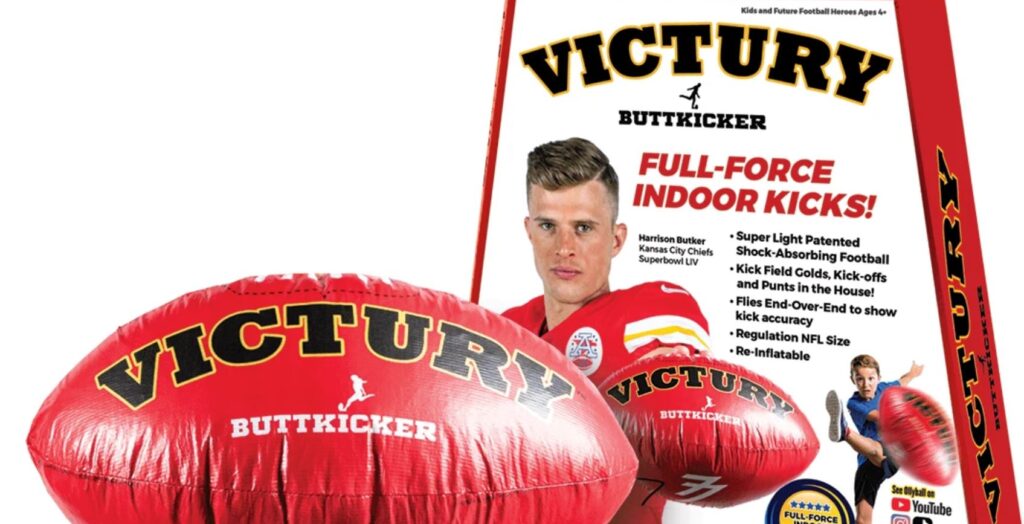 Then Butker took a star turn on national TV a couple of weeks back with a 58-yard field goal that tied a team record and beat the LA Chargers as time expired.
There's more, too—Butker actually made three record-breaking kicks, showing no nerves at all after the first game-winner was called off due to a time-out and the second was erased on a penalty.
Pretty cool.
---
---
Would You Buy a Used Car from this Man?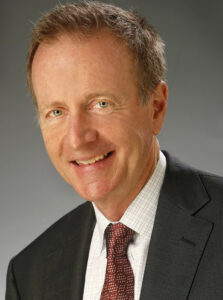 Beware the used-car salesperson who pushes finance plans over the quality of the vehicle, putting the deal in terms of monthly payments instead of the total price.
The same goes for Measure RR, the latest proposal to raise money for the Los Angeles Unified School District.
The bond issue would come to $7 billion any way you cut it for the school district, which has a shrinking student population, a shabby record for transparency, and a habit of kicking problems down the road under current Superintendent Austin Beutner.
LAUSD is free to sell Measure RR with an accounting scheme that stretches out assessments on property owners as far as the eye can see.
Voters should feel free to kick the tires on this deal.
---
Sullivan Says
Also beware the editorial board of the LA Times, which made a case for support of Measure RR under the misleading headline of "Yes to LA School Funding" in the publication's issue of September 27—and then veered from one red herring to another without benefit of any intellectual cohesion.
Follow me on Twitter @SullivanSaysSC.
---