A trio of SoCal vignettes, offered with a tip of the cap to the ones who insist on engaging our community's biggest challenges.
*        *        *
Start at Bistango on Von Karman Avenue in Irvine, where there's always a good chance you'll get a sense of something more special than the Chilean sea bass-and-exotic mushroom risotto that's a perennial pleaser.
As often as not the place will feature another just-right combination in the form of Paul Musco and Frank Di Bella.
They stand out among the crowd of SoCal power players—pairing up as a sort of cross between Frank Capra's idea of guardian angels and Stan Lee's notion of super heroes.
Both already have touched more lives than you might imagine if you ever catch them eating and talking with hands waving.
And both are dedicated to City of Hope Orange County's $1 billion-plus cancer research center and hospital, now rising a few miles away at FivePoint Gateway.
Their lunch agenda these days centers on helping the City of Hope staff with the annual Let's Be Frank About Cancer fundraiser.
The event itself is named for Di Bella, who was told he should prepare to die in a matter of weeks or months before he met Dr. Sumanta Pal at City of Hope.
That was 10 years ago.
Do the math and you'll see why Di Bella leads with his chin as he fights for City of Hope.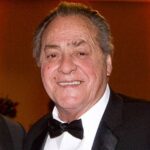 Sometimes that means plain talk about the touch of defensiveness that some of Orange County's biggest and best hospitals have shown since City of Hope laid out its plans to join them. Di Bella came away from his own battle with cancer—he's now in remission—convinced that the cancer specialist should establish a presence in OC, where thousands of patients were making daily commutes of three hours or more to get treatment at City of Hope's main campus in Duarte in eastern LA County.
City of Hope agreed, and three years ago it lured leading local healthcare executive Annette Walker as president of its OC operations. It struck a fruitful alliance with Emile Haddad and FivePoint Holdings LLC, which donated the land for its new campus. It has rallied donors and drawn top healthcare professionals. The mission in OC started with a clinic in Newport Beach last year and continues with a cancer center slated to open next year, with a hospital to follow.
None of that, according to Di Bella, is reason for any other hospital or healthcare system in OC to view City of Hope's efforts as competition in a zero-sum game.
"There's so much cancer in the world that everyone should be involved," says Di Bella, who made a career as a certified public accountant to the stars. "And City of Hope is a research center, so all the other hospitals will get a benefit from the work they do."
Then Musco claims the floor with an intensity that commands respect. He backs up Di Bella by emphasizing that City of Hope is a specialist—it's different from the rest for good reason.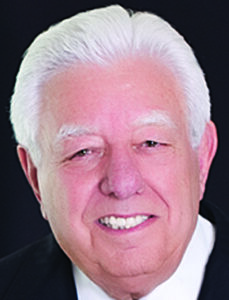 Musco offsets his intensity with humor, a tool he brings out here and there, poking fun at himself or gently kidding Di Bella.
This is a fellow, after all, who was summoned to Detroit by General Motors back when that was the biggest name in the corporate world. His company was a specialty supplier to the automaker, and Musco was ushered into a theater-sized conference hall, where the fellow who called the meeting said he wanted to talk about an acquisition.
"I don't think I have enough money to buy you guys," Musco replied, breaking up the crowd of buttoned-down corporate executives.
Musco didn't sell his company, but he managed to keep doing business with GM and many others, building Santa Ana-based Gemini Industries into a globally pre-eminent refiner of precious metals.
The money that came with success in business also has been a tool for Musco and his wife, Marybelle. The couple supports everything from a world-class concert hall that bears their names at Chapman University to the nursing school at Brandman University, LA Opera, the Orange County School of the Arts and St. Michael's Abbey in Silverado Canyon, among other causes.
They will give a classic Rolls-Royce Corniche to City of Hope to auction off at the Let's Be Frank About Cancer gala.
You can bet that Musco will follow the bidding with easy-come-easy-go humor and glee in his heart.
Count on Di Bella to take it all in with the countenance of a CPA, stacking dollars in his mind against the needs of cancer research that he tallies in his heart's private ledger.
Guardian angels?
Super heroes?
Call them what you want—they're just trying to help write some more happy endings for cancer patients.
Let's Be Clear About Homelessness
There's no reason to doubt that the Committee for Greater LA put plenty of sincere effort into the "We're Not Giving Up" report it issued last week.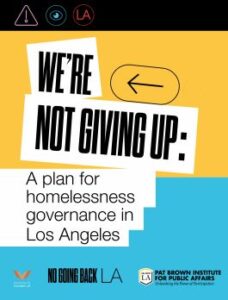 The 62-page document is billed as a call for accountability for local government and everyone else involved in attempts to address the public health crisis of homelessness. It's worth a look, and can be found here.
Much of the heavy lifting of the report was done by Raphael J. Sonenshein, executive director of the Pat Brown Institute for Public Affairs at Cal State LA. His academic prowess is appreciated—even as I make this point, which leaped out at me after listening to Sonenshein discuss the report during an online presentation on May 19:
Everyone should stop referring to the "lived-experience community" in discussions of homelessness.
Here's how the term is defined in the report:
"Lived Experience: The experience(s) of people on whom a social issue, or combination of issues, has had a direct personal impact."
The bar of skepticism has been set high throughout LA, where public officials have burned through billions without making a dent in the challenge of homelessness. The term "lived-experience community" is ill-defined—euphemistic to the point of confusion.
Does the Committee for Greater LA believe "homeless" is too harsh a term?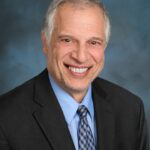 I'll note here that homelessness is a harsh situation, so perhaps the language should match.
Or try "unsheltered" or "unhoused." Perhaps borrow from the British and use "rough sleepers." Maybe adapt "floating population" from the Chinese.
But don't put such a fine point on the matter that it gets lost altogether.
Overthinking the sensitivities of homelessness to the point of an Orwellian fog underestimates the capacity of the vast majority of us to consider plain-spoken facts with open minds and generous hearts.
What Accountability Looks Like on 6th Street
Not everyone is waiting for local government or ad hoc committees to lead the way on homelessness or other tears in our social fabric.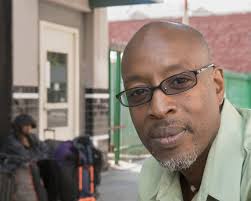 Pete White, the founder and veteran organizer of the Los Angeles Community Action Network, offered evidence as he shouted a compelling phrase around the organization's headquarters on 6th Street in the Skid Row district of Downtown LA, where a festival broke out on May 19.
"This is what it looks like when we take care of ourselves," White called out to a crowd of hundreds who gathered for some food and music for the launch of #HomesNotPrisons.
The campaign comes with support from Revolve Impact, a "social action and creative agency" with feet in LA and New York, and backing from stars of the entertainment world and Corporate America. The nourishment and entertainment that marked its kickoff came with a drumbeat of messages contending that housing and social services would be more effective than current police practices and penal codes when it comes to public safety in LA.
White and his colleagues at LA CAN have refined their approach over more than 20 years on the job agitating for basic changes in society.
Not everyone agrees with them—not everyone likes them.
There's no doubt, however, that recent years have seen the world begin to pay more attention to some of the things they've been saying all along.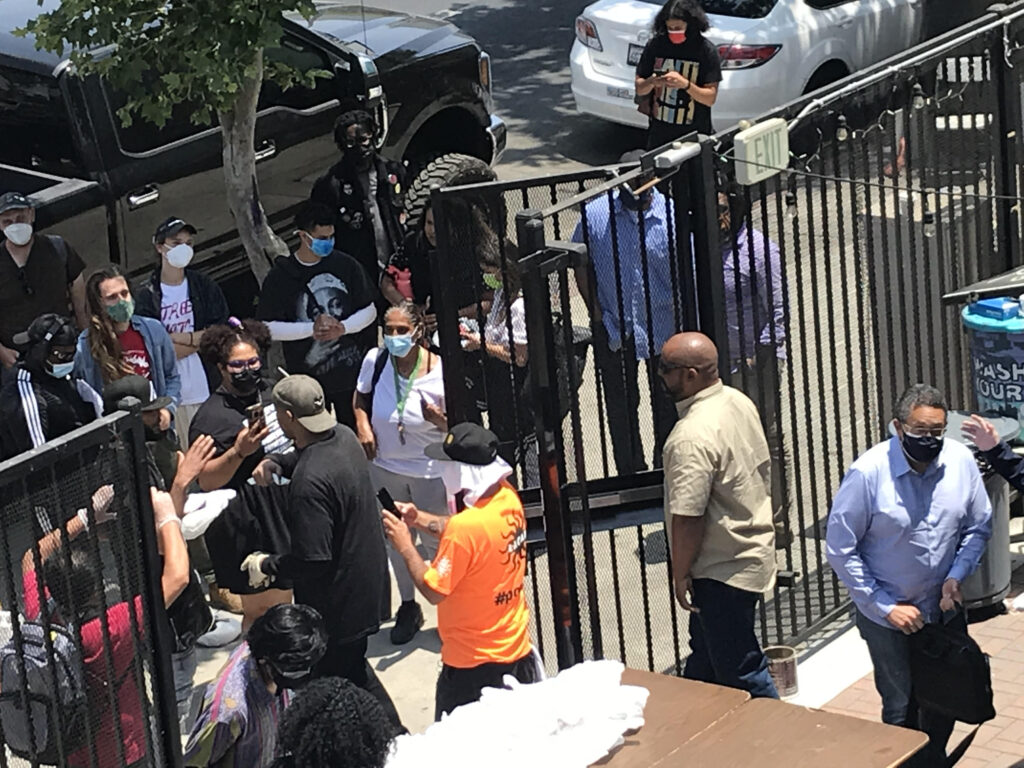 The LA CAN crew gave a lesson in street cred by serving up the message of the #HomesNotPrisons campaign with complimentary plates of hamburgers, baked beans and city-style potato salad—no skimping on egg and mayo in the mix. The basic show-and-tell drill—putting good food on plates and reminding everyone that it came from community—set up White's point about "taking care of ourselves" to land well on 6th Street.
It's notable that White doesn't have to shout to be heard beyond Skid Row—he's got more connections from coast to coast than most folks realize.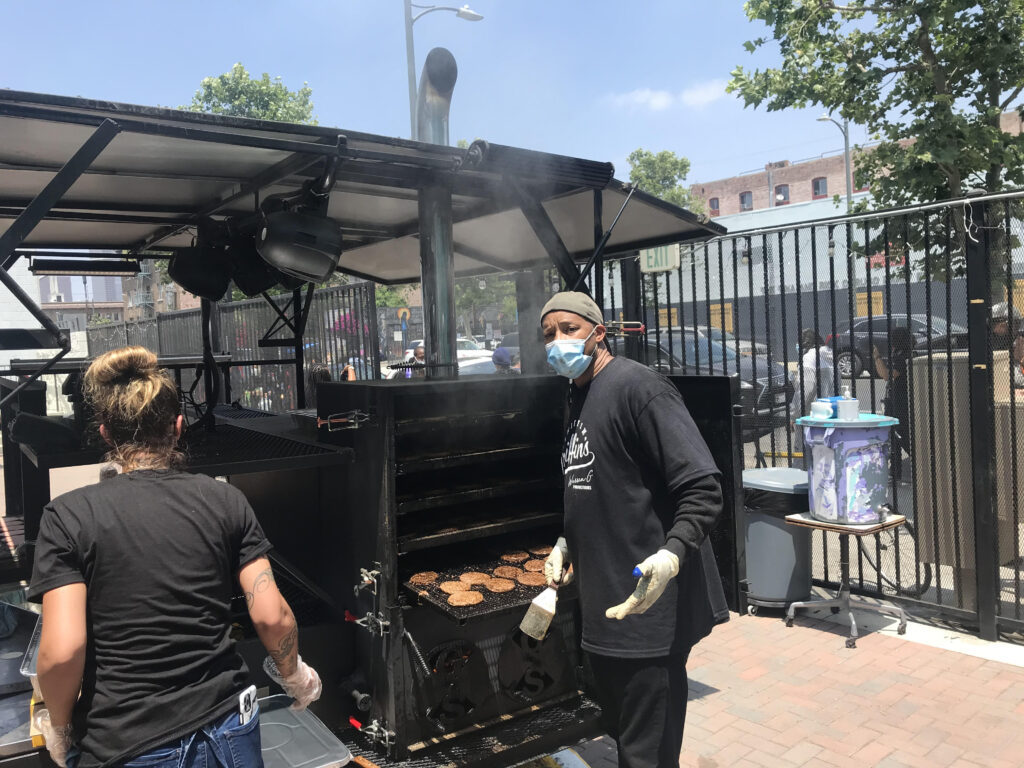 That helps explain the big turnout for the barbecue, which had rap legend Warren G, whose g-funk fame includes a platinum record, serving as grill master. The native son of Long Beach worked like a start-up entrepreneur while using his own line of barbecue sauce and dry rub called Sniffin Griffin's.
And, for the record, Sniffin Griffin's landed well on the meats.
Sullivan Says 
More on the intersection of quality of life, economic development and civic stewardship during the YouTube version of the column this Thursday, May 27.