Good news first, starting with the question of whether any of SoCal's colleges might consider starting an NCAA Division I hockey program.
Seems counter-intuitive, unless you consider the good time had by all during the "SoCal Clash" of hockey teams from Harvard University and Arizona State University at Great Park Ice & FivePoint Arena in Irvine over the holidays.
The event didn't get much attention from the local legacy media but saw extensive coverage in The Athletic, a digitally based sports publication that referred to the 280,000-square-foot, $110 million Great Park Ice as "the year-old, much-raved-about facility that the NHL's Anaheim Ducks have made their main practice base" and noted "two energetic crowds generated in the facility's showcase FivePoint Arena."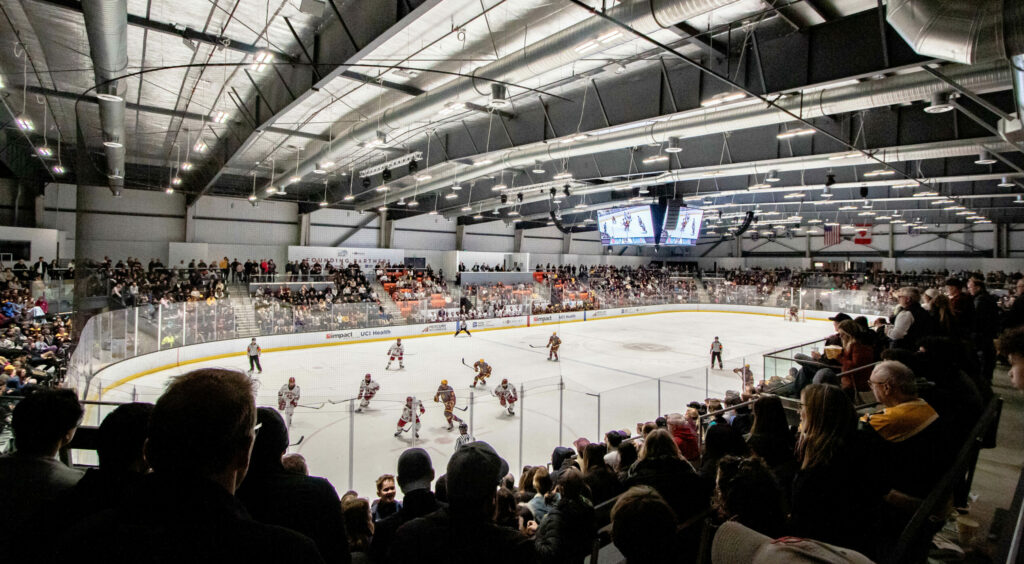 The visitors found it to be "state-of-the-art and an unbelievable hub to help grow the game in Southern California," according to Mitchell Terrell, sports information director for the men's hockey program at ASU.
"Our coach and associate athletic director were so pleased they are making it a goal to try and come back out at some point soon," Terrell told SullivanSaysSoCal.
The main rink at the facility hosted 2,253 fans for the first Harvard-ASU game on December 28, and another 1,744 for a rematch the following day. Harvard won once and the squads skated to a tie in the second game.
The crowds compared well with top collegiate programs, prompting The Athletic to ask whether USC, UCLA, Cal State Fullerton or UC-Irvine – the last a short skate from Great Park Ice – might add hockey to their NCAA-sanctioned programs.
---
Columnist's View
Don't forget other schools with NCAA Division 1 athletic programs in SoCal, including Loyola Marymount University on the Westside, Cal State Long Beach and Cal State Northridge in the San Fernando Valley, as possibilities.
And don't overlook an ambitious and entrepreneurial riser such as Chapman University in Orange, which has made big strides in athletics recently, including last year's NCAA Division III baseball national championship.
---
---
Valencia Rises in SCV
Irvine-based FivePoint Holdings LLC is the community builder behind the Great Park – but Great Park Ice & FivePoint Arena is operated by foundations established by the Ducks franchise and the family of its owners, Henry and Susan Samueli.
Can't say whether there's a sports complex in the future for the Santa Clarita Valley anytime soon, but don't be surprised if FivePoint is working on something along those lines now that its Valencia project – known for years as Newhall – is getting started.
FivePoint sold the first 781 homesites at Valencia earlier this week, fetching about $135 million. Plans call for another 20,000 or so residential units and an eventual population of 60,000 – and FivePoint has said it plans to take some of what it is now tried and true from the Great Park up to its LA County endeavor as it progresses.
---
---
LAHSA Looks Lax on Homeless Program
Now some bad news – another reason to wonder about the culture of corruption in LA.
This also came during the holiday season, when the Los Angeles Homeless Services Authority – a city/county agency with an annual budget of more than $300 million – announced plans to open a number of winter homeless shelters on a 24-hour basis from December 22 to December 28.
Here's the announcement as presented on LAHSA's website on December 20:
Here's what you got if you clicked on the link, with the underlines added for emphasis: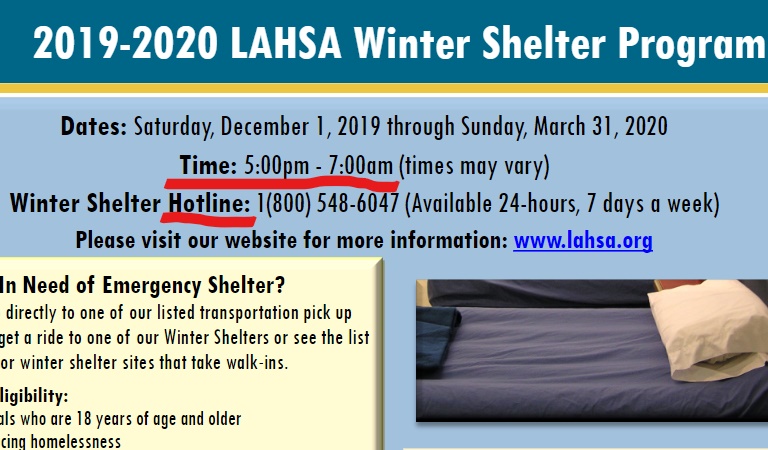 Please note that 5 p.m. to 7 a.m. does not cover 24 hours – and a 24-hour hotline is not a 24-hour shelter.
And here's a street-level example of what appears to be LAHSA's confused communication and inefficient operations. This was photographed between 10 a.m. and 11 a.m. on December 23 – and again at approximately the same time December 27 – on the door of the 2nd African Methodist Episcopal Church at 55th and Hoover streets, which was listed as a location for a 24-hour shelter: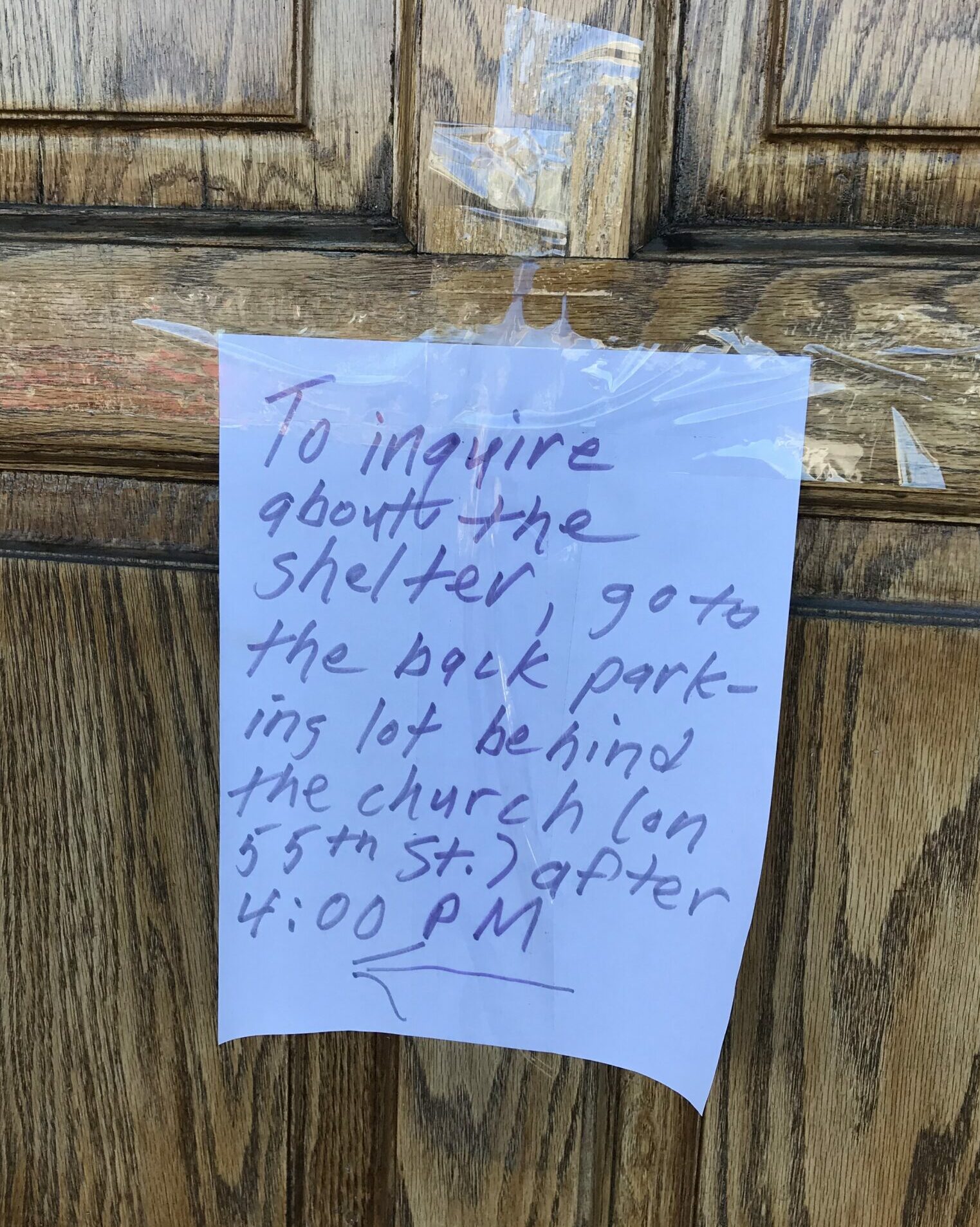 The shelter was billed as being operated by Home at Last CDC, whose representatives have not responded to inquiries about why the facility was not open.
Representatives of LAHSA and Los Angeles Mayor Eric Garcetti also have refused to respond to inquiries.
Home at Last is in line for a $4 million-a-year contract to operate an emergency homeless shelter at 1426 S. Paloma Street in Downtown LA.
You can get more on the questionable circumstances of the Paloma Street deal here.
---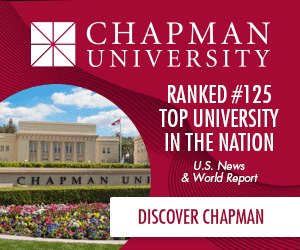 ---
RIP Joseph Hellen—Wonder From Down Under
Condolences to family and friends of Joseph Hellen, the Holocaust survivor-turned-real estate powerhouse whose Broadway-Spring Arcade building has become a gem of DTLA.
Hellen died at the age of 94 of natural causes last month in Australia, where he kept headquarters for his global holdings, according to several knowledgeable sources.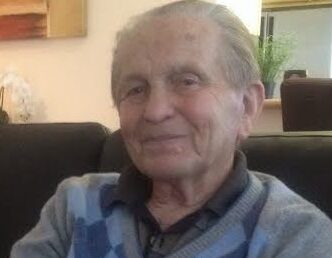 Hellen was a Wonder From Down Under – a compact bundle of energy who survived the infamous Auschwitz concentration camp, made his way to Australia to get as far away as possible from war-torn Europe, and became one of the wealthiest residents of his adopted continent.
Hellen leaves behind a vision for a 55-story tower he hoped to construct on a parking lot next to the Broadway-Spring Arcade, which is in the portfolio of his Downtown Management Co. Inc.
A representative reached by phone said the firm had not issued any statement on Hellen's passing as of presstime, and declined further comment.
---

---
Igor's Old-School Drive
There was a lot of feedback about last week's column, which raised the question of whether politicians and developers have paid sufficient attention to world-renowned architect Frank Gehry's warnings that plans of returning a stretch of the LA River to its natural state are unrealistic and unsafe.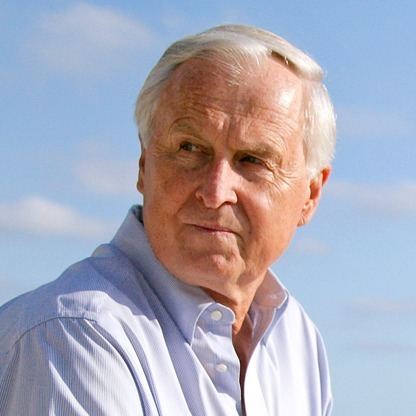 Subscribers were unanimously appreciative of the piece as a red flag, and the comment included one fond remembrance that was surprising, coming from Iran-born, Motown-made, Newport Beach-based Igor Olenicoff.
It turns out that Olenicoff was a daredevil behind the wheel as a member of the LA Diabolics car club before his work in the music business and daring as a real estate investor brought him a big slice of the American Dream with his Olen Properties.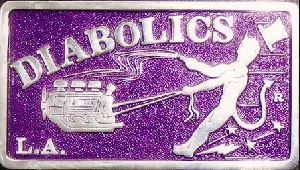 Olenicoff found the column "quite interesting, having grown up racing hot rods down the river off Los Feliz Boulevard," he wrote.
Olenicoff added that he appreciated Gehry's perspective because "I have also seen the river quite full and angry."
---
Soon-Shiong Shuffle
Biotech billionaire and LA Times owner Patrick Soon-Shiong recently tweeted that he "will soon be explaining my theory of the triangle offense for cancer. And why it works. And the update of cancer breakthrough 2020 in multiple cancers … breast, lung, bladder, pancreas, head and neck, all with nature's killer cell born to kill. Over trillion cells given safely."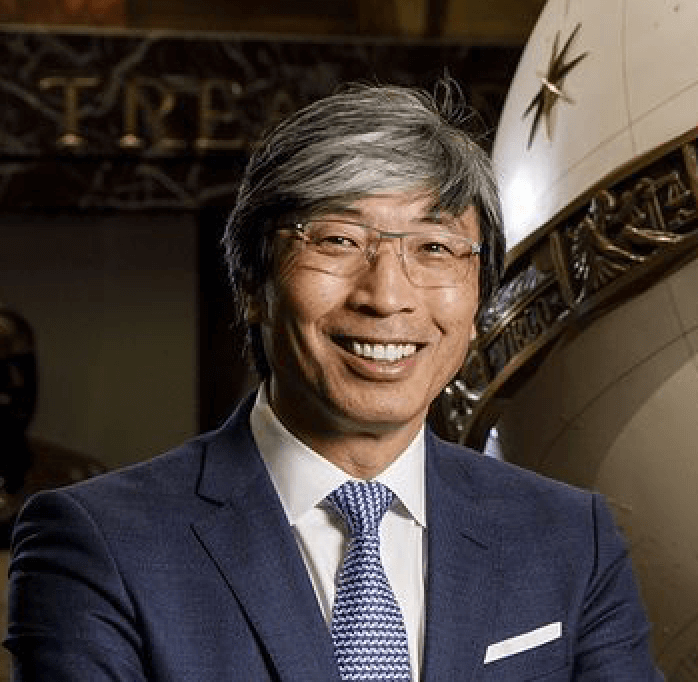 It's not the first time Soon-Shiong has said he's going to explain what he's doing under the umbrella of his NantWorks LLC in Culver City.
Now if he'd explain how his talk of commitment and transformation at St. Vincent Medical Center in the Westlake district of LA turned to bankruptcy and a shutdown so quickly.
NantWorks took a controlling interest in Verity Health System – which includes St. Vincent, St. Francis Hospital in Lynwood in southeastern LA County, and four hospitals in Northern California – in July 2017.
Here's what Soon-Shiong said at the time:
"Our commitment is to enhance the scope and resources of Verity Health so that, together, we can deliver the breakthrough treatments and cures that save lives, provide better patient outcomes and improve well-being … Medical care is local and we strongly believe that community health systems should be supported with investment, technology and science to build next generation clinically integrated networks to drive better outcomes at a lower cost."
Soon-Shiong might also explain how his reporters at the LA Times could let him off the hook by throwing a bunch of nuns under the bus.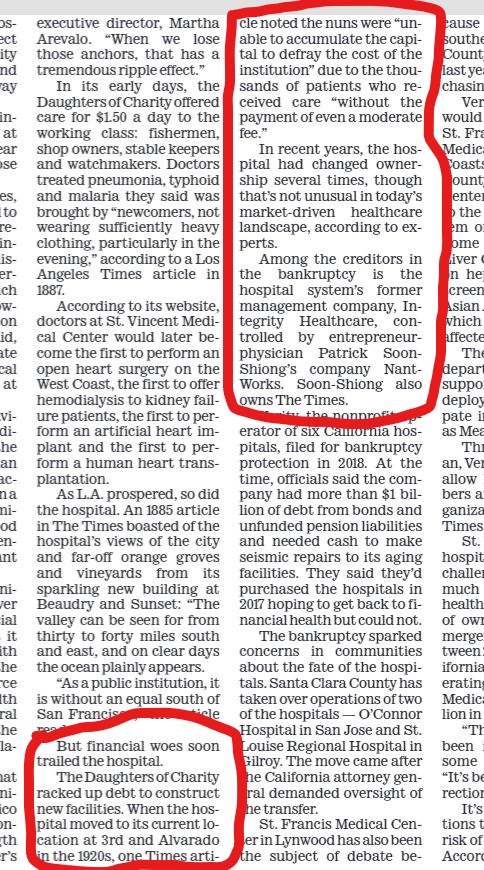 A January 12 story in the daily (excerpted above) glossed over Soon-Shiong's involvement in a narrative that seemed to suggest an expansion of St. Vincent under the Daughters of Charity in the 1920s was the chief cause of the hospital's pending closure nearly 100 years later.
---
Howard & Ed
Here's a shout-out that rings from Downtown LA to Newport Coast, courtesy of Oaktree Capital co-chair Howard Marks' latest memo, which credits Ed Thorp's seminal gambling tome Beat the Dealer as a key influence.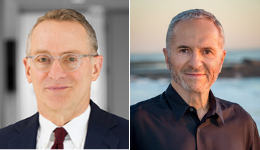 Marks reports that "when I last saw Ed, he was living an idyllic life in Newport Beach, prospering even in the absence of suits, ties or regular office hours."
I'm glad to report that's still the case for Thorp, a college professor who became the godfather of card counting in Las Vegas before hitting upon quantitative analysis as a way to beat the markets.
You can read more about Thorp if you buy his latest book, A Man for All Markets.
You can read Marks' memo free of charge here.
---
Sullivan Says
Anyone interested in keeping up on U.S. relations with Iran amid the recent tumult can click here to listen to a January 9 briefing to Pacific Council on International Policy members by Jerry Green, the chief executive of the DTLA-based nonprofit and a globally respected expert on the Middle East.