U.S. District Judge David O. Carter is taking on the muddled mess of accounting that offers the latest indicators of public corruption in homelessness programs in LA.
The mess is no surprise to subscribers of this column, which has been running about two years ahead of Carter, pulling apart a rotten deal behind the development of a homeless shelter on Paloma Street.
This week brings another perspective on how a warehouse on the 1400 block of Paloma Street—where the Skid Row district melds with Downtown's industrial side—is both symptomatic and emblematic of what's wrong with public homelessness programs in LA.
The latest example starts with Paul Burke, a senior real estate officer for the City of LA who understood the look of corruption nearly two years ago.
Burke wrote this email in August of 2019 to colleagues in the offices of LA Mayor Eric Garcetti, City Administrative Officer Richard Llewellyn, then-14th District City Councilmember Jose Huizar, the Los Angeles Homeless Services Authority, and his own Department of General Services:
Paul Burke <[email protected]> Fri, Aug 23, 2019 at 2:06 PM

 

To: Apryle Brodie <[email protected]>, "Melody

J. McCormick" <[email protected]>

 

Cc: Kirkpatrick Tyler <[email protected]>, Joella Hopkins <[email protected]>, Eduardo Hewitt<[email protected]>, Amy Perkins <[email protected]>, Helene Rotolo <[email protected]>, Meg Barclay [email protected]

 

Thanks, Apryle,

 

Ok!! Just a quick recap/food for thought!!

 

If the (Architect's) lead time is 6-8, will that run concurrently with the proposed 110-130 day delay for the overall Tl's?

 

The latest GSD/City Attorney recourse is to notify the owner of a possible suspension of rent due to the delay of occupancy.

 

CD-14 does not want us to suspend any payments.

 

The optics on this project may not look all that great!! Moving forward a 3-year master lease that was attested May 22, 2019. GSD -Accounting commenced rental payment of $35k, plus $35K security deposit in early June to date.

 

That's three (3) months of rental payment thus far with a September payment expected to be sent off in a few days.

 

Let's add approximately, four months plus (110-130 days) for perhaps eight (8) months plus out (8x$35,000 = $280K) of the initial 3-year lease without the sub-tenant (Home-At-Last) providing services/housing to the homeless (sole purpose of this deal).

 

If the City decides to stop payment, a Notice must be sent first for full/partial monthly rent abatement per the City's legal right per the lease Article 6, Page 6 – Sub-section 6.7.

 

Collectively, that decision needs to be made soon.
The city did keep paying rent, as Huizar's office wanted, according to the email. Estimates indicate that more than $500,000 eventually went to the landlord before the Paloma Street project opened after a delay of 18 months or so. And neither the City of LA nor the County of LA has provided a total for the overruns on other costs of converting the warehouse space into a homeless shelter.
The Los Angeles County Department of Public Health estimates that an average of three homeless persons died each day on the streets of LA during the 18 months the project was delayed.
That comes to more than 1,000 dead bodies—and that's something more than "optics."
None of numerous other emails also obtained through a request under the California Public Records Act showed anyone responding to Burke on his internal concerns on the Paloma Street deal.
Neither Burke nor any of the recipients responded to SullivanSays' requests for comment last week.
Anyone who wants to see just how difficult officials of the city and county have made it for anyone who seeks to understand what they've done with the billions of dollars of public money for homelessness programs can check a transcript from one of Carter's recent hearings here.
Anyone interested in a clearer picture of the corruption on Paloma Street can get some background here.
Has Legacy Media Heard of Amgen?
Has the LA Times become so much of a hobby horse for owner and biotech billionaire Patrick Soon-Shiong that it won't report on successes by any SoCal pharma outfits besides the ones he runs under the NantWorks umbrella in Culver City?
Is the rest of the local legacy media following that lead like so many lemmings?
I only ask because there's been hardly a word in the SoCal business press since Thousand Oaks-based Amgen Inc. received the U.S. Food and Drug Administration's approval to market a pill for lung cancer more than a week ago. The San Fernando Valley Business Journal and Los Angeles Business Journal both have also skimped on coverage, despite listing Amgen as one of the biggest publicly traded companies in their respective coverage areas.
The drugmaker's new Lumakras pill is no magic bullet—it's not a cure for lung cancer. But it does apparently provide breakthrough treatment for lung-cancer patients with a certain genetic mutation that has resisted prior therapies.
The lead story in the May 30 edition of the Wall Street Journal addressed the business of the new drug by calling Lumakras a "potential blockbuster" that takes on added significance for Amgen as a way to bolster "the biotech giant's aging stable of drugs."
All of that going on just over the LA County line, about 40 miles from Downtown LA.
Now you know.
Gross Joins OC-FT Rotation
It was just last week I noted that Newport Beach-based Martlet Asset Management boss and PAAMCO cofounder Jane Buchan was the latest money maven to give OC an outsized voice in the global financial press. Buchan got the nod for her recent column in the London-based, world-renowned Financial Times. The pink-sheeted business daily also counts OCer Mohamed El-Erian as a columnist.
No sooner had last week's SullivanSays posted than El-Erian's old colleague Bill Gross also showed up with a column in the FT. Gross is a Laguna Beach resident and cofounder of bond giant PIMCO in Newport Beach, where he shared the chief investment officer's title with El-Erian for a stretch.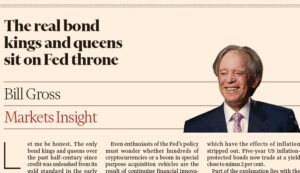 Gross eventually fell out with a new generation of leadership at the firm he helped build. He went on to spend several years at Janus Henderson Group PLC, and lately seems to be enjoying retirement amid high-profile neighborly spats over views and noise.
Gross is still paying attention to the bigger picture, though, and this observation from his FT column on June 2 is worth noting:
"Even enthusiasts of the Fed's policy must wonder whether hundreds of cryptocurrencies or a boom in special purpose acquisition vehicles are the result of continuing financial innovation or the product of cheap and plentiful credit demanded by deficit spending and an accommodating Fed chair."
Gross seems to be as confidently self-deprecating as ever, too—the headline and premise of his piece poke a bit of fun at his old title of "Bond King."
Stay Frosty on Fisker
As long as Gross is raising a red flag or two …
Here's an OC-LA crossover that might put your teeth on edge if you recall details of renowned auto designer Henrik Fisker's first attempt at producing an electric vehicle under his own brand in OC a few years ago.
Fisker Automotive started with a lot of venture capital, hope and hype. Then came a bankruptcy and sale of the company, which shed various assets and got a new name. It's now called Karma Automotive, with headquarters in Irvine, an assembly plant in Riverside County, and backing from Wanxiang Group in Hangzhou, China.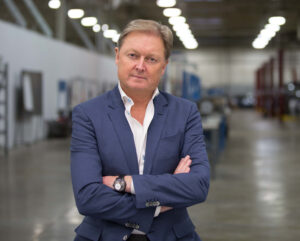 Fisker the man's latest corporate concoction is called Fisker Inc.—a publicly traded outfit that has a market value of nearly $3 billion, headquarters in Manhattan Beach and plans to deliver its first luxury hybrid vehicle by the end of next year. The company earlier this month said it will bring another model to market in 2023 under terms of a deal with Taiwan-based Foxconn.
Fisker Inc. has another box to check before anyone does any driving, though. It recently announced it must issue a do-over of the consolidated financial statement included in its annual report for 2021—a move that comes at the insistence of the U.S. Securities and Exchange Commission. The restatement will "affect the accounting treatment for both the company's public and private placement warrants outstanding at the time of its combination with Spartan Energy Acquisition Corp.," according to a press release from the company.
"The restatement will be isolated to this change in accounting treatment … and has no impact on historical or forward-looking cash flow and operations," the press release said.
The same accounting treatment has likely affected hundreds of companies, the release claimed.
No comment from Fisker Inc., which more recently reported a $177 million loss for the first quarter, more than three times expectations. 
Steak and Jenga at South Coast Plaza
Forget surf and turf—go to Knife Pleat at South Coast Plaza for the steak and Jenga.
It's actually steak frite, and owner Yassmin Sarmadi and Chef Tony Esnault get both right at the Mediterranean-leaning French specialist. The couple is well known for a prior 10-year run at Church & State, a bistro that helped pioneer upscale dining in Downtown LA's Arts District.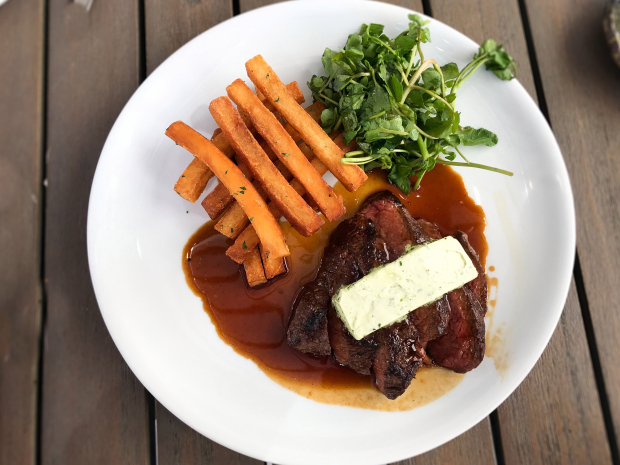 The couple makes sure the prime beef at Knife Pleat is tender and tasty, the French fries crisp and delicious—stacked up like a Jenga tower to offer a bit of fun to go with the food.
Sullivan Says 
The statewide recall being an overreach on timing, John Cox being a dubious option, and the state budget reaping a windfall of tens of billions of dollars don't add up to erasing concerns about California's current condition—a point Downtown LA-based Zocalo Public Square's Joe Mathews hits squarely here.