Here's a reason to be thankful.
This is the Samueli Academy in Santa Ana, a public charter school operated by the Orangewood Foundation with key backing from Susan and Henry Samueli, tech billionaires who own the Anaheim Ducks franchise of the National Hockey League.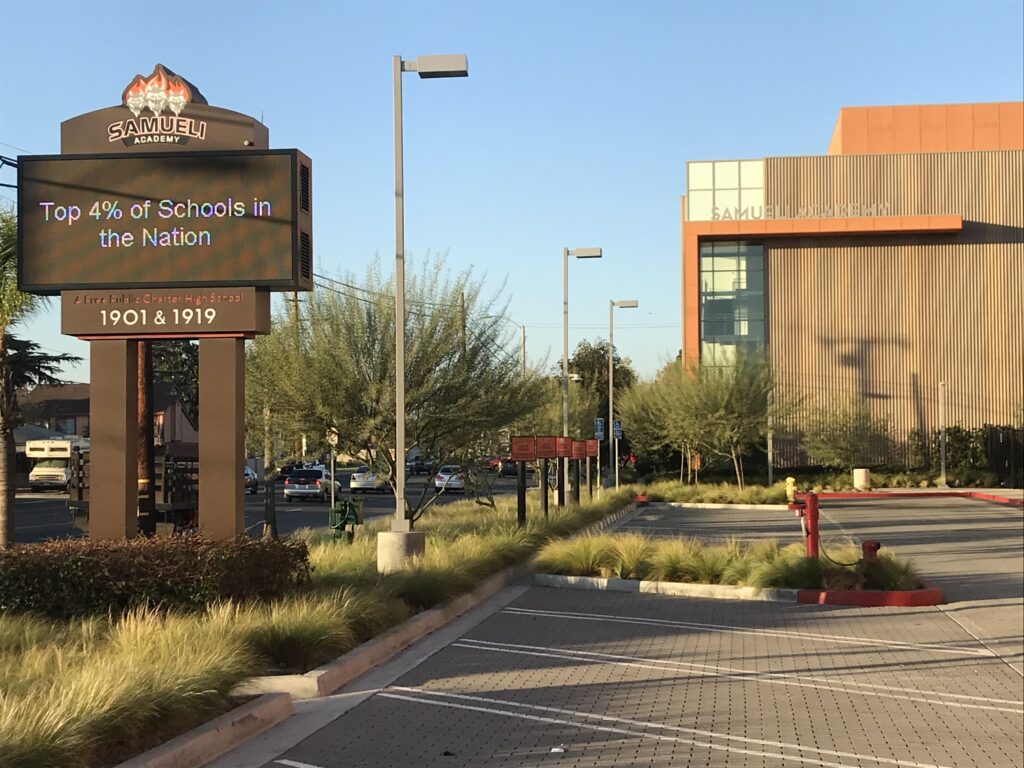 The school has won plaudits and high rankings from observers ranging from the Orange County Department of Education to U.S. News and World Report.
It's also a beautiful addition to the Riverview neighborhood, providing a splash of modernist materials and chaparral tones and shades just up from the busy intersection of 17th and Fairview streets.
The Samueli Academy has cost about $30 million so far, and it would no doubt have been less without the extra touches of flora that add an intangibly positive charge to the atmosphere of the place.
The all-in approach to the school's landscaping brings us to another example of philanthropy by the Samuelis—the Great Park Ice & Five Point Arena in Irvine. The $110 million facility is the biggest of its kind in California, with a 2,500-seat main arena, three other surfaces capable of hosting professional hockey practices, and state-of-the-art locker rooms.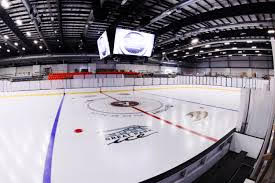 All of that makes Great Park Ice a key ingredient in the possibility that the NHL could designate Orange County as one of several hubs for its next season. The idea would be to reduce the need for travel by keeping several sets of teams in the same market area for extended stretches for at least part of the next NHL season. The Honda Center in Anaheim would host the games, with Great Park Ice serving as a practice center.
It's notable that the Samueli Foundation led the way on developing Great Park Ice as a public benefit.
Yes, the facility serves as a practice facility for the Ducks. And, yes, it was always likely to promote ice hockey in general—which would help develop fans for the team.
But those are indirect benefits, and the center remains an example of philanthropy in service of the broader community at its core.
And now it seems the Samuelis' gift could bring an even broader return. Hotels and restaurants and their workers and suppliers from Anaheim to Irvine and beyond would get a much-needed boost from players, media and fans coming to OC for NHL games.
Such a silver lining wouldn't get the local service industry back to even on the effects of Covid-19. But it would help in practical, paycheck terms—not to mention the boost to OC's social morale.
The NHL hasn't offered firm indicators on whether it will proceed with any plans for regional hubs—and there's no guarantee OC will get a nod if they do.
Kudos to the Samuelis in any case.
They've done both well and good with Great Park Ice—and there's a chance the facility could do even more when the puck drops for the next NHL season.
Best Thanksgiving wishes to all—and please feel free to send any examples you might have of how philanthropy matters to [email protected].
---
---
Expect For-Sale Signs on SoCal Malls
Here's a huge story that has caught the local legacy media napping: The activist investors who want Paris-based Unibail-Rodamco-Westfield SE to sell off its malls in the U.S. appear to have won shareholders over to their side.
This is news in SoCal because the company's U.S. lineup of malls ranges from the high-end Westfield Century City to the Westfield Culver City, three malls in the San Fernando Valley, Westfield Valencia Town Center in the Santa Clarita Valley, and Westfield Santa Anita in the San Gabriel Valley, among others.
Unibail acquired the Westfield portfolio from the Lowy family for $25 billion three years ago. The deal came shortly after Westfield spent $1 billion on a renovation of its mall in Century City as a flagship of its global chain.
The activist drama at Unibail recently led to a new chief executive, Jean-Marie Tritant, who was elevated from his role as president of the company's U.S. operations. Some observers took the promotion as another indicator that a sale of U.S. assets is coming.
Unibail isn't alone in considering sales. Columbus, Ohio-based Washington Prime Group has agreed to sell a 43-acre chunk of the Westminster Mall in Orange County to homebuilder Taylor Morrison in Scottsdale, Arizona, for $160 million, according to a November 13 report by Columbus Business First and a follow-up story several days later by CoStar.com.
---
---
Chapman Grows Role as Research University
It matters that Chapman University in Orange is striving to grow as a center of innovation and an engine of economic growth. It's a role that's long been a fact as part of the school's mission but was formally recognized within academia just last year, when the Carnegie Classification of Institutions of Higher Education elevated Chapman to its national ranks of research universities.
Chapman's striving is fascinating, too. It covers a range of efforts that's well-illustrated by recent inductees to the school's Million Dollar Club, which includes faculty members who have brought $1 million or more of external funding for research.
There are 42 members so far, with the latest bunch inducted during a virtual presentation of the school's Annual State of Research and Creativity, conducted online on November 17. The newcomers are:
Audri Gomez, associate director at the school's Thompson Policy Institute and recent co-author of a study in Disability Studies Quarterly titled "The impact of disability studies curriculum on education professionals' perspectives and practice: Implications for education, social justice, and social change."
Douglas Fudge, who runs Chapman's Comparative Biomaterials Lab and is currently working on projects that aim to understand predator-prey interactions between hagfishes and sharks.
Jared Rubin, co-director of the school's Institute for the Study of Religion, Economics and Society, where his research focuses on historical relationships between political and religious institutions and their role in economic development.
Rennolds Ostrom, a professor of pharmacology within the Chapman University School of Pharmacy, whose research aims how human cells interpret spatial signals differently, and how these features might be altered in diseases.
The Carnegie Classification, part of Indiana University's Center for Postsecondary Research, and the Washington, DC-based Association of American Universities are generally seen as arbiters of which schools are considered research universities. The designation tends to bolster an institution's capacity and reputation for research. That in turn can encourage various developments, grow links with government agencies and the private sector, and spur overall economic growth.
Chapman is currently considered one of 135 "R2" doctoral universities in the U.S. and Canada, according to the Carnegie Classification. The designation indicates "high research activity," according to the organization, which also rates 131 schools as "R1" for "very high research activity."
A move into the ranks of Carnegie Classification's R1 category or membership in the Association of American Universities would give Orange County two top-rated research universities, with Chapman joining UC-Irvine, which already holds both distinctions.
There are only nine markets in the U.S. with multiple research universities, according to the Association of American Universities—Atlanta, Baltimore, the Bay Area, Boston, Chicago, New York City, Pittsburgh, the Research Triangle of North Carolina and Los Angeles, with USC, UCLA and CalTech.
---
Berggruen Hands Index, $3M Off to UCLA
Universities aren't alone in pursuing research, as the Downtown LA-based Berggruen Institute demonstrated with a $3 million grant to UCLA last week.
The money is bound for the Luskin School of Public Affairs at the Westwood campus, which will oversee the production and dissemination of the Berggruen Governance Index. The index has been developed by billionaire Nicolas Berggruen's think tank to look "closely at how the delivery of public goods contributes to the quality of life of citizens."
"With the capacity of democratic governance being tested around the world, the index seeks to deepen public understanding of the relationship between democracy, government competence and the provision of public goods," according to the Berggruen Institute.
---
Another Index on Government
Speaking of government competence and the provision of public goods: You'll get an overview of my recent coverage of public corruption and programs for homelessness in LA—along with a look at what's in store for future columns—in this latest interview by Siyamak Khorrami, host of California Insider, a production of the Epoch Times.
---
---
Dana on Dining: DeFranko's Worth a Drive
You'll miss DeFranko's Italian Submarines if you blink while approaching the unassuming eatery on Woodley Avenue in the Van Nuys district.
A blink could also cost you a chance at the pastrami on sesame-seed roll that makes the place a San Fernando Valley classic.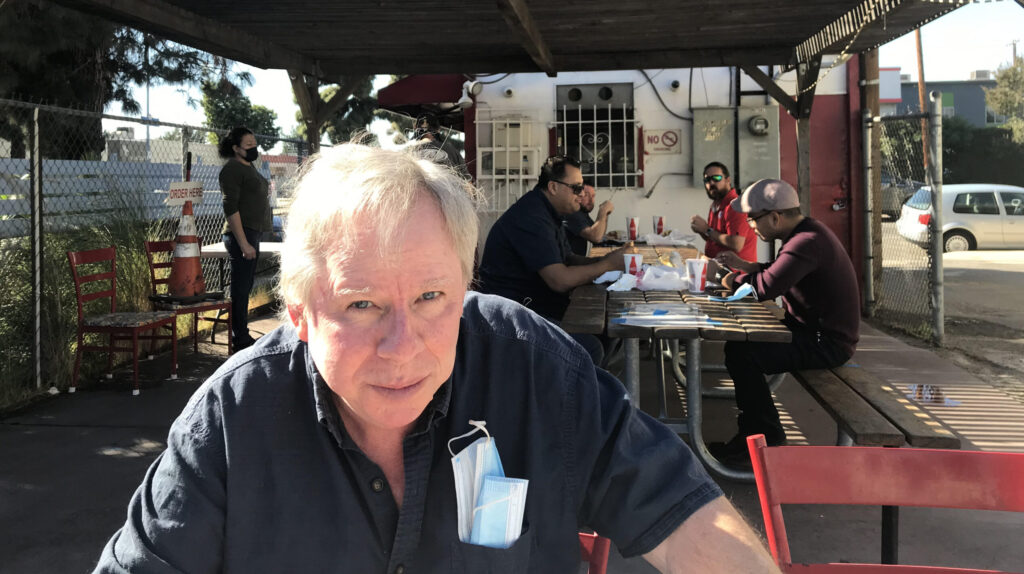 I found the place thanks to the lunch counter acumen of Dana Bartholomew, a veteran of the LA Daily News with various other stints as a newspaper reporter, as well as my guide on a recent jaunt north of Mulholland Drive. Bartholomew knows how to read a neighborhood—and find just the right joint from Van Nuys to West Hills to Tujunga.
---
Correction
The column of November 17 incorrectly identified Barbera Thornhill as U.S. Ambassador to Singapore. Thornhill was nominated to that post by President Donald Trump but was not confirmed by the U.S. Senate.
---
Sullivan Says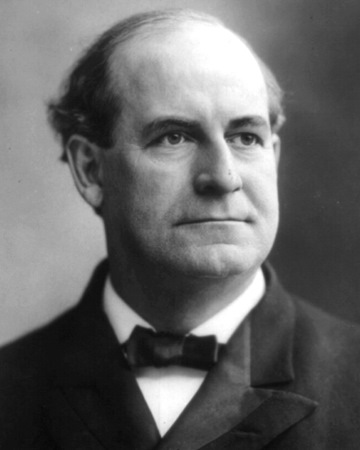 Anyone trying to figure out the effect that Trump might continue to have on the Republican Party after leaving office should turn to history and review what William Jennings Bryan meant to the Democratic Party in the aftermath of the 1896 election.
Follow me on Twitter @SullivanSaysSC.
---