There's a logical reason behind the surprising numbers of non-white and inner-city voters who went with President Donald Trump in the November 3 election, an emerging trend that has twisted a lot of so-called "progressives" in knots.
Just consider that many of them had nothing against winner and President-Elect Joe Biden. Try entertaining the possibility that they were casting ballots against the political practices of local Democrats, which were failing big cities around the U.S. long before Covid-19 showed up.
Most of the people who make a living on political discord will either miss or ignore the message because they live in a bubble of political partisanship, reinforced by cable TV, talk radio and social media.
Most of the real world in LA will understand what voters had to say because they live in a city where local Democrats have become encased in public corruption, with the results becoming more visible on the streets with each passing day, as the next item illustrates.
---
Garcetti's $595,000 Question
Here's something else for the FBI and IRS agents who are racking up guilty pleas in an investigation of public corruption at LA City Hall—and it also helps explain why the public health crisis of homelessness keeps getting worse.
The City of Los Angeles has paid $595,000 in rent to the landlord of a building that's supposed to be serving as a homeless shelter but has yet to provide a single bed to anyone in need.
Los Angeles Mayor Eric Garcetti's office recently confirmed that payments of approximately $35,000 a month have been ongoing since mid-2019 for space at the proposed homeless shelter on the 1400 block of Paloma Street in Downtown LA.
The warehouse building was touted as a prime choice for a shelter of 100 or more beds because it could be converted quickly, according to former City Councilmember Jose Huizar.
Huizar represented DTLA and came up with the idea to lease the space on Paloma Street. He had already been publicly identified as a central figure in the federal corruption probe by April 2019, when the 15-member City Council and Garcetti signed off on his proposal to lease about half the space at the Paloma Street building.
Huizar claimed the shelter would be open at the "end of summer 2019," with beds and services to be provided in the roughly 17,500 square feet the city is supposed to get in exchange for the $35,000 in monthly rent.
That comes to about $2 a square foot—more than twice the average for industrial space in the area, according to data from several real estate brokerages.
An email from Garcetti spokesperson Harrison Wollman recently attributed the lack of results on the conversion of the Paloma Street property into a shelter to "an initial delay with construction due to addressing structural issues."
The city's Bureau of Engineering reviewed the project before the lease deal, hiring publicly traded infrastructure specialist Parsons Corp. and the Santa Monica-based architectural firm of Kaplan Chen Kaplan to assist on the assessment. The city bureau filed a 142-page report that included no mention of any structural problems.
The mayor's office now says that the Paloma "site is close to completion," with an an estimated opening by "the end of November 2020 / early December 2020."
That's more than a year overdue—and here is the scene outside the Paloma Street facility as of this past Saturday: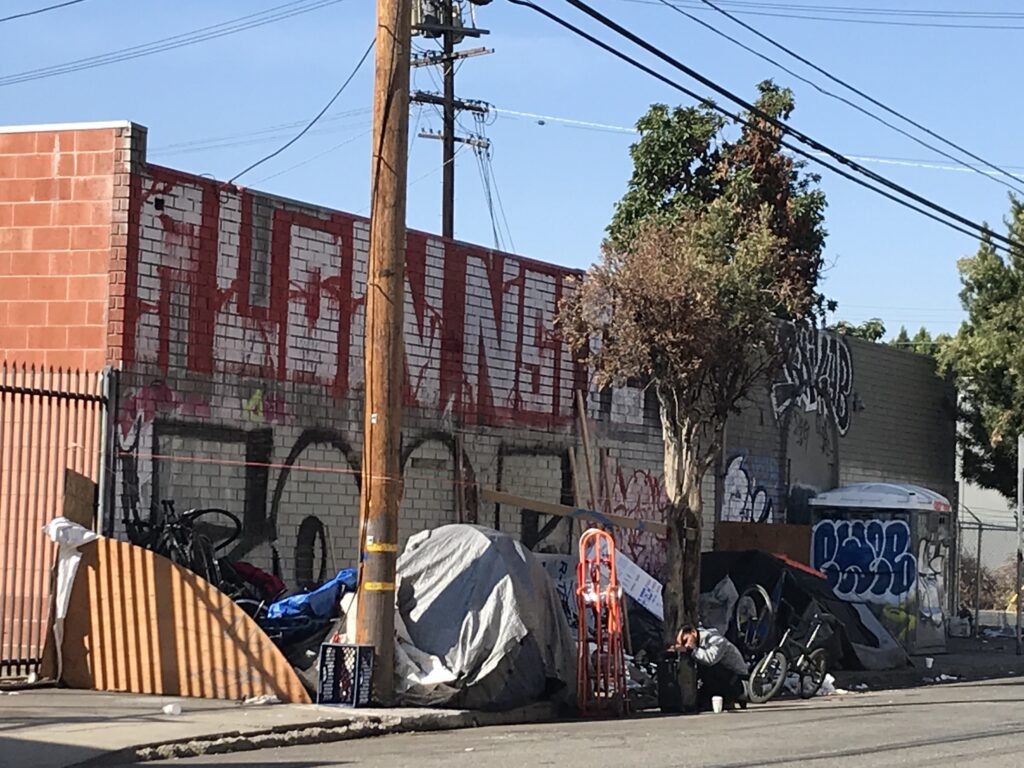 A recent report from the Los Angeles County Department of Public Health estimates more than 1,000 homeless individuals have died so far this year, about three a day on average.
You can see some prior coverage of the Paloma Street scandal here.
---
De Leon Latest Councilmember to Clam Up
Another strange twist on Paloma Street came nearly a year ago. That's when Huizar and every member of the City Council's Homelessness and Poverty Committee at the time—and that includes Mike Bonin, Marqueece Harris-Dawson, Mitch O'Farrell, Monica Rodriguez and David Ryu—agreed to find funding for a "Phase II" of the proposed homeless shelter despite the lack of initial progress there.
Things got stranger last month, when Kevin De Leon was sworn in to replace Huizar, whose indictment by a federal Grand Jury led his former colleagues to kick him off the City Council before the final weeks of his term ran out.
De Leon quickly proposed ditching Paloma Phase II, shifting resources to plans to turn a building at 796 Stanford Street, a few blocks away, into a homeless shelter.
De Leon has not responded to inquiries on why he requested the change.
More to come in future columns, including the latest link between Huizar and Garcetti, and a look at a proposal from DeLeon for homeless services that raises another set of questions about the deal on Paloma Street.
---
---
Are Garcetti's DC Ambitions Shrinking?
It remains an irony of our times that the culture of corruption at LA City Hall didn't stop Garcetti from playing at national politics, with a role of co-chair of Joe Biden's campaign—but allegations of sexual harassment against top mayoral advisor Rick Jacobs could derail such ambitions.
Garcetti apologists in the local legacy media have done yeoman's work on making it look as though the job of Secretary of Transportation or some other plum position is his for the taking in the upcoming Biden Administration.
Politico.com has put an asterisk on Garcetti's future in DC, citing the Jacobs story.
It's notable, meanwhile, that Garcetti has been talking up his globalist credentials—how he went to school in the UK, lived in Africa for a while, became an intelligence officer in the U.S. Navy Reserve.
Informed word on the street in LA says Garcetti might be down to angling for a sub-cabinet post or second-tier ambassadorship as a way of getting out of town.
---
Garvey Rings Bell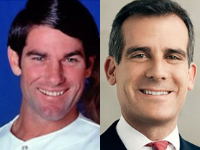 Meanwhile, did anyone else get a funny feeling when Garcetti looked to cash in on the PR wave of the Dodgers' win in the World Series with a story of how he would pretend to be Steve Garvey in fantasies of his youth? Garcetti told the tale to ESPN's Max Kellerman, a New Yorker who probably doesn't know how Garvey's every-hair-in-place, Ken Doll image came apart under the glare of a 1980s sexual scandal.
---
Return Tickets
Garcetti might want out of LA, but keep an eye out for who will be coming back to the City of Angels after their turn amid the devilish details of DC.
What will life back in SoCal hold for ex-Trumpers such as banker-turned-Treasury Secretary Steve Mnuchin; DTLA lawyer-turned-National Security Advisor Robert O'Brien; one-time Dodgers co-owner-turned-Ambassador to France Jamie McCourt; and Ambassador to Singapore Barbera Thornhill; among others?
Will any of them suffer from reputational hangovers in California, which has never been enthusiastic Trump country?
Here's guessing folks in the circles they inhabit will get over it.
---
---
Hope of the City
City of Hope Orange County President Annette Walker often reminds listeners that "cancer doesn't stop and neither do we."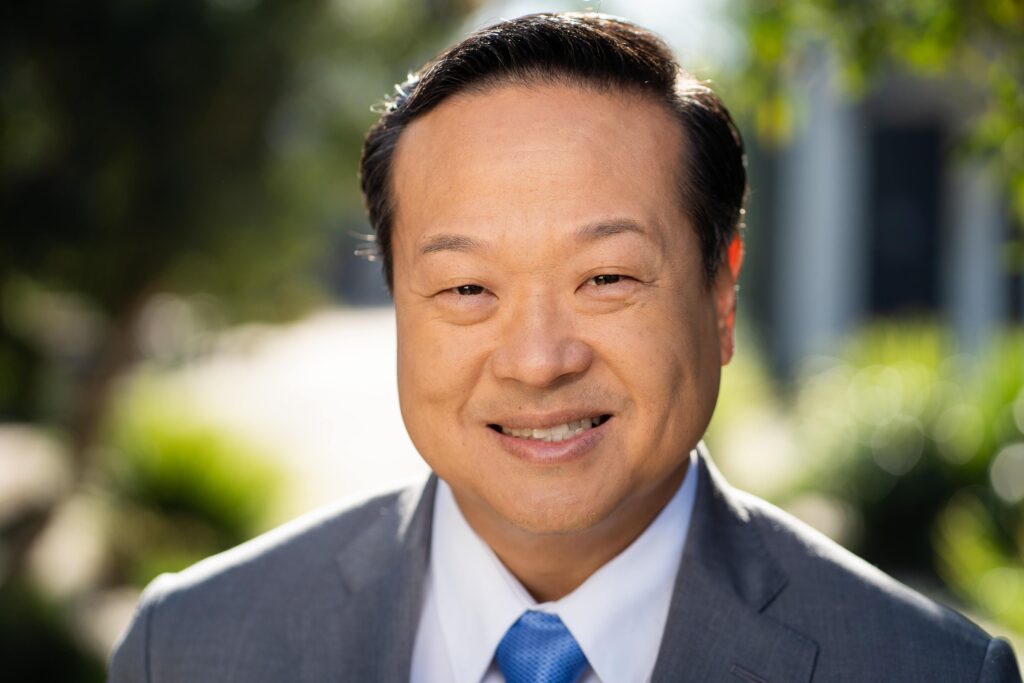 That's one reason City of Hope OC won't wait any longer to fill another key job for the $1 billion-plus treatment and research campus it's building at FivePoint Gateway in Irvine.
The most recent arrival is Dr. Edward Kim, who will serve as physician in chief for City of Hope OC, with responsibility for "driving innovation in cancer care and delivery" at the Irvine campus and "throughout the Orange County network."
Listen for more from Kim on his new duties in OC.
Tell us about your roles and responsibilities as physician in chief for City of Hope Orange County. (1:21)
What attracted you to this opportunity, and what differentiates City of Hope from your prior experiences? (3:54)
How do you envision that entrepreneurial spirit might translate as you apply lessons and practices of your experience to this new opportunity? (5:20)
What are some therapies, treatments or technologies related to cancer or healthcare overall that you're most excited about? (6:44)
What does it say about the vision of City of Hope OC that leaders like you are coming across the country to join it? (8:03)
SullivanSaysSoCal · SullivanSays_Hope of the City_ep5
---
Mission Identical?
I recently noticed that some of the California Museum of Art Thousand Oaks' promotional materials say its mission includes efforts to "connect people to creativity, ideas and to each other."
A quick check shows that Downtown LA-based non-profit Zocalo Public Square claims a role of "Connecting People to Ideas and Each Other."
Great slogan—no word on who had it first.
---
---
Legacy Media Miss on Pac Life Layoffs
Daily newspapers and the business press in SoCal either brushed over or took a pass altogether on a key disclosure in a recent press release that Newport Beach-based Pacific Life Insurance Co. put out about its plans to lay off 300 workers.
The cut, which accounts for about 7% of the insurer's workforce, was attributed to the "coronavirus pandemic" and "sustained low-interest rate environment."
The legacy media passed along the company's words, giving the pandemic top billing but neglecting to explain how it hits Pac Life's business. Nor did they attempt to explain what low interest rates have to do with anything.
Here's a thought for everyone to consider: The current run of low interest rates might be boosting the housing and corporate credit markets beyond reasonable cyclical expectations, but there will eventually be a price to pay somewhere else.
Pac Life and many other financial outfits sell numerous products that promise eventual payoffs at attractive rates of return. It's likely going to require something more than the Federal Reserve benchmark interest rate at near zero to make good on those policies with a margin of profit.
The layoffs by the insurer should be taken as a signal that the "low-interest rate environment" sparked by the Great Recession more than 12 years ago has become a debilitating crutch to some parts of our economy.
---
PIMCO More to Point
Newport Beach-based investment behemoth Pimco spun off of Pac Life in 1994, going on to reinvent bond trading and grow to $2 trillion in assets under management.
Pimco also tends to communicate in a more direct manner than its former parent, as Chief Investment Officer Doug Ivascyn demonstrated with recent comments to the Financial Times, telling the London-based publication that he expects the global financial system to be in a "fragile state" even after it emerges from the Covid-19 pandemic.
Ivascyn cited huge levels of debt being racked up by both government and big corporations around the world as "inherent" vulnerabilities, adding that "these are uncharted waters and you need to respect where this takes us."
Anyone else hear a warning that the Masters of the Universe might have lost control of the global economy?
---
Sullivan Says
Laura Schwab will "pursue other interests" after stepping down last week as president of the Irvine-based Aston Martin Americas luxury auto brand, a move that came as no surprise to anyone who caught this column's prior coverage here.
Follow me on Twitter @SullivanSaysSC.
---