Let's start with an LA-OC crossover that reminds us what respect looks like.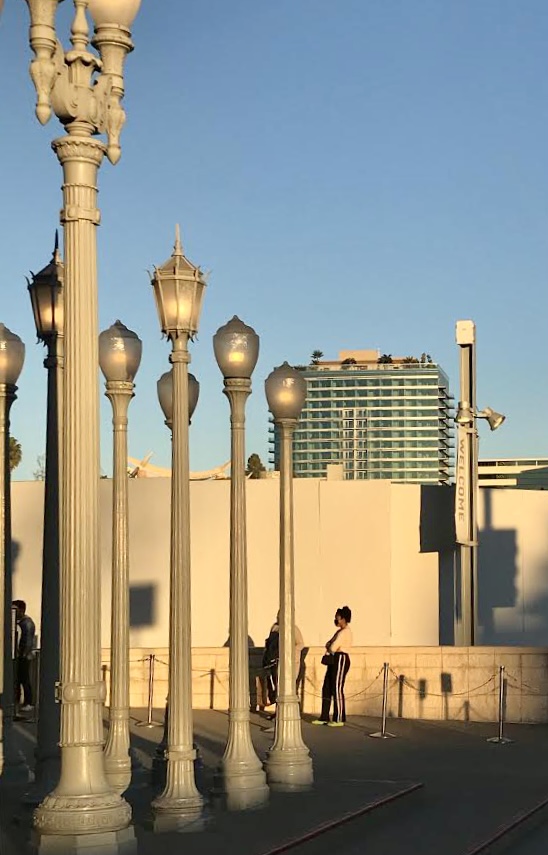 It comes courtesy of Carl McLarand, who got his education at USC and grew into professional prominence as an architect and principal of MVE + Partners in Irvine. He's now busy back in LA, ready to finish off One Museum Square at Wilshire Boulevard and Curson Avenue, a 21-story luxe apartment complex with views of the Los Angeles County Museum of Art.
MVE + Partners designed the 285-unit building and has managed its construction. The firm took on the assignment from developer Jerry Snyder, whose JH Snyder Co. was a driving force of what's known as the Miracle Mile district, which hugs Wilshire between Highland to Fairfax avenues.
Snyder, who died in May at the age 90, is gone but not forgotten as his final project nears completion.
McLarand recently sent an email with an update.
"The project is expected to be completed mid-February of next year," he wrote. "My impression of the overall project at this time is that Jerry Snyder would be very pleased with its outcome."
---
---
No Class or Answers
No one needs or expects LA's politicians to be classy.
We do need-and have a right to expect-answers from them on where the public's money for homeless shelters is going.
Los Angeles City Councilmember Kevin de Leon could start by telling us where he would procure the $55-per-night-per-bed price on social services that he seeks for a shelter proposed for 1060 N. Vignes Street, according to public documents.
De Leon also could say why the city and the Los Angeles County Department of Health Services have agreed to pay Inglewood-based Home at Last Community Development Corp. much more to provide services at a 120-bed homeless shelter at 1426 Paloma Street. And he could also tell the public where Home at Last CDC has gained the sort of experience and shown a level of capability that would put it in line for the job, which calls for $4 million a year to the nonprofit.
The $4 million a year breaks down to about $91 a night, which is approximately 65% higher than the amount de Leon proposes to pay for services just three miles away on Vignes Street.
Here's a roster of who has clammed up, declining to answer basic questions about the Paloma Street deal and other aspects of the city's and county's homelessness programs:
De Leon, his media staffer Laura McKinney and Downtown LA Director Joella Hopkins; LA Mayor Eric Garcetti and several members of his staff; Rochessa Washington, public information officer for the LA County Department of Health Services; Kimberly Sadler of Home at Last CDC; and representatives of Brilliant Corners, a San Francisco-based nonprofit that has been designated to "facilitate funding" for the Paloma Street facility's operations through a contract with LA County.
---
Another Garcetti-Huizar Link
I've previously covered other questionable aspects of the Paloma Street deal, as you can see here. I've also covered links between Garcetti and the ongoing federal probe of public corruption in LA, as you'll see here.
There's a new link between Garcetti and the culture of corruption at City Hall, indicated in emails I've obtained from the office of former City Councilmember Jose Huizar, who is currently under indictment as part of a federal probe into an alleged organized crime scheme.
Among the emails was one sent on October 2, 2019, from Garcetti staffer Edna Degollado to Huizar staffer Hopkins-the latter remains in her role under de Leon, who took Huizar's seat in October. Degollado wrote Hopkins to suggest a "Phase II" deal that would see the city lease more space at the Paloma Street property, with a starting point on negotiations at $2.50 a square foot.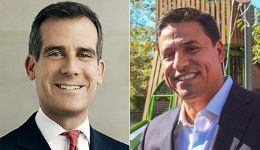 The city was already giving the landlord of the building an inexplicably favorable rate of $2 a square foot for its still-unopened first phase-that comes to $35,000 a month and is about twice the market rate in the area, according to brokerage data. By the time of the email, the city had already paid $140,000 in rent on the first phase without getting any shelter beds.
A conversion of the space it had leased was hung up on "structural issues," according to the mayor's office, which refuses to offer any details beyond a confirmation that the total rent paid has now reached $595,000.
It's notable here that Degollado joined Garcetti's office in March 2019, arriving from her previous post on the staff of … Huizar.
She joined the mayor's office five months after federal investigators had raided Huizar's office and home. The approach to Hopkins, her former colleague in Huizar's office, on a second phase of the Paloma Street project came weeks after reports of questionable circumstances regarding the initial lease had been reported and brought to the attention of the mayor's office.
The Paloma Street shelter has yet to open and is now more than a year late.
An estimated three homeless people die each day in LA, according to the Los Angeles County Department of Public Health.
---
---
Other Stonewalls on LA Landscape
Where's that "surge hospital" now that Covid-19 is surging?
Here's what the LA Times reported on April 17, when its billionaire owner, Patrick Soon-Shiong, was portraying the acquisition of St. Vincent Medical Center by one of his foundations as an act of goodwill in service of the community in the fight against Covid-19:
"Soon-Shiong has said he wants to create a "central command" center at St. Vincent Medical Center that would attract doctors and experts on the virus, and relieve pressure on other hospitals. He also plans to use the other buildings on the St. Vincent campus for Covid-19 research, according to a news release about the sale's closure."
There's been no follow-up coverage by the LA Times since last week, when Chicago-based broker Jones Lang LaSalle announced it had been hired to "reposition" the campus. JLL said it is seeking "office or medical" tenants, with "media/technology" mixed into a laundry list of healthcare segments.
Soon-Shiong acquired the four-building, 7-acre center in the Westlake district west of DTLA through his various biotech holdings for $135 million. The deal came after California Attorney General Xavier Becerra raised concerns that a prior attempt by Soon-Shiong to buy it through a family foundation was a case of self-dealing.
---
St. Vincent's Song: The Lease Goes On
Another note came to light in last week's PR pitch for new tenants at St. Vincent Medical Center, where the State of California hired Kaiser Permanente and Dignity Health-and paid for 500 doctors, nurses and other healthcare staffers for the "LA Surge Hospital" it opened in April.
The place closed in June after it had served "several" patients over eight weeks or so, according to Kaiser.
The state's lease deal, which included payments of $2.6 million a month to the Chan Soon-Shiong Family Foundation, nevertheless ran through September 30.
Now the state is gone, a Covid-19 surge is here, and Soon-Shiong has put the one-time medical center on the open market.
---
Is Giuliani Still Soon-Shiong's Trump Card?
The LA Times newsroom staffers cover their boss selectively, and Soon-Shiong's back-office minions shield him from inquiries, so here's a question that hangs in the air: Does the change in plans on St. Vincent indicate that his hopes of developing a Covid-19 vaccine have been dashed by President Donald Trump's loss?
Soon-Shiong's journalists might have taken opposition to Trump to sophomoric lengths, but the billionaire appears to have remained on good terms with the president and his circle.
Soon-Shiong was charming and warm as a guest on a YouTube show of his pal Rudy Giuliani back in April, openly asking Trump's personal lawyer for help in getting government subsidies on his efforts to develop a vaccine.
About a month later a couple of units of Soon-Shiong's Culver City-based Nantworks LLC were added to the select roster of biotech outfits in "Operation Warp Speed," which had funds to invest in private enterprises chosen by the Trump Administration to work on vaccines.
---
---
What's Really Going On
The legacy media doesn't just take a pass on whole stories-they increasingly botch what they do get around to covering.
Some examples, offered with translations:
From the Los Angeles Business Journal
"The American jobs market is still highly segregated by gender, with many professions – particularly high-earning ones – largely dominated by men. Despite Los Angeles' relatively progressive bent, professional gender disparity is not much better locally."
Translation: LA talks a better game than it plays when it comes to the ever-nebulous concept of being "progressive."
From the Orange County Register
"Religion motivated 28% of the hate crimes last year in Orange County; Jews were the targets in 11 of those 21 reports. Nine other incidents evenly involved anti-Catholic, anti-Muslim and anti-Christian sentiment; one report was described as anti-Scientology."
Translation: Catholics are something other than Christians in the eyes of the OC Register.
From the LA Times
"[Jacobs] earned a top spot in City Hall – deputy chief of staff – after raising money to support Garcetti's 2013 mayoral run before stepping down in 2016."
Translation: The LA Times doesn't see anything out of the ordinary-or unearned-about Rick Jacobs getting a key job in city government on the strength of his political fundraising rather than any skills for public administration.
---
Sullivan Says
Credit the strength of our democracy as President Trump's persona dissolves into a bore-but let's not miss warnings that the structure and spirit of the American Experiment need some shoring up.
---