I'll start with this public service: Keep in touch with cdc.gov for updates on Covid-19.
That's the top story of the moment and foreseeable future, and everyone needs timely and accurate updates on matters of public health and policy.
You can check a CDC page specific to coronavirus here – and feel free to send along suggestions for sources of information that can be trusted to stick to the facts without drifting toward ideology, politics or other factors that might distort our view.
---
Step Lively
Life does go on amid the coronavirus pandemic, so I will continue to offer a unique view of life in SoCal each week.
That means covering aspects of the pandemic as well as developments that carry legitimate reminders that Covid-19 won't define our way of life forever – not as long as we step lively when decisive action is deemed necessary based on credible information.
---
---
Silver Lining on Nathanson's Timely Miss
Let's switch to a silver lining for the newest member of SoCal's extensive club of owners of professional sports teams.
Or file this one under "Thank goodness that didn't work out."
Former Fox Sports exec David Nathanson might be saying that much about missing out on a bid for the outfit's group of 21 regional cable networks when it went on the block last year to satisfy anti-trust concerns over parent 21st Century Fox's $71.3 billion sale to Walt Disney Co. in Burbank.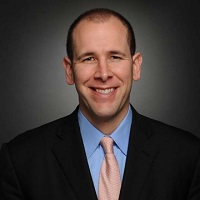 Sinclair Broadcast Group topped the bidding for the Fox Sports group at $10.6 billion.
Nathanson, meanwhile, bought into the National Hockey League franchise in Seattle, which also counts billionaire David Bonderman and Hollywood producer Jerry Bruckheimer as owners.
The NHL has joined pro basketball and baseball leagues in taking the devastating steps of suspending their seasons amid Covid-19 concerns, leaving sports broadcasters with precious little content.
But the newly minted Seattle hockey team, which has yet to announce its nickname, won't even play its first game until next fall – and I don't think any expert has suggested the virus will continue that long.
Nathanson joins a roster of SoCal peers in the owners' club of pro sports, including majority stakeholders and minority partners in local franchises as well as teams ranging from Detroit and Milwaukee to Denver and Sacramento.
---
Chapman Sets Marker on Econometrics of Covid-19
Kudos to Chapman University President Emeritus Jim Doti, who has established a remarkable record of accuracy on the national economy over the past 42 years and last week took a shot at setting a benchmark for what to expect in terms of economic fallout from Covid-19.
Kudos also to the Orange County Business Journal, which published the results of the recent study by Doti and Raymond Sfeir, director at the A. Gary Anderson Center for Economic Research at Chapman's campus in Orange.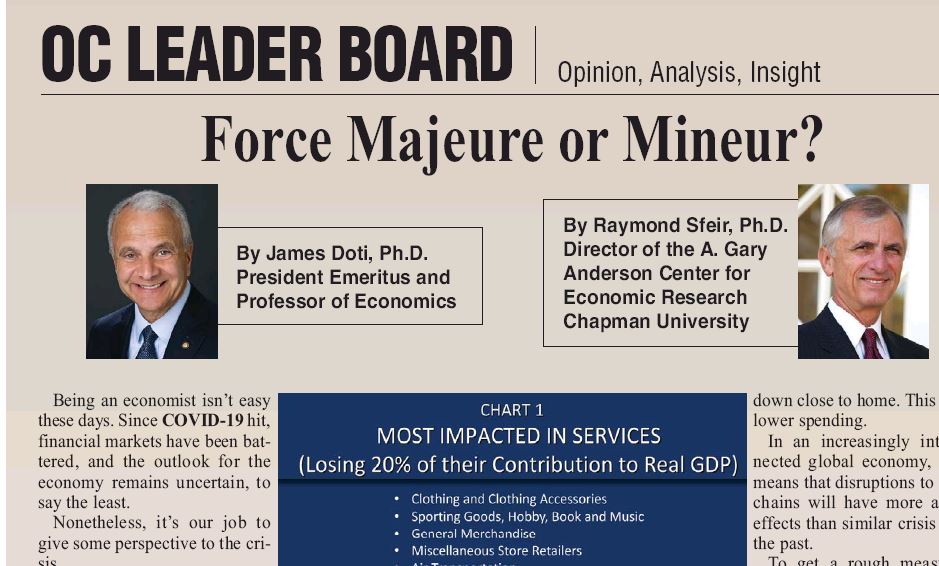 The pair predicted a brief and moderate recession, with the U.S. eking out a 0.7% growth in real GDP for the first quarter, dipping by 2.8% in the second, and falling by 3.7% in the third. They expect the economy to get back on its feet to post a 3.1% gain in the final quarter.
The cumulative effect will cost the national economy $540 billion and mean no growth in GDP for all of 2020 – a change from the prediction of a 1.9% annual increase that Doti and Sfeir made during their annual outlook in December.
Doti took some time between bites of a gyro during a recent lunch at Citrus City Grille, acknowledging that he's out on a limb with the early attempt to gauge the effects of the swift-moving virus.
Such considerations have to start somewhere, though – and I'm predicting that Doti and Sfeir's work will prove valuable for economists across the nation and around the world as a baseline.
---
Wanted: Data on Homelessness
It's notable that Doti's insatiable curiosity as an economist has turned toward homelessness.
This could get very interesting and informative, with a yield of genuine social utility.
That will require some solid data on the circumstances and patterns of residents of homeless encampments in the area, and I've told Doti that I'd be happy to try to get some. Any social service providers, activists or others with data to share should please feel free to contact me at [email protected] or @SullivanSaysSC on Twitter.
---
---
Huizar Next for Indictment?
I'll continue to match data to facts on the ground when it comes to homelessness and other matters – and to remind you that the culture of corruption at LA City Hall shouldn't get a pass because of Covid-19.
The governmental stumbles at the federal level on the pandemic is all the more reason to zero in on the longstanding indicators of local public corruption – and stand by for more if last week's indictment of former 12th District City Councilmember Mitch Englander doesn't convince you such concerns are real.
Word from various sources around the Eastside says current 14th District City Councilmember Jose Huizar has already been indicted by the same grand jury that made the call on Englander. Recall that Huizar's office was raided 16 months ago in the first public sign of a probe of LA politics by the FBI and IRS.
No word on when the feds might unseal any more indictments, but they officially acknowledged their probe of public corruption in LA for the first time in announcing the charges against Englander. They even embraced the notion this time around, announcing a tip line on municipal corruption at [email protected] or (310) 477-6565.
---
First Tip: Paloma Street
Let's hope the feds will dig deep into the would-be homeless shelter at 1426 S. Paloma Street in Downtown LA.
You can go here for an overview of questions that track back to Huizar, his colleagues on the City Council, and Mayor Eric Garcetti.
And consider this email message and map – both obtained by SullivanSaysSoCal under the California Public Records Act – sent in June by Brian Buchner, who holds the title of Chief of Homelessness Operations and Street Strategies for the mayor.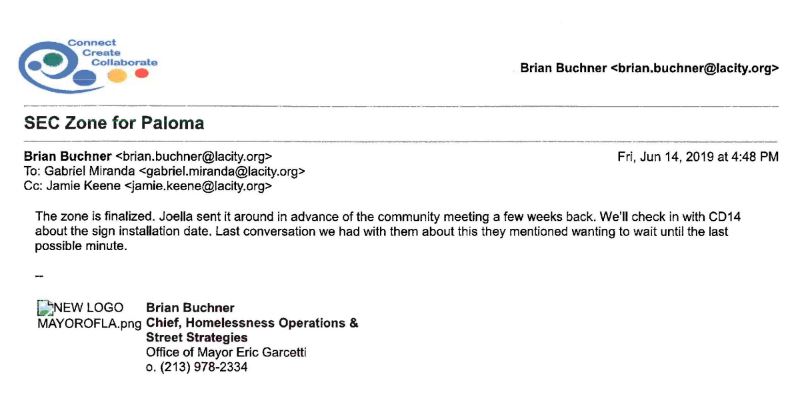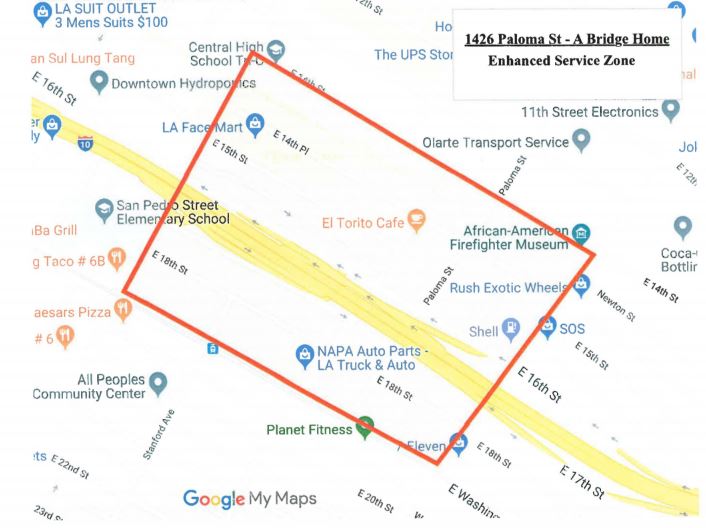 The email refers to Huizar staffer Joella Hopkins in announcing the establishment of an "SEC Zone" covering the would-be homeless shelter and surrounding areas. That's city-speak for a Special Enforcement & Cleaning Zone, which calls for extra public resources to keep public thoroughfares, doorways, loading docks and other rights-of-way clear of homeless encampments and related refuse.
Here's a picture of what was going on across the street from 1426 S. Paloma Street as of yesterday, March 16 – nine months after Buchner's email.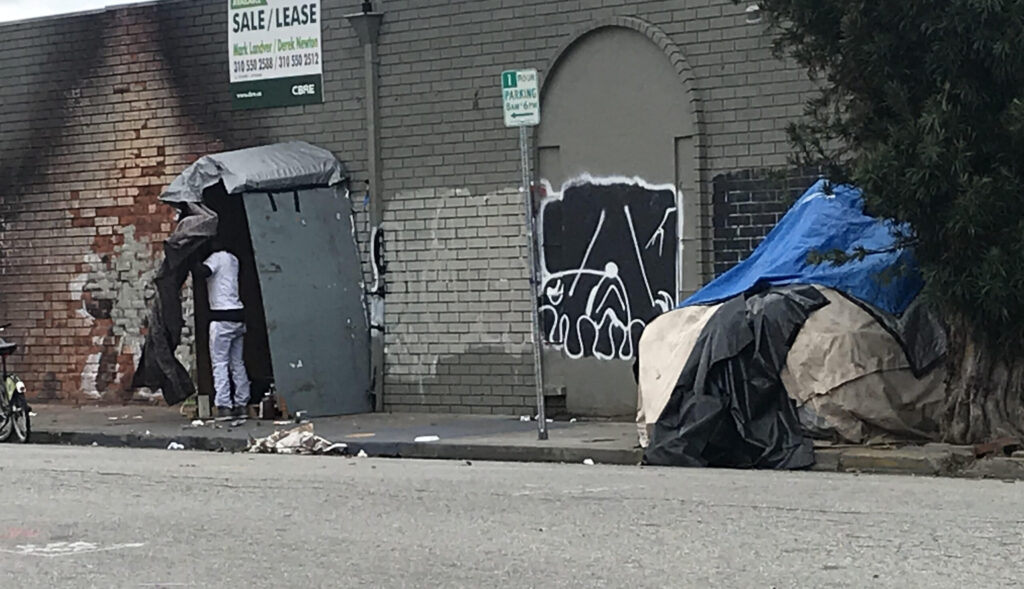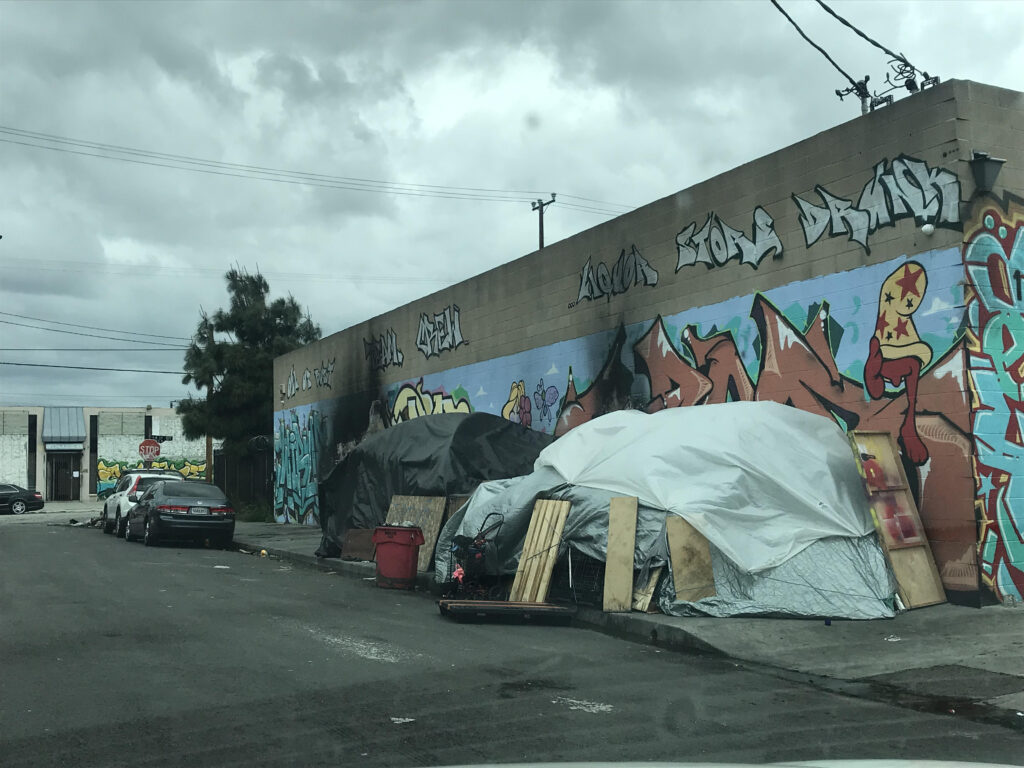 The landlord of the property leased by the city recently told SullivanSaysSoCal that he's collecting $35,000 a month in rent even though the city has yet to develop the homeless shelter on Paloma Street.
---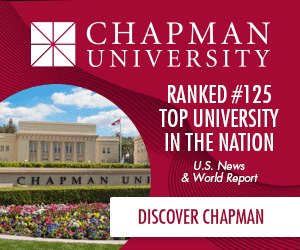 ---
Red Flag Over LA Times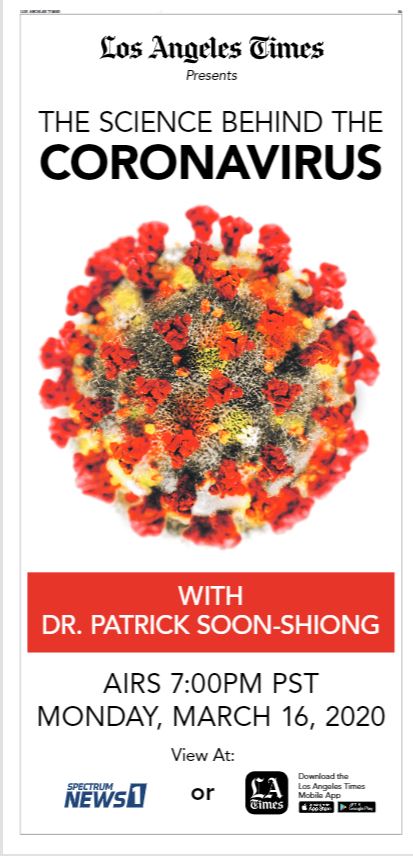 There are no shortages of ethical red flags to consider at the Los Angeles Times and Spectrum News 1, the local cable news channel of Stamford, Connecticut-based Charter Communications Inc.
The two outfits teamed up to cast Patrick Soon-Shiong in the role of expert on coronavirus in a showcase presentation on March 16.
That's the same Soon-Shiong who happens to own the daily newspaper… which happens to account for a significant chunk of airtime on the cable channel nightly.
Neither Spectrum News 1 nor the LA Times made any mention of those facts in a recent promotional ad … Or of Soon-Shiong's various interests as a biotech billionaire who has several publicly traded and private companies developing various drugs … Or the pending possibility that an entity he controls could sell a hospital in the Westlake District just west of Downtown LA to the city and/or county … Or credible claims that Soon-Shiong "seemed to be suggesting he had cured diabetes after he implanted cells that secrete insulin in a patient" in the early 1990s, as reported by StatNews, an affiliate of the Boston Globe that covers the "fast-moving business of making medicines."
---
Columnist's View
It's one thing if Soon-Shiong bought the LA Times and got himself a showcase on cable simply because he wants to be the smartest kid in class or wants to keep up with rival pharma CEO Robert Hariri, who penned a recent Wall Street Journal commentary addressing the potential role of "natural killer cells" in fighting Covid-19.
It's another thing to let the boss indulge such an appetite without letting readers and viewers know the possible conflicts of interest.
And such behavior rises to another level altogether when the whole performance could be viewed as elevating an owner's self-interest over the public's trust in the newspaper in the midst of a pandemic.
---
---
Schatz Shows Up for St. Vincent Jewelry Center
A lot of people in Downtown LA might still be wondering where Carol Schatz is these days, with the Central City Association she ran for years going silent in the face of the critical challenge of homelessness now being compounded by Covid-19.
Not Peklar Pilavjian of St. Vincent Jewelry Center, who knows that Schatz is enjoying retirement but didn't hesitate talking her into a recent modeling gig.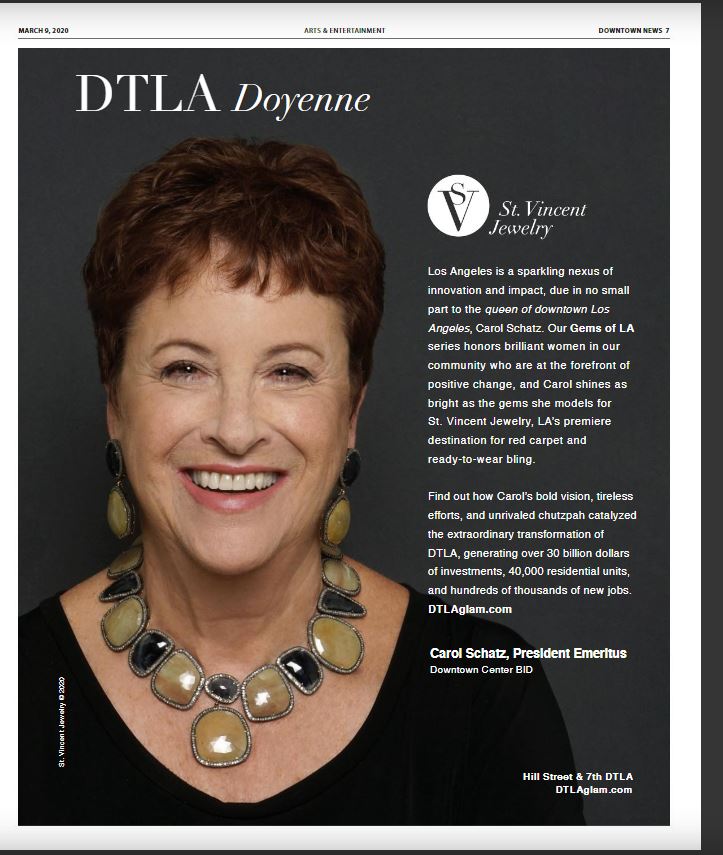 The result: An attention-getting, eye-pleasing ad for the jewelry center in the heart of the territory Schatz served with passion over her 26 years in charge of the CCA and 22 years running the Downtown Center Business Improvement District.
The ad is in the current edition of Los Angeles Magazine and has run in the Downtown Los Angeles News, among other publications.
---
Sullivan Says
Move the odds to even-money that activist investor Blackwells Capital in New York will succeed in ousting Tom Barrack as executive chairman of DTLA-based Colony Capital before U.S. voters do the same for his pal Donald Trump in November's presidential election.