Ever hear the old expression about the fox guarding the henhouse?
Here's what it looks like if you think of politicians and other public officials as foxes and public records as a henhouse of information that could enlighten the public about our government.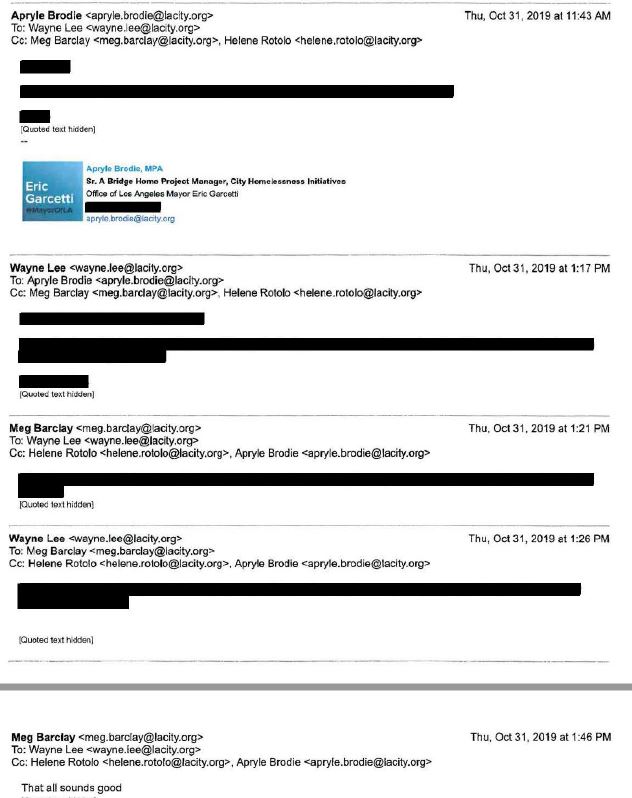 That's an excerpt from a response by Los Angeles Mayor Eric Garcetti's office to one of several requests SullivanSaysSoCal has made for public records on the corrupt deal that the city struck to develop a homeless shelter on Paloma Street in Downtown LA.
The request was made under a state law called the California Public Records Act, or CPRA. It sounds like a big and powerful piece of legislation—until you realize that the same public officials whose powers are supposed to be checked by the law get to decide whether they will respond. They also get to decide what they will black out—or redact—from the documents in question, and how long they can take in getting around to it at all.
That's why they can do stuff like the redaction above, leaving us to wonder what they think the term "public record" means.
There's a good-news, bad-news aspect to this item, though.
The bad news is that the politicians who have been elected to public office in the City of LA aren't the cleverest foxes running around.
Although I guess that's not exactly news.
The good news is that their dim-wittedness amid the culture of corruption that envelops City Hall means they don't realize how much is revealed in many of their emails. It appears that they fail to black some stuff out simply because they've lost track of how out-of-hand the corruption has gotten—they can no longer smell their own stink.
You can get an example from past coverage by clicking here.
And stay tuned for more in coming weeks.
More to See on MRT
Concerns about how the CPRA is used and abused should grow with last week's indictment of Mark Ridley-Thomas, a member of the LA City Council who drew the attention of the feds in his prior position on the LA County Board of Supervisors.
The feds accuse Ridley-Thomas of a role in yet another scandal at USC, but they also should look into his involvement in the county's homelessness programs—and they can get a good start here.
And here's hoping the U.S. Attorney in LA takes a break on collecting headlines about indictments and gets around to actually prosecuting someone on the growing list of public officials facing federal charges of corruption in SoCal.
Garcetti in 2nd-Generation Suck Up?
Is any other media outlet in LA even going to mention that Garcetti made it over to Beverly Hills for a showing and sale of rookie artist Hunter Biden's unusually high-priced paintings?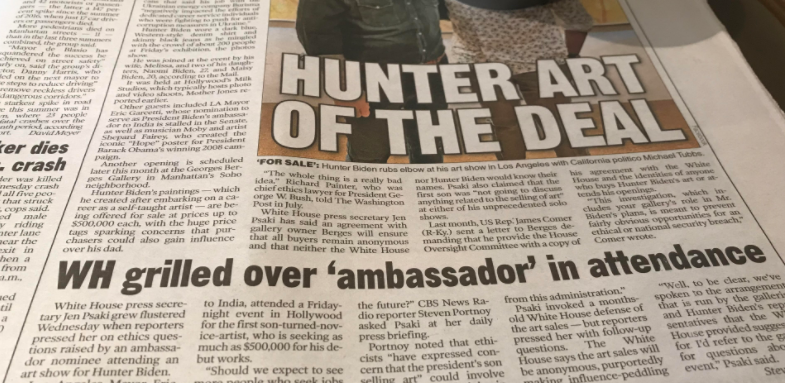 Or consider how that could be taken in light of the fact that Biden's father, President Joe Biden, has arranged a ticket out of town for Garcetti in the form of an ambassadorial nomination?
Anyone want to bet whether or not someone on the U.S. Senate committee that will hold Garcetti's confirmation will want to know if he dropped any dough at the art show?
It's a fair question—and it already seems to be notable everywhere but LA.
Funky Follow-Up from LA County on Covid Data Systems
Here's one that would be an impressive example of organizational will to do better on tracking Covid-19 data and making public records available—if only the Los Angeles County Department of Public Health did more than claim it was making improvements while offering no sensible explanation.
The following is from the agency's daily Covid-19 press release on September 10:
"Please note: On Saturday, September 11 and Sunday, September 12, Public Health will make improvements to the data processing systems which will result in no new data being reported on those days."
I asked the agency's communications staff to "please provide an explanation and details on the 'improvement' to the data processing systems cited in the special note contained in your press release …"
I received this on September 22:
"The Department's Integrated Reporting Investigation and Surveillance (IRIS) system is built on Sunquest's WorldCare platform.  The Department had deferred several version upgrades due to the high COVID-19 case counts last year and surge in cases earlier this year.  This upgrade moved the Department from Version 17 of the WorldCare platform to Version 19.3.  The major enhancements included as part of the upgrade allows the Department to (1) improve the speed at which the system can process data received electronically from laboratories to help expediate data intake, (2) improve ability to handle large data volumes without impacting overall system performance, (3) enhance the tool/utility used to import data into the system, (4) provide access to data warehousing capabilities to offload reporting workloads from the production system, (5) address standardization, and other items such as user profile enhancements.

 

This upgrade will support the thousands of data records the Department needs to process each week and the large numbers of users that need to utilize the system on a weekly basis to support the COVID response and other disease reporting and surveillance operations." 
Got all of that?
It seems the agency deferred an upgrade to the system when the pandemic was at its worst—a point when timely and accurate data would have been more valuable than ever. And, by the way, an answer to a separate question indicates that two days of data have gone unsorted despite the so-called upgrade and all that technical verbiage.
Answers such as this are why an independent auditor should review whatever contracts are being handed out for information-technology systems at the LA County Department of Public Health.
And the same auditor should check on all the money the same department has paid the politically connected lobbying firm Mercury Public Affairs for help on communications.
Making an Impact with Michelson Philanthropies
Check below to listen to the latest episode in a podcast series produced for Michelson Philanthropies, a multi-faceted organization overseen by Dr. Gary Michelson, a surgeon-turned-medical device inventor, and his wife, Alya, a journalist by training. Michelson Philanthropies provides an organizational umbrella over various initiatives and programs intended to "make life a little less unfair."
This episode features a talk with Judy Bellack, a veteran business consultant who also serves as industry principal and consultant to the Michelson Found Animals Foundation (MFA). The industry that Bellack represents is the multifamily segment of the real estate sector, where pets have more to do with the business than you might expect, as indicated in this chart from a recent study by MFA's Pet-Inclusive Housing Initiative and the Human Animal Bond Research Institute: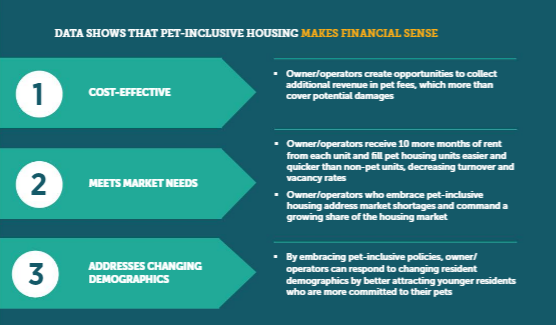 There's plenty more to consider about the benefits of pet-inclusive housing policies, as you'll hear in this episode of "Making an Impact With Michelson Philanthropies."
RIP: Hank Evers
The recent passing of Hank Evers after a battle with cancer is a big loss for Orange County and its Roman Catholic community.
Evers was a marketing and communications veteran who decided years ago to put the skills he acquired through years of hard work in the private sector toward service for various Catholic causes.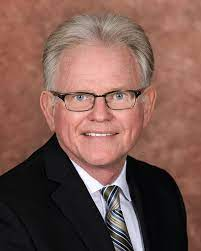 Evers' last act of communications prowess in service of community was a blog he established to discuss his illness and the pending end of his life, which you can find here.
Berni Neal, a stalwart of the Catholic community in OC, lauded Evers on a very practical contribution he made over the years. Neal credited Evers for playing a key role in turning the annual Orange Catholic Foundation Conference on Business and Ethics from "a modest breakfast benefiting students with scholarships to Catholic schools to the number-one nonprofit breakfast in OC, raising in excess of $500,000."
Evers was "one of those 'laborers in the vineyard,'" Neal said. "He was kind.  He was humble.  He was hard working. He made sure everyone else got a lot of credit and recognition."
Sincere condolences to Evers' family, the Catholic community of OC, and everyone else who will miss him.
Uniformly Abhorrent
This isn't the most important thing in anyone's world, but please indulge a baseball fan on a matter of sartorial style for just a moment:
The Dodgers' home uniform is a classic because of the red number under the Dodger-blue logo on the front of the jersey.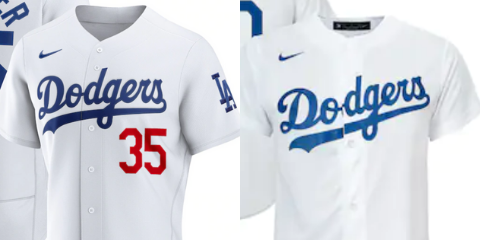 I understand that the practice of fiddling with uniforms is a clever way to boost merchandise sales.
I know there are fans who will buy whatever iteration of gear teams concoct.
I realize that the trick helps pay the salaries of the high-priced ballplayers who keep the Dodgers relevant to fans in SoCal, where you don't have to slip much to become irrelevant.
But none of that is sufficient reason to detract from a classic.
The Dodgers standard jersey with its particular shade of blue and the red number is a classic.
The version without the red number—which is being marketed widely—might as well be Kansas City Royals West.
Next Question on Dana Point Marina: Why So Low for So Long?
Here's a memo to the media and maritime crowd in OC:
Question the proposed price hikes for slips at the Marina at Dana Point all you want—but also ask why prices were so low for so long.
It wasn't long ago the OC Register personified complaints about the increase with the example of a man who just spent $30,000 to "upgrade" a 33-foot sailboat that he's owned for 15 years complaining about a $212-a-month increase to the monthly rental fee.
Sure, it's a steep increase on a percentage basis—about 35% from the $600 a month he had been paying.
It's also waterfront Dana Point—and rather than wonder about the gall of the private operator raising prices after renovating the marina, it's time to look at what slips cost elsewhere along the coast and look into how and why the County of Orange kept the fees at Dana Point so low for so many years.
Lively Live@5 on Media Meltdown
I spent nearly an hour talking to two very smart people about the current state of media in America—and not one of us used the term "influencer." You can decide whether that's an oversight or a rhetorical step forward.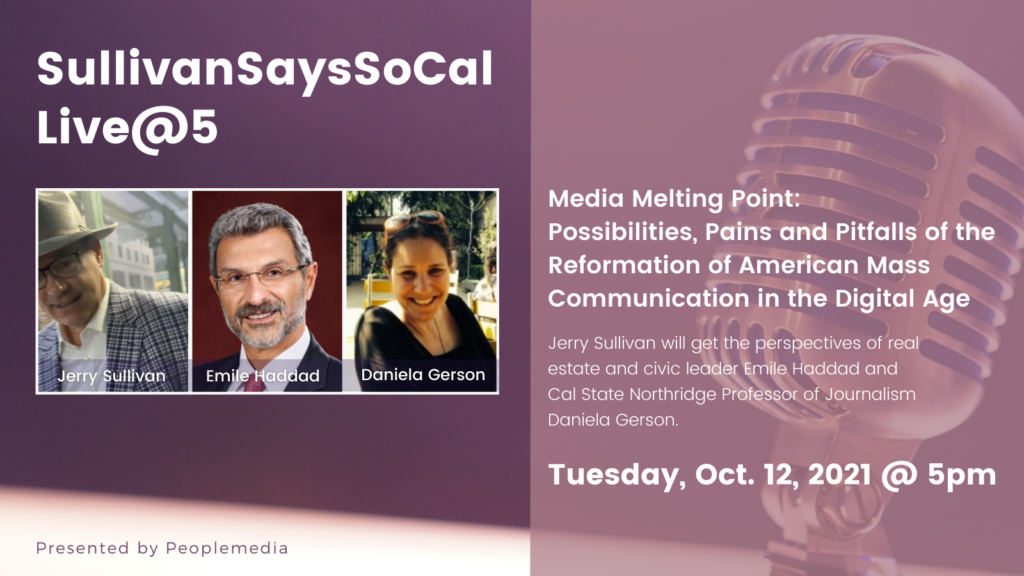 We chopped it up in the latest livestream edition of SullivanSays Live@5, and it's worth a look and listen for anyone who's concerned about the state of legacy, digital and social media these days.
Sullivan Says 
Anyone who wants to know what true community-based art looks like should check out the 3000 block of Wabash Avenue in Boyle Heights.