I'm not the only one who has yet to get certain details about Home at Last Community Development Corp., which operates a number of shelters under contract with the Los Angeles Homeless Services Authority (LAHSA).
Check this non-response to a question about the accomplishments of Home at Last's three costliest programs, which came on the 2018 federal tax return the organization filed with the U.S. Internal Revenue Service: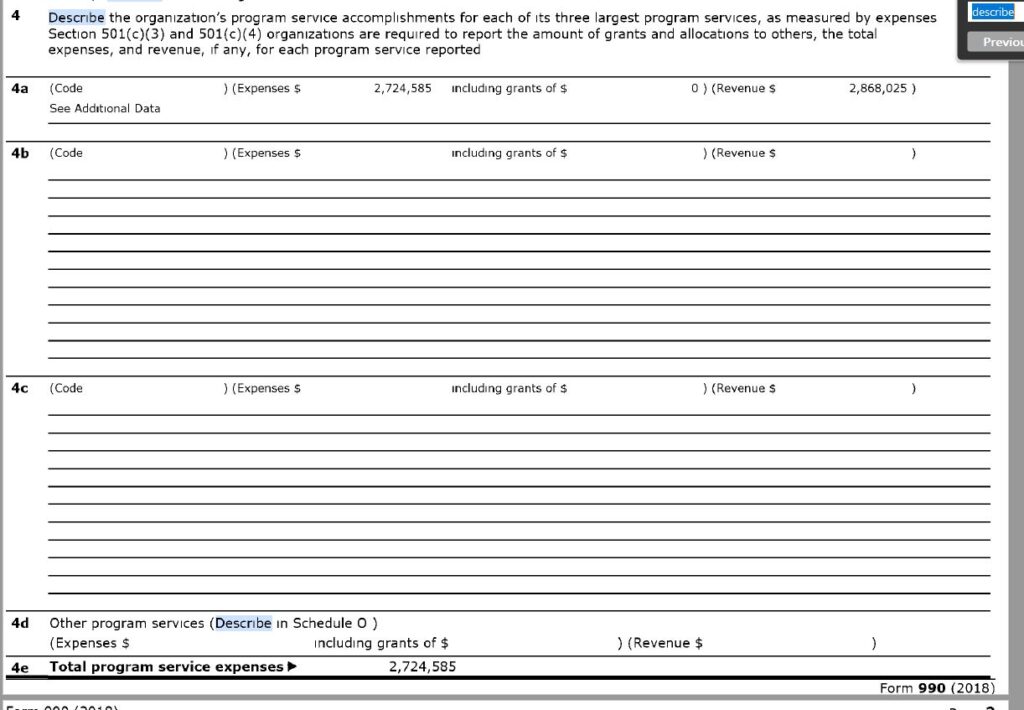 A section for "Additional Data" also listed no explanation.
The blanks on the tax return are part of a trend. LA Mayor Eric Garcetti and representatives of LAHSA – a joint city/county agency with an annual budget of more than $300 million a year – took a month to provide incomplete answers to basic questions about Home at Last's operations.
None of Garcetti's 16 communications staffers or any LAHSA representatives have responded to follow-up questions – you can find that background here.
Home at Last's tax return, meanwhile, does show that Michael Young, listed as executive director of the organization, got a raise of $84,332 in 2018. The 328% increase brought his salary to $110,000 annually.
A tax preparer from a firm that appears to be based in the Philippines' capital of Manila received $105,000 in compensation from Home at Last in 2018, when the organization reported about $2.8 million in revenue.
---
Columnist's View
Home at Last's tax-exempt status as a public charity carries some obligations, and there are legitimate questions on whether it's meeting them.
Garcetti and LAHSA should fill in the blanks on Home at Last's operations – even if the IRS is taking a pass – before anyone thinks about another tax to raise money to address homelessness.
---
---
Timing Notable on OC-SF Crossover: Willie Brown Firm on FivePoint Commitment
Anyone else notice that an old-school politician with a track record of actual accomplishments took up a new role less than a day after Governor Gavin Newsom used his annual State of the State address to spread blame for the present-day facts of California's stilted housing market?
Or that the road to some significant relief in both LA and San Francisco now runs through Orange County via Irvine-based FivePoint LLC?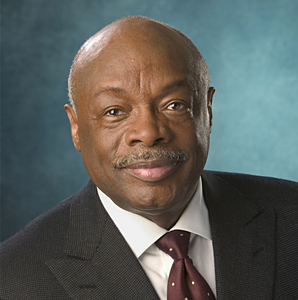 Those observations connect in the person of Willie Brown, the Brioni-clad, ever-buoyant former mayor of San Francisco and speaker of the California State Assembly. He's a principal in the newly formed Shipyard Advisors, joined by SF-based attorney Steven Kay and Kofi Bonner, who's shifting from a role as co-chief operating officer at FivePoint.
Shipyard Advisors will work with government agencies on behalf of FivePoint and its planned Candlestick community, which has been on hold for additional rounds of soil-testing in the wake of accusations from two years ago of fraudulent acts by two employees of a federal contractor.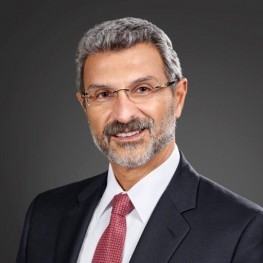 It's a reunion of sorts for FivePoint CEO Emile Haddad and Brown – the two have been engaged with each other in efforts to deliver housing through a redevelopment of the former Hunters Point Naval Shipyard since the 1990s. Each kept an eye on the goal through various turns in their career paths, which cover a timeline that has seen SF become one of the most constrained and expensive housing markets in the nation, trailing only Manhattan by many measures.
Brown and his colleagues will work on getting the Hunters Point land conveyed to FivePoint, which has a redevelopment plan that would add 1,600 residential units in a first phase at Candlestick, and as many as an eventual 10,700 including the neighboring Shipyard development.
FivePoint also holds a key to significant new inventory for LA County's housing market. The company recently completed a long and circuitous route to approvals for the Valencia community in the Santa Clarita Valley, where it just started a first phase of what's eventually expected to total about 21,000 homes.
---
Columnist's View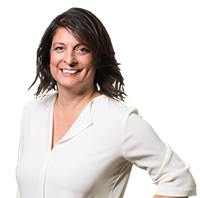 It's also notable that FivePoint's Haddad has developed a deep management bench and won't be caught short with Bonner shifting to Shipyard Advisors. Lynn Jochim, who's been part of FivePoint's leadership since the firm was founded in 2008, had shared the chief operating officer's role with Bonner. She will fill the post on her own for FivePoint going forward.
---
---
Moorlach to Newsom: Slow Down on Plans for Homeless Shelter in Costa Mesa
37th District California State Senator John Moorlach took exception with Newsom last week over a surprise announcement of plans for a homeless shelter at the Fairview Developmental Center in Costa Mesa.
The center, home for 60 years to a medical facility to treat the developmentally disabled, is being phased out of service, with closure pegged for 2022.
Moorlach urged Newsom to give locals a chance to weigh in on plans for the center. He noted progress "in Orange County by its agencies and the medical and nonprofit community to build a system of care for the mentally ill" and called on Newsom "to be a part of the solutions already being pursued, rather than rush to use Fairview Developmental Center as a Band-Aid by converting the property into a homeless shelter."
---
Columnist's View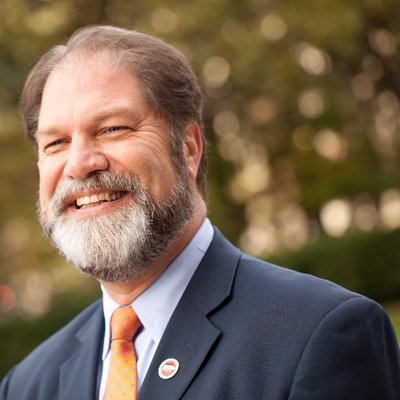 There will be more coverage of OC's efforts to address the public-health crises of mental health and homelessness in coming weeks, including several programs and ideas that suggest a drive toward best practices there.
Here's a suggestion in the meantime that Newsom consider the objection of Moorlach. The veteran Republican has honest disagreements with the Democratic governor but nonetheless brings the same fair-minded and thorough approach to the state legislature that he brought to the Board of Supervisors and treasurer's office in OC.
---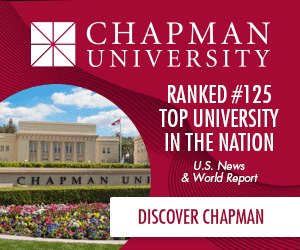 ---
Another Billion Bucks on Drawing Board for Century City
The other end of SoCal's real estate spectrum suggests an addition to the Westside skyline if JMB Realty lands the $650 million construction loan it's said to be seeking for a 36-story office tower at Avenue of the Stars and Constellation Boulevard in Century City.
The loan would value the 843,000-square foot project at $1.1 billion. JMB owns a similarly sized building at 1999 Avenue of the Stars, next to the Westfield Century City mall, which got a billion-dollar makeover in 2017.
JMB's plan for the new tower comes as the crescent-shaped Century Plaza Hotel nears completion of a $2.5 billion renovation that will include residential and retail space.
---
Media Notes: Green Street Acquisition Makes Firm Player on Commercial Real Estate Coverage
The crowded field of local publications that count the commercial real estate sector as a key coverage area and source of revenue should brace themselves as Newport Beach-based Green Street Advisors plans to add a news operation to its tool box.
The real estate research and data analytics specialist recently struck a deal to acquire Harrison Scott Publications and its weekly Commercial Mortgage Alert, Real Estate Alert, Hedge Fund Alert and Asset-Backed Alert newsletters. They each are delivered digitally to subscribers, with rates ranging from around $3,900 to $6,300 annually.
The various newsletters appear to be carrying more advertising lately, too.
Terms of the pending acquisition remain undisclosed.
Stand by on this one – Green Street Advisors' well-established reputation as an information provider to the commercial real estate trade in SoCal could match up well with Harrison Scott's menu of journalistic red meat served with a side of sophistication.
---
---
DTLA Photog Leonard Missing on Masthead
The latest cuts to LA Downtown News under new owners have the weekly's staff sharing office space in Pasadena and its masthead missing well-known photographer Gary Leonard.
Tempe, Arizona-based Times Media Group acquired the publication along with several others throughout SoCal, including the Pasadena Weekly, last year.
It's not clear whether Leonard – the face of the newspaper to many of its readers and advertisers over his 28 years on staff – will continue to contribute on freelance basis. It's believed he will maintain his DTLA presence with his personal studio space on the ground floor of 117 W. 9th Street.
---
Entrepreneur Yields to New Era for Estrella
LBI Media is out and Estrella Media is the new name of Burbank-based EstrellaTV Network, which includes 11 stations it operates and another 35 affiliates across the U.S., along with 16 radio stations and the syndicated Don Cheto Radio Network.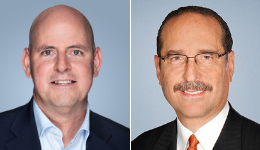 The operations now have hedge fund and broadcast TV veteran Peter Markham at the helm.
Gone is Lenard Liberman – the L in LBI, and one of the more colorful characters of LA's media landscape.
Liberman went from a teenager who hit it big peddling gold chains made by a craftsman during the disco craze of the 1970s – when Downtown LA's Jewelry District was taking root – to being the boss of a multi-platform media outfit that produced its own programming and grew into markets with significant Latino-American population throughout the U.S.
Liberman's entrepreneurial style was eventually accompanied by about $530 million in company debt, which led LBI to seek bankruptcy protection in 2018.
---
Gloves Off on Broadway Federal Raid
The local legacy media still hasn't caught up on the hostile takeover bid for Broadway Federal Bank – but that doesn't mean the story is standing still.
Check the increasingly critical tone of the signoff by former LA Mayor Antonio Villaraigosa on a February 19 filing with the Securities Exchange Commission, disclosing that Steve Sugarman, who is behind the move, has accumulated nearly 10% of shares of Broadway Financial Corp., parent of the only black-owned bank in town: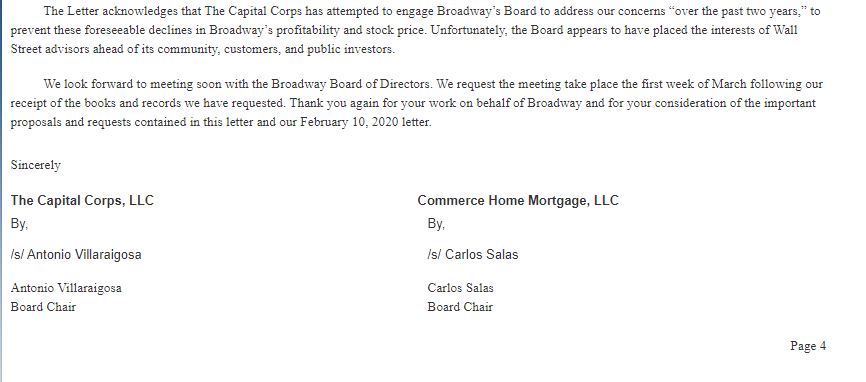 ---
Sullivan Says
You won't find a better example of recycling than the use of busted up cement as rustic retaining walls at the Mildred E. Mathias Botanical Garden at UCLA.